Shehnaaz Gill serves elegance with style in pearl-laden black mini-skirt, matching white top, and chunky heels
In the fast-paced and ever-evolving world of fashion and style, Shehnaaz Gill has undeniably carved out her niche as a trendsetter. Her captivating presence has not only won the hearts of fans but also garnered the attention of cameras worldwide. The trendy diva consistently pushes the boundaries of style, setting the bar high with her unique and distinctive fashion choices.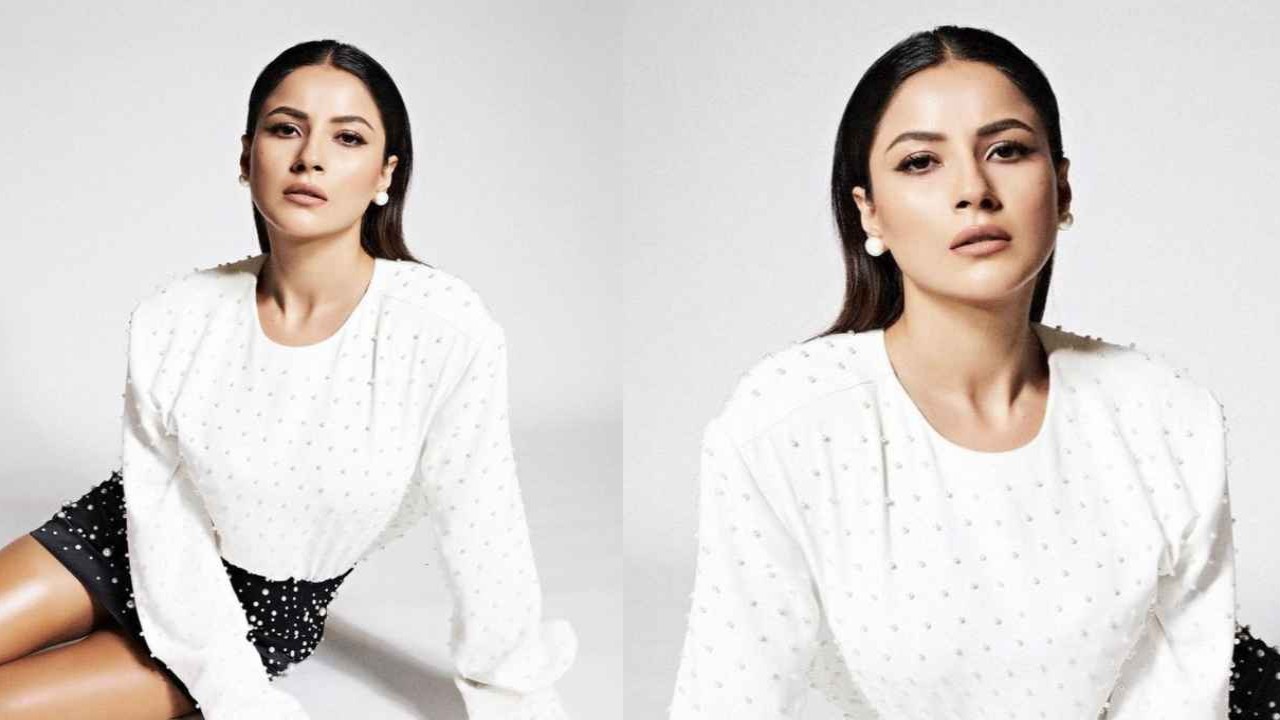 Staying true to her reputation, the talented "Thank You For Coming" actress once again proved her fashion prowess in her latest Instagram post. She effortlessly combined elements of elegance, charisma, and confidence in a captivating black-and-white monochrome outfit that can only be described as a dream come true.
Shehnaaz Gill's ability to seamlessly fuse classic and contemporary styles into a captivating ensemble reinforces her status as a rising fashion icon. Her latest fashion statement showcased her knack for making bold yet harmonious choices, capturing the imagination of the fashion sphere and reaffirming her place as a true trendsetter. Let's delve into the details of this extraordinary outfit and the charisma she brought to it.
Shehnaaz Gill made a striking fashion statement by donning a gorgeous high-waisted black mini-skirt that was adorned with white bead detailing throughout. The intricate beadwork not only added a touch of elegance but also helped her flaunt her toned legs, making it a perfect choice for showcasing her figure. The skirt's material featured a ruched effect that contributed to its overall texture and allure, giving it a unique and captivating quality.
The stylish high-waisted skirt was paired with a white high-neck top, elevating the entire ensemble to new heights. This white top was no ordinary piece, as it was also encrusted with pearl detailing, further enhancing its visual appeal and creating a sense of luxury. The inclusion of slight shoulder pads added to its overall allure, balancing the outfit and giving it a structured yet chic look.
Shehnaaz's choice of pairing these two statement pieces demonstrated her ability to blend elegance with contemporary fashion trends, resulting in a stylish and charismatic look that perfectly suited her unique style. Her fashion choices have always resonated with her confidence and charisma, and this outfit was no exception.
Shehnaaz Gill's outfit continued to impress with attention to detail. The full-sleeved top she wore featured slightly loose sleeves, contributing to an aesthetic and oversized fit. This design choice added a sense of relaxed elegance to her look, enhancing the overall visual appeal.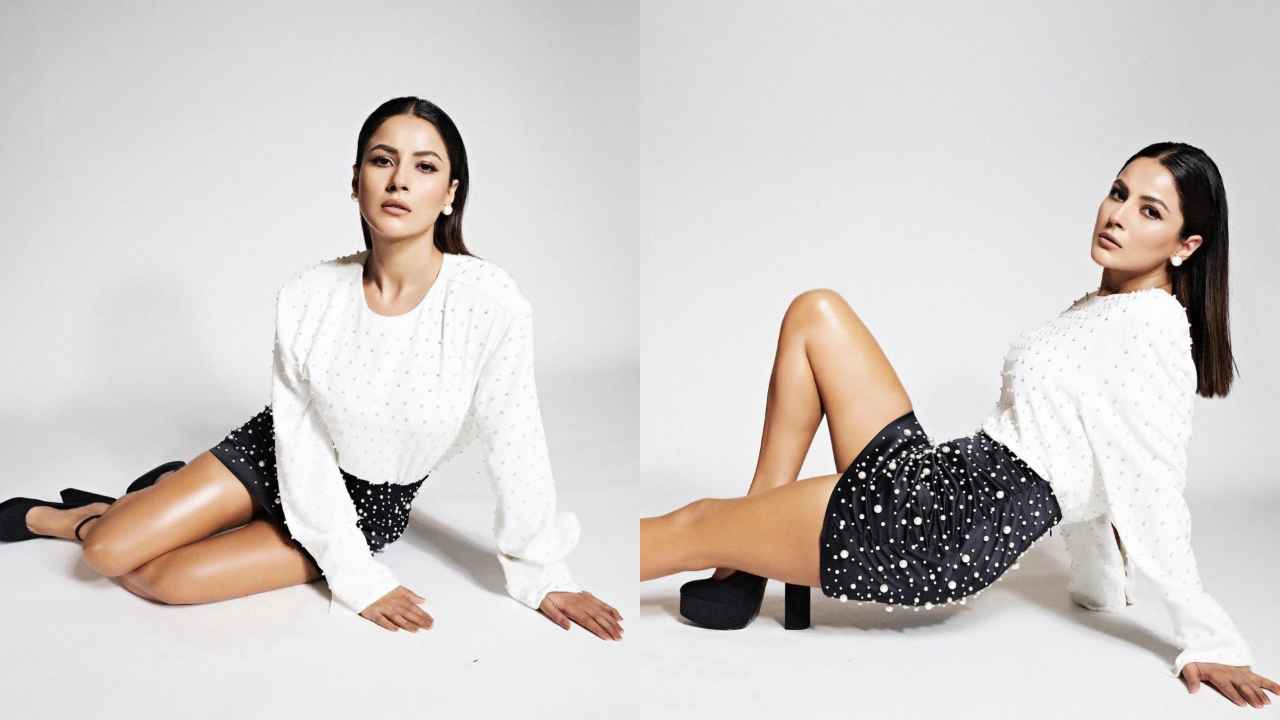 To create a well-balanced and stylish silhouette, the diva made the choice to tuck her top into her skirt. This styling decision worked wonders, accentuating her waist and creating a very flattering silhouette. The tucked-in top not only showcased her figure but also added a touch of sophistication to the ensemble.
The result was a beyond-appealing outfit that seamlessly combined the high-waisted skirt with the embellished top, creating a harmonious and fashion-forward look that perfectly suited Shehnaaz's distinct style. Her attention to the fit and styling of her outfit underscored her remarkable fashion sensibility, demonstrating her knack for effortlessly blending classic and contemporary elements into a captivating ensemble.
Shehnaaz Gill continued to showcase her impeccable style with her choice of footwear. She opted for black chunky heels with a high block heel, reminiscent of Mary Jane shoes. These chunky heels perfectly complemented her outfit, adding to its overall appeal and providing a modern yet classic touch. The choice of footwear not only elevated her look but also accentuated her confidence and charisma.
The actress also took the minimalistic route when it came to accessories, and she couldn't have made a better choice. She adorned herself with simple pearl stud earrings, ensuring that the focus remained squarely on her classy and party-ready outfit. This minimalist approach to accessories perfectly complemented her look, allowing her outfit to take center stage.
The result was a captivating ensemble that exuded a sense of chic and sassy charm. Shehnaaz Gill's ability to curate a look that's both cute and fashionable continues to impress, showcasing her mastery of style and her knack for making choices that resonate with her fans and fashion enthusiasts alike.
Shehnaaz Gill's stunning appearance was further enhanced by her flawless hair and makeup choices. Her sleek, straight hair, featuring a precise center part, added an element of formality and sophistication to her overall look. The straight and well-groomed hair perfectly complemented her outfit, enhancing her classy appearance.
Her makeup was nothing short of perfection, highlighting her striking features. Shehnaaz's eye makeup included shimmery eyeshadow that added a touch of sparkle to her gaze. Her lashes were coated with mascara, making her eyes pop and accentuating their allure. Impeccable contouring emphasized her facial structure, while flushed cheeks added a youthful and radiant touch.
Her cheekbones were carefully accentuated, creating a sculpted and refined look. To complete her makeup, she opted for a subtle brown lip color that harmonized with the overall aesthetic. The lip color added a touch of warmth and sophistication, enhancing her natural beauty without overpowering her look.
The flawless hair and makeup choices exhibited Shehnaaz Gill's attention to detail and her commitment to creating a harmonious and captivating appearance. Her stylish and well-coordinated look further solidified her position as a fashion icon and underscored her unique sense of style.
As we admire Shehnaaz Gill's impeccable style, it becomes evident that she is more than just a talented actress; she's a genuine fashion icon. Her ability to effortlessly turn heads and capture hearts with her unique and captivating fashion choices is a testament to her remarkable sense of style. Shehnaaz Gill consistently pushes the boundaries of fashion, blending elegance, charisma, and confidence to create memorable looks that resonate with her fans and the fashion world alike.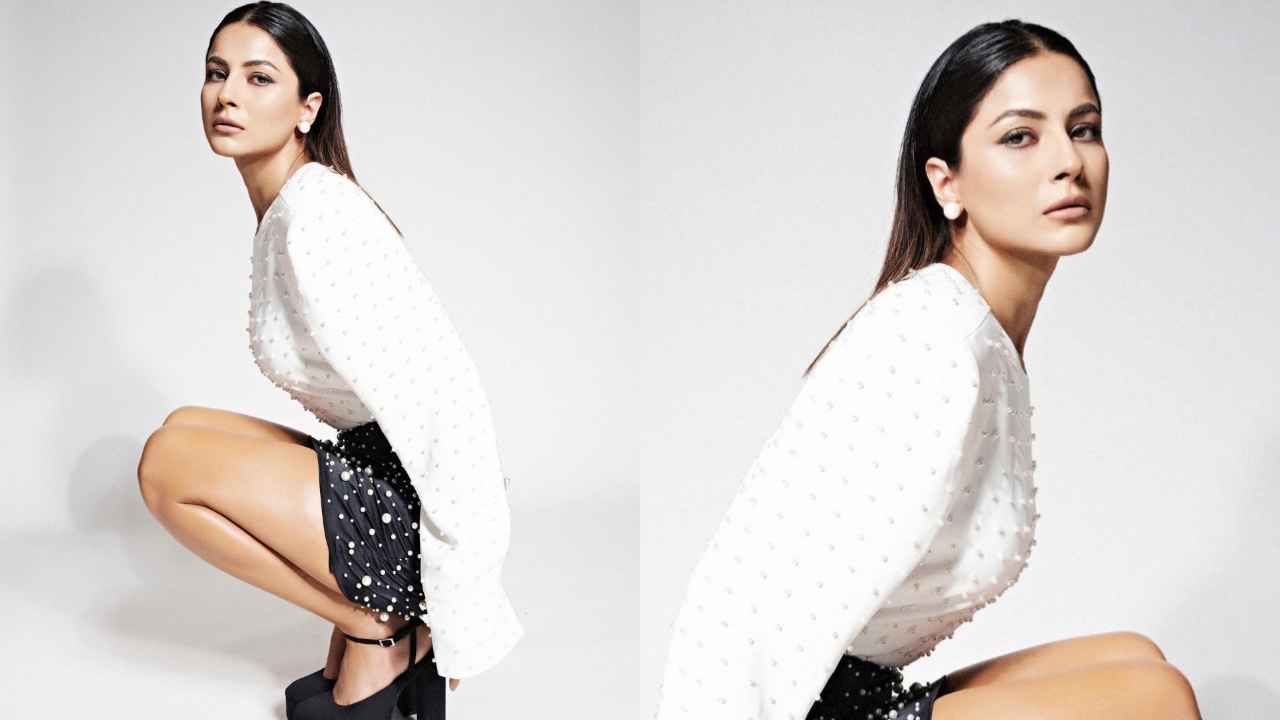 Her fashion evolution from a budding actress to a fashion trendsetter has been a journey filled with bold and daring choices that have solidified her position as a true icon. Shehnaaz Gill's knack for combining classic and contemporary elements in her outfits, her meticulous attention to detail, and her ability to strike the perfect balance between style and sophistication continue to make her a prominent figure in the fashion sphere.
With each appearance, Shehnaaz Gill reaffirms her status as a fashion icon, and her influence in the world of style is undeniable. Her magnetic presence in the fashion industry goes beyond her on-screen talent, making her a prominent and admired figure in the ever-evolving world of fashion.