Kareena Kapoor goes head-to-toe in sunset hue; draped skirt with front overlap slit of co-ord set looks BOMB
Kareena Kapoor Khan's status as the OG fashionista in the world of Bollywood is undeniable. Her impeccable style statements and fashionable choices have consistently made her a trendsetter and an icon in the industry. Her recent appearance in a fabulous coral ensemble is yet another example of her fashion prowess, leaving fans and fashion enthusiasts in awe.
Kareena Kapoor Khan has always been celebrated for her ability to make iconic style choices. Her fashion repertoire includes a wide range of looks, from classic elegance to contemporary chic, and she effortlessly navigates through them all. Her fashion choices not only set trends but also reflect her confidence and individuality.
As the "Heroine" actress continues to dazzle with her fashion choices, she remains a source of inspiration for those who appreciate style and glamour. Her recent appearance in the coral ensemble is just another chapter in her ongoing fashion journey, and it's evident that she continues to reign supreme as the ultimate fashion icon in Bollywood.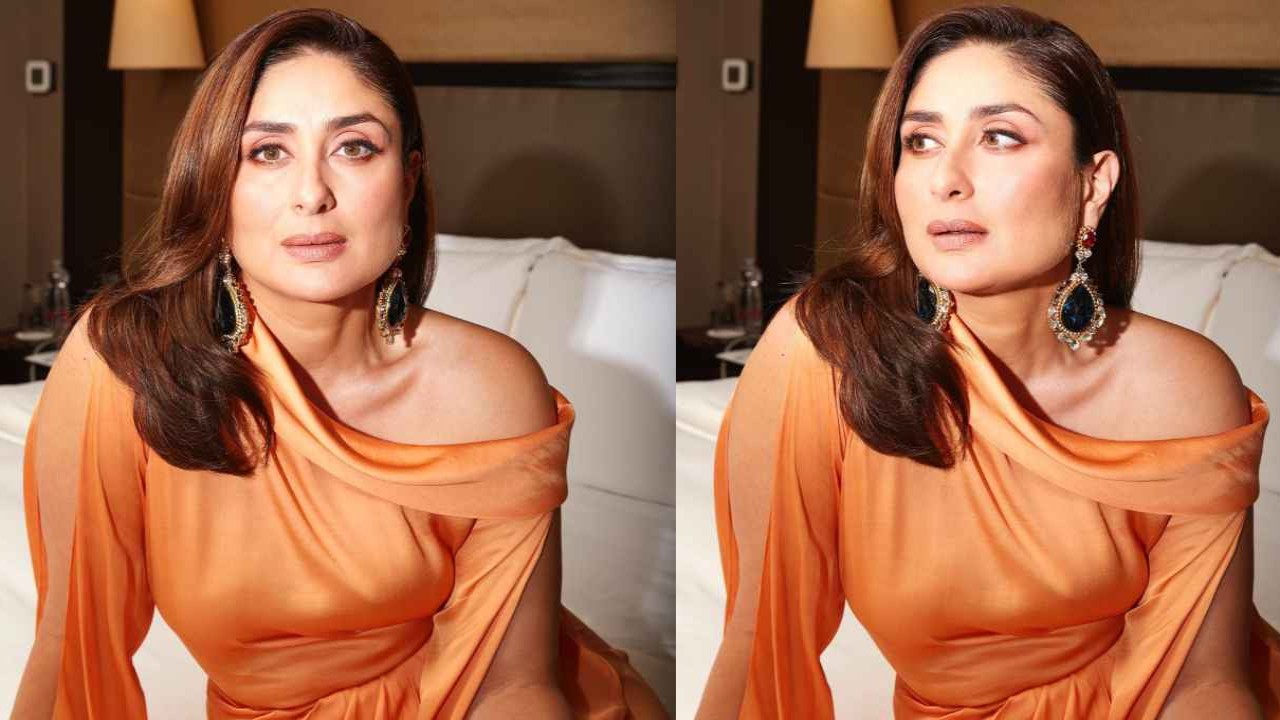 Kareena Kapoor, often hailed as Bollywood's OG diva, made a striking appearance while promoting her upcoming series in an outfit that can only be described as bombshell-worthy. Her choice of attire, a coral cream set from the homegrown label Āroka valued at Rs. 11,950, was a masterclass in elegance and sophistication.
The standout feature of Kareena's ensemble was undoubtedly the coral cream top. Its alluring one-shoulder neckline added a touch of glamour and intrigue to the outfit. The one-shoulder style is known for its ability to exude confidence and a sense of contemporary chic, and Kareena Kapoor carried it with her signature grace.
Kareena's choice to wear a coral cream set from a homegrown label not only showcased her support for local fashion but also emphasized her appreciation for unique and stylish designs. Her ensemble was a perfect blend of elegance and modernity, reaffirming her status as the OG diva and a true fashion icon in Bollywood.
Kareena Kapoor's design choice for the one-shoulder coral cream top was not just about showcasing her flawless collarbone; it was a bold statement that exuded confidence and sophistication. The addition of cuffs on the sleeves added a touch of tailored refinement to the overall look, enhancing its elegance.
The strategically placed cutout slit on the sleeves was a subtly daring detail that added a hint of intrigue to her outfit. This design element not only created visual interest but also offered an alluring peek at her radiant skin, balancing the look between classic elegance and contemporary allure. Kareena Kapoor's ability to carry such details with poise and confidence is a testament to her fashion-forward sensibilities and her status as a style icon.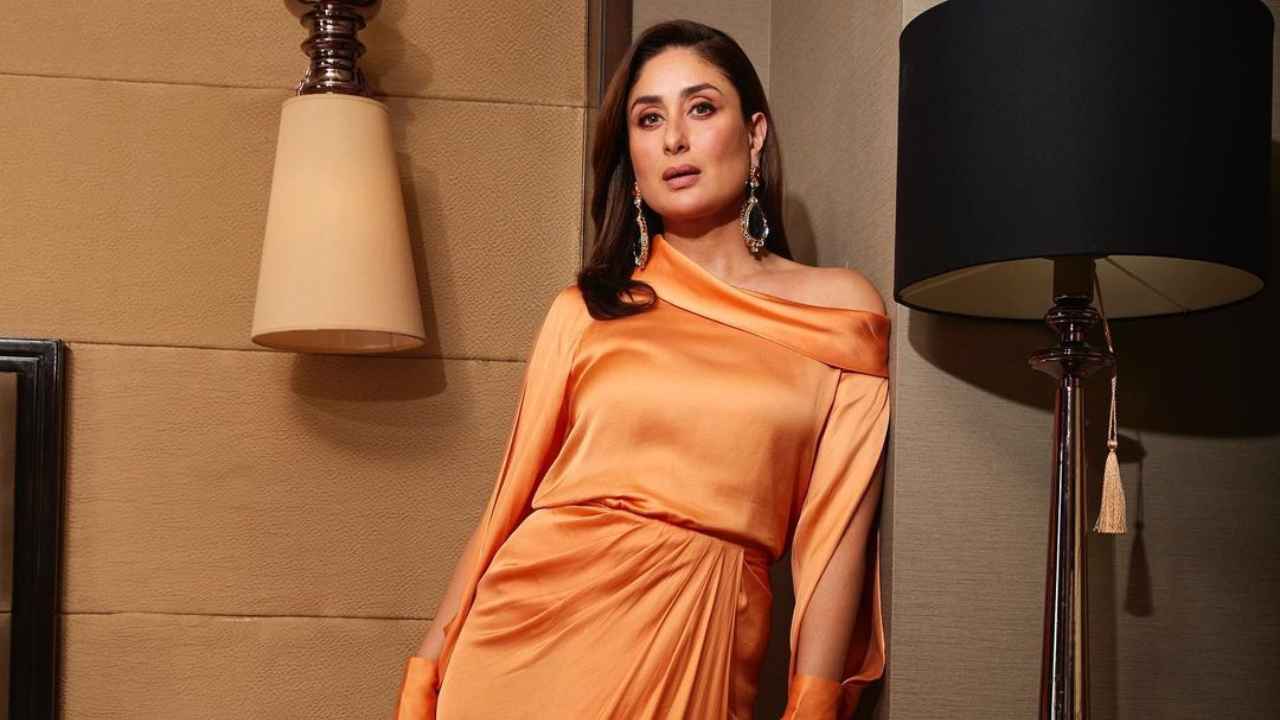 The choice of luxurious modal satin for the top was indeed impressive. Modal satin is known for its softness, smoothness, and lustrous finish, making it an ideal fabric for creating a sophisticated and elegant look. The way the material was draped gracefully accentuated Kareena Kapoor's flattering silhouette, adding to the overall sense of refinement and glamour in her ensemble.
Modal satin not only feels comfortable against the skin but also has a natural sheen that catches and reflects light beautifully. This quality likely enhanced the top's visual appeal, making it a standout piece that perfectly complemented Kareena's style and radiance.
Kareena Kapoor's attention to fabric choice and how it complements her silhouette underscores her fashion expertise and her ability to make well-informed decisions when it comes to her outfits. Her choice of modal satin for this ensemble contributed to the overall elegance and sophistication of her look.
Kareena Kapoor's fashion prowess was indeed evident in her choice of a matching satin pleated and wrapped skirt. This selection not only complemented the top but also contributed to creating a flowing and flattering silhouette. The combination of the one-shoulder top and the skirt was a perfect blend of elegance and modernity.
The draped pleats cascading down the skirt added a touch of movement and dimension to the overall design. This design element not only enhanced the outfit's visual appeal but also accentuated Kareena Kapoor's grace and poise. The flowing pleats likely created an ethereal effect as she moved, making her appearance even more captivating.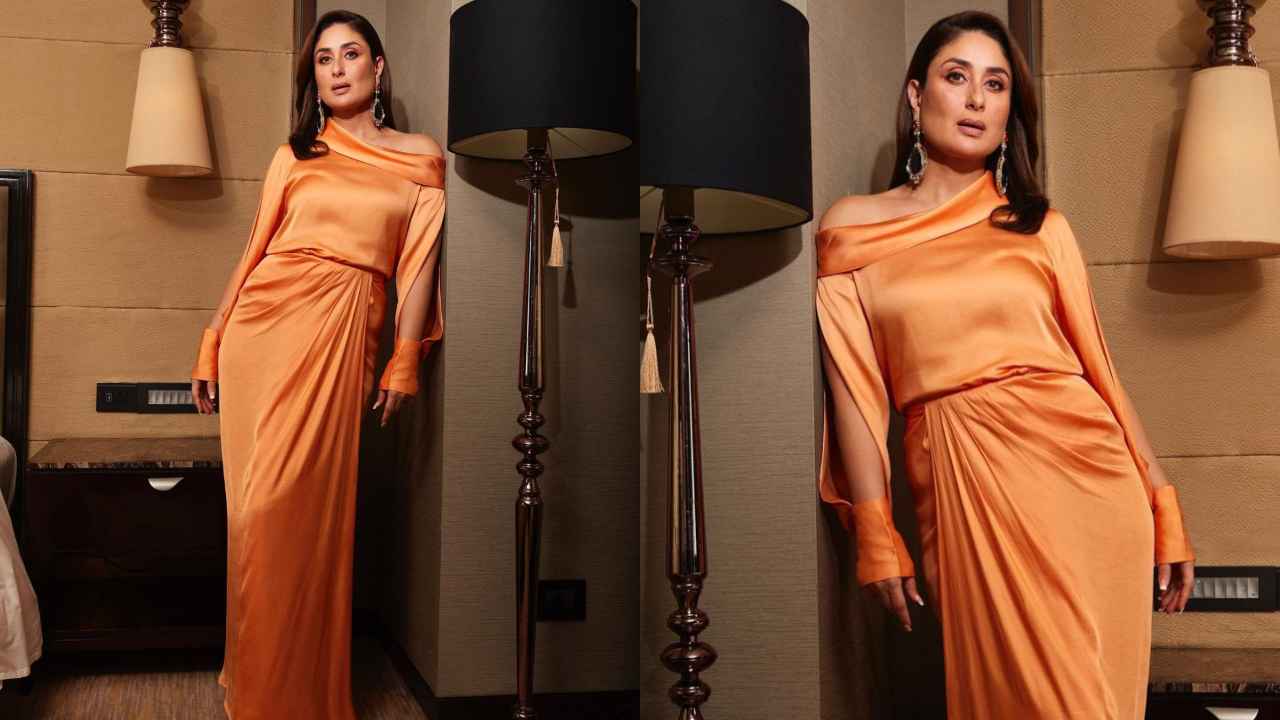 Completing the outfit with alluring heels was a wise choice, as it added height and elongation to her silhouette, further enhancing the overall look. Kareena Kapoor's ability to coordinate every element of her outfit, from the top to the skirt and the choice of footwear, showcased her impeccable fashion sense and her status as a true fashion icon in Bollywood.
Kareena Kapoor's decision to stick with one beyond-beautiful statement piece for her accessories, the rosette diamante dangler earrings from Rakdhika Agarwal Jewels, valued at Rs. 9,000, was a wise choice. These earrings likely added a touch of sparkle and elegance to her look without overwhelming the outfit. This restraint in choosing accessories allowed her outfit to shine and showcased her ability to strike a perfect balance between style elements.
Her choice to leave her hair open and style it into a straight look with curves at the end was a classic and chic option. This hairstyle is known for its simplicity and timeless appeal, and it likely complemented the overall elegance of her ensemble. It also allowed her to showcase her earrings and the neckline of her top.
Kareena Kapoor's meticulous approach to accessories and hairstyling demonstrated her ability to make thoughtful choices that enhance her overall appearance. Her fashion sense and attention to detail continue to set trends and solidify her position as an iconic fashionista in Bollywood.
Kareena Kapoor's makeup look was the perfect finishing touch to her already stunning ensemble. Let's explore the details of her makeup:
Peach Blush: The choice of peach blush likely added a warm and natural flush of color to her cheeks. Peach tones often create a fresh and youthful appearance, and they complemented the coral hues in her outfit beautifully.
Eyeliner: The eyeliner likely defined her eyes, adding depth and intensity to her gaze. Well-applied eyeliner can make the eyes appear more prominent and create a captivating look.
Highlighter: Highlighter likely enhanced her natural radiance by adding a subtle shimmer to her skin. This can create a luminous and dewy complexion, enhancing the overall glow of her makeup.
Well-Layered Mascara: Mascara likely emphasized her lashes, making them appear longer and fuller. Well-layered mascara can open up the eyes and make them more expressive.
Nude Lipstick: The choice of a nude lipstick was a smart one, as it allowed the focus to remain on her outfit and accessories. Nude lipsticks are known for their versatility and ability to complement a wide range of looks.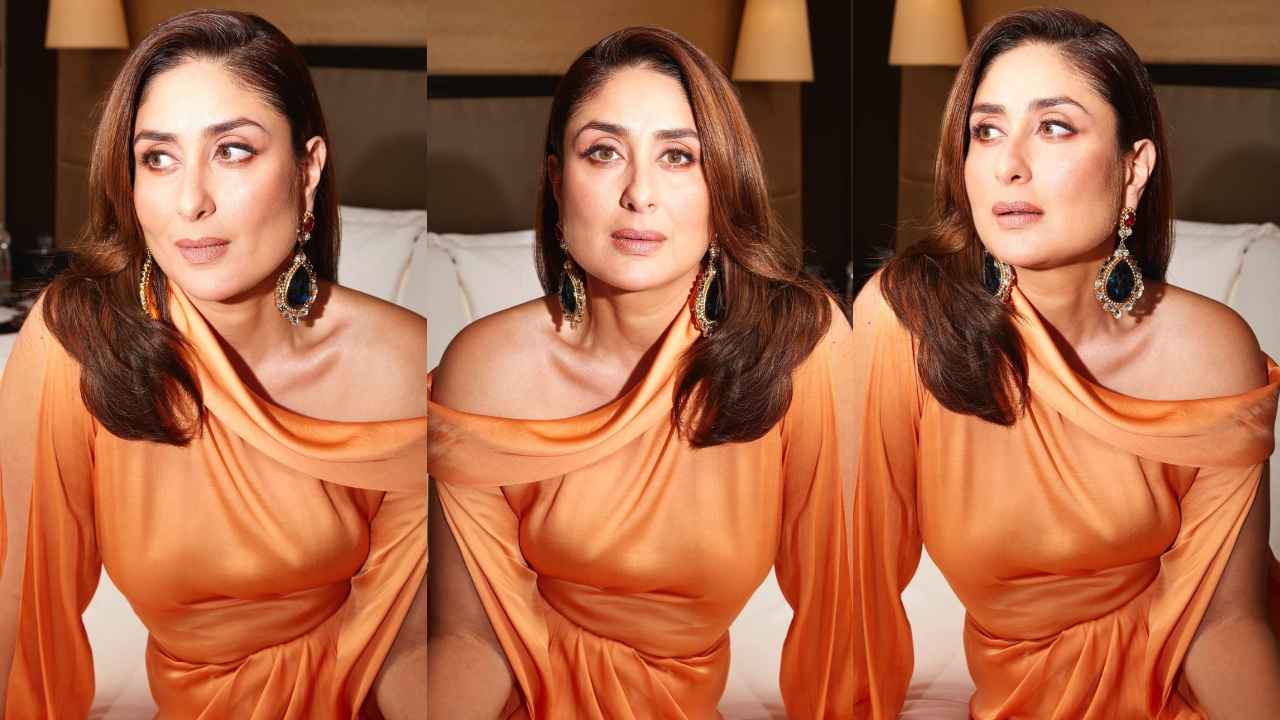 Kareena Kapoor's makeup look was flawlessly executed, and each element of her makeup contributed to elevating her entire outfit. It reflected her attention to detail and her ability to balance makeup with her outfit choices. Her overall appearance was a testament to her fashion expertise and her status as a style icon in Bollywood.