Glamorous Kareena Kapoor Radiates Positivity in Stunning Expensive Dries Van Noten Shirt!
Kareena Kapoor Khan's Saturday dinner look indeed encapsulated the essence of wholesome elegance, and her style choices consistently inspire awe and admiration. Her choice of a floral-themed outfit resonated perfectly with the beauty of the season, and the way she carried it exuded both sophistication and charm. The concept of incorporating floral prints into one's attire is a timeless and versatile approach, offering a range of possibilities to create various styles that suit different occasions and preferences.
Floral prints hold the power to be both bold and vibrant or delicate and subdued, entirely dependent on the design and color palette chosen. In Kareena's case, her floral ensemble illuminated her Saturday dinner appearance, serving as a focal point that accentuated her distinctive fashion sense. Floral patterns are known for their adaptability, allowing them to seamlessly fit into styles ranging from bohemian to classic, providing endless opportunities for fashion experimentation.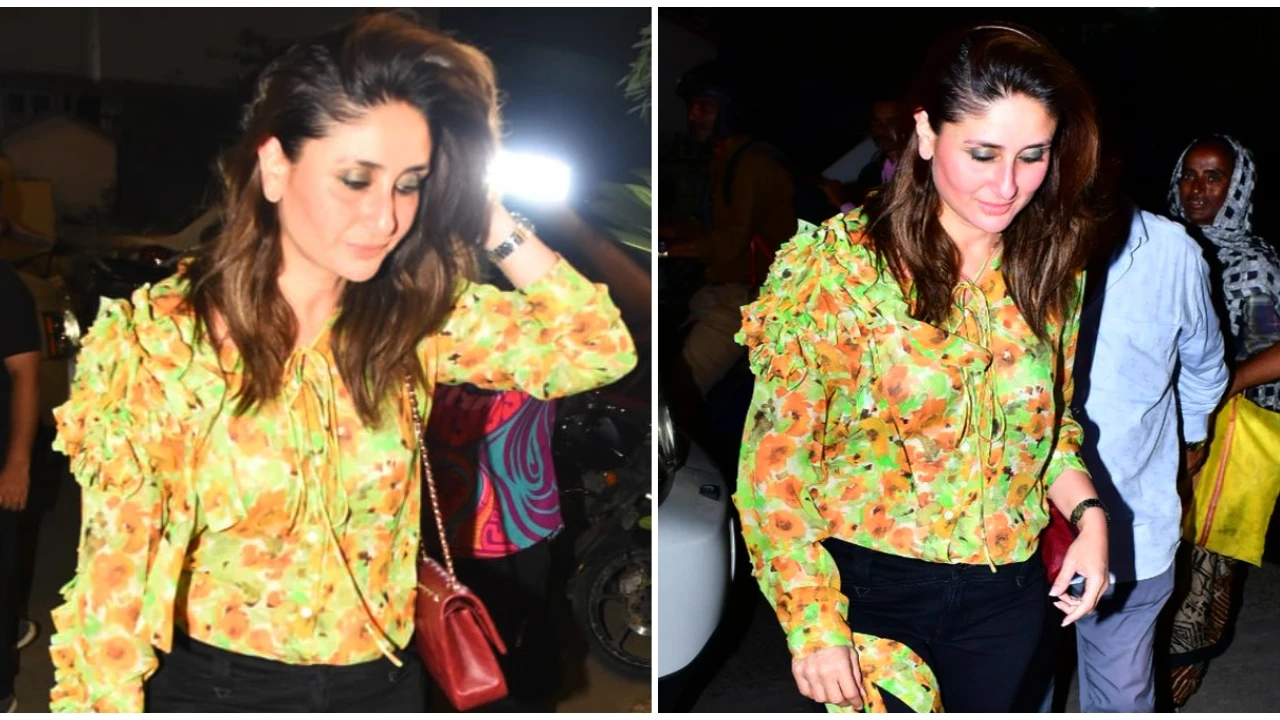 The versatility of floral prints isn't confined to fashion alone; they also serve as an essential design element that can be harnessed to bring a touch of beauty and nature to any space. Whether it's through clothing, accessories, or even interior decor, floral motifs have the innate ability to infuse a space or an outfit with a sense of freshness, vitality, and connection to the natural world.
In the context of Kareena's dinner look, the floral print she chose demonstrated her ability to blend elegance and vibrancy effortlessly. The choice of a floral pattern adds a dynamic layer to her ensemble, transforming it from a simple outfit to a statement-making ensemble that reflects her unique style sensibilities. This reflects the evergreen charm of floral prints in adding depth and character to an outfit.
Kareena Kapoor's recent fashion choices have once again highlighted her impeccable sense of style, this time embracing the charm of floral chic with a printed shirt. Her affinity for kaftans was evident in her afternoon look, where she opted for a designer tunic set that exuded a relaxed yet chic vibe. This choice speaks to the idea of comfort meeting fashion, a combination that perfectly suits the warm and laid-back days of summer.
Her penchant for kaftans resonates with the idea of embracing ease and elegance simultaneously. Kaftans are known for their loose and flowing silhouettes, making them an ideal choice for lounging at home or stepping out for casual outings. In her afternoon glam look, Kareena demonstrated how a well-designed kaftan can transform a simple ensemble into a style statement.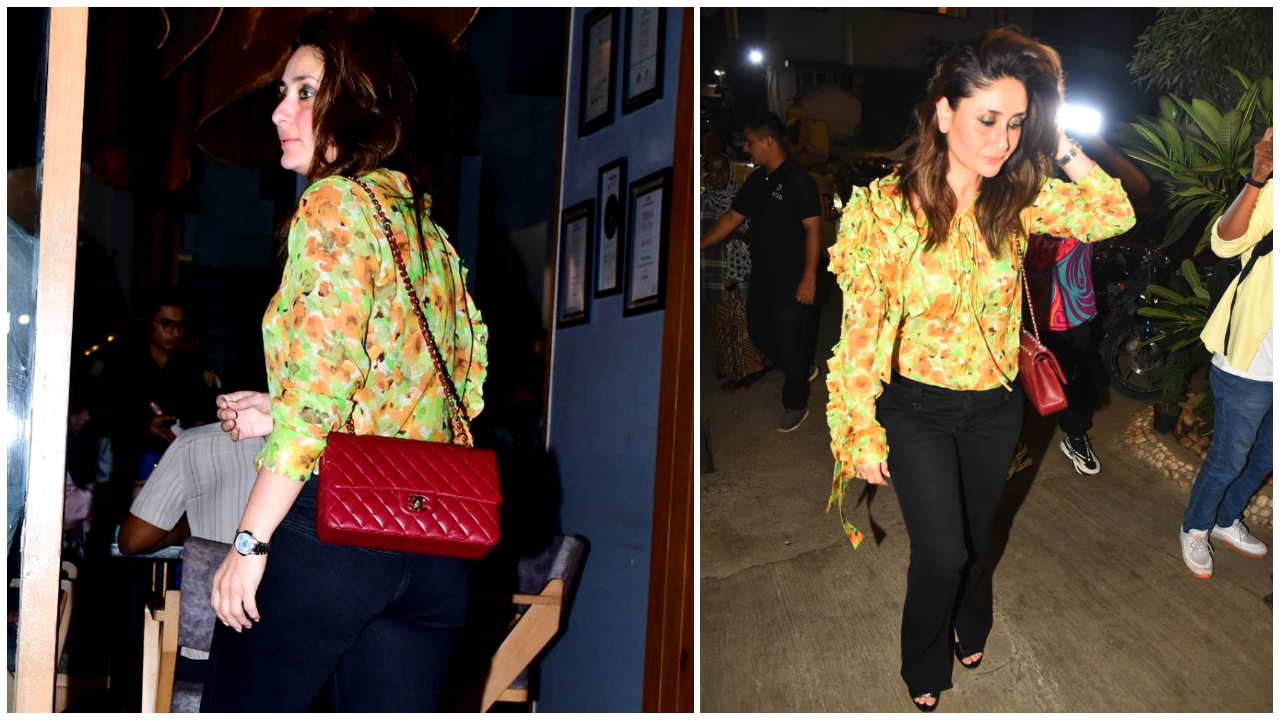 Furthermore, her evening appearance in a floral top paired with denim pants showcased her ability to effortlessly switch between different styles while maintaining her signature flair. The choice of a floral print top added a touch of vibrancy and charm to the outfit, perfect for a relaxed dinner outing with her husband. Denim pants provided a classic touch and balanced the casual chic aesthetic, creating a harmonious blend of comfort and fashion.
Floral prints are often associated with the essence of summer, symbolizing the blooming beauty of the season. Kareena's choice to incorporate a floral top into her evening attire aligns perfectly with this theme. The versatility of floral prints allows them to be dressed up or down, making them an ideal choice for various occasions, whether it's a casual dinner or a more formal event.
Overall, Kareena Kapoor's fashion choices continue to inspire individuals to embrace their personal style while exploring different trends. Her choices of kaftans and floral prints reflect the timeless allure of easy elegance and the captivating beauty of nature-inspired motifs. These looks not only resonate with the spirit of summer but also demonstrate the power of fashion in expressing one's personality and mood.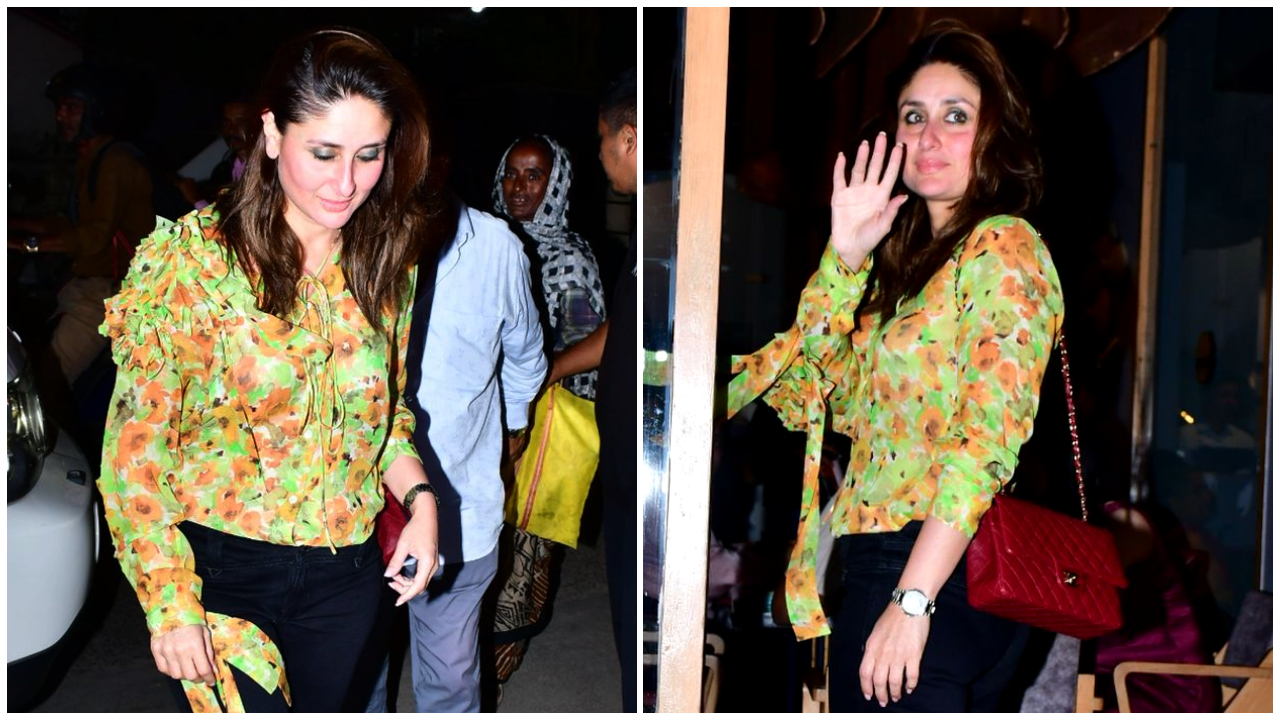 Indeed, the current season calls for a balance between staying cool, comfortable, and stylish. As the temperatures rise, lightweight fabrics and vibrant colors or prints become key elements in creating a refreshing and trendy summer look. Kareena Kapoor's fashion choices have perfectly captured this essence, as seen in her choice of a Dries Van Noten shirt.
Belgian fashion designer Dries Van Noten is known for his distinctive style that often combines rich colors, intricate patterns, and unique silhouettes. Kareena's selection of a Dries Van Noten shirt is a testament to her fashion-forward approach and her ability to effortlessly embrace global fashion trends.
The shirt's incorporation of shades of summer aligns perfectly with the idea of keeping the style fresh and vibrant. Bright colors and prints are quintessential for the season, and Kareena's choice is a prime example of how to infuse this spirit into your wardrobe. Such shirts are versatile pieces that can easily transition from day to night, making them ideal for various occasions.
The beauty of a statement shirt like the one Kareena wore lies in its adaptability. Paired with blue jeans or shorts, this shirt becomes a perfect ensemble for casual outings, brunches, or dinners. The versatility of such a piece allows for effortless styling and can be customized to suit your personal aesthetic.
Kareena's choice to embrace the essence of summer through her fashion is a testament to her understanding of seasonal trends and her ability to curate looks that resonate with the current mood. This approach not only keeps her style dynamic and engaging but also sets an example for individuals seeking inspiration to elevate their summer wardrobe.
Kareena Kapoor's styling of the Dries Van Noten shirt demonstrated her keen fashion sense and ability to create a well-coordinated and chic ensemble. By pairing the shirt with black heels and straight-fit jeans, she showcased her knack for combining high-end pieces with more casual elements to achieve a balanced and stylish look.
Black jeans, known for their versatility and timeless appeal, provide a versatile canvas for various styling options. The addition of slits towards the hem of the jeans adds a touch of uniqueness and modernity to the outfit. Kareena's choice of straight-fit jeans with this distinct detail adds an edgy and fashion-forward element to her overall appearance.
The incorporation of black jeans into the outfit opens up a world of experimentation. Black jeans can be easily dressed up or down, making them suitable for a wide range of occasions. Their neutral color allows for easy pairing with various tops, shoes, and accessories, enabling one to create diverse looks with a single staple piece.
Kareena's decision to accessorize her ensemble with a red Chanel bag adds a pop of color that complements the floral print of the shirt. The bag serves as a statement piece, drawing attention to the outfit's color palette while enhancing its overall appeal. The choice of a designer bag adds an element of luxury and sophistication to the look.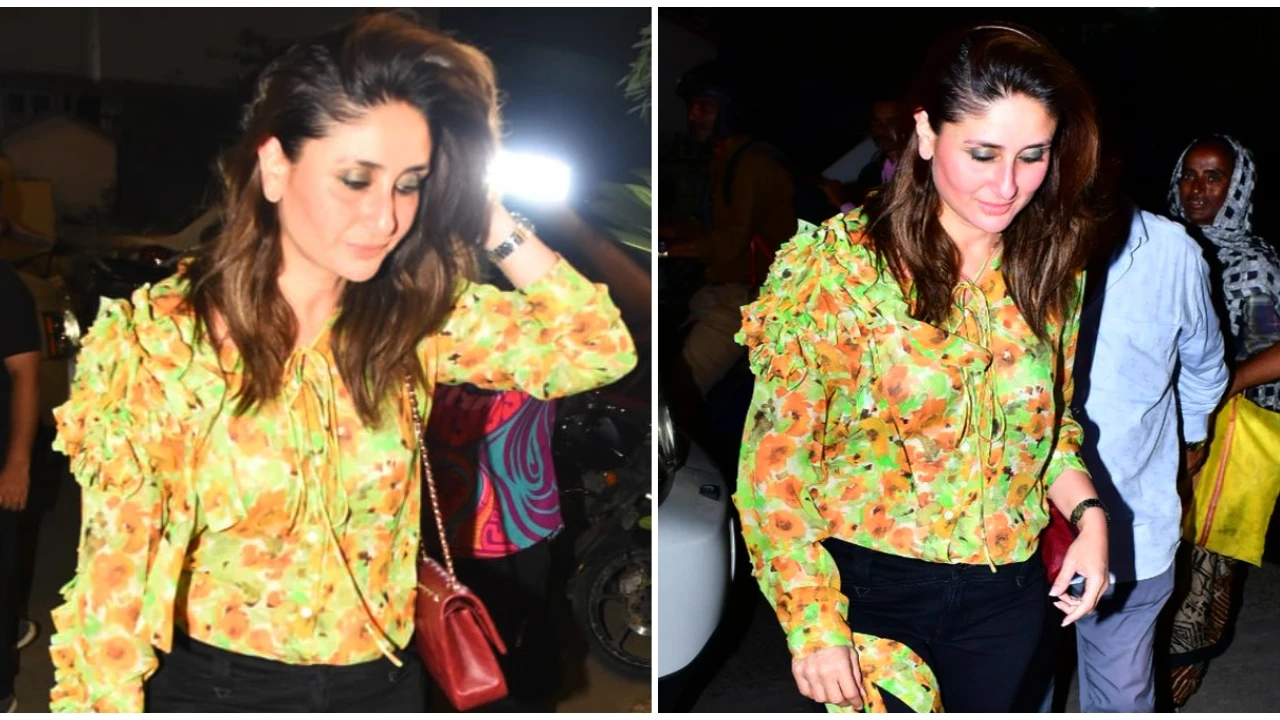 By returning to Chanel, Kareena exemplifies her ability to seamlessly blend high-end designer pieces with more accessible fashion items. This approach to fashion reflects her versatility and understanding of how to create a cohesive and stylish ensemble that aligns with her personal aesthetic.
In conclusion, Kareena Kapoor's outfit showcases her mastery of mixing and matching pieces from different brands and price points to curate a fashion-forward and captivating look. The combination of the Dries Van Noten shirt, black jeans with unique slits, and the iconic Chanel bag demonstrates her expertise in creating a well-balanced and trendsetting ensemble that resonates with fashion enthusiasts. Her ensemble serves as an inspiration for individuals seeking to experiment with their style and make bold yet tasteful fashion choices.