Priyanka Chopra vs Tamannaah Bhatia in monochromatic saree; Who wore it better?
In the fast-paced world of fashion and beauty, trends seem to come and go like the wind. What's considered chic and stylish can change in the blink of an eye, making it a challenging industry to keep up with. Yet, despite the constant flux, there's a remarkable phenomenon that often occurs on the red carpet – the serendipitous moment when two or more celebrities step out wearing nearly identical ensembles or embracing the same trend.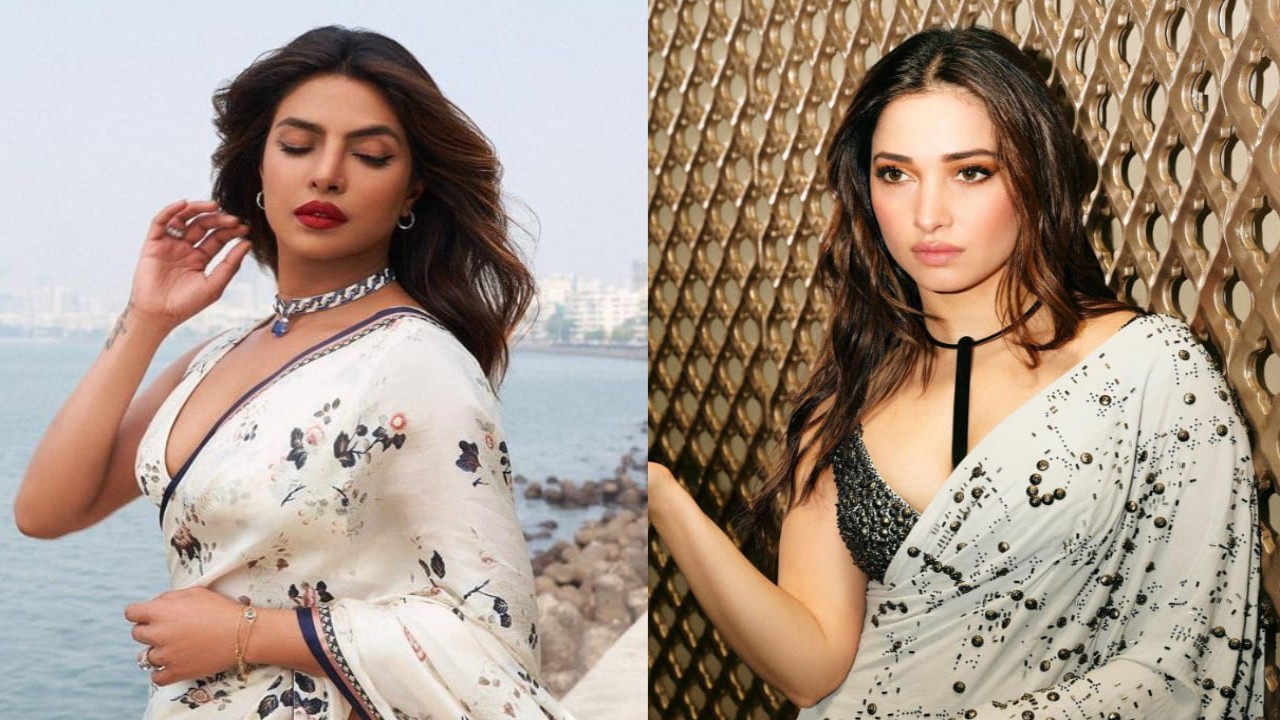 This intriguing occurrence adds an element of unpredictability to the highly orchestrated world of celebrity fashion. It's as though the stars align, and two or more prominent figures unintentionally find themselves in a sartorial harmony that captures the attention of the fashion-conscious public. Whether it's a particular color, fabric, or style, the red carpet offers a platform for these coincidental fashion moments to shine.
The "twinning" phenomenon on the red carpet has a way of making fashion feel accessible and relatable to the masses. It highlights the fact that celebrities, despite their glamorous personas, are also influenced by the trends and zeitgeist of the moment. It underscores the shared connection between celebrities and their fans, as they too might be inspired to embrace a particular trend or color scheme they see on their favorite stars.
In conclusion, the fashion and beauty world's ever-evolving nature guarantees that trends will continue to emerge and vanish, but the serendipitous moments when celebrities converge on the same sartorial path on the red carpet bring a sense of excitement and connection to the ever-shifting landscape of style. These moments remind us that even in the world of high fashion, there's room for spontaneity and shared inspiration.
Prepare for a fashion face-off as we delve into the glamorous worlds of two Bollywood divas, Priyanka Chopra and Tamannaah Bhatia. What's particularly intriguing is that it seemed like fate had a plan for these two lovely ladies as they both chose to wear white sarees with black designs on the same day, albeit for different occasions.
Priyanka Chopra, a global icon and former Miss World, is known for her impeccable sense of style. She has graced the red carpets of both Hollywood and Bollywood with her fashion-forward choices. On this particular day, she stepped out in a stunning white saree adorned with intricate black designs. Priyanka's choice of this elegant traditional attire, with a modern twist, showcased her ability to effortlessly blend cultural elements with contemporary fashion.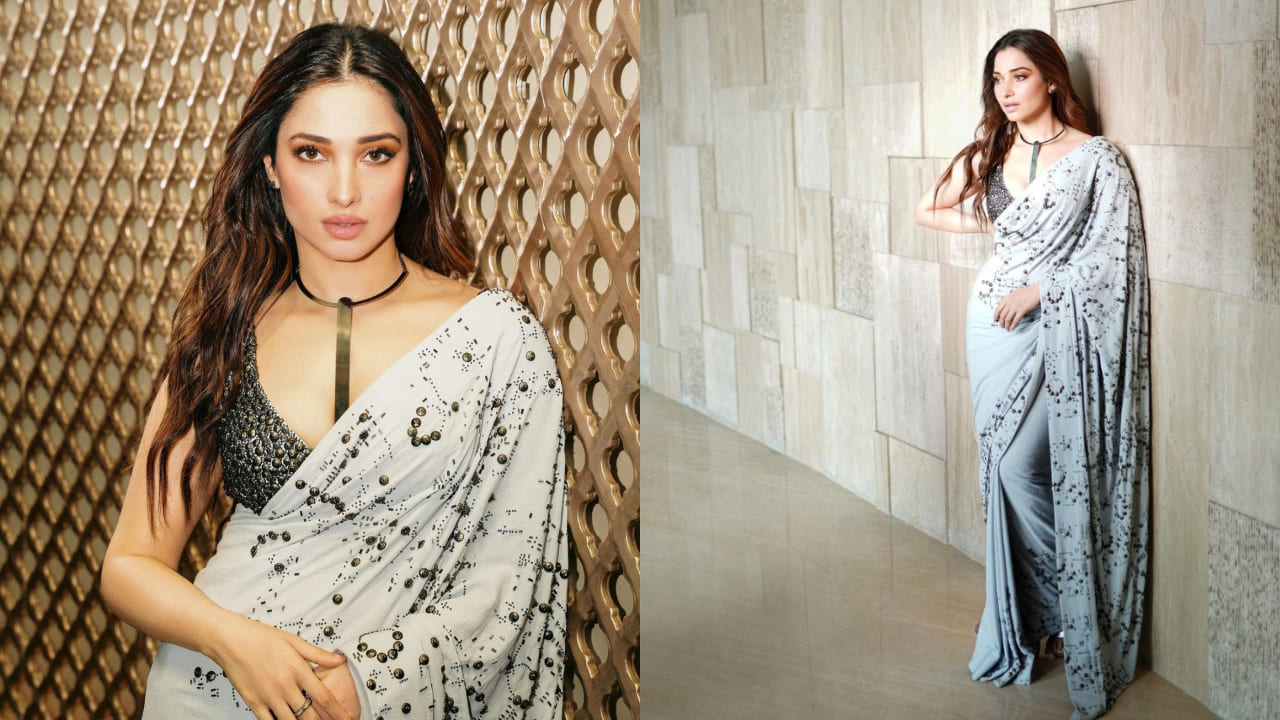 Tamannaah Bhatia, on the other hand, is a popular South Indian actress who has made her mark in the Indian film industry. She too chose a white saree with black patterns for a separate occasion. Her outfit exuded grace and sophistication, reflecting her own unique style and the cultural influences of the South Indian film industry.
This fashion synchronicity between two prominent actresses is a reminder that fashion transcends borders and backgrounds, uniting people through a shared appreciation for style and aesthetics. It also ignites conversations about who wore it better and the impact of celebrity fashion choices on the broader fashion landscape. While these two divas may have donned similar ensembles on the same day, each brought her distinctive flair and personality to the attire, showcasing the versatility of traditional garments in contemporary fashion.
In the ever-observant world of fashion and celebrity culture, such moments of serendipity provide enthusiasts with an exciting glimpse into the diverse and evolving trends that captivate not only Bollywood but the global fashion scene as a whole. Whether on the red carpet or on the streets, these divas continue to inspire and set trends that fashion enthusiasts around the world eagerly follow.
The gifted diva made a striking fashion choice by opting for a beautiful black and white floral saree that exuded timeless elegance while championing simplicity. Her selection of a monochromatic color palette and intricate floral patterns paid homage to traditional Indian fabrics while infusing a contemporary twist. This combination allowed her to strike a balance between classic and modern, appealing to a wide range of fashion sensibilities.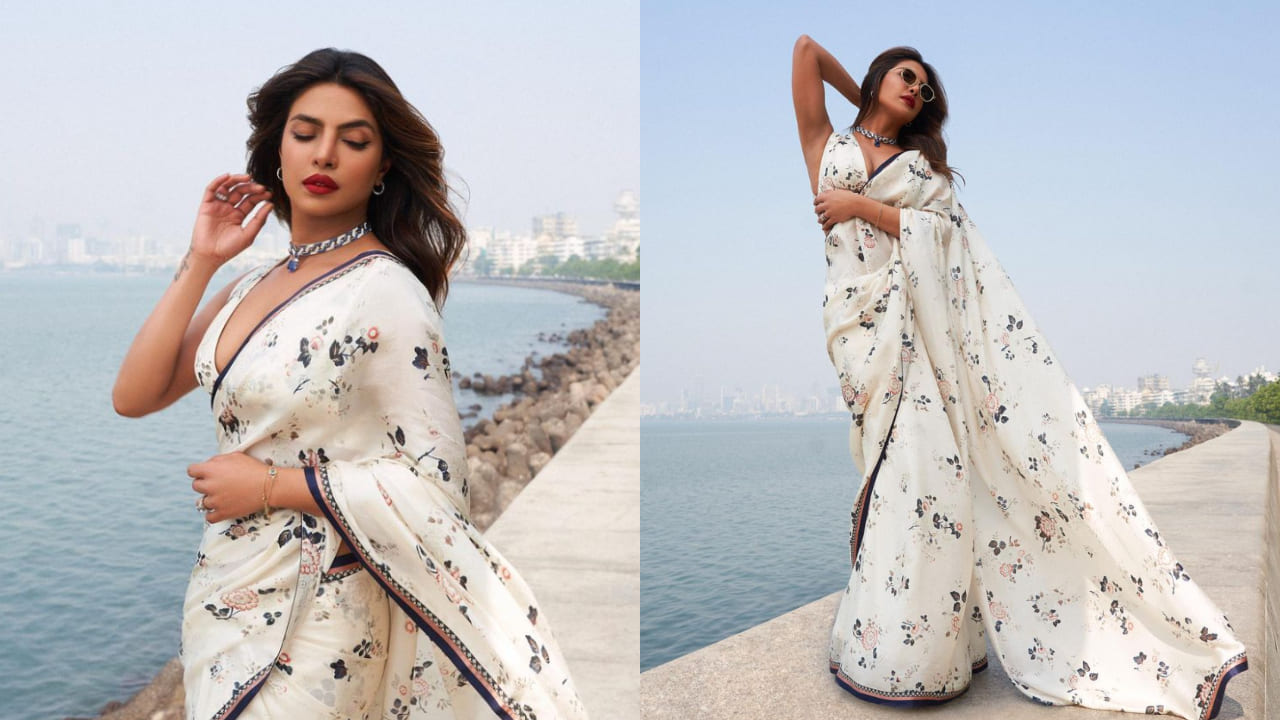 The saree was a true work of art, with the impeccable draping showcasing a charming floral design that ran throughout the fabric. The delicate, yet well-defined, floral motifs added a touch of grace and femininity to the ensemble, making it an ideal choice for a variety of occasions. The choice of a black and white color scheme added a sense of sophistication and versatility to the outfit, making it suitable for both formal events and more casual gatherings.
The stunning actress elevated her look by pairing the exquisite saree with a matching patterned blouse, showcasing her keen eye for detail and fashion finesse. The blouse featured broad shoulder straps that not only added a contemporary touch to the ensemble but also provided structural support and comfort. The deep V-shaped neckline of the blouse added a subtle hint of sensuality, balancing the classic charm of the saree with a touch of modern allure. This thoughtful combination of the saree and blouse enhanced the overall appeal of the outfit, making it a standout choice.
Tamannaah Bhatia made a mesmerizing fashion statement as she graced an occasion in a stunning white saree adorned with black buttons, crystal embellishments, and intricate sequin work. What set this saree apart was its unique and modern abstract drip design, adding an element of contemporary artistry to the traditional Indian attire. The saree was draped to perfection, with crisp pleats and a gracefully spread-out pallu, showcasing the actress's impeccable sense of style and poise.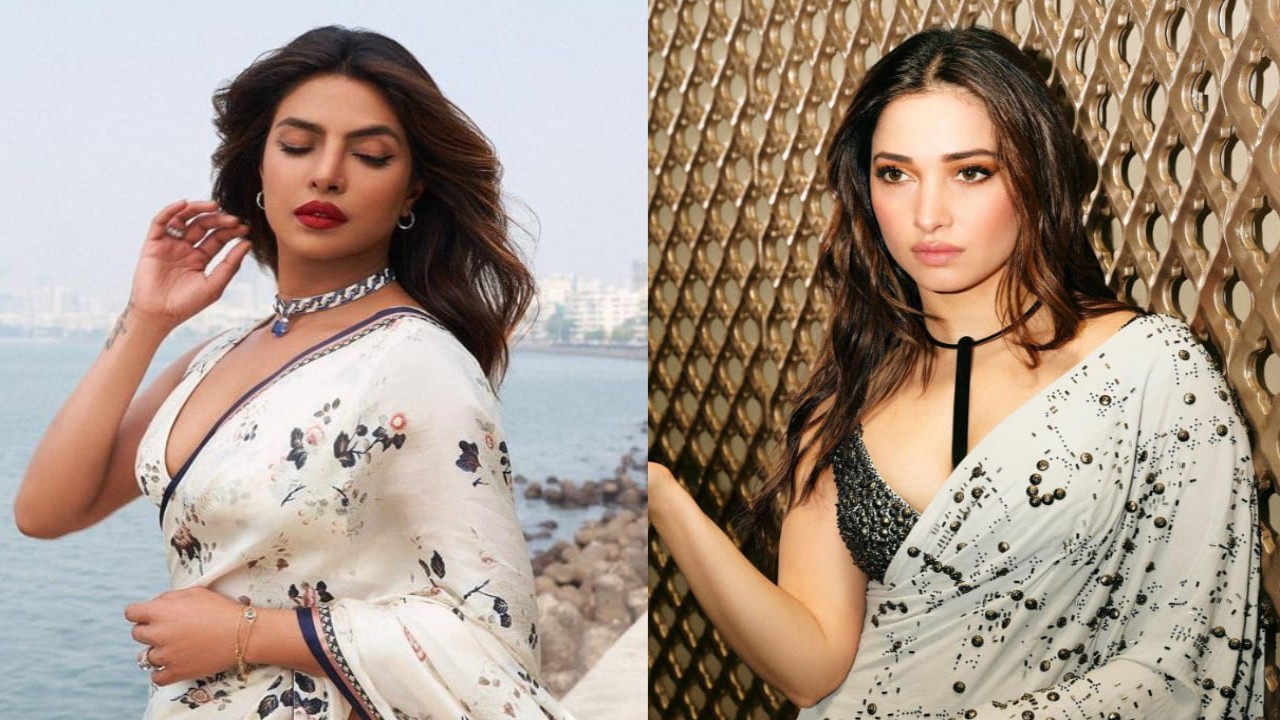 To complement this exquisite saree, Tamannaah paired it with a black bralette that featured a deep and sensual neckline, adorned with intricate beading. This modernized choker-styled extension added a touch of avant-garde fashion to the ensemble, beautifully blending tradition with contemporary sensibilities. The striking contrast between the white saree and the black bralette created a captivating visual impact, making this look truly unforgettable.
The credit for styling this remarkable saree ensemble goes to Chandini Whabi, a talented stylist who skillfully brought out the best in Tamannaah's outfit. The saree itself was sourced from Vrinda Sachdev and Gurinder Singh's brand, Qbik, known for its unique and artistic designs. This fashion choice by Tamannaah not only showcased her ability to push the boundaries of traditional fashion but also celebrated the creativity and craftsmanship of the designers and stylists who contributed to this extraordinary look.
In this ensemble, Tamannaah Bhatia flawlessly blended artistic innovation with classic elegance, exemplifying the ever-evolving landscape of Indian fashion. Her fashion choices continue to inspire and captivate, emphasizing that fashion is an art form where creative collaboration and a sense of daring can lead to breathtaking and trendsetting results.
When it comes to determining who rocked the saree better, it ultimately boils down to personal preferences and individual tastes. Fashion, after all, is a deeply subjective realm where what resonates with one person may not resonate with another. Both Priyanka and Tamannaah brought their own charisma and flair to the outfit, making it a memorable moment in the world of celebrity fashion. What truly matters is that they both celebrated the beauty and versatility of the saree in their own unique ways, reinforcing the idea that fashion is a means of self-expression and personal interpretation.