Malaika Arora's white lehenga set with statement accessories is ideal for first-time Karva Chauth celebrations!
Bollywood boasts a plethora of stunning actresses with impeccable fashion sense, but one name that stands out with its iconic style is Malaika Arora. Known for her exceptional fashion choices and captivating appearances, Malaika once again took the fashion world by storm with her recent appearance. The "Moving In With Malaika" star left everyone spellbound as she donned a pristine white lehenga set.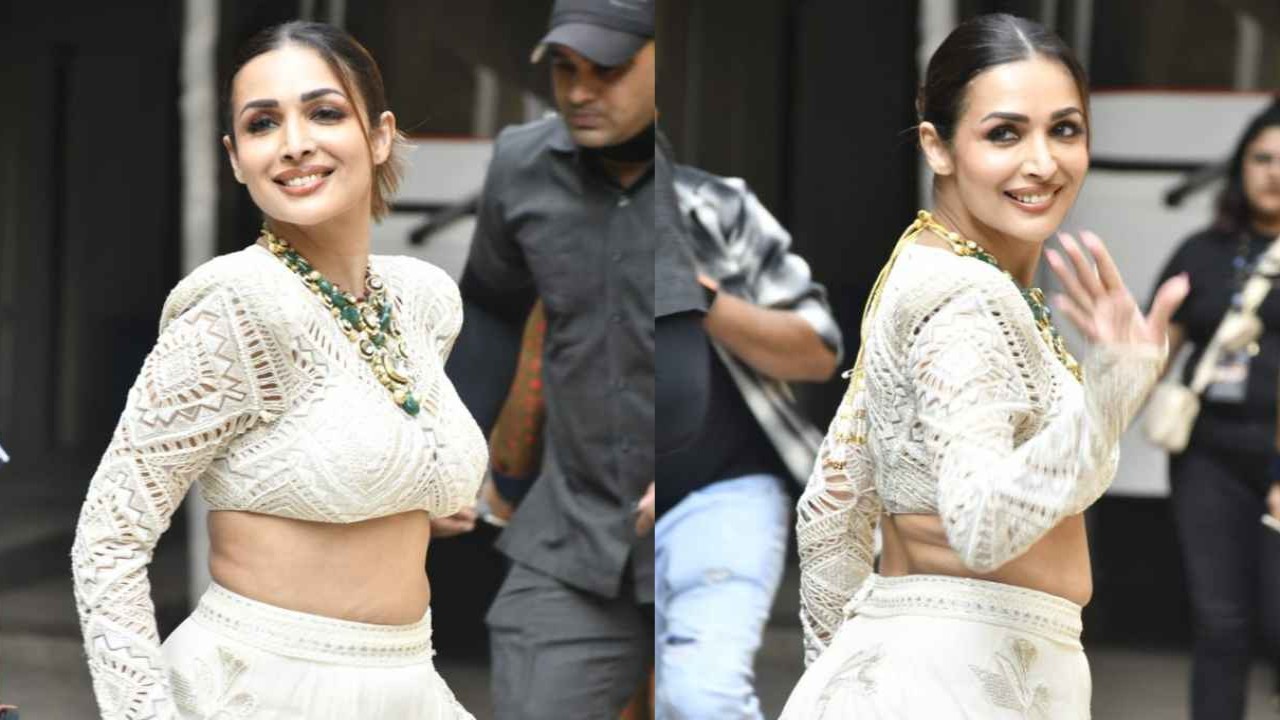 Malaika Arora's fashion choices have always been a subject of admiration, and her recent outing in a white lehenga set only added to her reputation as a style icon. The pristine white ensemble she chose exuded elegance and sophistication, while also showcasing her innate ability to make a fashion statement like no other. Her presence in the fashion scene has been consistently remarkable, and her latest appearance further cemented her status as a trendsetter in the industry.
This white lehenga set, undoubtedly, left a lasting impression on fashion enthusiasts and admirers of Malaika's style. It's a testament to her understanding of fashion and her ability to effortlessly captivate the hearts and minds of fashion aficionados. Malaika Arora continues to prove that her iconic status in the world of fashion is well-deserved, making us eagerly anticipate her next stunning appearance.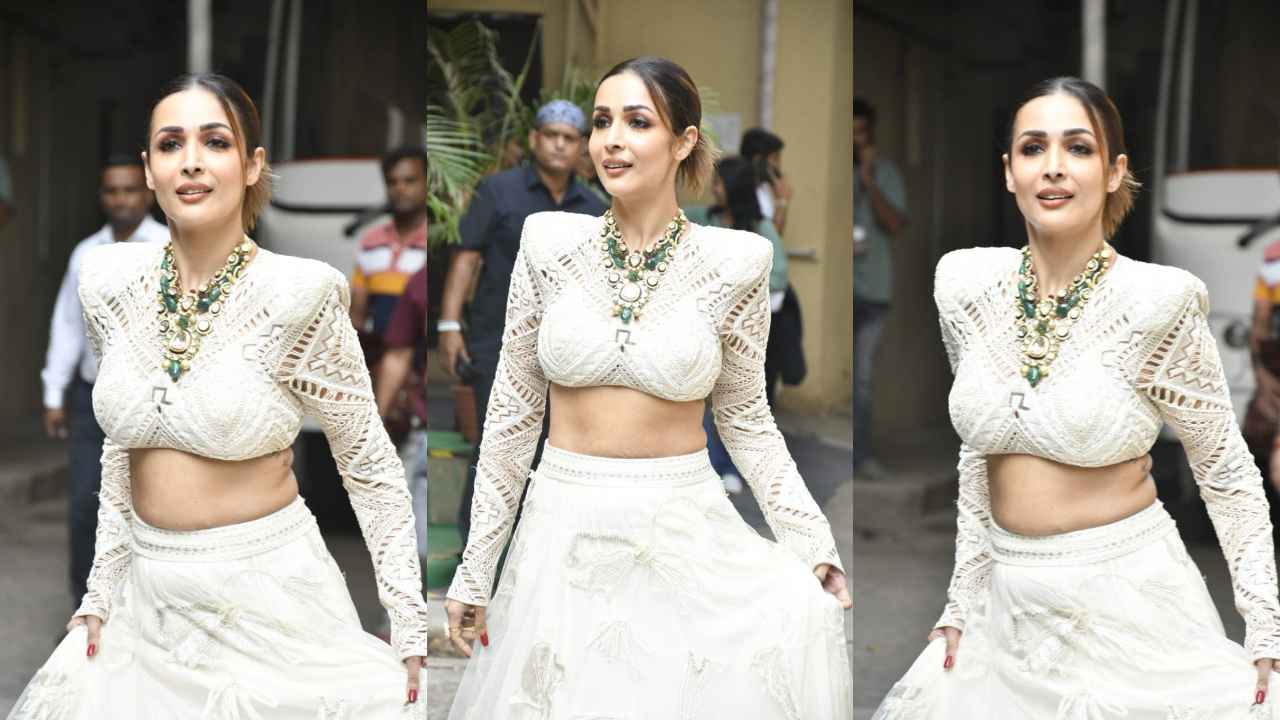 The stunning Malaika Arora recently graced the lens of the paparazzi as she stepped out for a shoot, dressed in a classy pristine white lehenga set. This striking ensemble included a full-sleeved cropped top that was nothing short of a masterpiece in terms of its intricate details. The top was adorned with a combination of thread, resham, sequin, and cut-work embroidery, all meticulously crafted in a unique yet incredibly classy geometric pattern. This exceptional craftsmanship highlighted Malaika's discerning taste in fashion and her ability to stand out with elegance and style.
The choice of a pristine white color for the lehenga set added a touch of purity and timelessness to Malaika's appearance. The ensemble's full-sleeved cropped top, paired with the lehenga, created a harmonious blend of modern and traditional elements, showcasing her ability to effortlessly fuse contemporary style with classic Indian aesthetics. The geometric pattern on the top added a sense of innovation and sophistication, further establishing Malaika as a fashion trendsetter.
Malaika Arora's striking white lehenga set is a testament to her unique fashion sense and her innate ability to leave an indelible mark in the world of style. Her appearance in this ensemble not only captured the attention of the paparazzi but also left a lasting impression on fashion enthusiasts. Malaika's choice of clothing and her unparalleled sense of style continue to make her a standout figure in the world of fashion, and her latest appearance is yet another example of her iconic fashion presence.
Malaika Arora's choice of a full-sleeved cropped top with fixated shoulder pads was a daring and distinctive move that brought a unique yet fabulous fusion to her outfit. The shoulder pads not only added an element of structure but also lent the ensemble an avant-garde touch. This innovative design choice showcased Malaika's ability to push the boundaries of fashion and create a striking visual impact. It was a bold choice that set her apart and contributed to the ensemble's remarkable appeal.
To complete her outfit, the talented Dil Se actress paired the top with a long, floor-length flowing skirt. The skirt, crafted from netted sheer material with delicate floral embroidery, was a masterstroke in enhancing the ensemble's overall aesthetic and allure. The intricate floral embroidery added a touch of femininity and grace to the outfit, complementing the boldness of the top's design. Malaika's choice of this skirt showed her ability to balance different elements and create a harmonious look that left everyone, including us, utterly obsessed.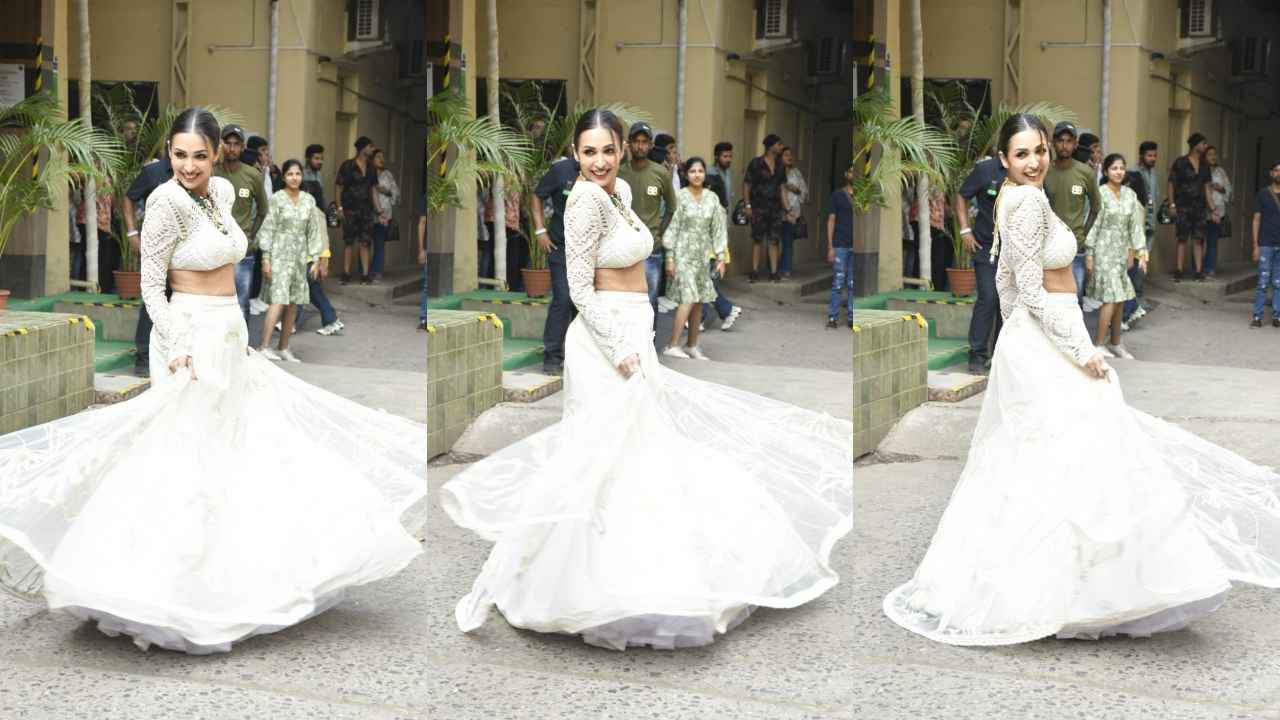 Malaika Arora's outfit, with its distinctive top featuring shoulder pads and the netted skirt with delicate embroidery, was a remarkable example of her fearless approach to fashion. Her ability to blend innovative design with classic aesthetics was truly captivating, making this ensemble a memorable and fashionable statement. It once again highlighted her iconic status in the world of style, leaving us in admiration of her bold choices and exceptional fashion sense.
The elegant actress, Malaika Arora, paid meticulous attention to every detail of her ensemble, right down to her choice of footwear. She opted for strappy stiletto sandals that were a perfect complement to her outfit. These sandals not only provided an additional element of style but also helped create a cohesive and refined look for the entire ensemble. Malaika's choice of footwear reflected her commitment to ensuring every element of her appearance was in harmony.
In keeping with her bold and distinctive style, the gorgeous and talented star of "Moving In With Malaika" decided to go all out with her accessories. She chose a layered statement necklace adorned with matching white pearls, heavy kundan pieces, and intricate detailing. This eye-catching necklace not only added a touch of opulence but also served as a focal point on her stunning white canvas. To introduce a vibrant and striking contrast to her look, Malaika incorporated green crystals into her accessories. The green crystals provided a much-needed pop of color, further enhancing the allure of her overall appearance.
Malaika Arora's choices in accessories were truly captivating and reflected her fearless approach to fashion. The combination of her strappy stiletto sandals, the statement necklace, and the carefully chosen rings highlighted her exceptional fashion sense. These choices, collectively, demonstrated her mastery of style and her ability to create an appearance that is both sophisticated and bold. It's no wonder that we're totally in love with Malaika's fashion choices, as they once again showcase her iconic status in the world of style and fashion.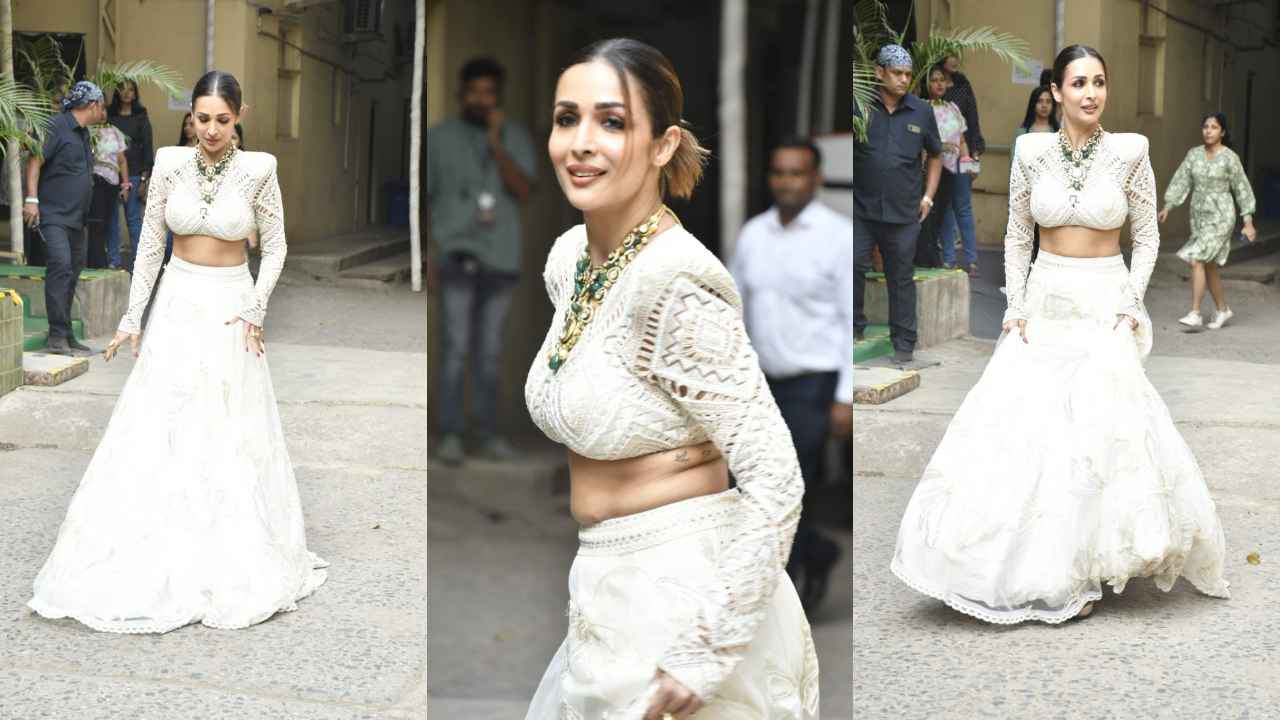 Last but certainly not least, Malaika Arora's hair and makeup choices were on point, adding the perfect finishing touches to her stunning ensemble. The beautiful actress, known for her role in "Dabangg," chose to tie her hair up into a sleek bun with a precise middle parting. This hairstyle was not only elegant but also showcased her facial features and the intricate design of her outfit. The single remaining flick of hair added a touch of playfulness and charm to her overall look, making it a truly great choice.
Malaika's makeup game was equally impeccable. Her makeup featured a flawless base with a matte finish, enhancing her natural beauty and providing a clean canvas for further enhancements. To elevate her look, she chose a striking red lipstick that perfectly complemented her ensemble and added a bold and vibrant element to her appearance. Her makeup choices highlighted her keen understanding of how to balance and enhance her features, making her look absolutely radiant.
Malaika Arora's hair and makeup choices demonstrated her meticulous attention to detail and her commitment to achieving a complete and harmonious look. The sleek bun and middle parting, coupled with the eye-catching red lipstick, were the perfect elements to conclude her stunning appearance. Malaika's ability to make every facet of her look flawless, from head to toe, solidified her status as a true style icon and left us admiring her exceptional fashion choices once again.