Malaika Arora's monochromatic formal fit is the PERFECT inspiration to bid adieu to your office wear dilemmas
Malaika Arora, a prominent figure in the fast-paced world of showbiz, is a name that consistently shines when it comes to talent, entertainment, and especially fashion and beauty. Her multifaceted presence in the industry has firmly established her as a true diva who not only possesses remarkable acting skills but also stands as a quintessential fashion icon. Her influence in the realm of fashion and beauty is nothing short of legendary.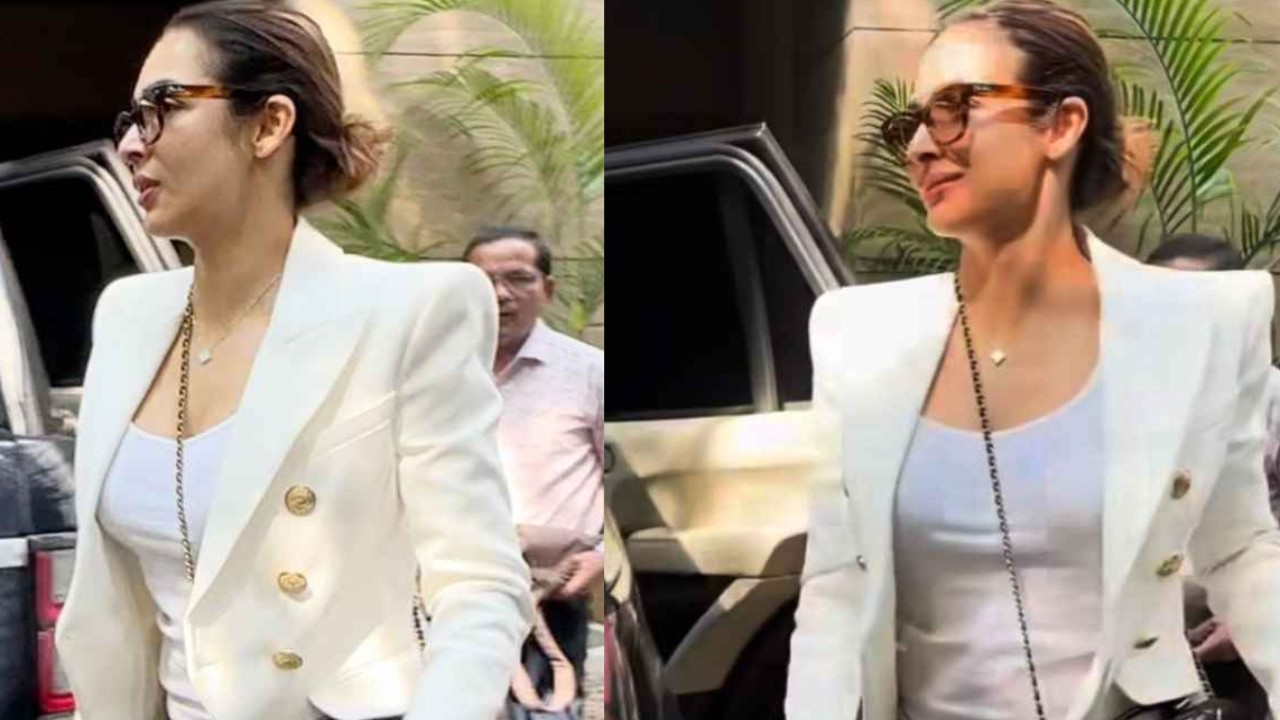 Recently, the paparazzi had the delightful opportunity to capture a glimpse of Malaika Arora, and her impeccable sense of style left everyone in awe. The moment she was caught dashing around town, clad in a monochromatic formal outfit, it became evident that she has an extraordinary ability to make a statement with her fashion choices. Malaika's effortlessly chic and elegant look was a testament to her remarkable fashion sense, further solidifying her status as a trendsetter in the industry.
Malaika's choice of a monochromatic ensemble, with its harmonious blend of colors and clean lines, demonstrated her understanding of fashion's subtleties. She effortlessly combined the elements of formality and sophistication, showcasing her mastery in curating the perfect outfit for any occasion. Her style exudes confidence and originality, which are key attributes that have contributed to her enduring influence in the world of fashion.
In a world where trends come and go at lightning speed, Malaika Arora's consistent ability to stay at the forefront of the fashion and beauty scene is truly commendable. Her ability to effortlessly balance her roles as an actress, entertainer, and fashion icon makes her a true inspiration for those who look up to her. With her captivating style and grace, Malaika Arora continues to be a force to be reckoned with in the world of showbiz, leaving a lasting impression on all who are fortunate enough to witness her fashion-forward choices.
The incomparably gorgeous Indian actress recently made a striking appearance, turning heads as she strolled around town, exuding her unique boss-girl aesthetic. This talented actress, known for her roles in action films, once again showcased her impressive fashion sense. Her choice of attire included a classic and timeless white top, but it was far from ordinary. The top featured a U-shaped plunging neckline, adding a touch of allure and sophistication to her overall look.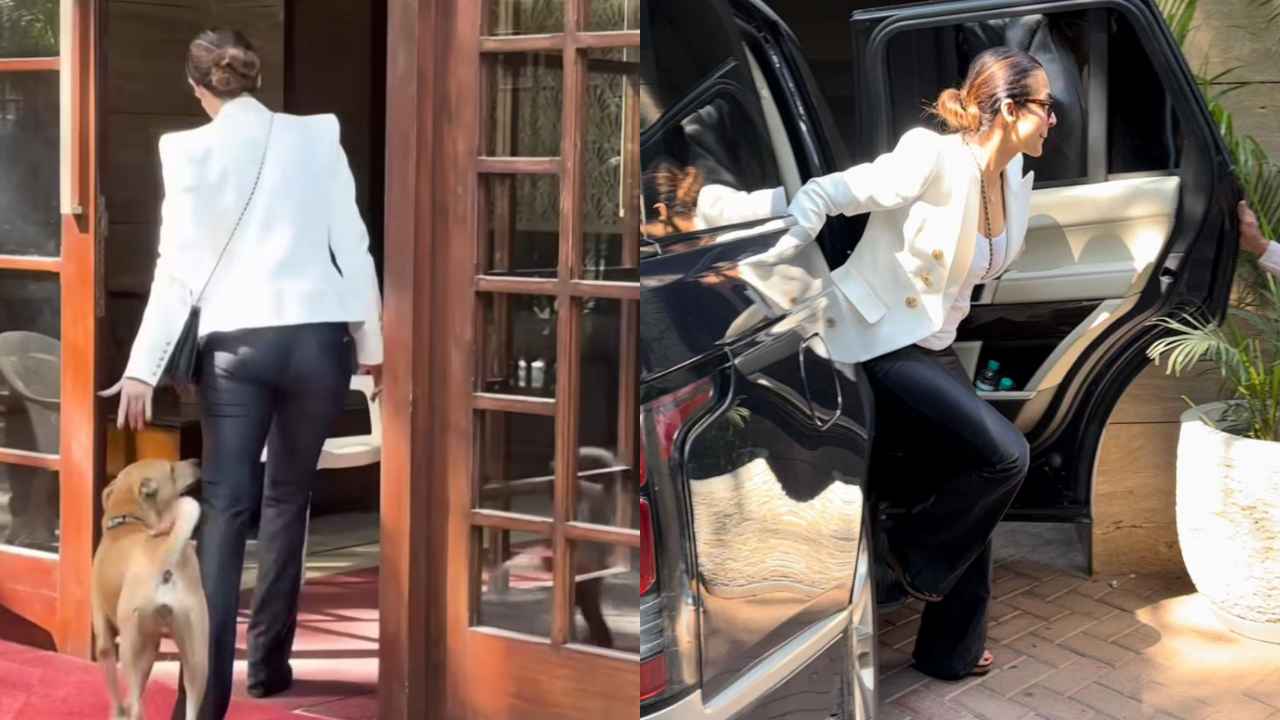 To elevate her outfit, the talented actress made a stylish decision by layering the white top with a full-sleeved white blazer. The blazer not only added an element of sophistication but also featured a flattering and tailored fit, accentuating her silhouette with finesse. One couldn't help but notice the tasteful detail of three gold buttons adorning the blazer's lapel, providing a subtle touch of elegance to the ensemble.
This carefully curated outfit reflected a blend of classic simplicity and contemporary style, perfectly suited to the actress's unique persona. Her fashion choices clearly demonstrate her ability to effortlessly command attention, both on and off the screen. With her boss-girl aesthetic, she continues to set trends and inspire fashion enthusiasts, leaving a lasting impression in the ever-evolving world of glamour and style.
The classy blazer that the actress donned was not only elegant but also paid homage to a timeless trend with its formal shoulder pads. This nod to the classic design element added a touch of sophistication to her ensemble, contributing to a strong and confident appearance. The combination of the plunging neckline white top, the well-tailored blazer, and the formal shoulder pads created a perfect synergy of style and substance.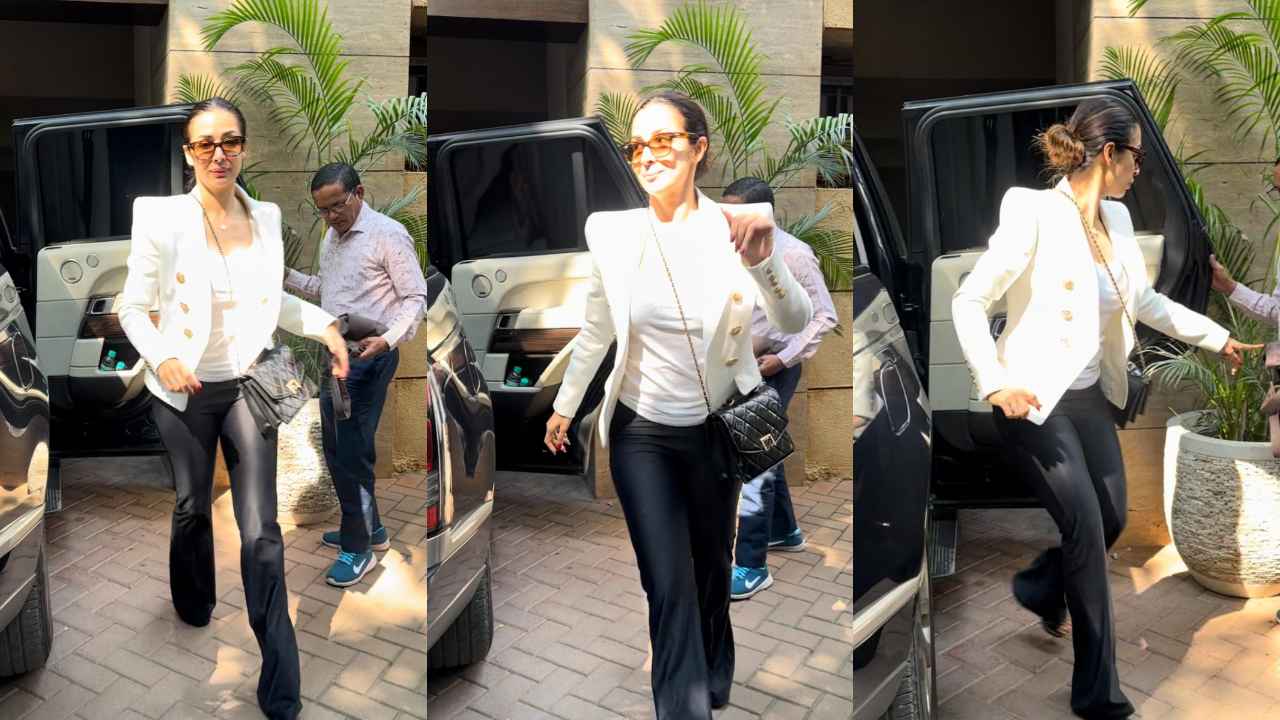 Continuing to exhibit her impeccable fashion sensibilities, the fashionista opted for black, floor-length, wide-legged pants to complete her look. These pants, with their clean lines and tailored fit, seemed to have been custom-made for her, as they fit her like a charm. The choice of black added a dash of chic elegance to the outfit, perfectly balancing the classic white elements.
The result was an overall aesthetic that left onlookers and fashion enthusiasts absolutely obsessed. Her ability to blend classic and contemporary fashion elements with finesse is a testament to her fashion prowess, making her a true style icon. Her outfit spoke volumes about her confidence, individuality, and the timeless appeal of well-executed fashion choices, making her a source of inspiration for all those who appreciate the art of dressing with elegance and flair.
Adding the final touches to her already stunning ensemble, the ever-stylish Malaika Arora opted for a pair of sleek black boots. This choice not only enhanced the overall look but also provided a harmonious blend with the black wide-legged pants. The black boots not only showcased her fashion-forward approach but also gave the outfit a modern and edgy twist.
However, Malaika's fashion statement didn't stop there. The incredibly talented Housefull actress elevated her outfit with a luxury accessory, the Black Chanel Small Flap Bag with Top Handle. This exquisite handbag, which comes with an extravagant price tag of approximately Rs. 5,86,374, is a testament to her penchant for high-end fashion. The addition of this luxurious bag not only complemented her formal attire but also demonstrated her impeccable taste for accessories.
To shield her eyes from the sun and add an element of mystery to her look, the talented actress opted for a pair of dark-tinted sunglasses. These shades not only protected her eyes from the sun's glare but also enhanced the overall appeal of her outfit. The sunglasses complemented her boss-girl aesthetic, giving her a chic and effortlessly cool vibe.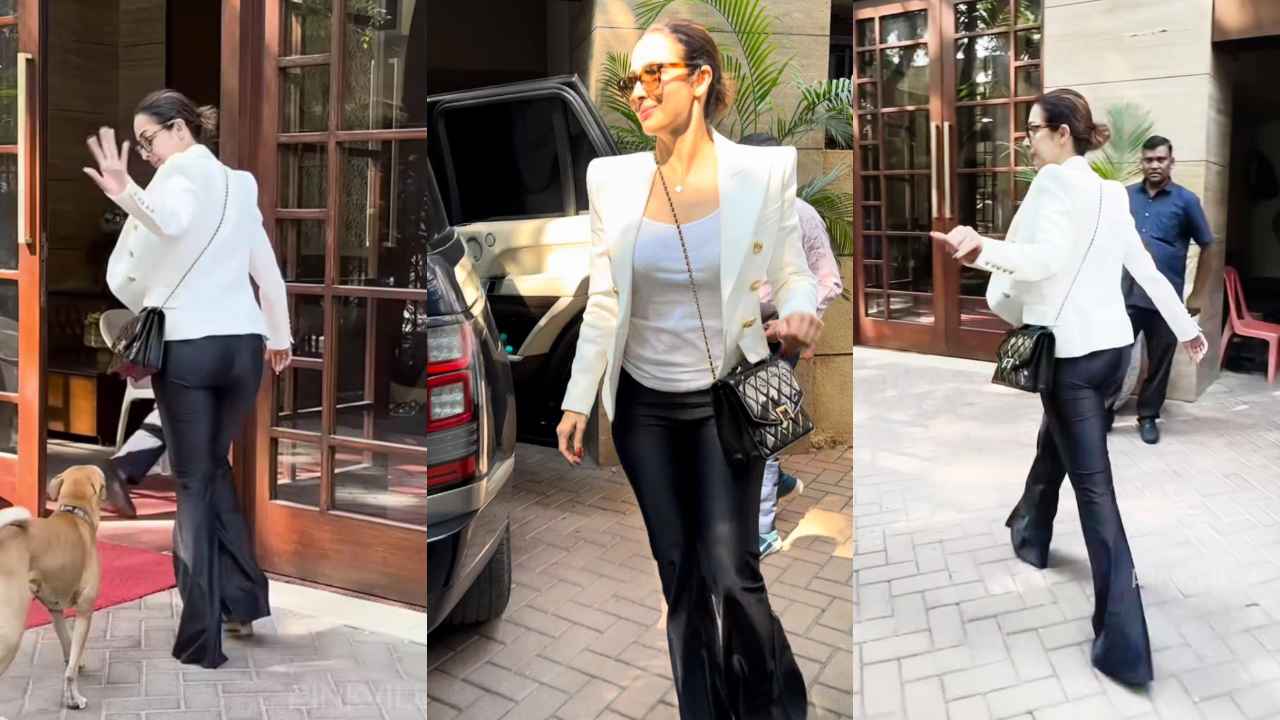 Malaika Arora's choice of accessories, including the heart-shaped pendant and the dark-tinted sunglasses, further exemplified her mastery in creating a complete, well-thought-out look. Her attention to even the smallest details showcased her status as a true fashion icon who understands that accessories can elevate an outfit to a whole new level of sophistication and style.
Malaika Arora's meticulous attention to detail extended seamlessly to her hair and makeup, completing her overall look with finesse. She opted for an elegant yet slightly messy bun, a hairstyle that perfectly complemented the classic and edgy elements of her outfit. The bun added a touch of sophistication while retaining a hint of casualness, making it a perfect choice to balance her ensemble's diverse style elements. This choice underscored her keen sense of fashion, where every aspect of her appearance was carefully curated to perfection.
Malaika Arora's fashion choices serve as a valuable lesson for anyone faced with a fashion dilemma. Her approach is clear and timeless: keep it simple, go monochromatic, embrace sophistication, and conquer the world with style, confidence, and grace. In a world often overwhelmed by trends and fleeting fads, Malaika's style philosophy reminds us of the enduring appeal of elegance and simplicity.
The concept of simplicity, in both attire and accessories, allows individuality to shine while maintaining a strong sense of sophistication. Going monochromatic, as Malaika does with her outfit, highlights the power of a harmonious color palette, creating a polished and well-put-together look that is always in vogue.
Ultimately, Malaika Arora demonstrates that true style is not just about what you wear, but how you wear it. Her confidence and grace add an extra layer of allure to her fashion choices, making her a true fashion icon who leaves an indelible mark in the ever-evolving world of style. So, when in doubt, remember Malaika's mantra: keep it simple, embrace sophistication, and step out with confidence to conquer the world of fashion.