Malaika Arora SLAYS in white corset-like blazer with matching flared pants and an expensive Bottega Veneta bag
Bollywood indeed boasts a multitude of beautiful and stylish divas, but there's one who stands out as the industry's very own fashion queen, and that's Malaika Arora.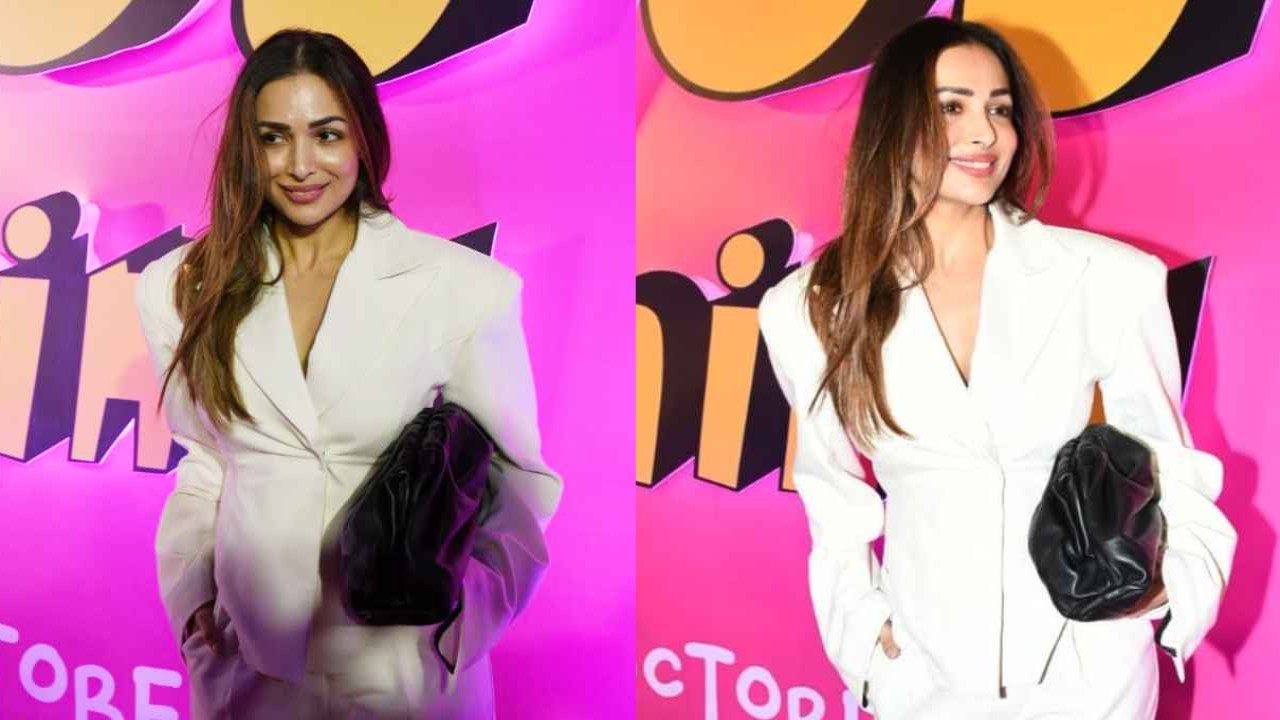 Malaika Arora is renowned not only for her stunning beauty but also for her impeccable fashion sense, which is nothing short of a style revolution. She has consistently pushed the boundaries of fashion, setting trends, and making bold fashion statements that have left us all in awe.
From red carpet appearances to casual street style, Malaika's fashion choices are always on point. Whether it's a glamorous evening gown or a chic and effortless everyday look, she knows how to make heads turn and cameras flash wherever she goes.
But Malaika is not just a fashion icon; she's also a fitness enthusiast, setting fitness goals for her fans and followers. Her dedication to maintaining a healthy lifestyle is an inspiration to many.
In a world where fashion is constantly evolving, Malaika Arora remains a timeless and unparalleled style icon, leaving an indelible mark on the fashion landscape of Bollywood. She truly is the industry's fashion queen, and her influence on the world of fashion is undeniable.
The stunning Malaika Arora graced the movie premiere of Rhea Kapoor's "Thank You For Coming" with her presence, and her fashion game was absolutely on point. She donned an exquisite all-white ensemble that had heads turning and cameras flashing.
Malaika's all-white outfit exuded sophistication and elegance. The ensemble was a perfect blend of style and simplicity, highlighting her impeccable fashion sense. The choice of white added a touch of purity and grace to her appearance, while the silhouette of the outfit accentuated her enviable figure.
But what truly caught everyone's attention was the luxurious black Bottega Veneta bag that Malaika carried with her. The bag was a statement piece, adding a bold and edgy contrast to her pristine white ensemble. Bottega Veneta is known for its exquisite craftsmanship and high-end luxury, and Malaika's choice of this bag further showcased her impeccable taste in accessories.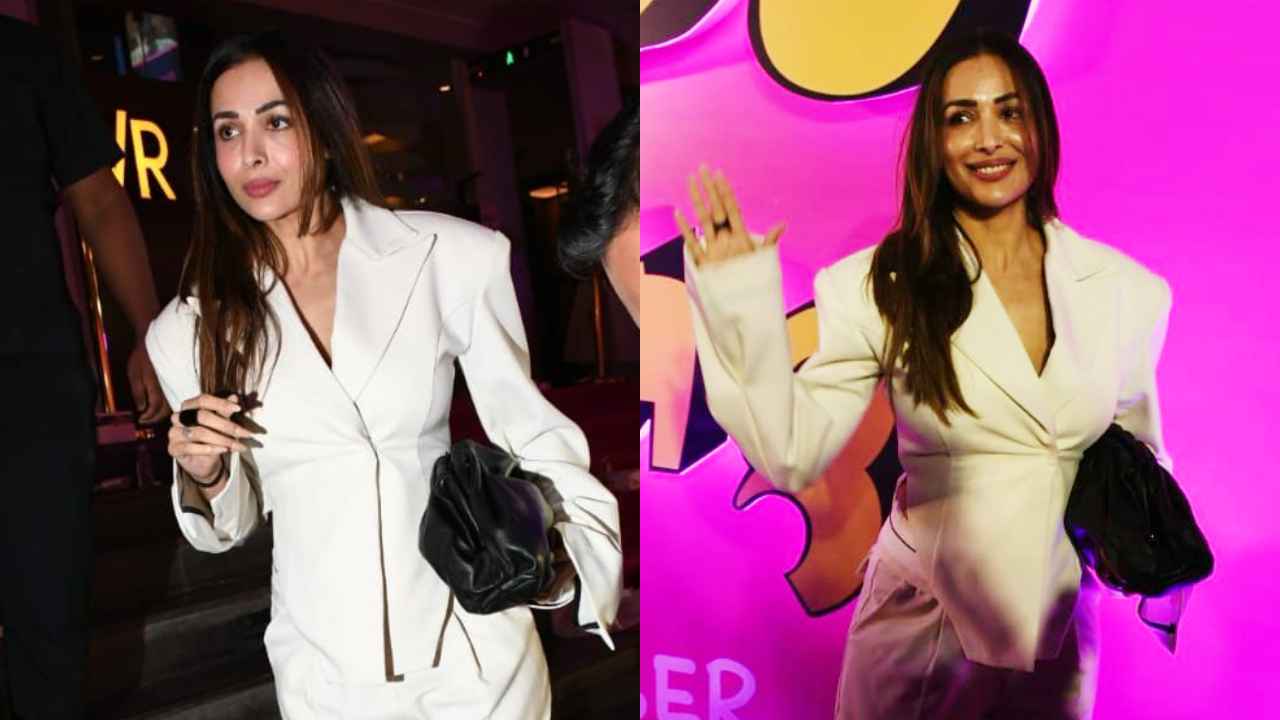 Malaika's presence at the premiere was a testament to her status as a fashion icon. Her ability to effortlessly pull off any look, whether it's red carpet glamour or chic street style, is what makes her a true fashion queen. As always, she left everyone wanting more with her stunning appearance, proving yet again why she is one of Bollywood's most stylish and iconic divas.
Malaika Arora's choice of a white fitted blazer with a cropped corset-like silhouette was an absolute fashion statement. The blazer not only exuded elegance but also had a touch of boldness with its body-hugging fit and sultry neckline. The crisp lapels, wide full sleeves with unique cuts at the edge, and excessive shoulder pads added to the blazer's formal allure, making it a standout piece in her ensemble.
The plunging V-shaped neckline of the blazer added a hint of sensuality to the overall look, balancing the formality of the blazer with a touch of edginess. Malaika's fashion choices always manage to strike the perfect balance between sophistication and boldness, and this outfit was no exception.
With her choice of this stunning white blazer, Malaika once again proved her fashion-forward sensibilities and her ability to make a strong fashion statement. Her outfit at the premiere was undoubtedly a showstopper, leaving everyone in awe of her impeccable style.
Malaika Arora continued to showcase her impeccable fashion sense by pairing the white fitted blazer with white flared, wide-legged, floor-length pants. These pants not only provided a comfortable fit but also added to the overall allure of her ensemble. The choice of white for both the blazer and pants created a cohesive and visually stunning look, highlighting her figure and adding to the overall sophistication of her outfit.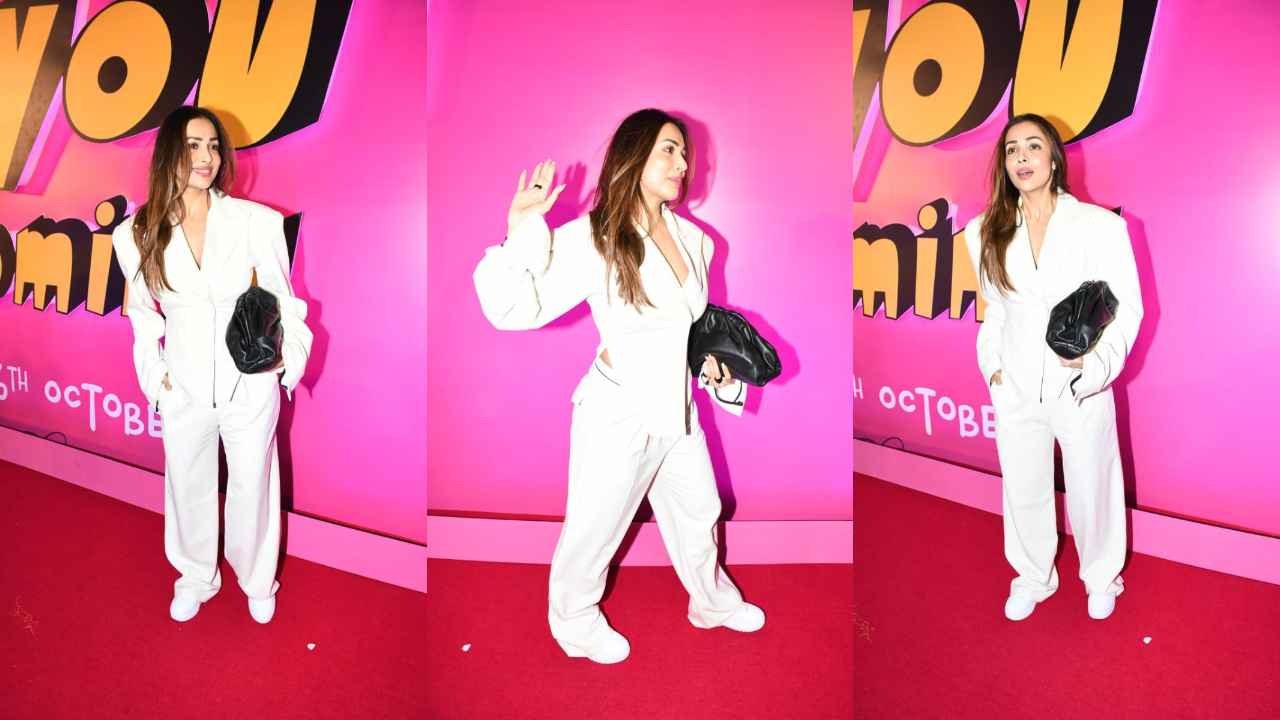 The wide-legged design of the pants added a touch of elegance and drama to the ensemble, giving it a formal yet fashionable edge. Malaika's ability to effortlessly pull off this combination demonstrated her fashion-forward sensibilities and her knack for creating eye-catching looks.
With her all-white ensemble, Malaika Arora once again proved why she is considered a fashion icon. Her outfit at the movie premiere was a perfect example of how she manages to turn heads and make a lasting impression with her impeccable style choices.
Malaika Arora's choice to complete her ensemble with white sports sneakers with a wedged heel was a brilliant touch that added a contemporary and sporty element to her overall look. These sneakers not only provided comfort but also created a striking contrast with her all-white outfit, making it even more visually appealing.
Adding to the elegance of her ensemble, Malaika carried Daniel Lee's black 'The Pouch' small gathered leather clutch from Bottega Veneta. This clutch, with an approximate value of Rs. 2,13,122, was a luxurious addition to her outfit. Cut from black leather, this small version of the original design had a gathered, cloud-like shape, and was just the right size to hold essentials like her phone, keys, and cardholder.
Malaika's choice of accessories, including the black clutch and white sneakers, showcased her ability to effortlessly blend high fashion with comfort. These additions not only complemented her outfit but also added a touch of sophistication and modernity to her look, making it clear why she is considered one of the fashion icons in the industry.
Malaika Arora's choice of minimalistic accessories, including simplistic stud earrings, a sleek bracelet, and a matching ring set, was a wise decision. These accessories added to the overall look without overpowering her outfit, allowing the focus to remain on her stunning all-white ensemble. This minimalist approach to accessorizing demonstrated her keen fashion sense, emphasizing that sometimes less is more when it comes to styling.
Her hair was left open and styled into loose waves, which beautifully cascaded down her shoulders. This hairstyle added a touch of effortless elegance to her overall appearance, complementing her chic and sophisticated outfit.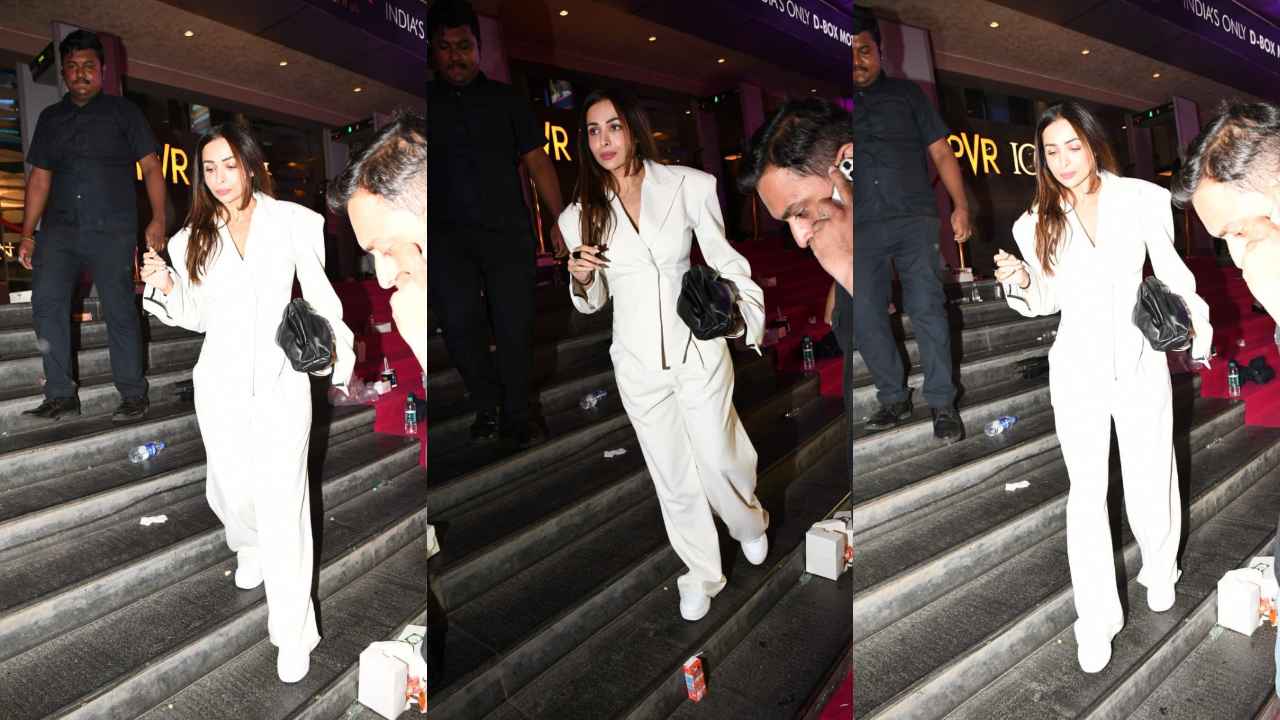 For her makeup, the talented actress opted for a subtle yet striking look. Her mascara-laden lashes, well-applied eyeshadow, rouged cheeks with highlighted cheekbones, and pretty pink lip shade perfectly complemented her ensemble. The makeup enhanced her natural beauty, adding a hint of glamour to her overall appearance.
Malaika Arora's attention to detail, from her minimalistic accessories to her hairstyle and makeup, showcased her fashion-forward sensibility and her ability to create a well-coordinated and elegant look for any occasion.