Mouni Roy's beautiful Rs. 61,000 sunflower-laden off-white georgette saree is every ethnic lover's dream
Mouni Roy's fashion choices have often been a source of inspiration and admiration, and her recent appearance in an off-white georgette saree was no exception. Like a radiant sunflower in full bloom, she truly stood out, and her ensemble transcended mere attire to become a work of art that left the fashion world spellbound.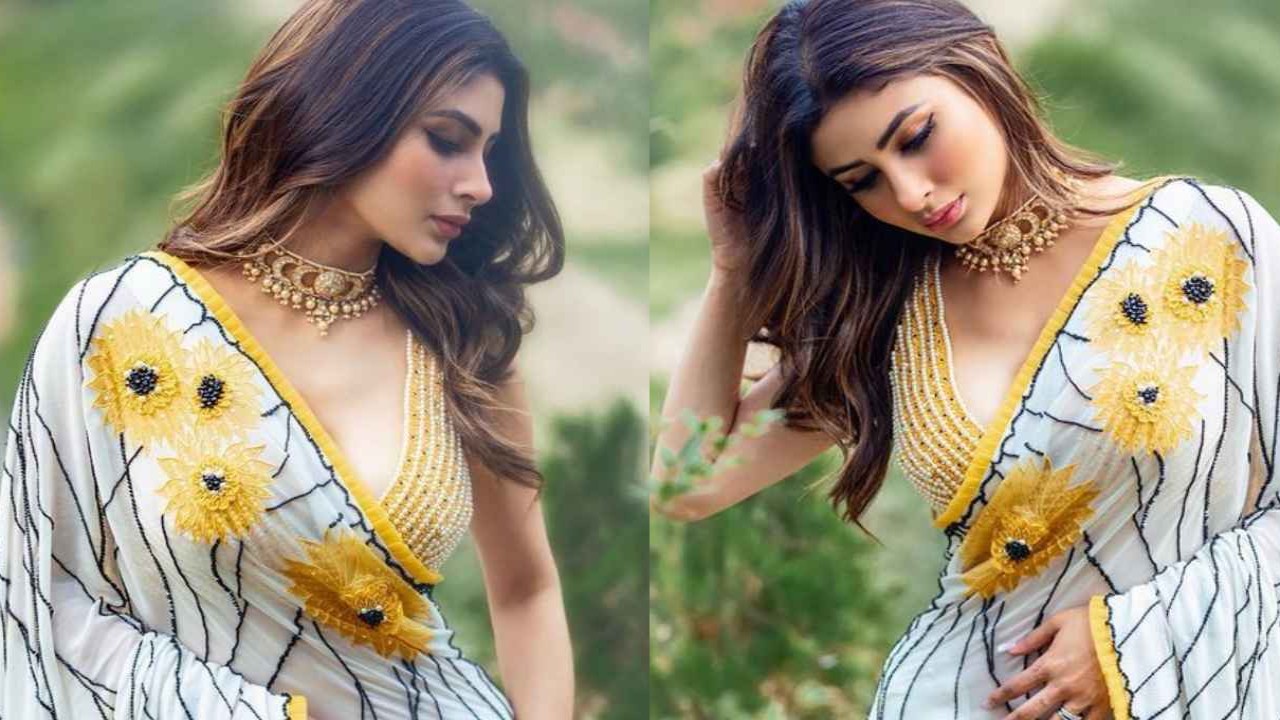 The choice of an off-white georgette saree showcased Mouni's appreciation for timeless elegance and classic style. Georgette fabric has a graceful drape that beautifully accentuated her figure, and the off-white color exuded a sense of purity and sophistication.
Mouni's ability to effortlessly carry off this traditional attire while making it look both timeless and contemporary is a testament to her impeccable fashion sense. Her fashion choices often inspire and set trends, making her a true fashion icon in Bollywood.
In a world where fashion is ever-evolving, Mouni Roy's ability to make such a lasting impression with her sartorial choices demonstrates her exceptional taste and the impact she has in the fashion realm. Her ethereal appearance in the off-white georgette saree will undoubtedly be remembered as a moment of sheer elegance and beauty.
Mouni Roy's recent Instagram revelation has once again captivated fashion enthusiasts, as she unveiled her latest sartorial masterpiece. Her mesmerizing appearance left everyone enamored, and her fashion choices continue to be a source of inspiration and admiration for her followers and fans alike.
Mouni Roy's recent fashion choice showcased her impeccable taste and sense of style. She made the wise decision to wear Nitika Gujral's off-white organza saree, which was a true work of art. The saree was laden with 3-D sunflower motifs and a geometrical pattern, intricately highlighted with beads, cut dana pearls, and crystal work. This exquisite ensemble was a testament to the craftsmanship and attention to detail that went into its creation.
Styled by the celebrated Bollywood stylist, Rishika Devnani, Mouni's ethnic dream ensemble was a sight to behold. The matching yellow organza blouse with wide straps and a deep U-shaped plunging neckline, adorned with beadwork all over, complemented the saree beautifully. The combination of the saree and blouse created a harmonious and visually striking look that perfectly suited Mouni's elegant and sophisticated style.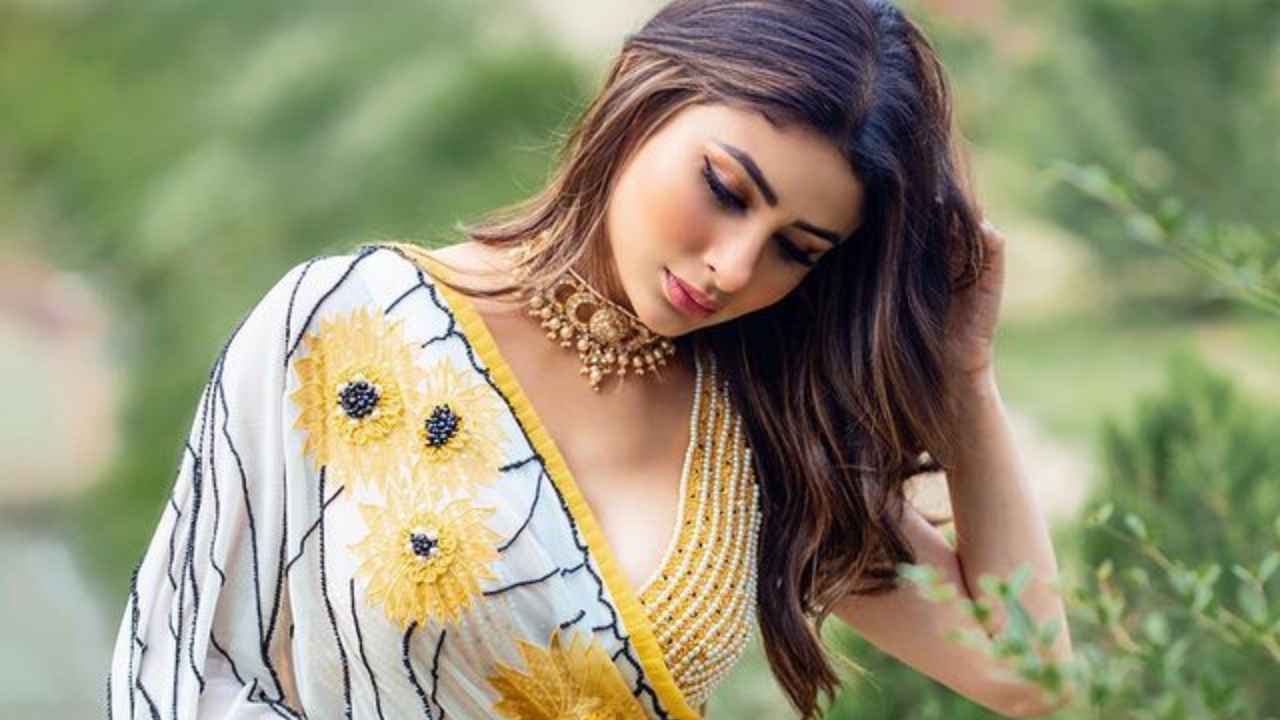 Mouni Roy's fashion choices consistently showcase her ability to effortlessly blend traditional and contemporary elements, making her a true fashion icon. Her decision to wear this stunning Nitika Gujral creation was a testament to her appreciation for intricate craftsmanship and her knack for choosing ensembles that make a lasting impression.
Mouni Roy's attention to detail in her fashion choices is truly commendable. By pairing her exquisite saree with a Santoon petticoat, she added an extra layer of grace and sophistication to the ensemble. This thoughtful choice not only ensured a comfortable and elegant drape but also contributed to the overall aesthetic appeal of her outfit. Mouni's ability to consider every aspect of her look, down to the petticoat, showcases her dedication to creating a flawless and captivating appearance.
Mouni Roy's choice of accessories for her stunning ensemble was both elegant and tasteful. She completed her outfit with matching heels, ensuring a cohesive look from head to toe. Additionally, she decided to adorn herself with a choker-like gold necklace, which added a traditional touch to her overall appearance. The sparkly matching ring was a perfect complement to the necklace.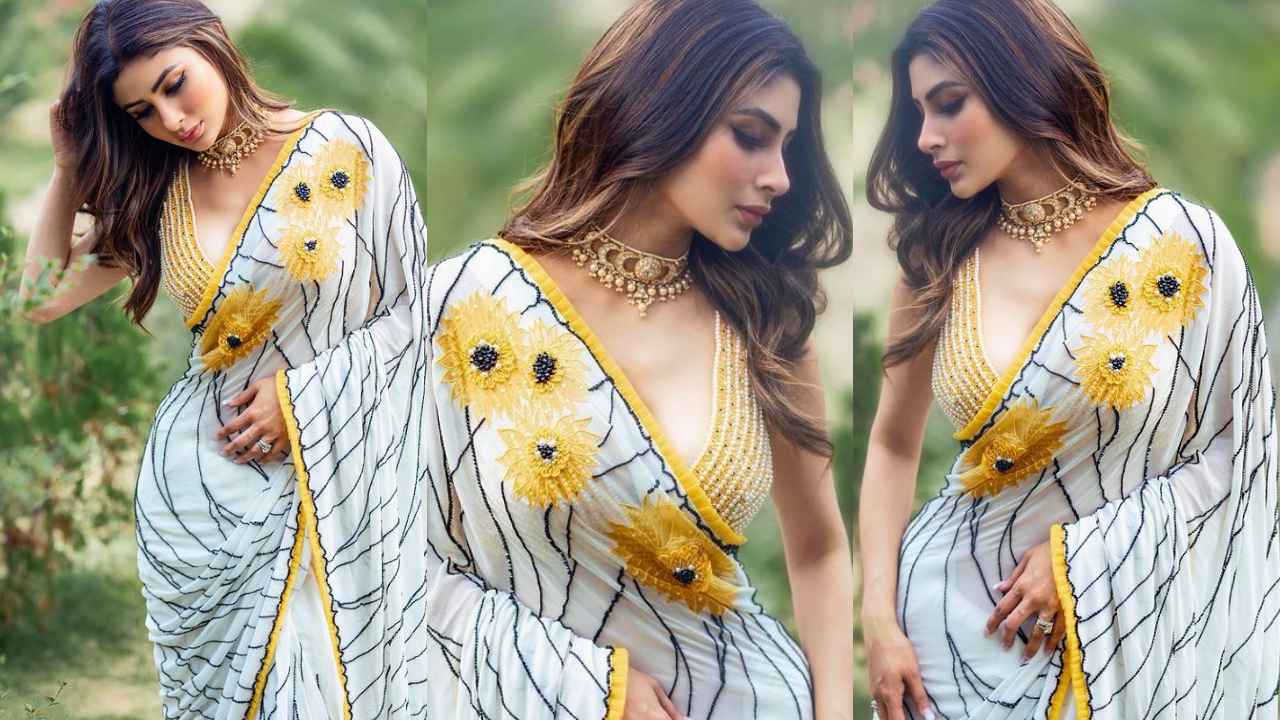 What's truly remarkable about Mouni's accessory choices is her ability to strike a balance between adding a touch of glamour and traditional charm without overpowering the outfit. Her selection of accessories enhanced the beauty of her ensemble while allowing the saree and blouse to remain the focal points of her look. This demonstrates Mouni Roy's fashion sensibility and her skill in creating a well-coordinated and harmonious appearance.
Mouni Roy's hairstyle perfectly complemented her overall look, adding to her charm and beauty. She opted to leave her hair open and styled it into loose curls, which added a touch of romance and elegance to her appearance. The cascading curls framed her face beautifully, enhancing her features and adding a soft and feminine touch to her ensemble.
Mouni's choice of hairstyle not only showcased her natural beauty but also contributed to the overall ethereal and enchanting aura she exuded in her off-white georgette saree. Her attention to detail, even in her hair styling, is a testament to her commitment to looking flawless on every occasion.
Mouni Roy's makeup look was the epitome of glamour and sophistication, perfectly complementing her stunning ensemble. She opted for a makeup look that highlighted her natural beauty while adding a touch of elegance and allure.
Her eyes were the focal point of her makeup, with mascara-laden eyelashes, well-shaped eyebrows, and expertly applied eyeliner that accentuated her eyes and made them pop. The shimmery eyeshadow added a touch of sparkle and glamour, enhancing the overall allure of her look.
Mouni's makeup also featured the perfect contour, which sculpted her face and added dimension. Her blushed cheeks, along with highlighted cheekbones, gave her skin a healthy and radiant glow. The choice of a perfect pink lipstick added a splash of color to her lips, completing the makeup look with finesse.
Overall, Mouni Roy's makeup was a masterclass in enhancing her natural beauty and creating a look that was both glamorous and sophisticated, making her appearance truly unforgettable.
Indeed, Mouni Roy's ethereal look was a testament to the power of the right ensemble and expert styling. Rishika Devnani's skilled touch and the choice of the perfect accessories elevated her appearance to that of an ethnic diva, leaving everyone enchanted.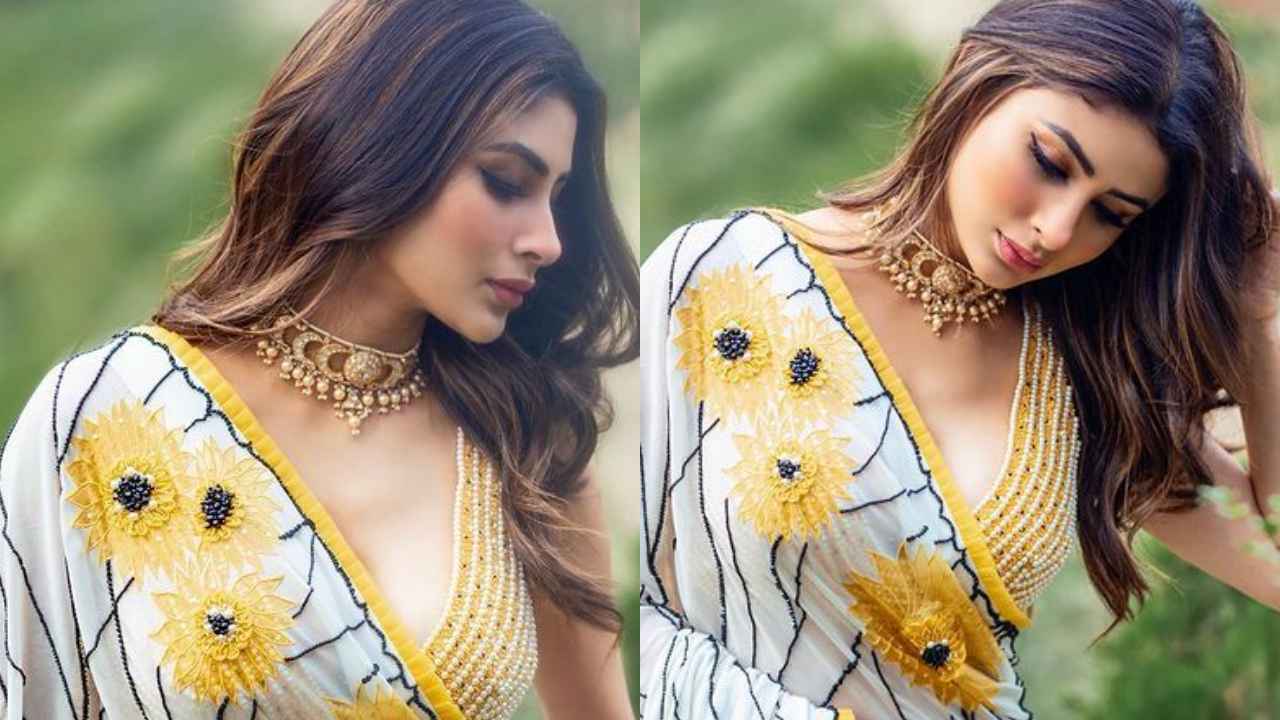 This look serves as an inspiration for all ethnic fashion enthusiasts, demonstrating that with the right outfit, paired with finesse, one can create pure magic. Mouni Roy's style statement on this occasion was not just about clothing; it was a work of art that showcased the beauty and richness of Indian ethnic fashion, leaving a lasting impression on anyone who had the pleasure of witnessing it.