Nora Fatehi's pink crop shirt with matching mini-skirt!
Nora Fatehi's fashion sense is undeniably distinctive and sets her apart from the crowd. She has a clear preference for figure-hugging outfits that gracefully accentuate her curves and contours. What truly distinguishes her style is her knack for selecting outfits that are consistently unique and eye-catching. Nora has a keen understanding of how to make a lasting impact with her clothing choices, whether it's through vibrant prints or unconventional shapes.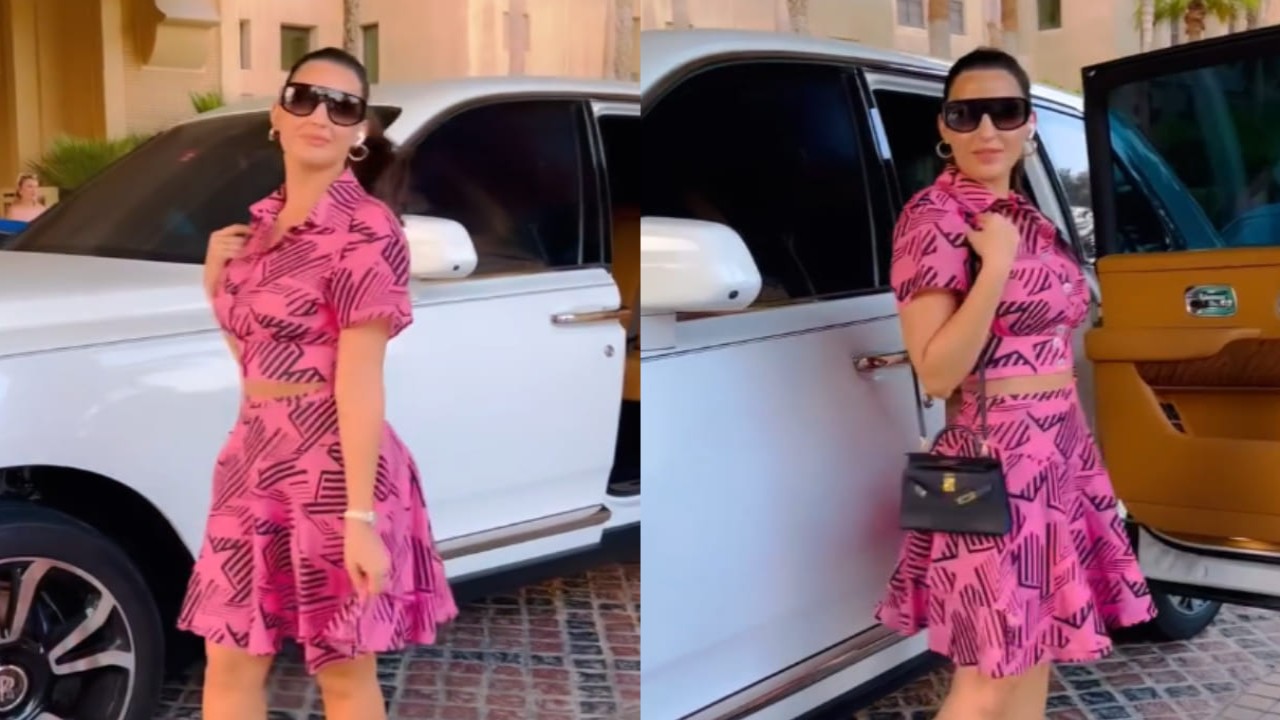 Nora Fatehi's fashion choices reflect her confidence and flair for experimentation. She is unafraid to push boundaries and try unconventional styles, which keeps her fashion game fresh and exciting. Her ability to make a statement with her outfits is a testament to her fashion-forward sensibility and her willingness to take risks in the world of fashion.
Nora Fatehi's wardrobe is a treasure trove of bold and distinctive pieces that capture attention and make a lasting impression. Her fashion journey is a source of inspiration for those who appreciate individuality and creativity in their style choices.
Nora Fatehi's most recent fashion choices are always a source of excitement, as she never fails to amaze us with her impeccable taste and bold fashion sense. Let's embark on a fashion journey and explore what she wore on her recent day out.
Nora Fatehi's fashion evolution has been nothing short of spectacular, and her outfit choices continue to make headlines and inspire fashion enthusiasts everywhere. Whether it's her red carpet appearances or casual street style, Nora always manages to turn heads and leave a lasting impression. Stay tuned to discover the latest stunning ensembles that have left fashion aficionados in awe.
Nora Fatehi's recent fashion choice included a stunning dark pink colored shirt that undoubtedly caught everyone's attention. This blouse featured a fashionable shirt-like collar, adding a touch of sophistication to her overall look. The beauty of Nora's outfit lay in its ability to strike the perfect balance between comfort and style, thanks to its half sleeves that provided ease of movement and a chic appearance.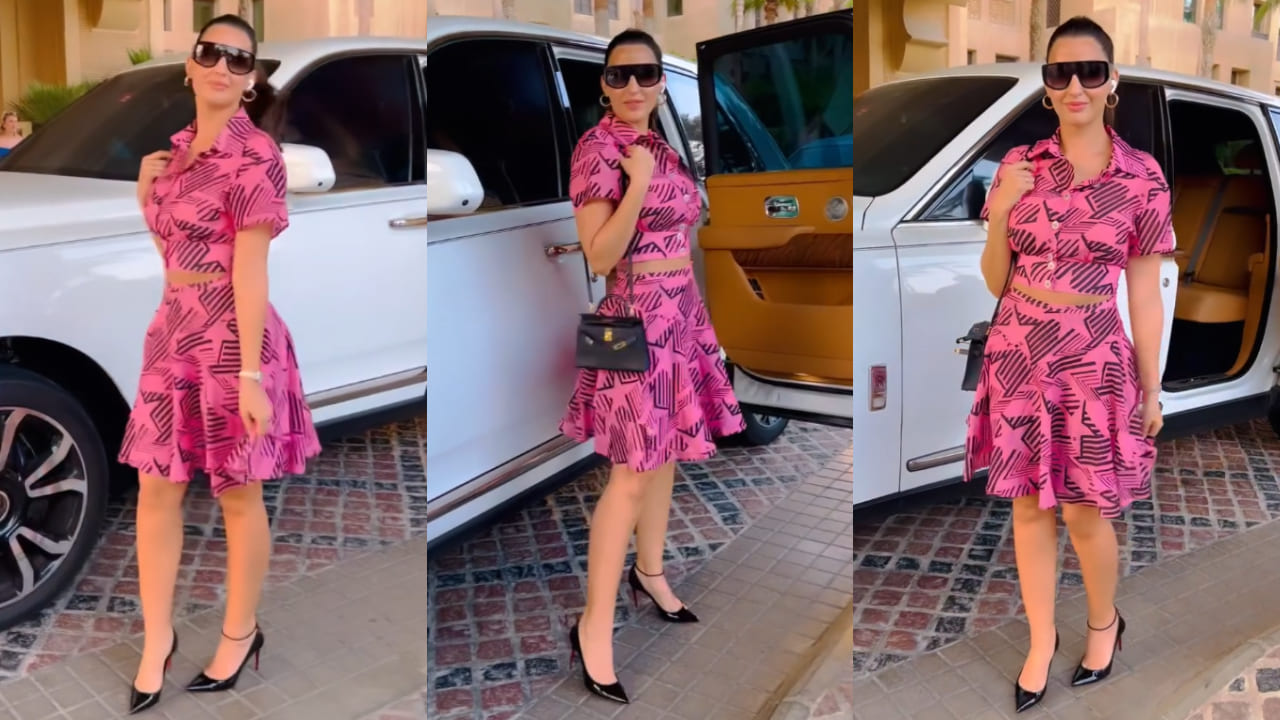 The buttons on the collared shirt not only added a delightful accent but also offered versatility in styling. Whether worn fully buttoned up for a formal look or with a few buttons undone for a more relaxed vibe, Nora's outfit allowed for various style options, showcasing her fashion-savvy sensibilities.
Nora Fatehi's choice of the dark pink shirt demonstrated her ability to blend comfort and style effortlessly. The addition of the fashionable collar and button detailing added sophistication and uniqueness to the outfit, making it a standout piece in her fashion repertoire.
Nora Fatehi's fashion sense undeniably shines through as she effortlessly pulls off her elegant and modern ensemble. Her ability to curate outfits that exude sophistication and contemporary flair is a testament to her impeccable style. Nora has a knack for making even the most fashionable ensembles look effortless and comfortable, showcasing her fashion prowess and confident persona.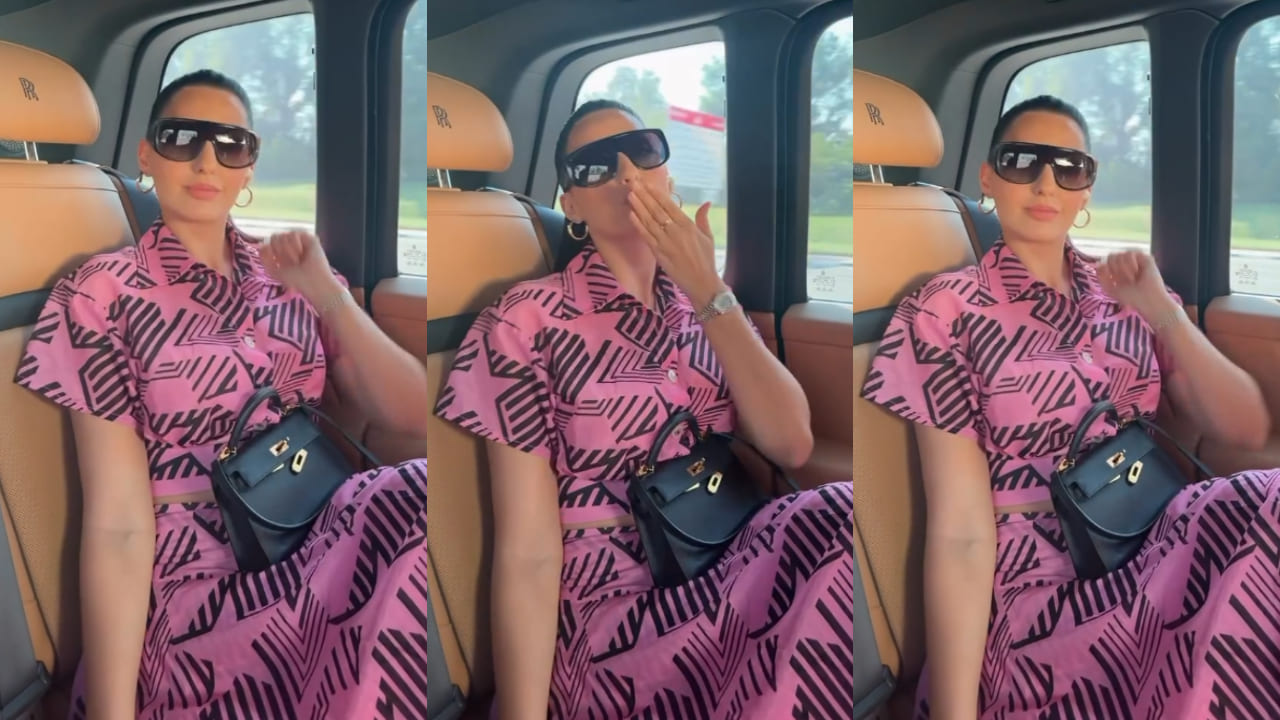 Whether on the red carpet or on a casual day out, Nora consistently delivers fashion moments that leave a lasting impact and continue to inspire her fans and fashion enthusiasts alike.
Nora Fatehi completed her fashionable look by expertly pairing the dark pink top with a wonderfully patterned skirt. The print on the circular skirt beautifully complemented the design on the top, creating a cohesive and visually appealing effect. The pattern on the skirt was composed of intricate lines that artfully formed segments, giving the appearance of stars scattered across the fabric.
This thoughtful coordination of patterns showcased Nora's attention to detail and her ability to create a harmonious and eye-catching ensemble. The matching elements between the top and skirt not only added unity to her outfit but also enhanced its overall appeal, making it a standout choice for her day out.
Nora Fatehi's fashion choices always reflect her impeccable taste and flair for creating striking looks. Her ability to pair pieces with complementary patterns and designs highlights her fashion-forward sensibility and her knack for effortlessly elevating her style game.
The eye-catching design on Nora Fatehi's skirt certainly added a touch of playfulness and personality to her outfit. The combination of her dark pink blouse and the intricately patterned skirt showcased her exceptional fashion sense and her innate ability to mix and match diverse pieces with ease, resulting in a striking and memorable appearance.
Nora Fatehi's fashion choices consistently highlight her ability to curate ensembles that are not only visually appealing but also reflect her unique style and confidence. The playful yet chic combination of the dark pink top and the patterned skirt is a testament to her fashion-forward sensibility and her talent for making bold and captivating fashion statements.
Nora Fatehi's attention to detail extends to her choice of accessories, which play a significant role in elevating her overall look. She adorned her ears with a pair of elegant hoops, adding a touch of glitz and refinement to her ensemble. The hoops not only complemented her outfit but also showcased her commitment to creating a polished appearance.
Nora's choice of a sleek black sling bag not only served the practical purpose of holding her belongings but also exuded both flair and functionality. It seamlessly blended with her outfit while offering a stylish yet convenient solution for carrying her essentials.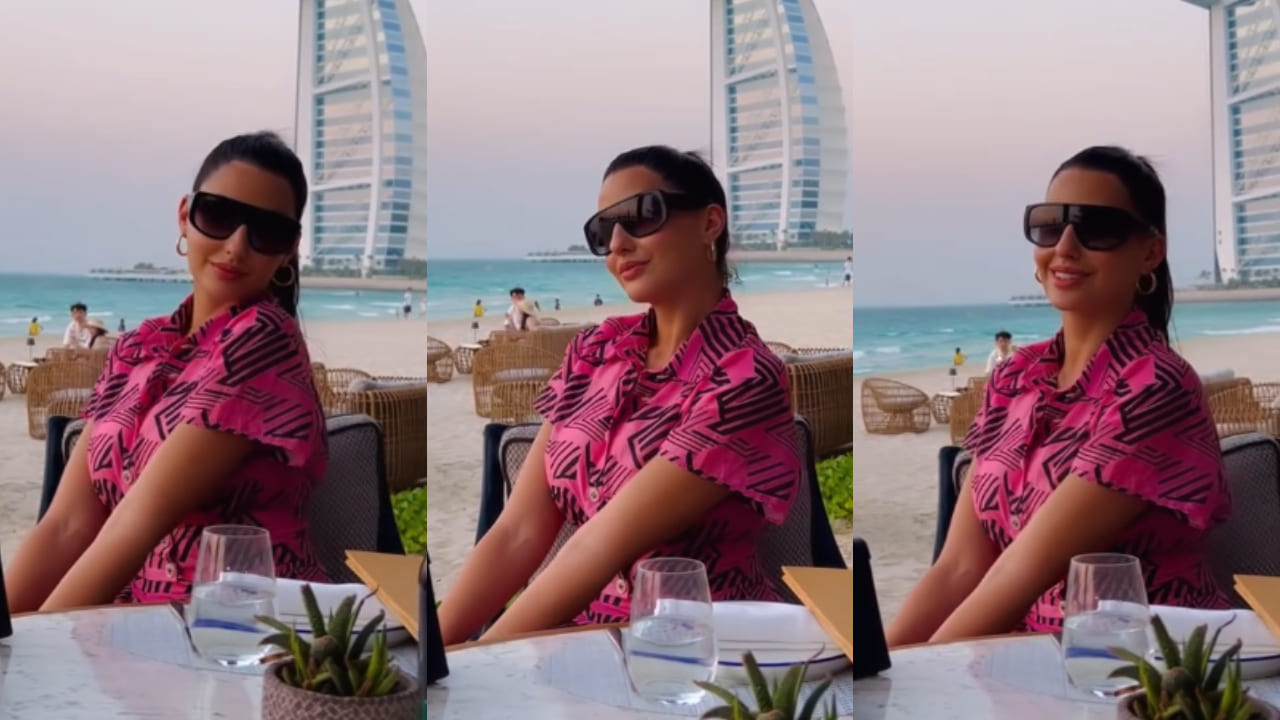 Nora Fatehi's footwear choice was equally flawless, as she effortlessly slipped into a pair of elegant black heels. These heels not only provided a touch of elegance to her ensemble but also enhanced her overall posture and silhouette, adding to the sophistication of her look.
Nora Fatehi's commitment to accessorizing and footwear selection showcases her fashion-forward sensibilities and her ability to pay attention to the finer details, ultimately contributing to her stunning and well-rounded appearance.
Nora Fatehi's attention to style and detail extends to her choice of eyewear, as she donned stylish sunglasses to protect her eyes from the sun while elevating her style game. The sunglasses not only serve a practical purpose but also contribute to her overall sleek and sophisticated appearance.
Nora's decision to pull her hair back into a ponytail was a chic and timeless choice. It allowed her outfit to take center stage while framing her face beautifully. This hairstyle added a touch of elegance to her look and showcased her commitment to achieving a polished appearance.
The perfect pink lipstick that Nora wore added a delightful splash of color to her overall makeup base. This subtle yet vibrant lip shade complemented her simple and flawless makeup, enhancing her natural beauty and contributing to her overall aesthetic.
Nora Fatehi's fashion choices, including her eyewear, hairstyle, and makeup, consistently reflect her style prowess and her ability to create a well-coordinated and sophisticated look. Her attention to detail and commitment to achieving a polished appearance make her a true fashion icon.