Nora Fatehi in a Nicolas Jebran satin dress is a party look done gorgeously right and blue
December is indeed a month filled with excitement, especially when it comes to sartorial choices for festive and party occasions. The festive spirit and party atmosphere inspire us to elevate our fashion game and embrace outfits that bring a chaotic rut of sparkles and glamour.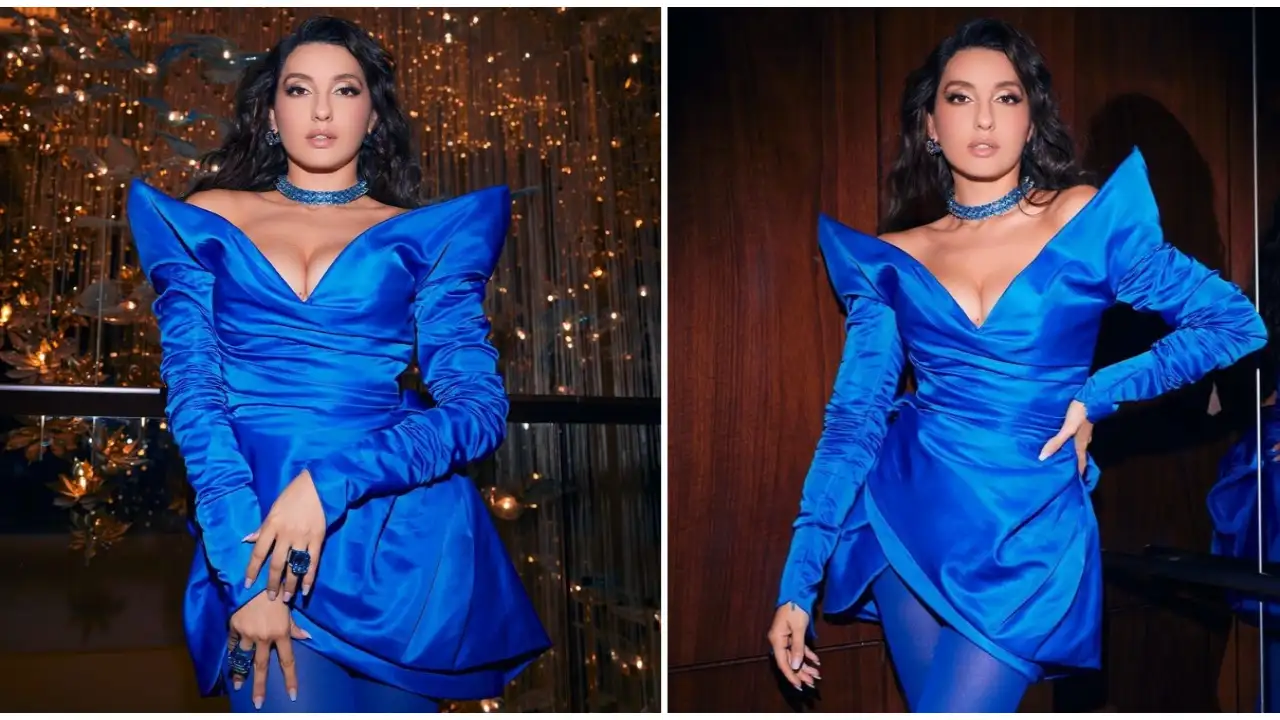 In this month of celebration, simplicity often takes a backseat, and we find ourselves drawn to looks that exude extravagance and boldness. It's a time when we're open to trying something edgier and experimenting with vibrant and eye-catching colors.
Nora Fatehi's inspiration, featuring a fun and vibrant "Wednesday blue," is a delightful reminder that fashion is all about expressing your unique style and having fun with it. It's about embracing bold and unexpected choices that make a statement and add a touch of excitement to your wardrobe.
As we navigate the festivities and parties of December, let's embrace the opportunity to explore new fashion horizons and express our creativity through our outfit choices. It's a month where fashion knows no bounds, and the possibilities are as limitless as our imagination.
Finding love in a party dress is all about coming together with a thousand style perspectives to create a look that truly resonates with you. While it's just a dress, it's not "just a dress" when you consider the power it has to make you feel confident and beautiful.
Choosing a blue ensemble from head to toe adds an element of boldness and uniqueness to your party look. Blue is a versatile and eye-catching color that can exude elegance and charm, making it a fantastic choice for special occasions.
Nora Fatehi, known for her mesmerizing on and off-screen looks, serves as a great source of inspiration for party fashion. Her approval of a mini dress by Nicolas Jebran demonstrates the power of well-designed and stylish attire to make a statement.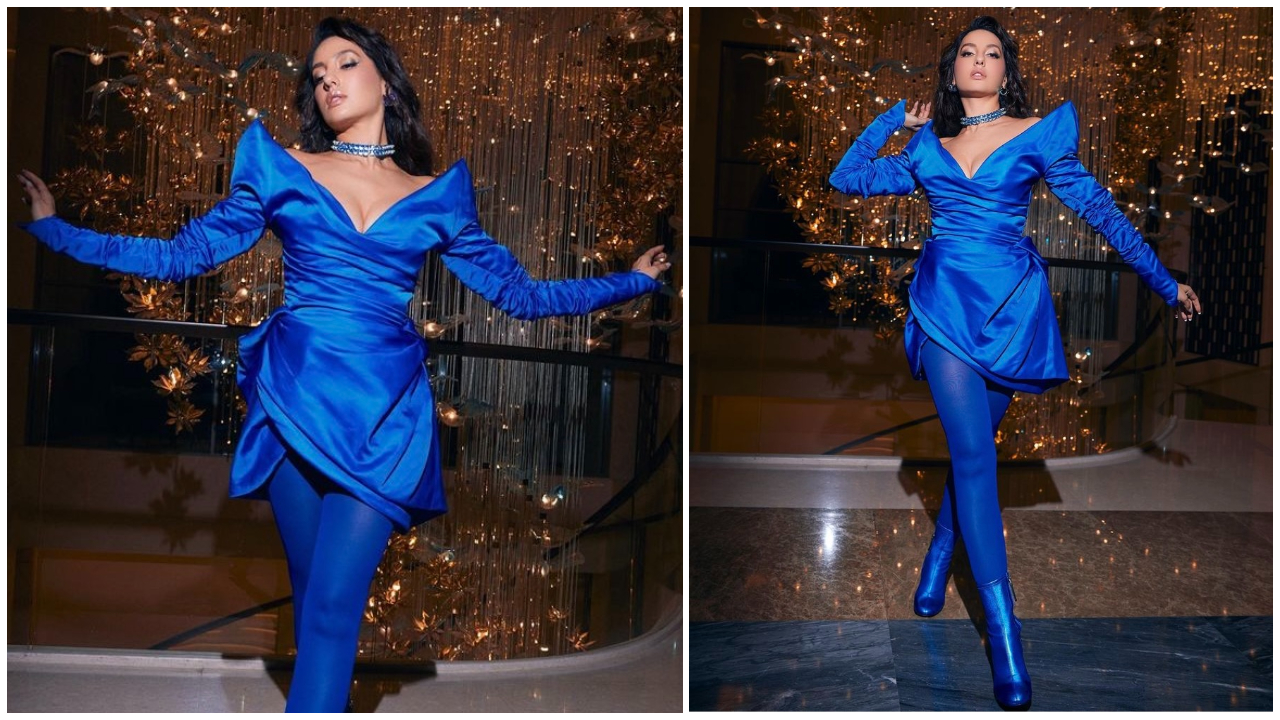 To achieve a new and nice look as a party hopper, consider experimenting with different styles, colors, and silhouettes to find what makes you feel your best. Ultimately, the goal is to embrace the opportunity to express your personality and style through your party dress, allowing you to shine and stand out at every event.
Nora Fatehi undeniably looks fabulous in everything blue, and her fashion choices often serve as a source of inspiration for many. Her ability to carry off different shades and styles of blue with grace and confidence highlights her versatility as a fashion icon.
When it comes to shimmery dresses, the decision to wear one largely depends on personal style preferences and the occasion. Shimmery dresses can indeed be chic and glamorous, but it's also important to strike the right balance. Rather than overwhelming your look with excessive accessories, focusing on the dress's shine and simplicity can be a stylish choice.
The mention of a satin-made dress with a plunging neckline hints at an outfit that brings an element of drama and sophistication. The plunging neckline adds a touch of allure, while the satin fabric exudes luxury and elegance. It's a great example of how fashion can be used to make a statement without the need for excessive accessories.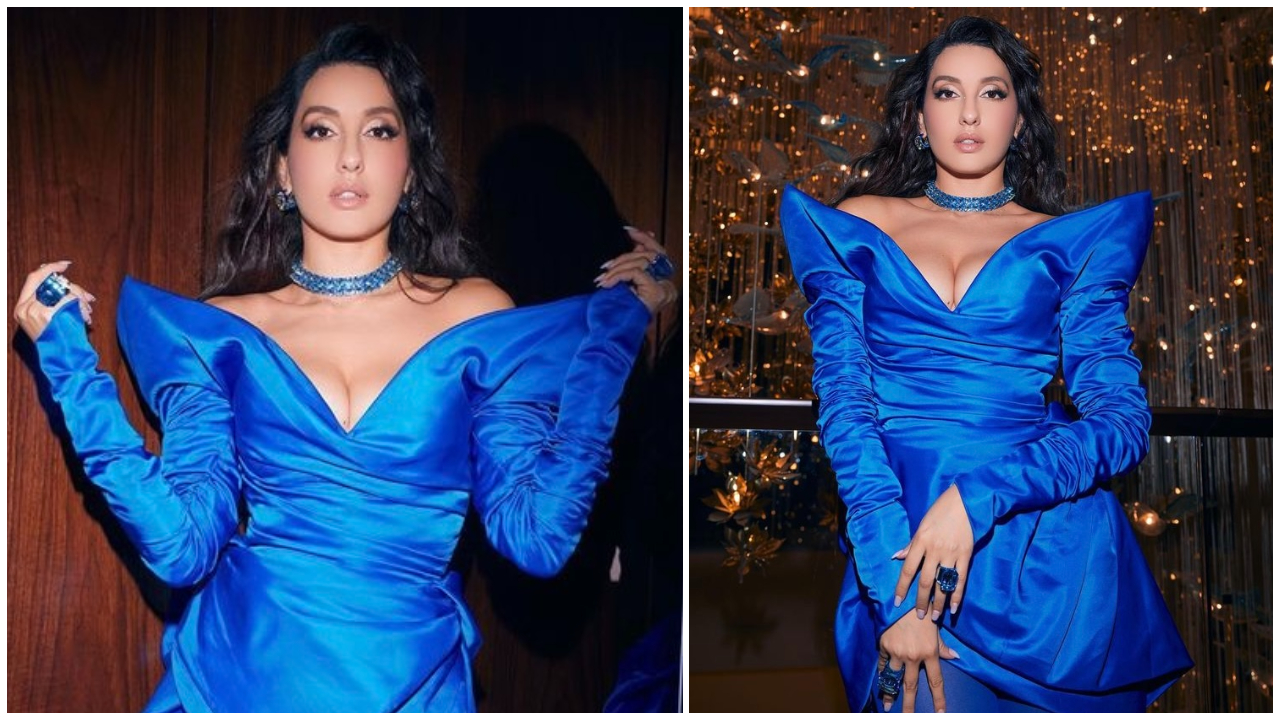 Incorporating such a dress into your wardrobe can indeed add a bit of spice to your style, allowing you to stand out and embrace your unique fashion sensibilities. It's all about finding the right balance and making fashion choices that make you feel confident and chic.
Nora Fatehi's dress is undoubtedly a heart-stealer, thanks to its unique design elements. The gathered sleeves and asymmetric hem add a touch of drama and flair to the dress, making it a standout piece. The two-tiered overlap feature adds an interesting dimension to the overall look, allowing for a dynamic and eye-catching appearance.
Celebrity fashion stylist Aastha Sharma deserves credit for curating this captivating look. Her choice of blue accessories, from Swarovski jewelry to a pair of stockings and glossy boots, perfectly complements the dress. The blue accessories not only tie the entire ensemble together but also enhance the overall appeal, creating a cohesive and stylish look.
It's a reminder of how accessories can play a crucial role in elevating a dress and making it shine even more. Aastha Sharma's styling choices highlight the importance of attention to detail and the ability to bring out the best in an outfit, ensuring that it aligns with the wearer's unique style and personality. Nora Fatehi's entire look serves as a fantastic source of inspiration for those looking to make a fashionable statement with their outfit choices.
Indeed, a good and strong lash lift or the addition of falsies can work wonders for enhancing your makeup. Fuller and more lifted lashes can instantly draw attention to your eyes and make your makeup stand out. Combining this with rhinestone stickers and a glossy pout can further enhance your overall look, adding a touch of glamour and sparkle.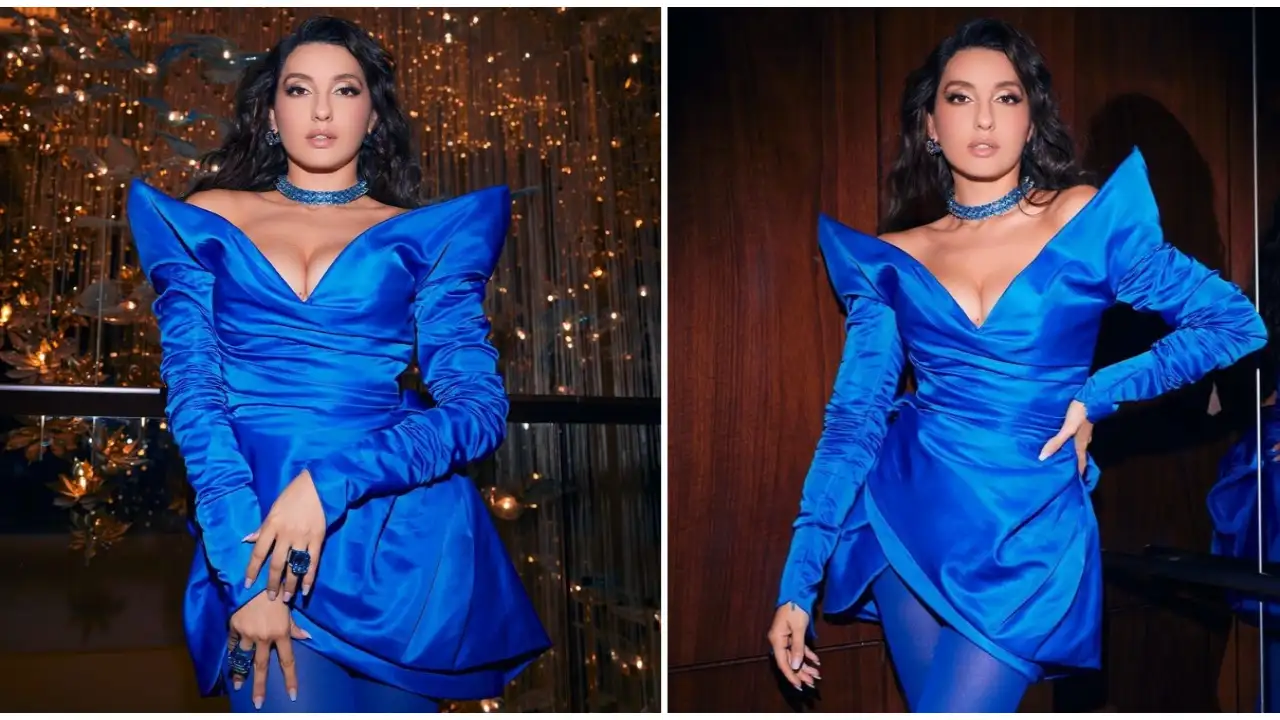 As for a hairdo, Nora Fatehi's stunning appearance in these photographs showcases the elegance of a sleek and classic updo. A well-executed updo can provide a clean and sophisticated look that complements the overall makeup and outfit. It's a versatile choice that works well for various formal and special occasions, allowing your facial features and makeup to take center stage.
Nora's look in these photographs serves as a fantastic source of inspiration for those looking to create a captivating and glamorous appearance. It highlights the importance of a well-balanced and coordinated makeup and hairstyle to achieve a polished and stunning overall look.