Tamannaah Bhatia Radiates Confidence in the Hottest Desk-to-Dinner Look: Flaunting Corset and Flared Pants with Power and Style!
Tamannaah Bhatia, the accomplished actress, has carved a distinguished reputation for herself not only through her remarkable performances but also by showcasing a burgeoning sense of fashion. Her journey in the realm of fashion has reached remarkable heights, from donning exquisite sarees exuding timeless elegance to effortlessly embodying the boss babe persona with stylish jackets. Each of her appearances serves as a testament to her versatility and knack for carrying off a diverse array of outfits with innate grace.
Tamannaah consistently demonstrates an impressive range in her fashion choices, effortlessly transitioning from traditional elegance to contemporary chic. Whether she's adorned in classic Indian attire or sporting modern ensembles, she does so with a sense of poise and confidence that further accentuates her fashion prowess.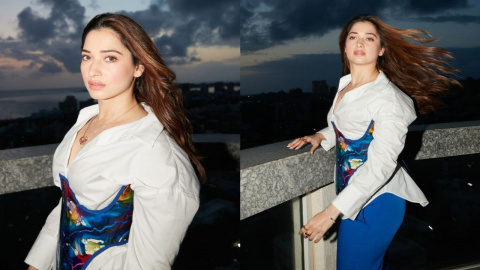 Her path in the world of fashion is a captivating one, deserving of our attention. With each public appearance, Tamannaah continues to captivate us through her impeccable style and fearless experimentation. Her ability to seamlessly blend classic and contemporary elements solidifies her status as a genuine fashion icon.
Tamannaah Bhatia's dedication to fashion goes beyond simply wearing clothes; it's about expressing herself and pushing boundaries. As she confidently navigates the ever-evolving fashion landscape, she reinforces her position as a true fashion luminary who continually inspires others with her flawless choices and audacious flair.
Tamannaah Bhatia's recent fashion statement truly left everyone in awe, showcasing her impeccable taste. She effortlessly elevated her style game with a stunning ensemble that caught everyone's attention. She opted for a crisp white blouse from Huemn, priced at Rs. 6,500, pairing it flawlessly with The New World low-waist trousers in a captivating shade of blue, which were priced at Rs. 9,500.
However, the true showstopper of her look was the exquisite corset designed by Nikita Karizma, carrying a substantial price tag of approximately Rs. 23,622. This bold and daring choice added an aura of elegance and beauty to the entire ensemble, serving as the pièce de résistance that elevated the overall impact.
Tamannaah's outfit choice reflects her willingness to experiment with fashion and her understanding of how different elements can come together to create a visually striking and harmonious look. The combination of the white blouse and blue trousers offered a balanced contrast, while the intricate corset introduced an element of opulence and drama.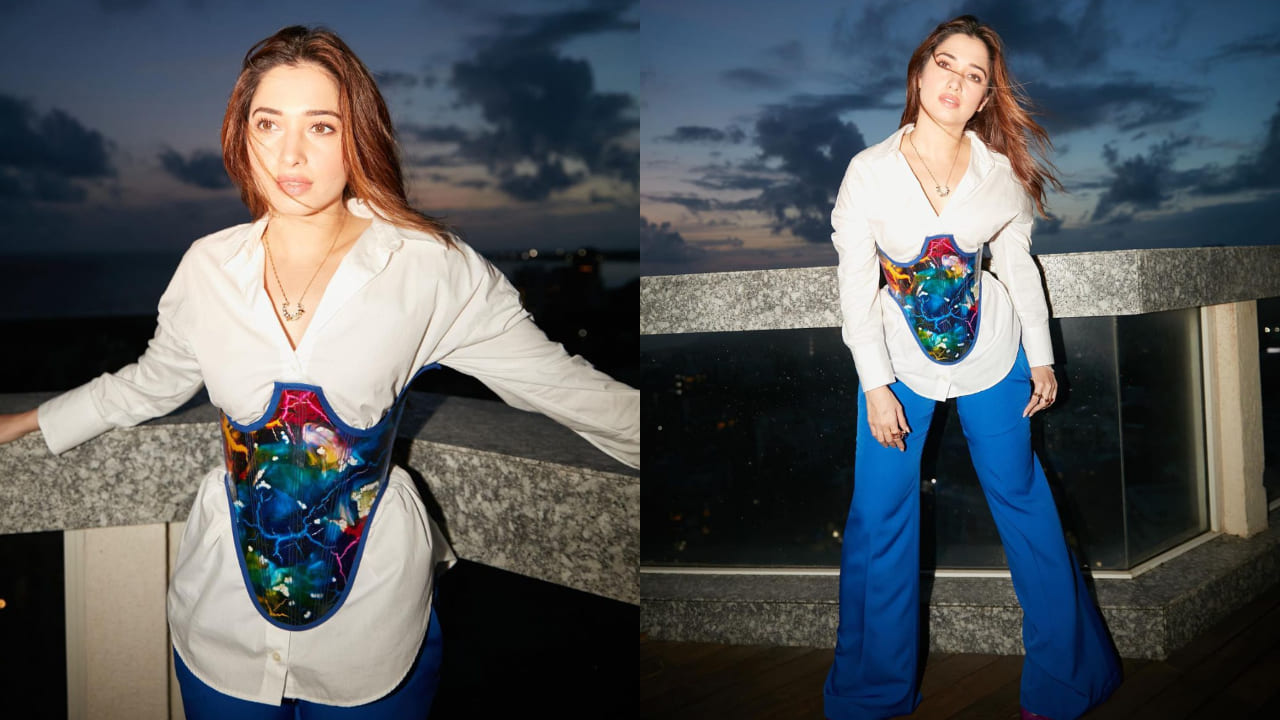 This ensemble not only showcases Tamannaah's fashion sense but also underscores her confidence and ability to carry off bold and unconventional choices. Her willingness to invest in unique and high-quality pieces demonstrates her commitment to making a statement through her attire. This look is a testament to her position as a trendsetter, inspiring others to embrace their personal style and make fearless fashion choices.
Mohit Rai, the visionary creative stylist, was the mastermind behind Tamannaah Bhatia's captivating look. His expertise in curating ensembles shone through as he put together a breathtaking outfit that showcased Tamannaah's style in the most remarkable way. The choice of a basic white shirt served as the perfect canvas to allow the stunning corset to take center stage.
To further enhance her ensemble, Tamannaah accessorized with a stunning golden chain adorned with an attached pendant from the renowned brand, Outhouse Jewellery. This accessory choice played a crucial role in elevating her overall appeal. The golden chain not only added a touch of refinement but also infused an air of elegance into her attire, creating a harmonious blend of modernity and sophistication.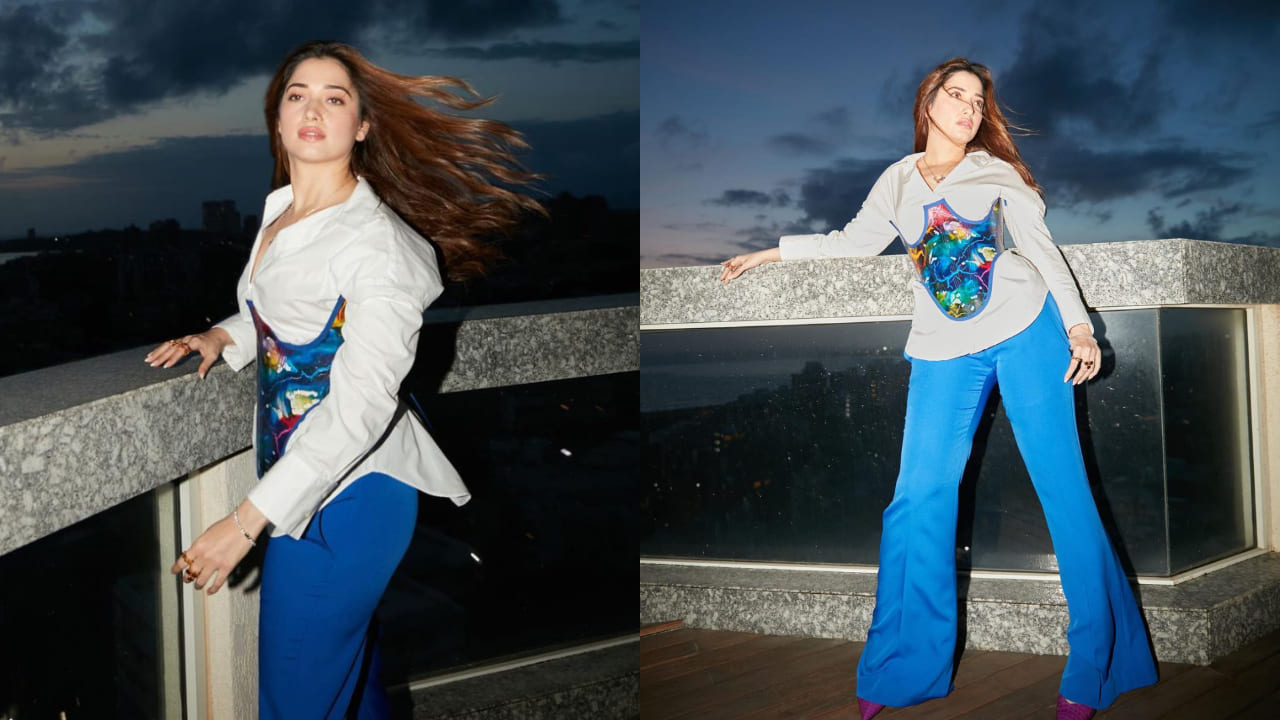 Mohit Rai's stylistic vision, coupled with Tamannaah Bhatia's innate fashion sensibilities, resulted in a look that seamlessly blended elements to create a striking visual impact. The way the corset, white shirt, and exquisite necklace interacted showcased their ability to create an ensemble that's both fashion-forward and timeless.
Tamannaah's choice of accessories highlights her understanding of how even subtle additions can significantly elevate a look. The golden chain from Outhouse Jewellery acted as the perfect finishing touch, adding a layer of luxury that resonated with the overall elegance of her ensemble. This attention to detail further solidifies her reputation as a fashion icon with an acute sense of style.
Tamannaah Bhatia added an extra layer of allure to her ensemble by adorning it with exquisite Bottega Veneta heels. These Italian-crafted shoes not only elevated her attire but also showcased her impeccable taste in high-end fashion. The heels featured glossy leather that bore an embossed crocodile impression, all in a bold and captivating shade of purple.
The choice of Bottega Veneta heels served as a powerful accessory that perfectly complemented her ensemble. The luxurious crocodile-embossed leather exuded a sense of opulence and sophistication, harmonizing with the overall elegance of her look. The captivating purple hue added a touch of drama and individuality to her outfit, allowing her to make a confident and bold style statement.
It's worth noting that the investment in such high-end footwear underlines Tamannaah's commitment to quality and her willingness to explore fashion at its pinnacle. The price tag of Rs. 99,655 reflects the exclusivity and craftsmanship associated with luxury brands like Bottega Veneta.
By pairing her ensemble with these remarkable heels, Tamannaah Bhatia not only showcased her affinity for fashion but also demonstrated her ability to seamlessly integrate statement pieces into her overall look. The Bottega Veneta heels undoubtedly played a pivotal role in rounding off her outfit with finesse and flair.
Tamannaah's natural beauty was skillfully enhanced by the expert touch of Billy Manik, a makeup artist known for his minimalist approach. His light-handed application highlighted her features without overpowering her innate charm. However, it's intriguing to consider how a more dramatic or theatrical makeup look might have further elevated her overall image, adding a layer of intrigue and allure to her appearance.
Tina Mukharjee's hairstyling played a significant role in completing Tamannaah's look. The casual yet beautiful hairdo was a perfect match for the ensemble, enhancing her overall appeal. Mukharjee's skill in creating a hairstyle that strikes a balance between relaxed and polished contributed to Tamannaah's reputation as a true fashion star.
While the makeup and hairstyling choices were executed with subtlety, it's fascinating to envision the transformative power of a bolder makeup look or a more elaborate hairstyle. Such choices could have added a different dimension to Tamannaah's appearance, potentially amplifying the impact of her ensemble and contributing to a more theatrical and attention-grabbing effect.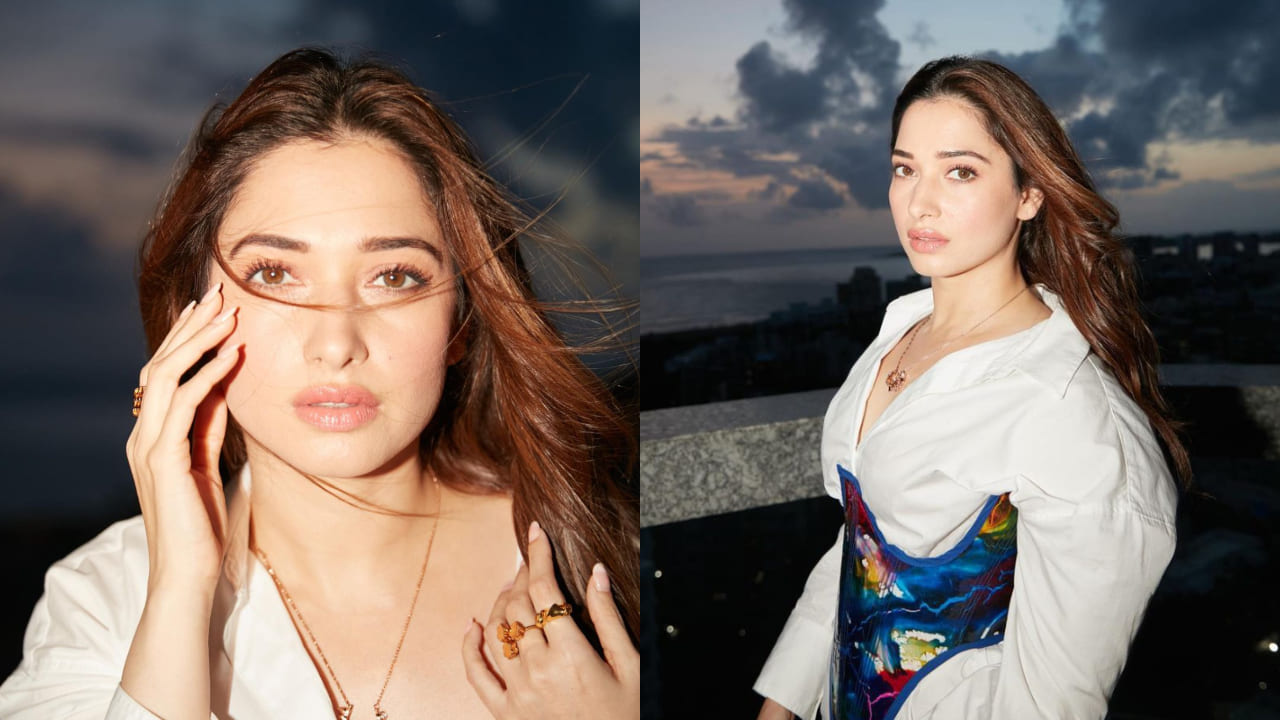 Overall, Tamannaah Bhatia's collaboration with makeup artist Billy Manik and hairstylist Tina Mukharjee showcases their ability to enhance her natural beauty and style. Whether opting for a minimalist approach or considering more dramatic options, their contributions to her look further solidify her position as a fashion star capable of embracing a wide spectrum of styles and presentations.