Tejasswi Prakash looks BOMB in all-purple ensemble with sequined satin top and draped skirt
Tejasswi Prakash, the talented television actress, has consistently demonstrated her fashion sense and ability to stand out in the crowd. Whether it's identifying the season's trends or showcasing party-ready ensembles, Tejasswi is a style icon who knows how to leave a lasting impression.
After recently sharing her stunning vacation photos that gave us major travel goals, Tejasswi is now back to inspire us with her latest party-ready outfit. Her confidence and flair are undeniable, and her dress choices never fail to captivate everyone's attention.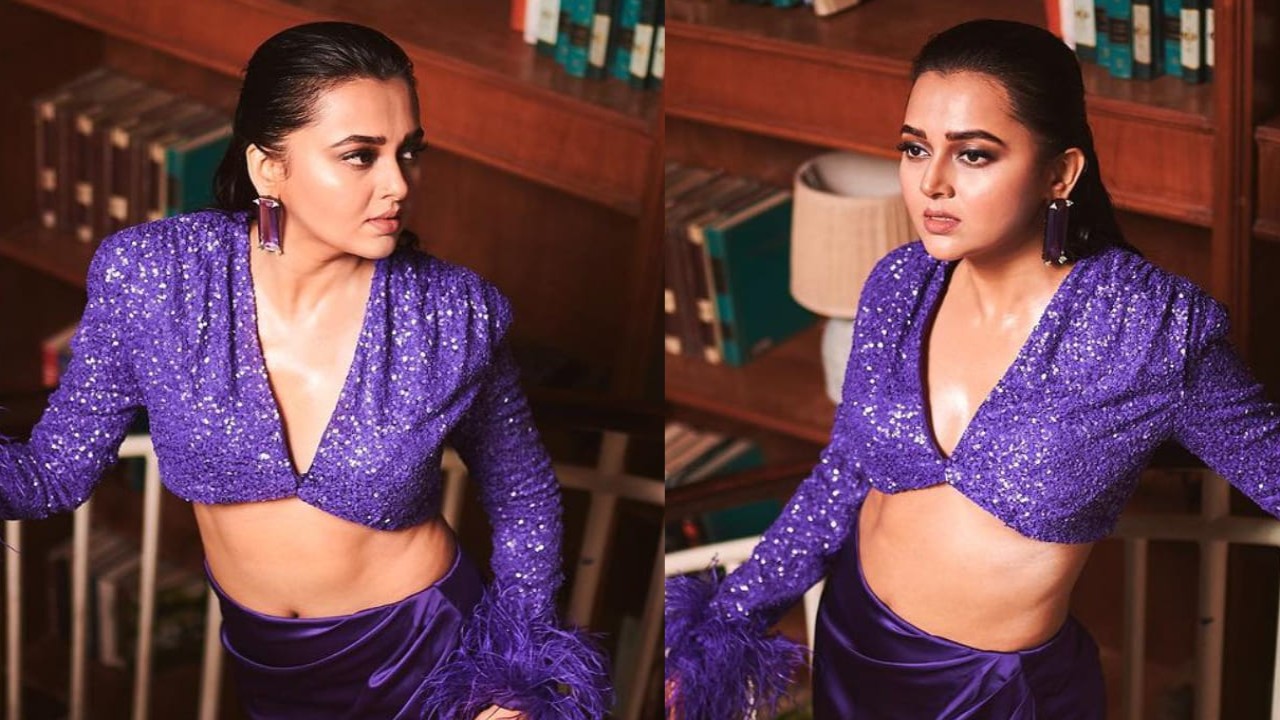 In her latest look, Tejasswi Prakash effortlessly combines shimmer and glitter to create a truly exceptional fashion statement. With her impeccable sense of style, she leaves us in awe and speechless. Tejasswi continues to be a trendsetter in the fashion world, and her presence is always a delightful sight to behold.
Tejasswi Prakash, known for her role in Naagin 6, has once again elevated the bar for style with her stunning purple ensemble. Her choice of attire exuded elegance and grandeur, leaving everyone in awe.
This captivating ensemble was a combination of two items that harmonized perfectly to create a striking look. The ultraviolet crop top took center stage with its mesmerizing sequin embellishments and feather detailing on the sleeves. This added a touch of fun and excitement to the overall outfit, making Tejasswi Prakash a true fashion icon who knows how to make a statement with her style choices.
Tejasswi Prakash's sense of style truly shines through in every detail of her outfit. The bottom of her ensemble, crafted from fine German Satin, featured a draped and pleated slit skirt. This choice not only demonstrated her impeccable taste but also accentuated her fashion-forward approach.
The sequin-embroidered v-neck shirt added a brilliant shine and sparkle to the entire look. Tejasswi's choice of fabric and embellishments showcased her knack for combining sophistication with a touch of glamour. Her outfit was undoubtedly a showstopper, reflecting her exceptional fashion sense and ability to turn heads on any occasion.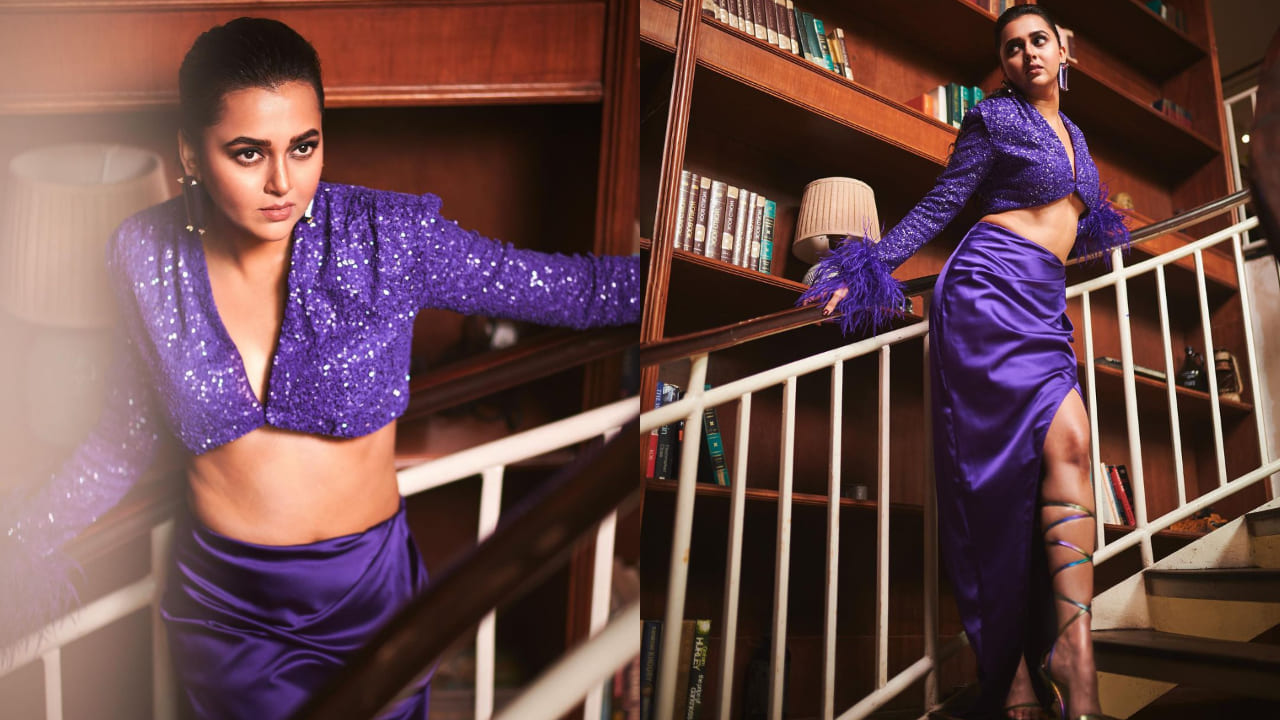 Tejasswi Prakash certainly left a lasting impression on the fashion world with her choice of attire. Her stunning Purple German Satin Ivy Sequined Top With Draped Skirt by Manika Nanda, which comes with a retail price tag of Rs 41,800, demonstrated her exquisite taste and flair for fashion.
Completing the ensemble with shimmering gladiator sandals added a touch of ethereal beauty to her overall look. Tejasswi Prakash's fashion choices are always on point, and this outfit was no exception. She knows how to effortlessly combine elegance, glamour, and style, making her a true fashion icon admired by many.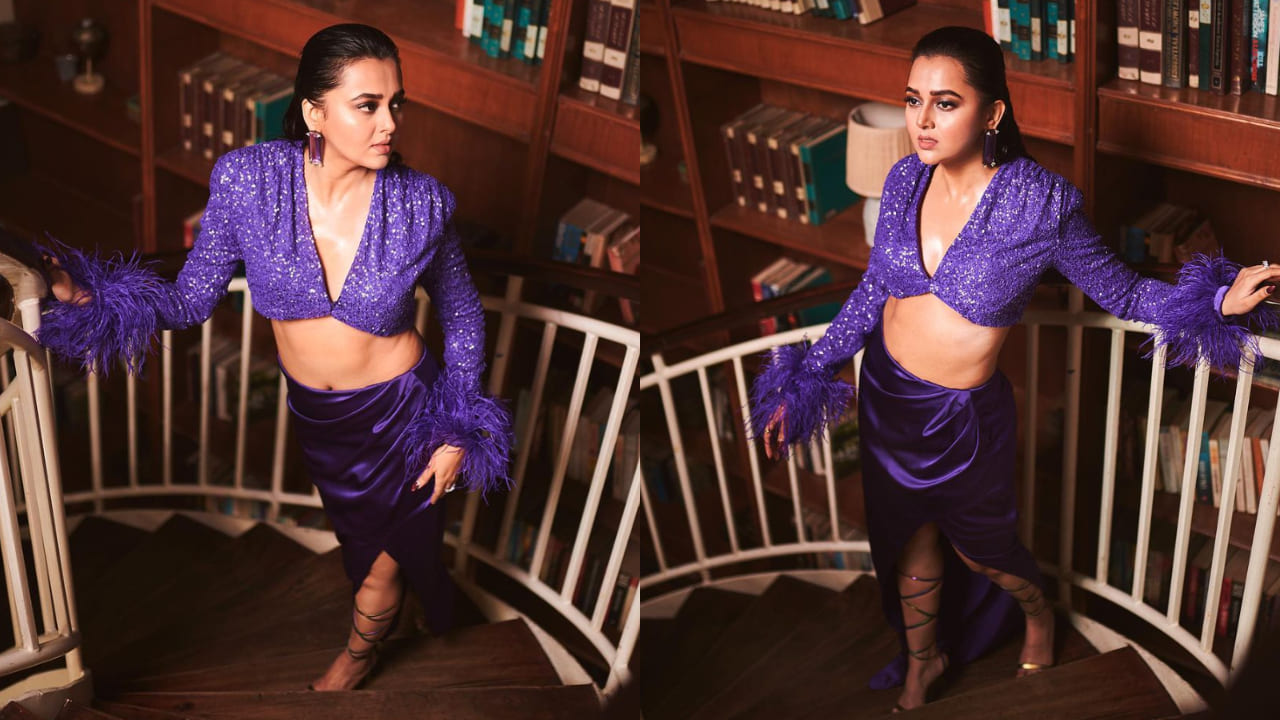 Tejasswi Prakash's attention to detail and her ability to create a harmonious and intriguing ensemble are truly impressive. The choice of Feel Twenty's Holographic Heels added a futuristic touch of elegance that complemented her look perfectly. These heels not only enhanced the overall aesthetic but also added a unique and captivating element to her outfit.
Her accessories also played a vital role in completing the ensemble. The exquisite glossy purple-hued earrings by Karishma Joolry were a brilliant choice, matching the color scheme and adding a touch of sophistication and charm. Tejasswi Prakash's fashion choices continue to dazzle and inspire, making her a standout figure in the world of style and glamour.
Embracing purple in your wardrobe is indeed a fantastic way to add refinement and flair to your party look. This bold and appealing color has the power to make a statement and leave a lasting impact. Whether it's a deep, regal purple or a vibrant shade, purple can be a showstopper on the dance floor.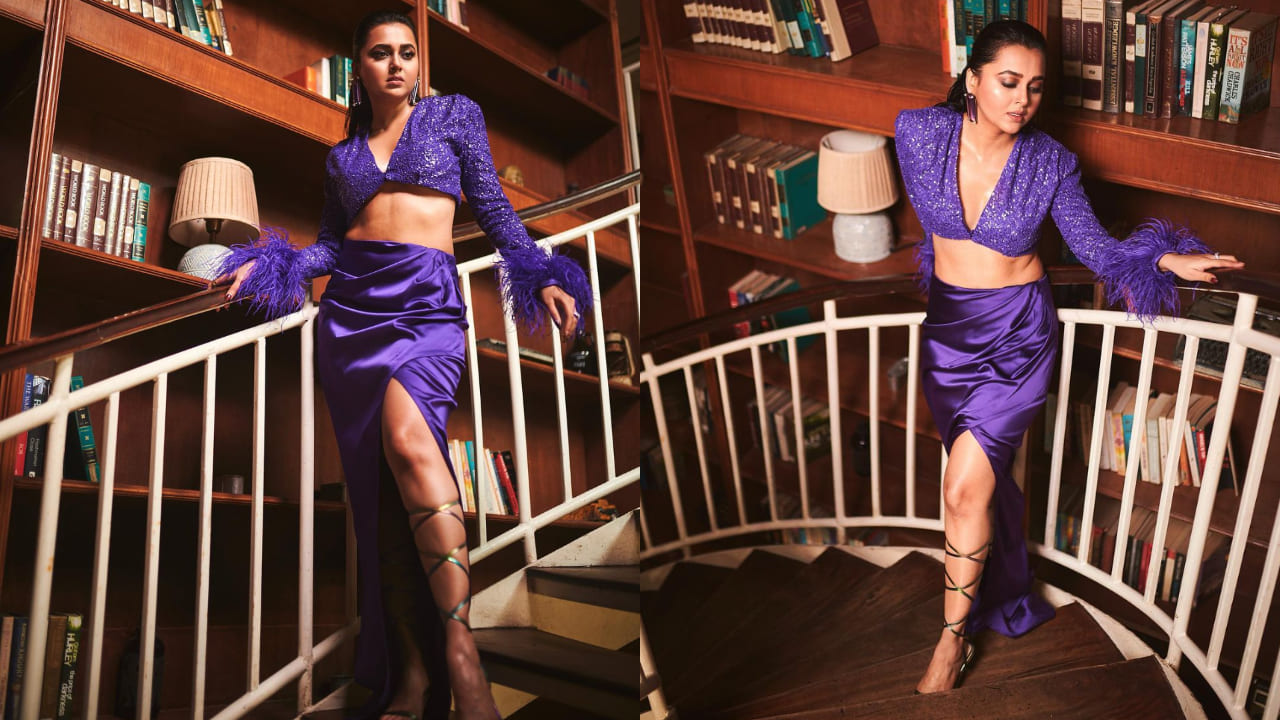 So, don't hesitate to dust off your purple clothing and let them shine. Whether it's a purple dress, a shirt, a tie, or even accessories, incorporating this color into your outfit can instantly elevate your style and make you stand out in the crowd. Let purple reign on the dance floor and express your unique sense of fashion and confidence. After all, fashion is all about embracing the unexpected and making it your own!