Kajol Devgn in Anita Dongre's handwoven Banarsi saree is the perfect choice for the wedding season
Kajol, the beloved 90s actress known for her roles in iconic films like "Dilwale Dulhania Le Jayenge" and "Kabhi Khushi Kabhie Gham," has indeed been a style trailblazer in the world of Indian fashion. Her fondness for sarees is a hallmark of her style, and she consistently manages to look stunning in a wide range of saree styles.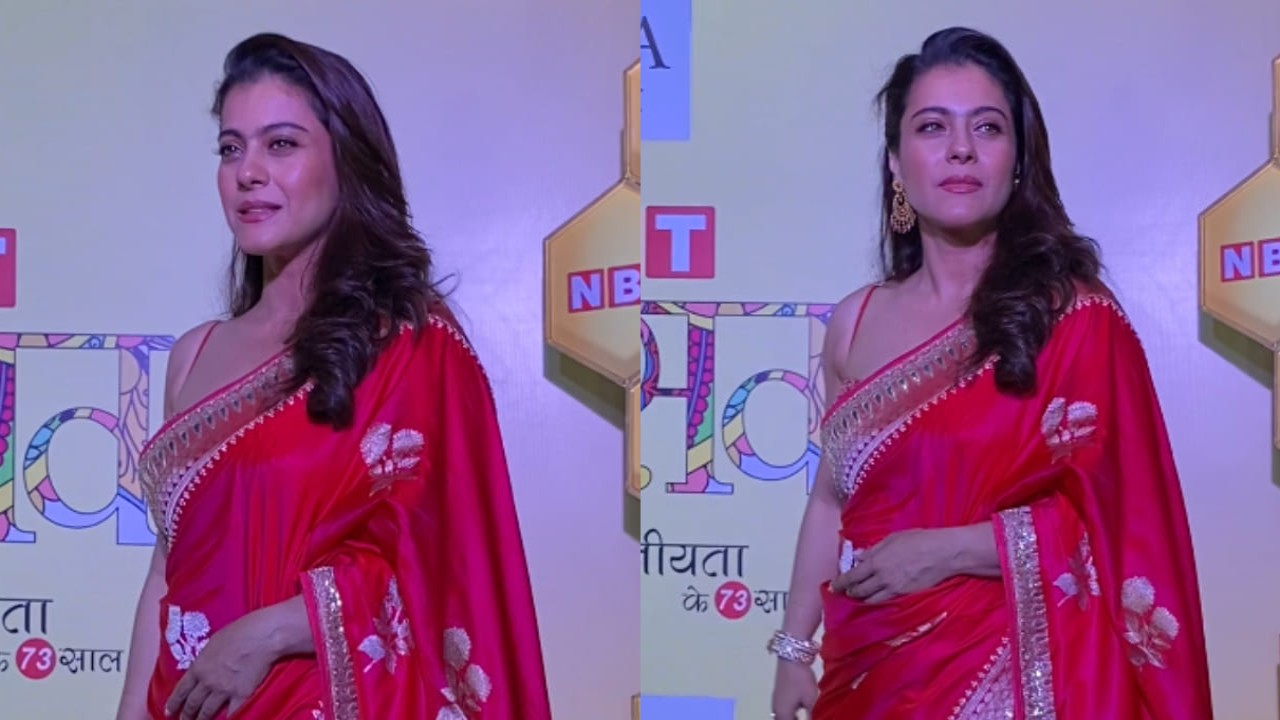 Kajol's ability to effortlessly carry off various saree styles, from spectacular sequined sarees to rich velvet sarees, is a testament to her fashion versatility. She understands how to turn heads with her carefully curated saree ensembles, whether it's a traditional or contemporary look.
One of the remarkable aspects of Kajol's saree choices is her appreciation for the diverse range that this traditional drape offers. From vibrant colors to intricate patterns, she embraces the full spectrum of saree designs, making each appearance unique and memorable.
Kajol's boldness and elegance when wearing a saree are truly inspirational. Her ageless beauty continues to captivate audiences, underscoring the timeless appeal of the saree as a fashion trend. Her ability to adapt this classic attire to different occasions and styles showcases her enduring influence in the world of Indian fashion.
Kajol, the talented actress known for her role in "Salaam Venky," recently grabbed the limelight in a stunning red saree that left a lasting impression. This handcrafted saree is a true masterpiece, crafted from the beautiful Benarasi silk, known for its rich texture and intricate weaving techniques.
The golden threadwork interwoven into the cloth added an elegant touch to the ensemble, enhancing its beauty and sophistication. Benarasi silk sarees are renowned for their craftsmanship, and Kajol's choice of this fabric reflects her appreciation for traditional Indian textiles.
The saree featured a sparkly golden border with exquisite flower motifs, elevating its overall appeal and creating a sense of opulence. The combination of the vibrant red hue, the golden accents, and the intricate detailing made this saree a show-stopper.
Kajol's draping of the saree was done with ease and grace, showcasing her mastery of the art of saree wearing. Her choice of a low-neck spaghetti-strapped blouse added a contemporary edge to the traditional look, creating a harmonious blend of classic and modern elements.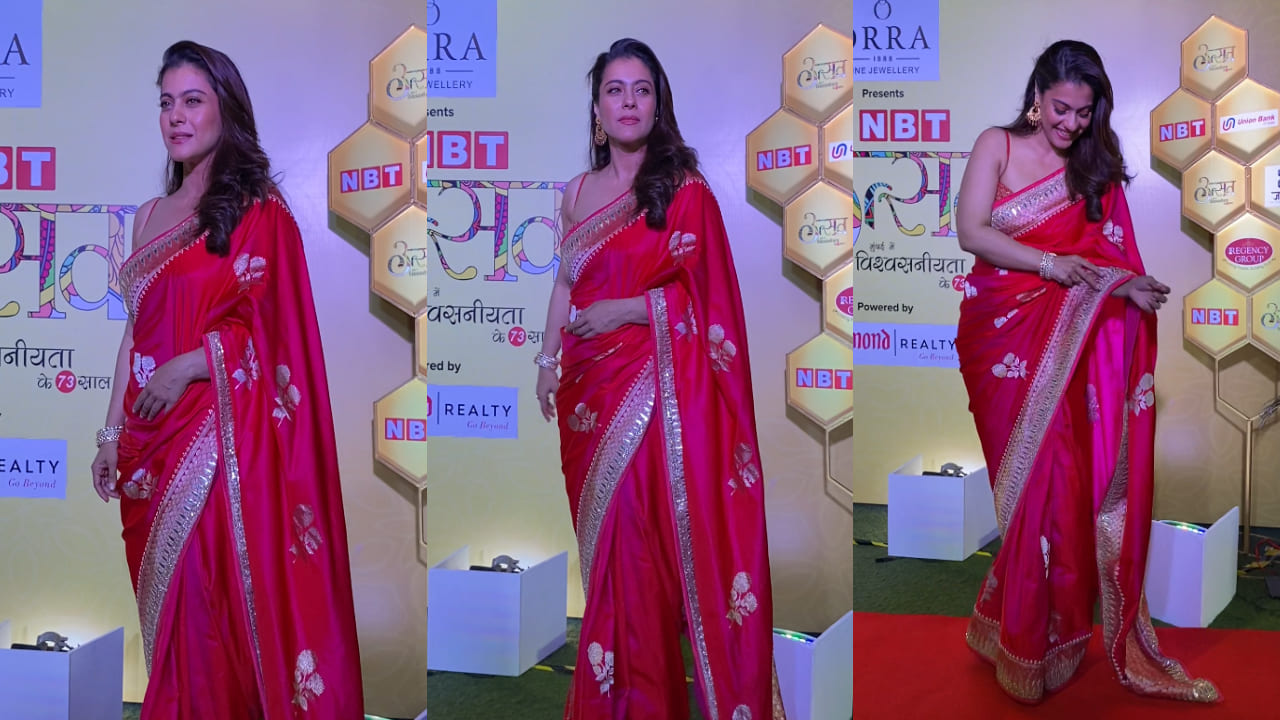 This saree ensemble exemplifies Kajol's ability to effortlessly carry off traditional Indian attire while infusing it with her own unique style. Her fashion choices continue to captivate and inspire, and this red Benarasi silk saree is yet another example of her impeccable taste in fashion.
The choice of a Benarasi saree adds to the richness and traditional appeal of the ensemble, and its price tag reflects the craftsmanship and quality associated with this type of saree.
Kajol's decision to wear the saree with a single pallu is a classic and graceful style choice, allowing the saree's intricate design to shine. Your observation about a broad-strapped blouse potentially adding more redness to the shoulders is an interesting perspective, as different blouse styles can indeed create varied effects. Fashion is a realm of personal expression, and the choice of blouse style can depend on the wearer's preferences and the overall look they wish to achieve.
Kajol's enduring love for sarees and her ability to consistently captivate with her saree ensembles continue to excite and inspire fashion enthusiasts. Her fashion journey is a testament to her timeless style and her ability to adapt traditional attire to contemporary tastes.
Kajol's makeup choice for her appearance in the Benarasi saree by Anita Dongre, as described, exuded a delicate and dewy look. This makeup style likely added a touch of radiance to her overall appearance, enhancing her natural beauty without overpowering her saree ensemble.
Her choice of medium-sized golden chandbali earrings as accessories complemented the traditional and opulent look of the Benarasi saree. Chandbali earrings are known for their intricate designs and timeless appeal, and they often pair beautifully with Indian ethnic wear.
Kajol's decision not to wear a neckpiece allowed her stunning open hair to take center stage. Her choice of a right-side partition for her hair added a touch of elegance and sophistication to her overall look, creating a harmonious balance between her makeup, jewelry, and hairstyle.
It's clear that Kajol pays meticulous attention to detail when curating her looks, ensuring that each element complements the other to create a cohesive and captivating ensemble. Her fashion choices consistently demonstrate her style sensibility and her ability to make a statement while staying true to her elegant and classic aesthetic.
Kajol's choice of golden footwear to complete her look was a thoughtful addition that complemented her attire nicely. Matching footwear can tie an outfit together beautifully, and in this case, it likely added a touch of glamour to her overall appearance.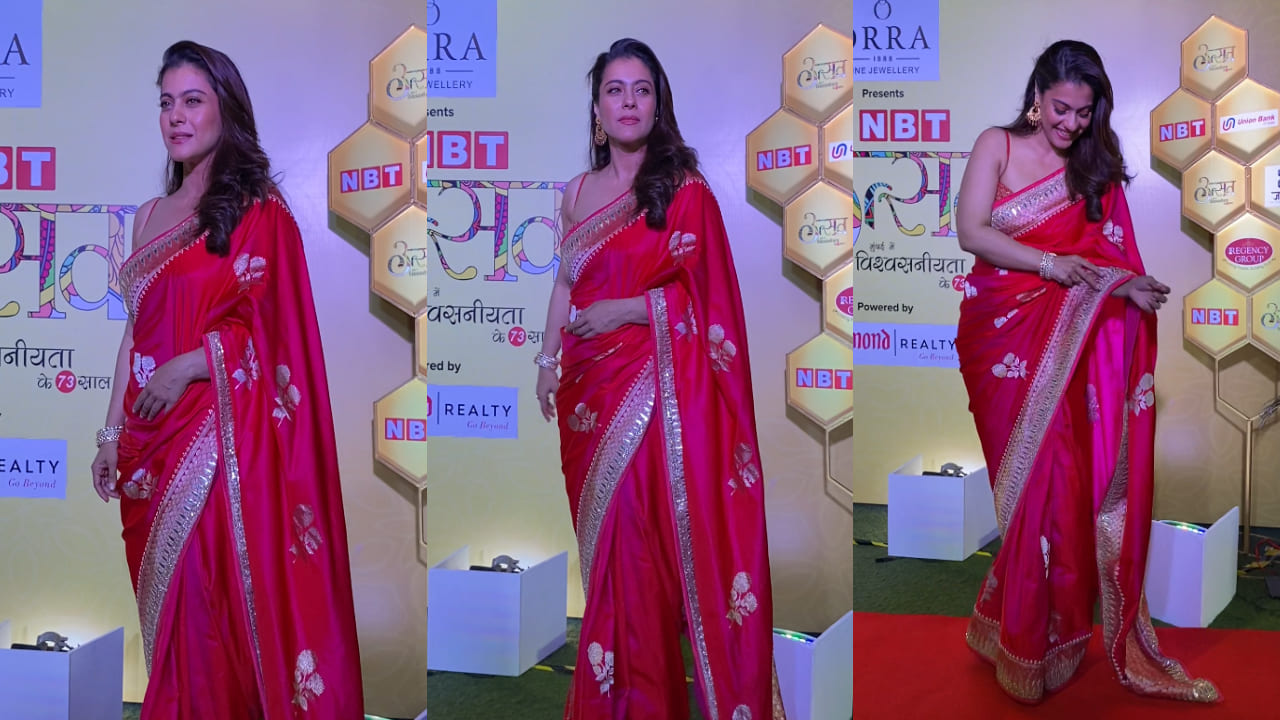 Her accessories, including the golden chandbali earrings and the golden footwear, seem to have been selected with precision, offering just the right amount of shine and grace. This attention to detail underscores her impeccable style and her ability to create a flawless and cohesive look from head to toe.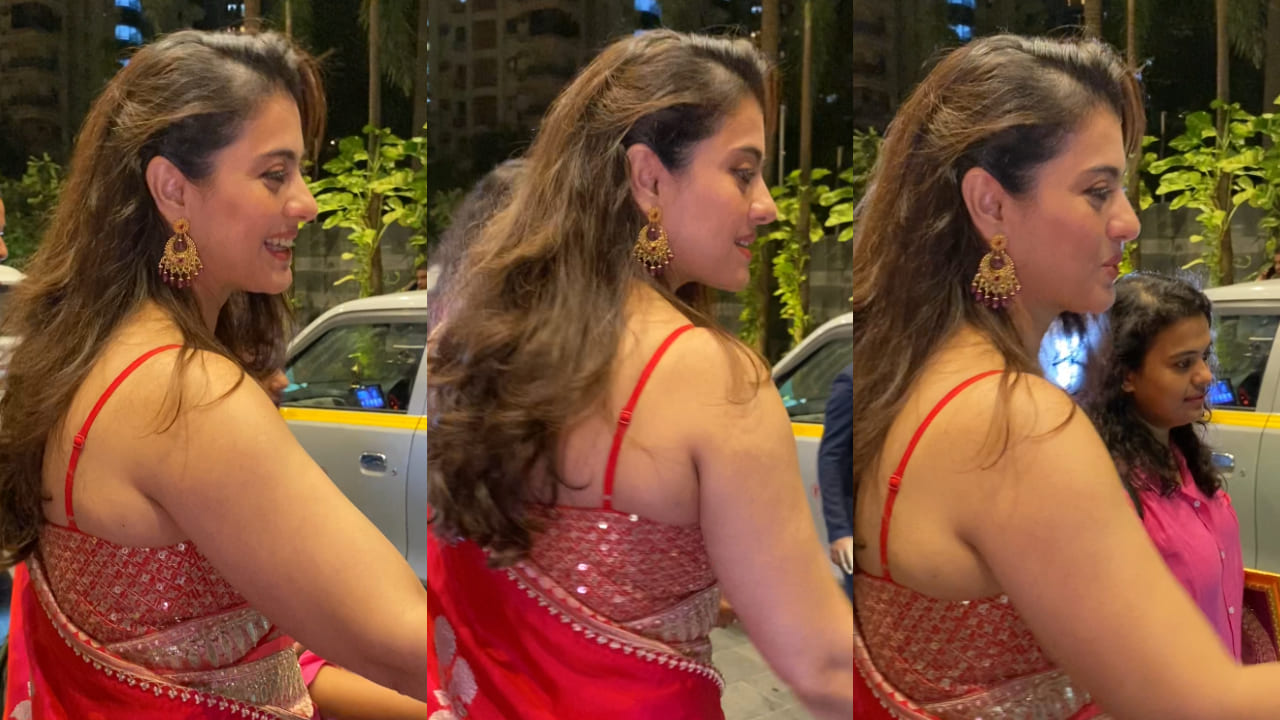 Kajol fashion choices continue to impress and inspire, as she consistently demonstrates her mastery of styling and accessorizing to achieve a polished and elegant appearance. Her ability to strike the perfect balance in her fashion choices is one of the reasons she remains a beloved and influential figure in the world of Indian fashion.