Sonam Kapoor Ahuja SLAYS in beige oversized blazer with white cropped shirt, jeans and expensive Birkin bag
Bollywood is no stranger to fashionable actresses who consistently set trends and dazzle us with their stylish ensembles. However, one name stands out as a true trailblazer in the world of fashion, and that is Sonam Kapoor Ahuja. She's undeniably the original fashionista of the entertainment industry, known for her unique ability to both set and defy fashion norms with her bold and innovative style choices. Whether it's a high-profile red carpet event, a glamorous soirée, a fashion runway, or even a casual airport appearance, Sonam Kapoor is always armed with outfits that are a cut above the rest. Her fashion sensibility is unparalleled, and her latest airport look further solidified her reputation as a trendsetter.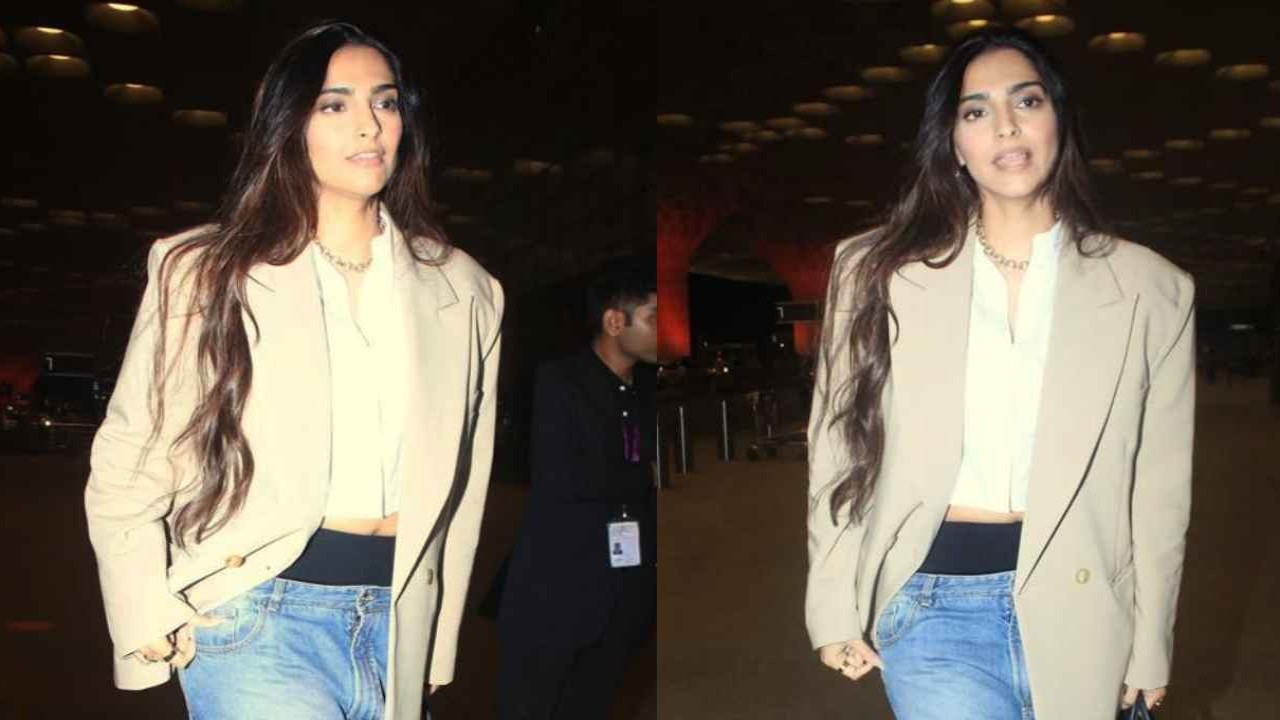 Sonam Kapoor's ability to effortlessly make and break fashion trends is a testament to her unwavering commitment to pushing the boundaries of style. Her airport fashion choices have been no exception, as she continuously challenges the norm with her fashion-forward outfits. The latest look that had the internet buzzing only serves as yet another example of her sartorial prowess, demonstrating her ability to captivate and inspire not only her fans but also the entire fashion industry.
In a world where fashion is ever-evolving, Sonam Kapoor Ahuja remains a constant and influential force, consistently turning heads and setting new standards for the Bollywood fashion scene. Her impeccable taste and fearless approach to style continue to place her on a pedestal as the original and iconic fashionista of the industry.
Continuing with her airport fashion statement, the "Prem Ratan Dhan Payo" actress paired her blazer and cropped shirt with a choice that combined comfort and style. She opted for baggy blue washed-off denim jeans that featured comfortably wide legs. This selection not only ensured that she remained at ease during her travels but also maintained the chic and relaxed vibe of her overall look. The juxtaposition of the formal blazer with the casual denim created a harmonious balance that is characteristic of Sonam's signature style.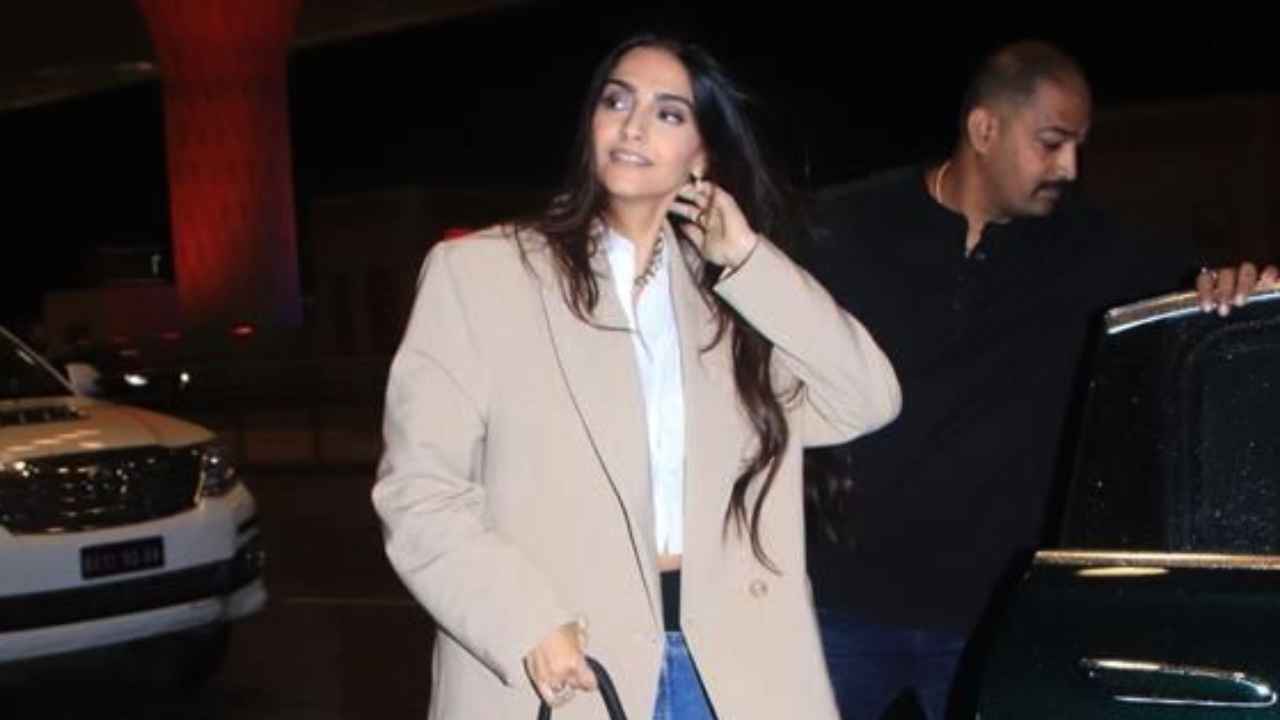 To round off her stylish airport ensemble, the talented "Delhi 6" actress made another wise decision by adding a pair of black loafers with a matte finish. The matte finish of the loafers contributed to the sophisticated yet understated appearance of her footwear. This choice of footwear complemented the overall look flawlessly, offering a touch of class and practicality. Sonam Kapoor's knack for selecting the right accessories and shoes is a reflection of her meticulous attention to detail, ensuring that every element of her outfit comes together in perfect harmony.
Sonam Kapoor's attention to detail extended to her choice of accessories, as she paired her airport look with a Hermes Birkin 35 Noir Black Ardennes bag with Gold Hardware. This iconic bag, with a price tag of approximately Rs. 20,79,438, is a true fashion statement and a timeless classic that never goes out of style. It's known for its exquisite craftsmanship and luxury.
The Hermes Birkin bag is especially renowned for its meticulous construction. Handcrafted from the highest quality of Noir Ardennes leather by skilled artisans in France, it embodies the epitome of elegance and sophistication. Each Birkin bag takes over 18 hours of rigorous effort to stitch together, highlighting the level of craftsmanship and attention to detail that goes into creating this piece of art.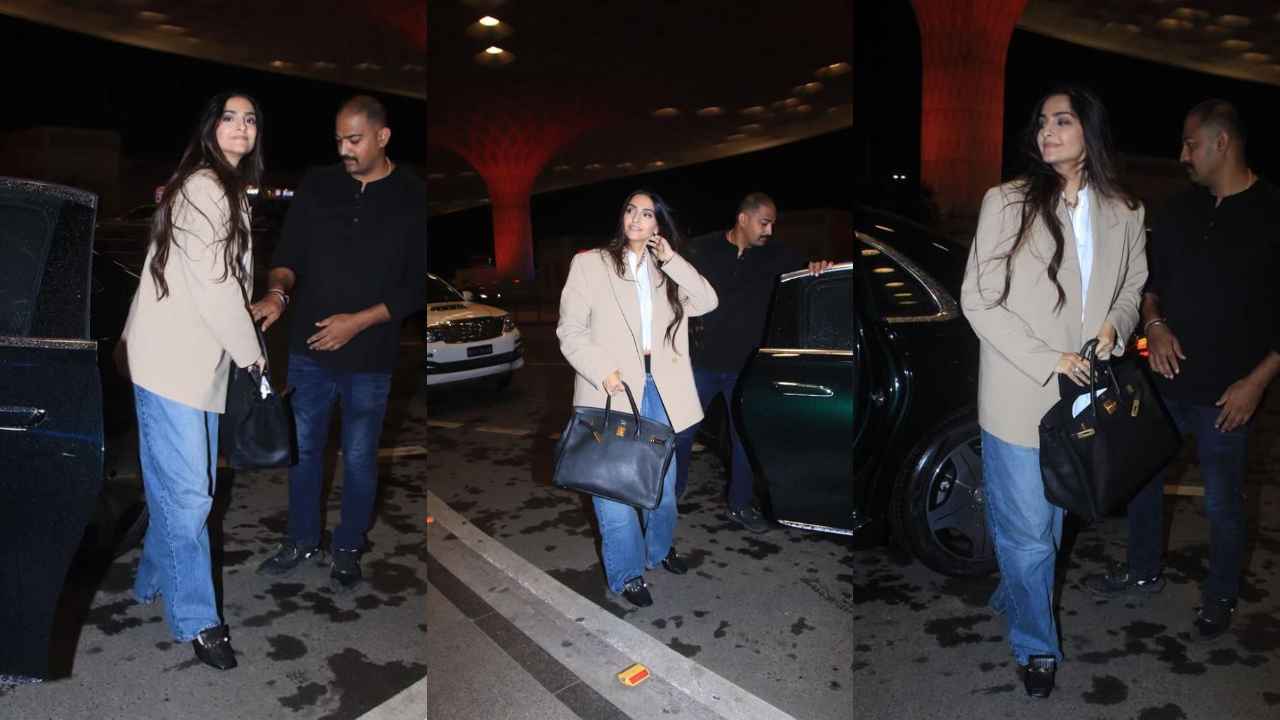 The interior of the Birkin 35 is spacious and lined with leather, making it a practical choice that can accommodate all your daily necessities and more. This blend of high-quality craftsmanship and functional design is what makes the Birkin 35 a coveted and beloved accessory by fashion enthusiasts around the world.
Sonam Kapoor's choice of the Birkin 35 as her bag of the day was nothing short of exceptional. Its exquisite details and luxurious design perfectly complemented her airport ensemble, adding a touch of elegance and sophistication to her look. This choice was more than a fashion statement; it was a testament to her exquisite taste and appreciation for the finest things in life.
To complete her accessories, Sonam Kapoor added a gold Cuban chain necklace and matching simple earrings. These understated yet stylish pieces enhanced her overall look, reflecting her knack for adding just the right amount of sparkle and flair to her outfits. Her attention to detail and ability to select accessories that perfectly complement her attire is a true hallmark of her fashion sensibility.
When it comes to the exceptional actress Sonam Kapoor, known for her remarkable style choices, her travel-friendly style statement was no exception. Her hair and makeup were equally thoughtfully curated to complement her overall look for this airport appearance.
Sonam Kapoor chose to leave her dark tresses open, allowing them to fall gracefully over her shoulders. Her hair was styled into loose waves that beautifully cascaded down, creating a sense of natural and effortless charm. This hairstyle not only added to her outfit's appeal but also reflected her ability to effortlessly strike a balance between casual and chic, which is a hallmark of her personal style.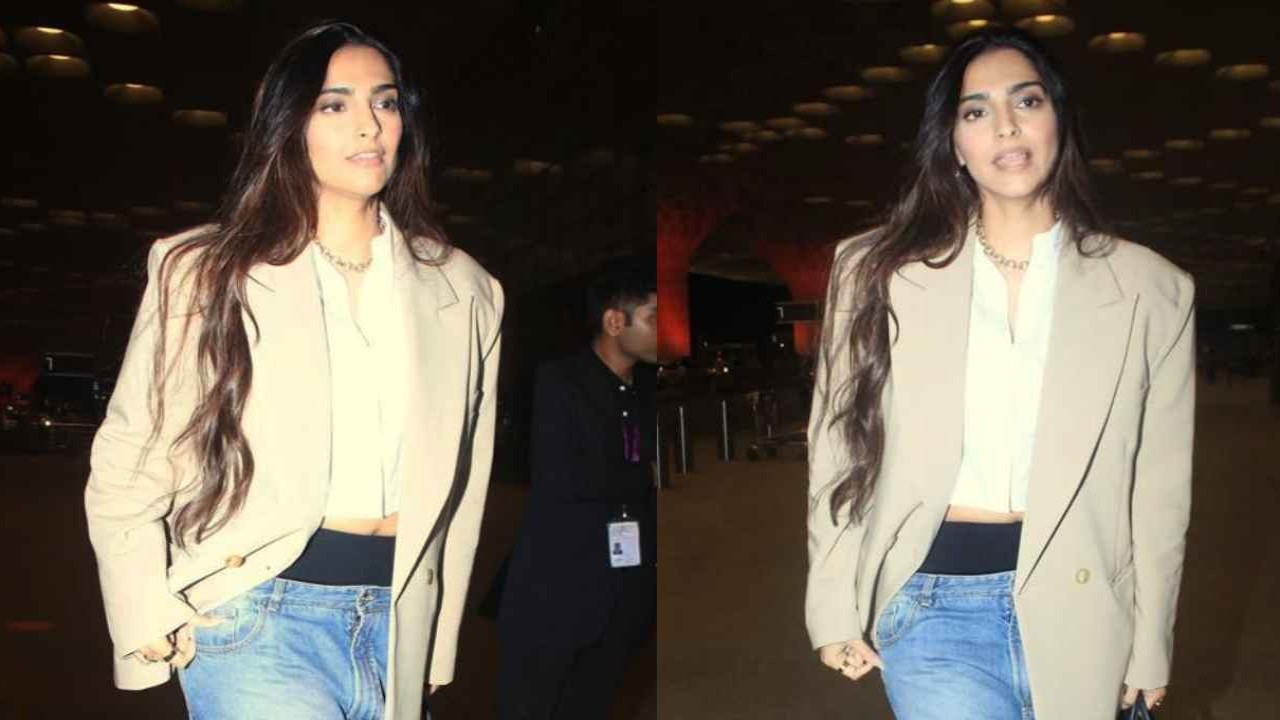 The choice of loose waves in her hair was a testament to her ability to combine simplicity with elegance. It perfectly encapsulated her approach to fashion, which is characterized by a natural and understated allure that still manages to turn heads and make a statement. Sonam Kapoor's travel-friendly style statement was a true reflection of her fashion prowess, making her a fashion icon in every sense of the word.
To complete her makeup, Sonam chose to wear lip gloss that gave her lips a subtle shine and added a touch of glamour to her appearance. The understated yet polished makeup look perfectly complemented her chic and relaxed airport ensemble, further underscoring her exceptional sense of style.
Sonam Kapoor's ability to effortlessly balance simplicity and sophistication in her fashion choices, from her outfit to her makeup, reaffirms her status as Bollywood's ultimate fashion icon. Her unwavering commitment to highlighting her natural beauty while staying on-trend is a testament to her unique and unparalleled sense of style, one that continues to captivate the fashion world.