Sonam Kapoor looks GORGEOUS in blue t-shirt paired with Prada's pleated skirt
When it comes to an unparalleled fashion sense, the name Sonam Kapoor quickly comes to mind. She has consistently pushed boundaries and set trends with her unique and avant-garde style choices, earning her the well-deserved title of a true fashionista. Sonam Kapoor possesses a remarkable ability to make a statement on the red carpet, whether she's donning bold colors, experimenting with unique styles, or showcasing intricate and elaborate details.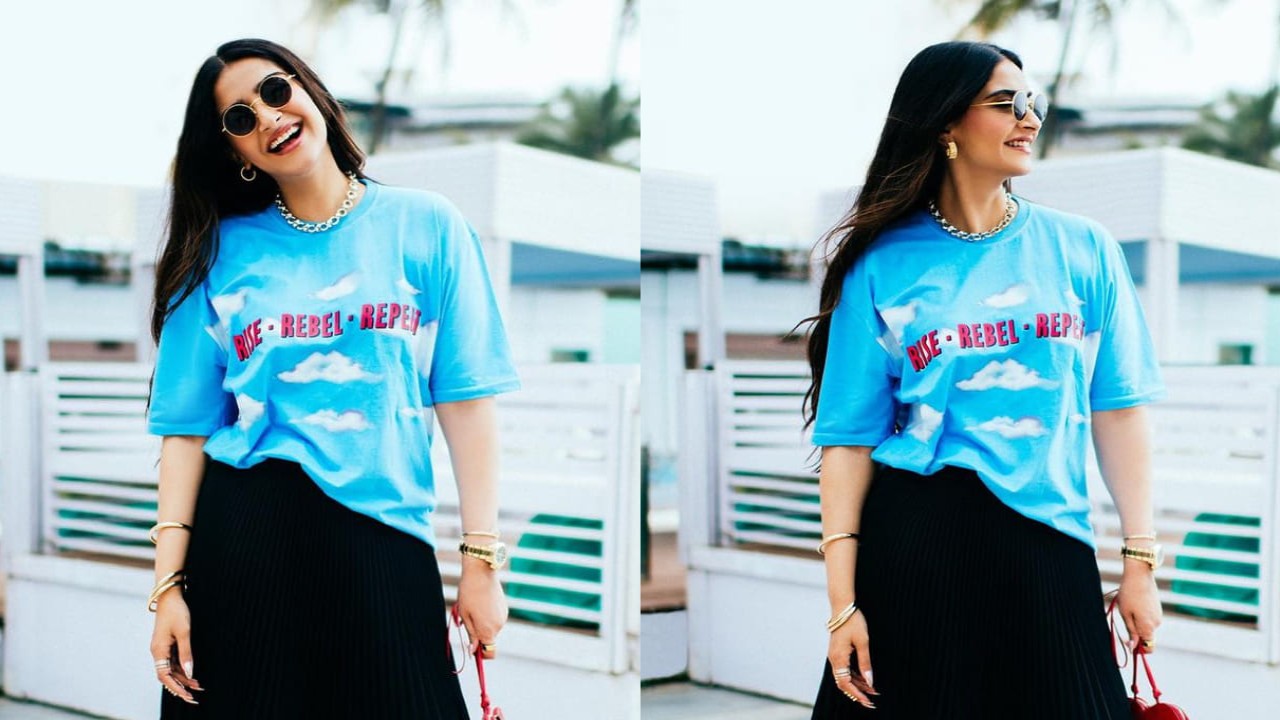 For a press event promoting the new film "Thank You For Coming" in Mumbai, Sonam Kapoor once again demonstrated her exceptional fashion prowess. Her appearance at this event was nothing short of extraordinary, and it's worth decoding to appreciate the intricacies of her style.
Sonam Kapoor's fashion choices have often been characterized by their boldness and originality. She doesn't shy away from embracing unconventional and eye-catching designs, and this event was no exception. Her attire was undoubtedly stunning, likely turning heads and capturing the spotlight as she stepped onto the red carpet. Her knack for combining elegance and innovation in her fashion choices continues to solidify her status as a trendsetter in the world of fashion.
Sonam Kapoor, widely recognized as a style guru, showcased her exceptional fashion acumen once more with a stylish and edgy ensemble. Her choice of attire for the press event was a testament to her fearless and trendsetting style.
She wore a simple yet impactful blue t-shirt with the words 'Rise, Rebel, Repeat' emblazoned across the front. This bold statement added a rebellious edge to her look, and the message itself conveyed a sense of empowerment and individuality. Sonam's fashion choices often come with a deeper meaning, and this t-shirt was no exception, showcasing her commitment to making a statement through her wardrobe.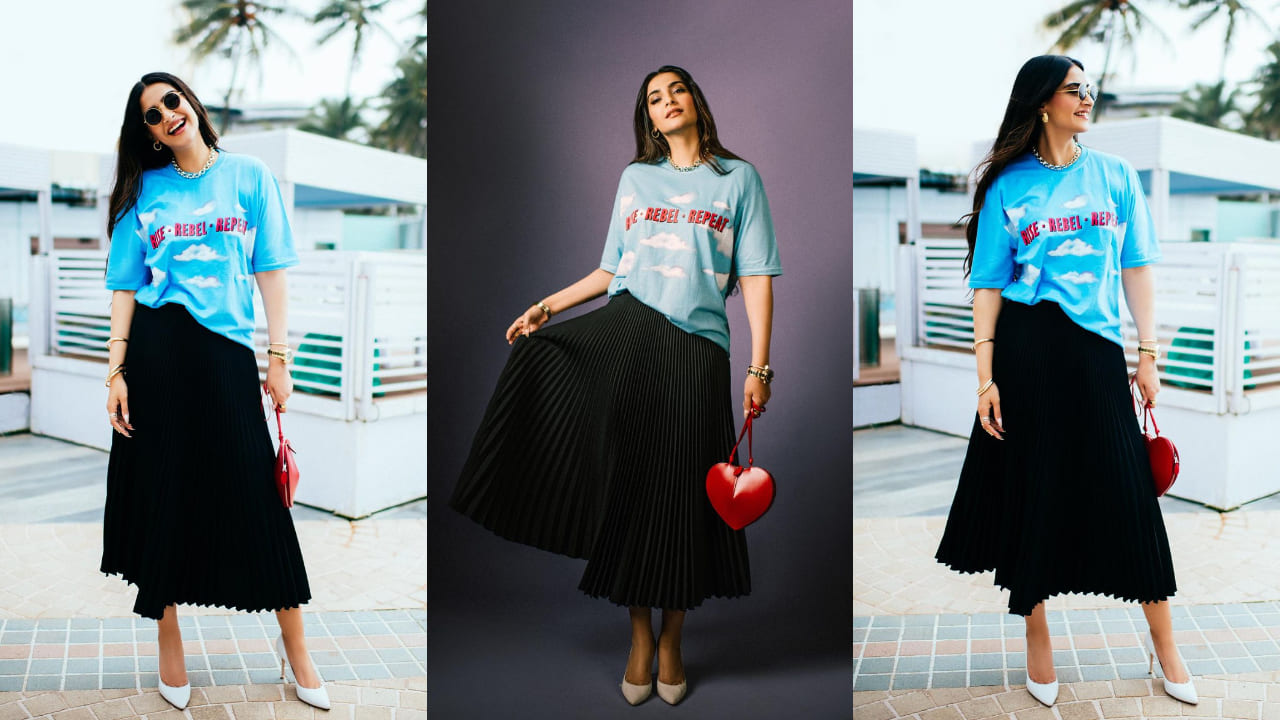 To infuse an element of playfulness into her ensemble, a fun cloud print was incorporated into the shirt. This quirky addition provided a touch of whimsy and creativity, perfectly balancing the rebellious message on the t-shirt. Sonam's ability to blend these contrasting elements into a cohesive and stylish look is a testament to her unique fashion sensibility, which continues to inspire and captivate her audience.
Sonam Kapoor demonstrated her remarkable fashion versatility by seamlessly combining casual and sophisticated elements in her outfit. She paired the edgy blue t-shirt with a black mid-waist pleated skirt from Prada, showcasing her innate ability to blend contrasting styles. This fusion of casual and sophisticated created a unique and intriguing look.
The addition of the black Prada skirt elevated her entire ensemble, adding an element of sophistication and refinement. The skirt's pleats and mid-waist design gave a touch of elegance, and the contrast with the casual t-shirt created a harmonious balance. Sonam Kapoor's fashion choices often reflect her ability to bridge the gap between various styles, making her an influential figure in the world of Bollywood fashion.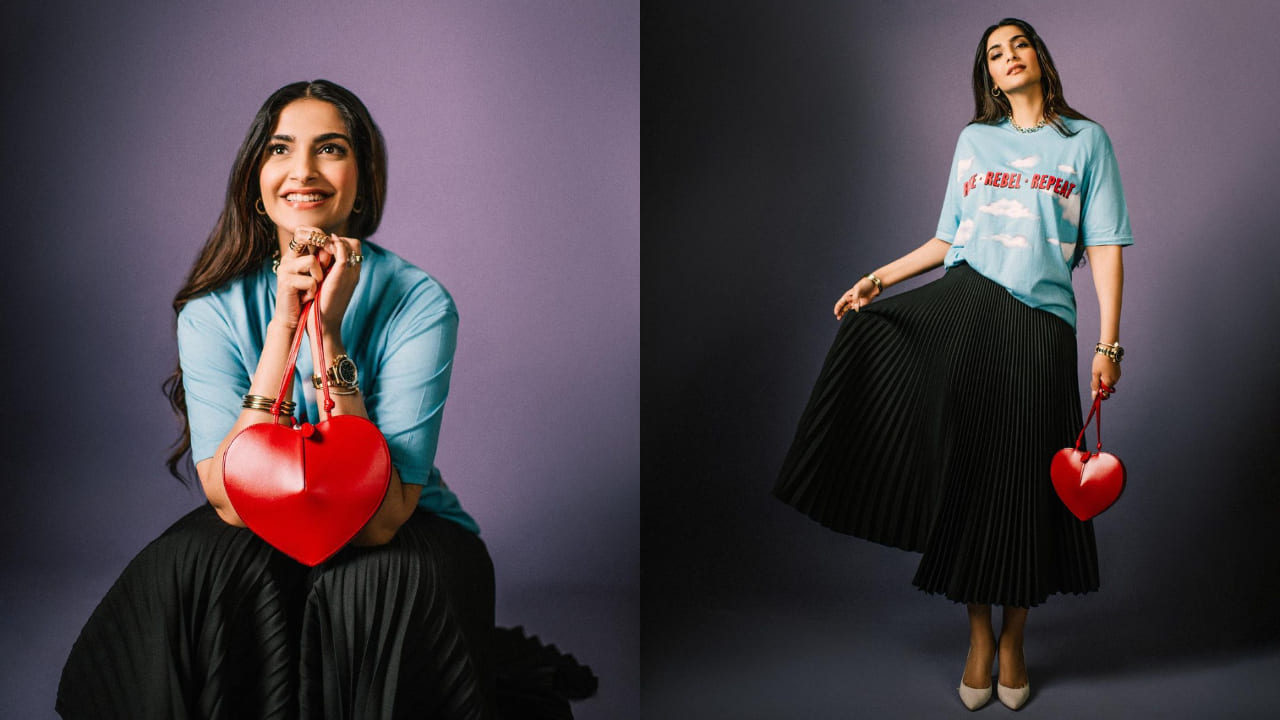 With her perfect sense of style and confident demeanor, Sonam Kapoor flawlessly pulled off this ensemble, once again proving why she is held in high regard as a fashionista in Bollywood. Her fashion choices consistently push the boundaries and inspire others to experiment with their own style, showcasing her as a trendsetter and a true icon in the realm of fashion.
To complete her stunning look, Sonam Kapoor chose to accessorize with an Azzedine Alaïa purse, which proved to be the perfect final touch to her ensemble. This particular accessory showcased Sonam's attention to detail and her penchant for selecting items that enhance her overall look.
The Azzedine Alaïa purse she carried was a lovely heart-shaped creation with a matte texture, exuding both charm and a sense of fun. The heart-shaped design added a playful and whimsical element to her outfit, harmonizing well with the quirky cloud print on her t-shirt. This purse was a testament to Sonam's knack for incorporating unique and eye-catching pieces into her fashion choices.
Not only was the purse stylish, but it was also highly functional. With its small strap, it combined fashion with practicality, allowing her to carry her essentials in a chic and convenient manner. This statement item lent an undeniable touch of grandeur to her attire and served as a focal point of her overall look. It's worth noting that the purse, priced at Rs. 77,489, represented both luxury and individuality, making it a standout addition to her fashion-forward ensemble.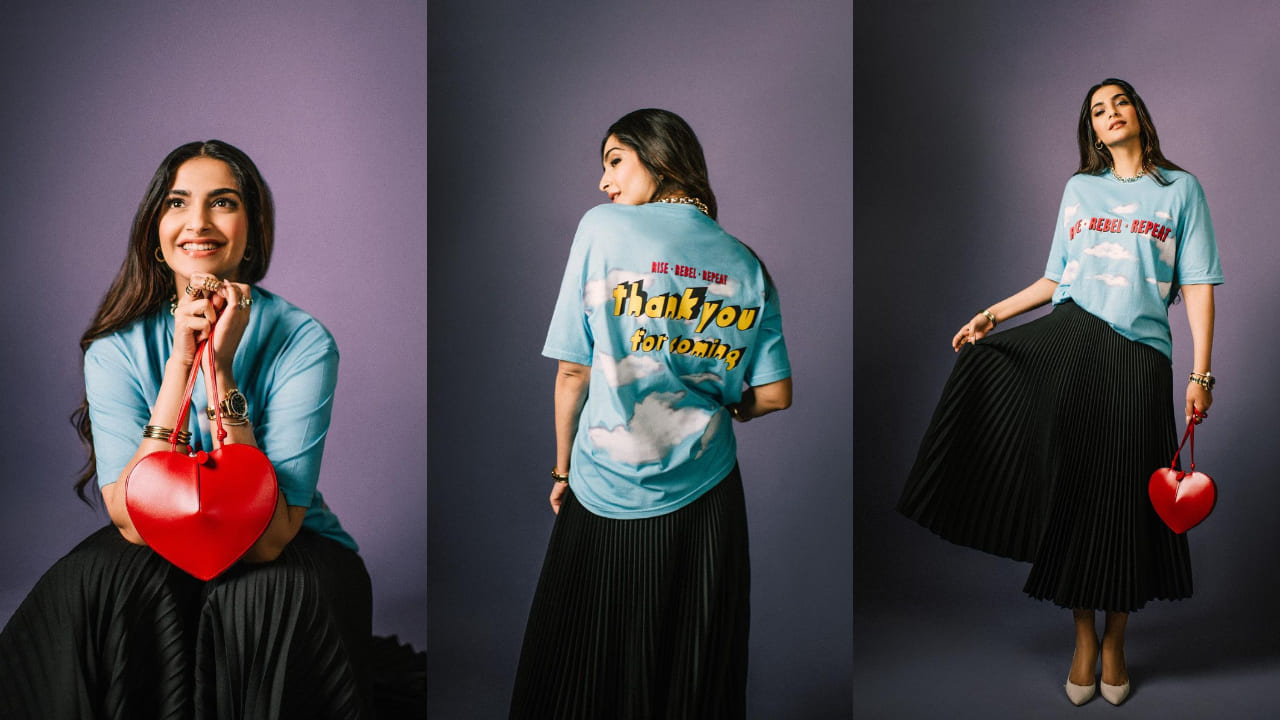 Sonam Kapoor's meticulous attention to detail was further showcased through her choice of accessories. She adorned herself with an assortment of ornaments that elevated her overall look, adding a touch of glamour and sophistication.
One of the standout details was the charming little hoops she wore in her ears. These subtle earrings framed her face beautifully, adding a delicate and elegant element to her appearance. They perfectly complemented her overall style, emphasizing her refined taste in fashion.
The golden rings that adorned her fingers added a touch of opulence and finesse to her ensemble. Each ring seemed carefully chosen, enhancing the overall aesthetics of her hands and drawing attention to her meticulously manicured fingers.
To complete her look, Sonam Kapoor added a gold bracelet and a golden wristwatch to her right hand. This addition took her style to a whole new level, exuding a sense of luxury and sophistication. The combination of these accessories showcased her ability to effortlessly blend various elements, creating a harmonious and well-curated look that fully embodied her reputation as a fashion icon.
Sonam Kapoor's stunning appearance was undoubtedly a result of the skilled styling by Abhilasha Devnani, who managed to perfectly enhance her natural beauty. Her choice of hairstyle added an element of elegance to her overall look. Sonam's hair was beautifully arranged into loose waves, featuring an open middle division. This styling choice provided her with a comfortable yet undeniably gorgeous appearance, and it complemented the overall aesthetic of her ensemble seamlessly.
The makeup artist, Namrata Soni, worked her magic to create a striking makeup look for Sonam. The makeup was expertly designed to accentuate Sonam's features, highlighting her natural beauty. One of the standout features of this look was the sculpted cheekbones that added a touch of definition and sophistication to her face. The vibrant red lipstick was a bold choice that injected a punch of color into the entire look, bringing a sense of drama and allure. This makeup look not only perfectly complemented the edgy yet stylish outfit but also showcased Sonam Kapoor's versatility in pulling off different styles with grace and confidence. It was a true testament to the artistry and creativity of the makeup artist, enhancing Sonam's already radiant beauty.