Janhvi Kapoor serves sass in dusty pink co-ord with an overlay and Rs. 2,21,00 tote bag
Welcome to the glamorous realm of airport fashion, where celebrities strive to make a lasting impact with their stunning style statements. In the ever-evolving world of fashion, it's not just the red carpet that serves as a runway; airports have become a prime showcase for the stars to display their sartorial choices. The most recent fashion statement that had everyone talking and yearning for more was the captivating style of none other than the talented Janhvi Kapoor.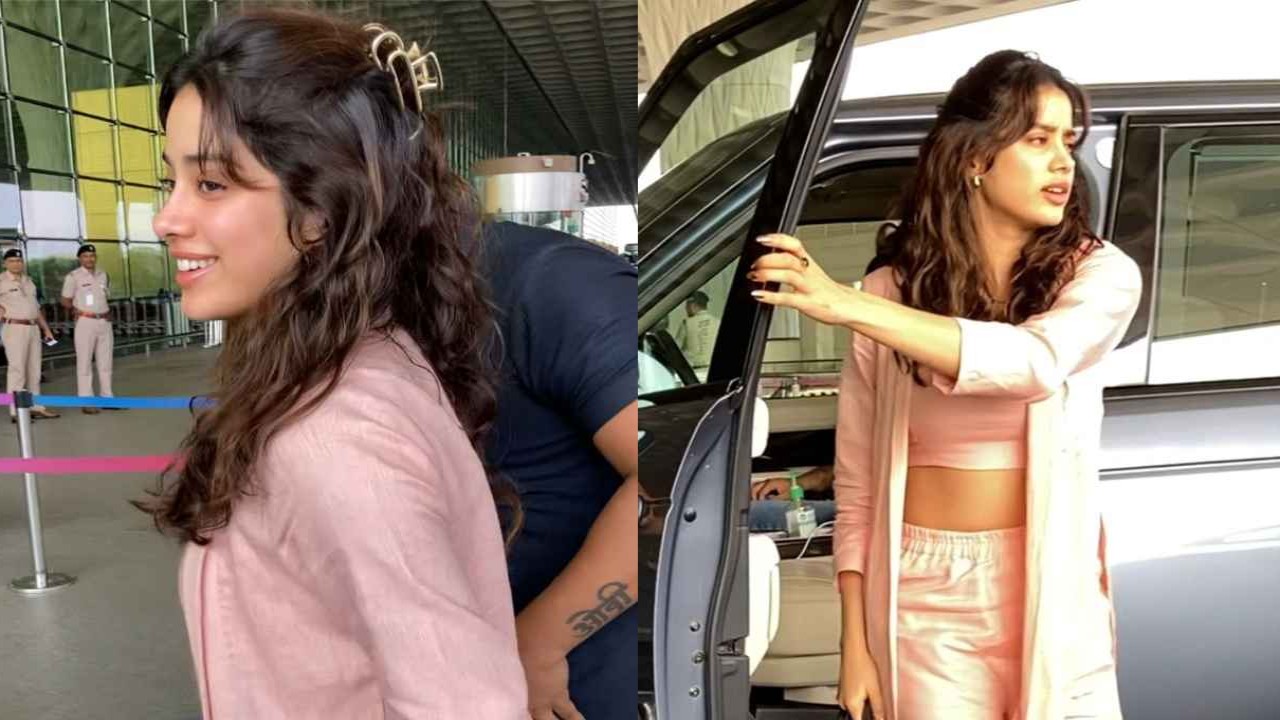 Janhvi Kapoor, known for her impeccable sense of fashion, recently made heads turn with her airport ensemble. Dressed in a dusty pink co-ord outfit, she effortlessly combined sophistication with comfort, setting a new standard for airport fashion. The Jana Gana Mana actress showcased the perfect fusion of style and ease, proving that one can be both fashionable and comfortable while traveling.
The choice of a dusty pink co-ord ensemble was not just visually pleasing but also on-point with current fashion trends. The soft, muted color exuded elegance and subtlety, allowing Janhvi to stand out without being overly ostentatious. Co-ord sets, with their matching top and bottom, are known for their versatility and simplicity, making them a popular choice among fashion-conscious individuals. Janhvi Kapoor's airport look is a testament to her fashion prowess, illustrating her ability to effortlessly combine style with practicality.
Janhvi Kapoor, known for her classy fashion choices, made quite an impression when she was recently spotted at the airport. She donned a stylish dusty pink co-ord set from Sand by Shirin, showcasing her penchant for contemporary and elegant attire. This eye-catching ensemble comprised a wide-strapped soft linen bandeau top, featuring a U-shaped plunging neckline that added a touch of allure to the outfit. The expandable elasticated back and the convenient side zip ensured both comfort and ease of wear, making this top a must-have piece for fashion-conscious individuals. Priced at Rs. 4,990, it blended affordability with high style, highlighting Janhvi Kapoor's ability to find chic yet accessible fashion options.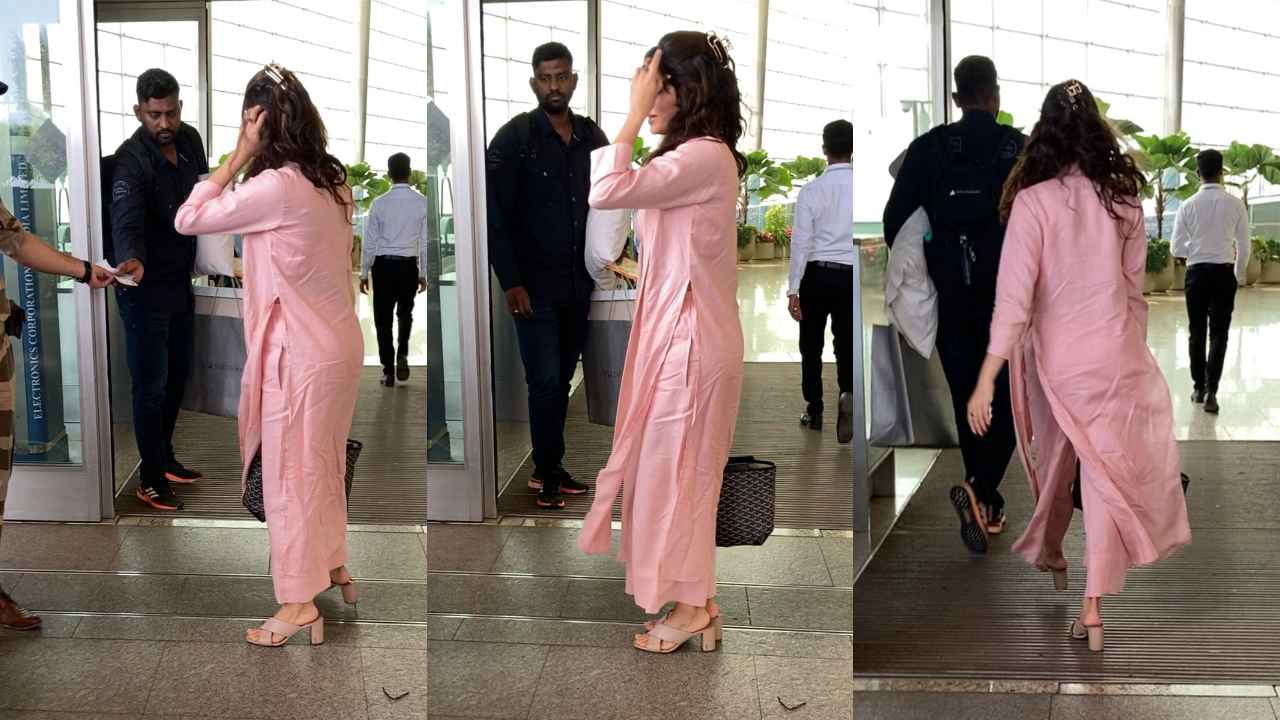 To complete her airport look, the talented diva paired the bandeau top with matching dusty pink ankle-length Cape Town pants. These pants were designed for both style and comfort, featuring a loose, wide-legged fit that allowed for ease of movement. The choice of these pants in the co-ord set complemented the top beautifully, creating a harmonious and fashionable outfit. Janhvi Kapoor's fashion statement once again emphasized her ability to effortlessly blend elegance with modern trends, setting a new benchmark in airport fashion.
The fashionable co-ord set donned by Janhvi Kapoor at the airport had more to offer in terms of both style and practicality. The dusty pink ankle-length Cape Town pants, priced at Rs. 5,990, were crafted from soft linen and designed with a high waist. These pants not only exuded comfort but also included an expandable elastic waistband for an even more comfortable fit. To add a touch of convenience, they were equipped with pockets, a feature appreciated by those who value both style and functionality in their clothing choices.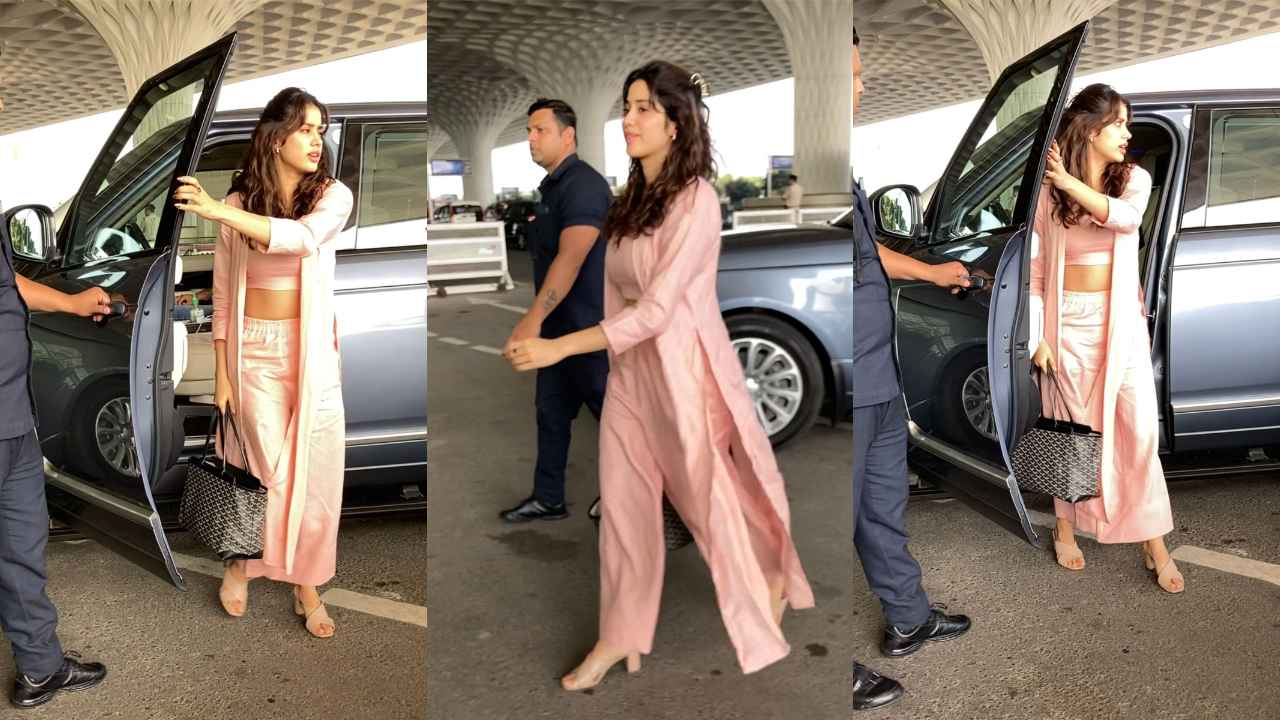 To complete her airport look, Janhvi Kapoor took it a step further by layering with a matching ankle-length overlay jacket. This jacket, priced at Rs. 7,990, featured high side slits that not only added a contemporary flair to the outfit but also allowed for ease of movement. The 3/4th sleeves provided a touch of elegance, while the distinct textured collar in moss introduced an element of uniqueness to the overall ensemble. This layered jacket showcased Janhvi's ability to play with different pieces and create a well-coordinated look, proving that layering can be both stylish and practical.
Janhvi Kapoor's airport ensemble was a well-thought-out fashion statement, right down to the choice of footwear and accessories. To complete her incredible look, she opted for light beige Saint Laurent Loulou leather mules with a criss-cross design, which added an elegant finishing touch to her outfit. These stylish mules were priced at approximately Rs. 21,488, underlining her commitment to a chic yet well-rounded look. The criss-cross design of the mules contributed to the overall sophistication of her attire, emphasizing her attention to detail.
But the fashion journey didn't stop with the ensemble and footwear alone. The talented Mili actress elevated her airport style even further by carrying a Goyard Bellechasse Biaude PM tote. This choice of tote added both functionality and a touch of luxury to her effortlessly stylish airport ensemble. The Goyard brand is known for its timeless appeal and quality craftsmanship, and the Bellechasse Biaude PM tote was a perfect accessory to complement her co-ord set and layered jacket. It exemplified her ability to combine high-fashion elements with everyday practicality, making her ensemble not just fashionable but also highly functional.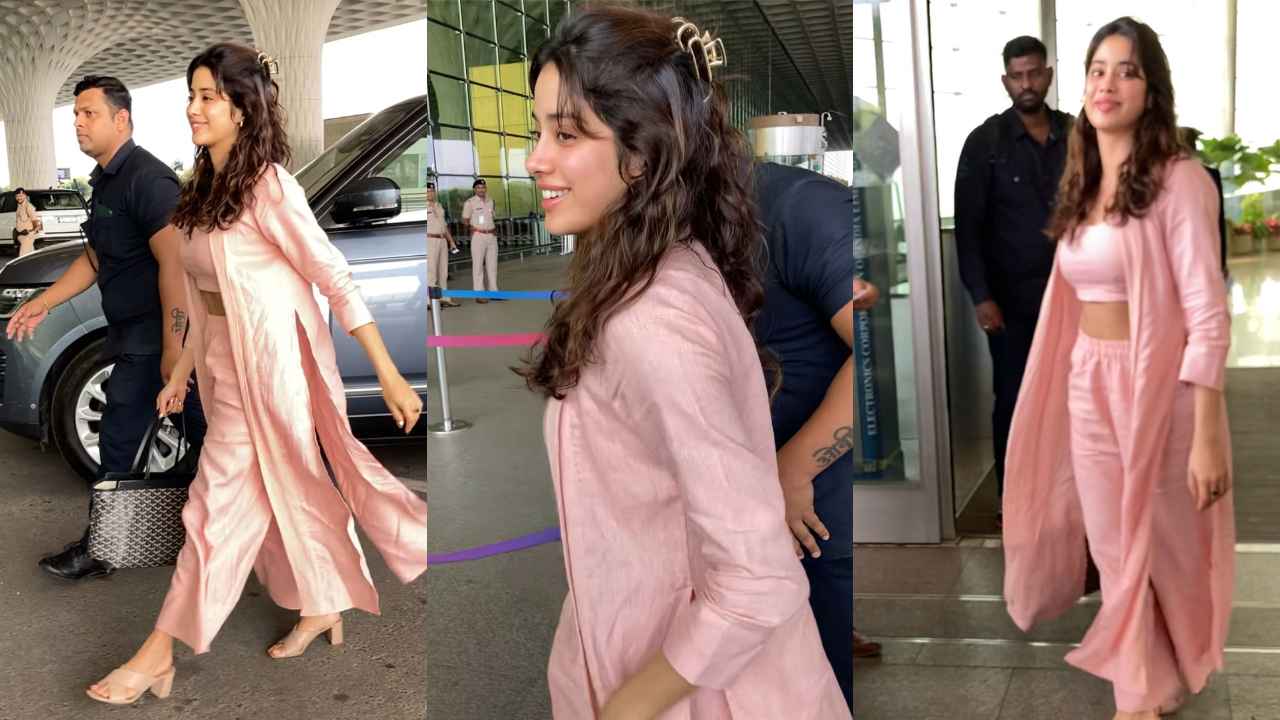 In conclusion, Janhvi Kapoor's airport look was not only about the clothing but also the choice of footwear and accessories that completed the entire ensemble. Her selection of light beige Saint Laurent mules with a criss-cross design added a stylish and refined finish to her look. The addition of the Goyard Bellechasse Biaude PM tote showcased her ability to incorporate luxury and functionality into her outfit. The total value of her airport ensemble, including the co-ord set, jacket, footwear, and tote, was approximately Rs. 40,458, highlighting her ability to blend affordability with high style, making her a prominent figure in the world of fashion. Janhvi Kapoor's airport style continues to inspire and set new standards for those who appreciate a well-rounded and fashionable look.