Pooja Hegde SLAYS in black midi dress with high bun is perfect for party nights!
Black dresses have an undeniable allure, and when worn by a Bollywood diva like Pooja Hegde, they take on a whole new level of gorgeousness. Pooja Hegde's ability to carry off a black outfit is unparalleled, and she consistently stuns audiences with her impeccable style. Recently, she made heads turn at an event in Mumbai, showcasing her exquisite sense of elegance and charming demeanor. Pooja Hegde is known for always making a statement, and her black dress ensembles are the epitome of sophistication and beauty, leaving us in constant awe of her fashion choices.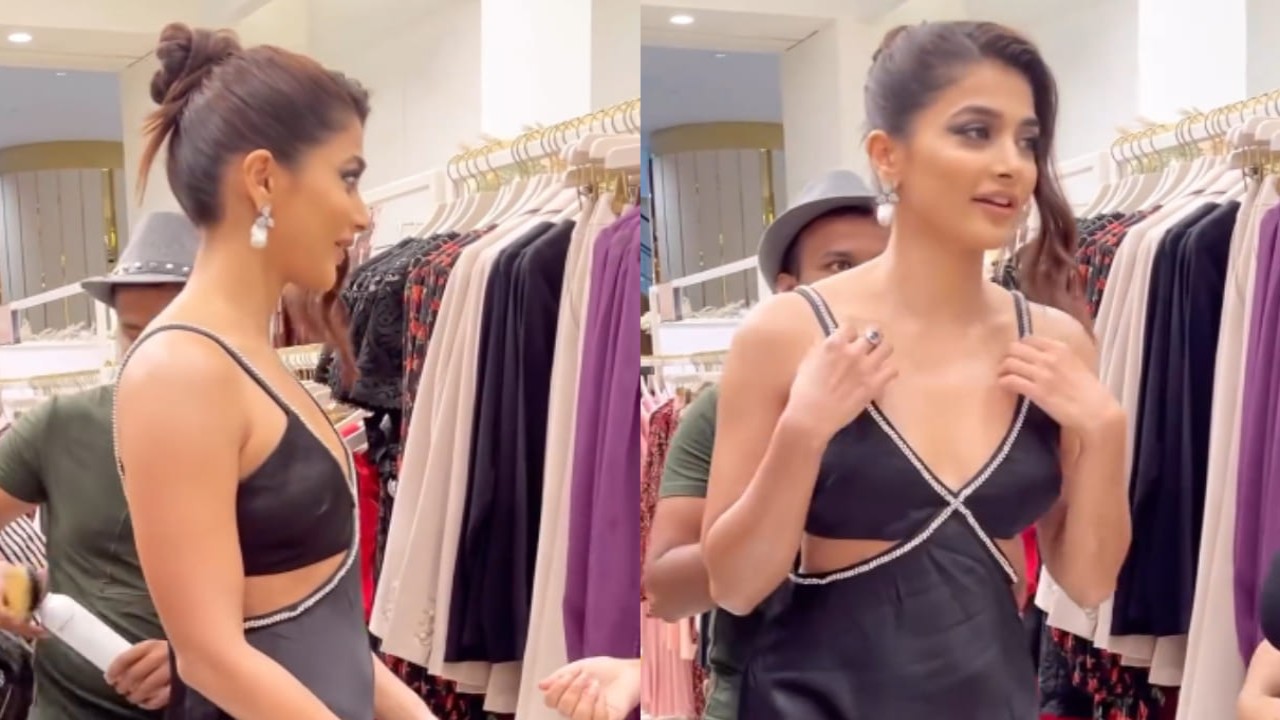 Let's delve into the specifics of her recent look, where she undoubtedly shone in a black dress. Pooja Hegde's choice of a black dress was not just a fashion statement; it was a declaration of timeless elegance. Black is a classic color that exudes sophistication and versatility, and Pooja Hegde knows how to leverage its power to make a lasting impression. Her black dress highlighted her impeccable fashion sense and her innate ability to carry off even the simplest of outfits with grace and charm.
Pooja Hegde's beautiful ensemble at the recent Mumbai event was a showstopper in every sense. Her choice of attire was a testament to her keen sense of style and fashion. She opted for a tight-fitting silhouette in a lightweight woven weave that exuded an air of elegance. The dress, with its snug fit, beautifully accentuated her figure while maintaining a touch of sophistication. Pooja Hegde's confident style was in full display, and it was the dress's unique features that truly set it apart.
One of the standout elements of the midi dress was its low v-neckline. This daring design choice added a hint of sensuality to her overall look, perfectly balancing with the dress's elegance. Pooja Hegde's choice of a low v-neckline showcased her fashion-forward approach, as she fearlessly embraced this contemporary and eye-catching feature.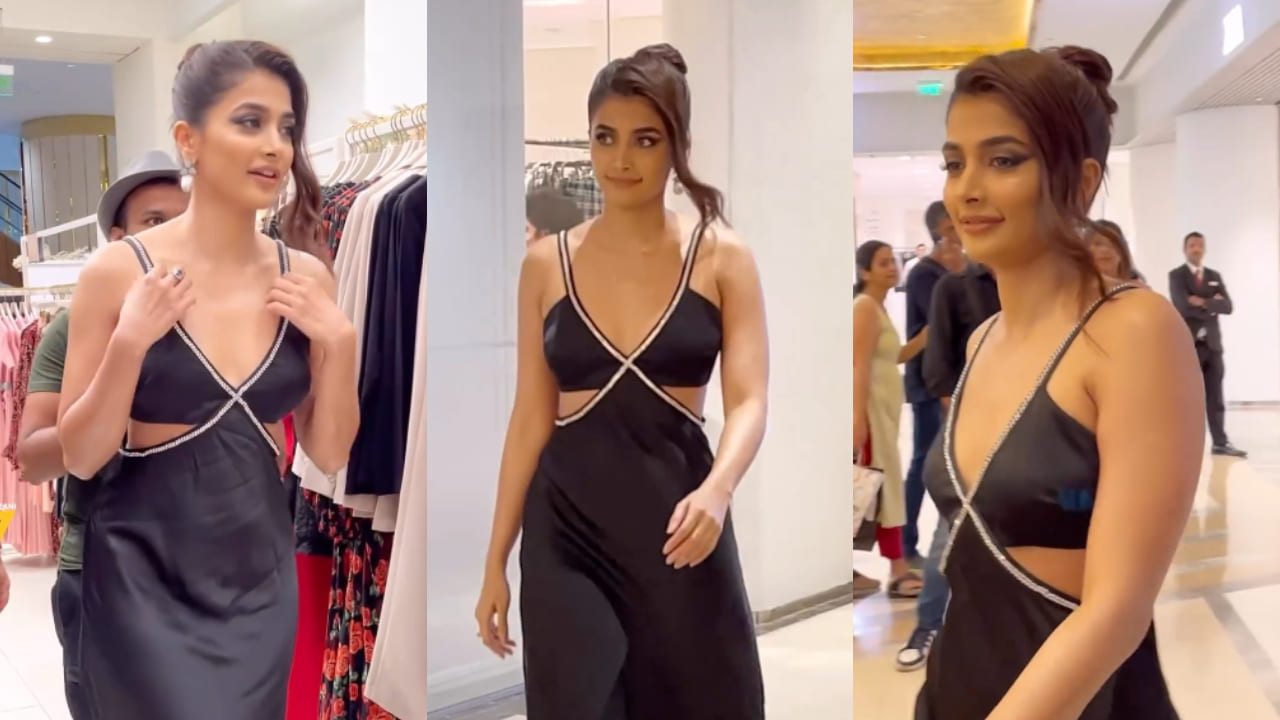 The bandeau bodice of the dress offered a distinct twist to the costume, giving it a modern and edgy edge. This bold design element further emphasized Pooja's ability to seamlessly blend traditional elegance with contemporary flair. The bandeau bodice added a touch of sophistication while allowing her to make a bold statement through her outfit.
The dress was held up by delicate spaghetti straps, contributing to the overall ethereal and lightweight feel of the ensemble. What truly elevated the look were the sparkling diamante decorations that adorned the straps and tightened at the waist. These embellishments added a touch of glamour and luxury to the dress, creating a spectacular impact and ensuring that all eyes were on Pooja Hegde at the event.
Pooja Hegde's attention to detail extended beyond her dress, as she chose to elevate her ensemble with some stunning accessories. Among these accessories were a pair of hanging pearl drop earrings that added a touch of sophistication and glamour to her look. These earrings were not just any ordinary adornments; they were a carefully selected addition that perfectly complemented her attire.
The hanging pearl drop earrings featured a unique design that combined elements of glitz and elegance. The upper portion of these exquisite earrings had stone-studded leaves, which provided a subtle touch of brightness to her overall look. This design element added a hint of sparkle and radiance, further enhancing the beauty of the earrings.
The most striking feature of these earrings was the lowest section, which featured a large teardrop pearl. This teardrop pearl exuded an air of timeless elegance and refinement, making it a fitting choice to complete the ensemble. The combination of stone-studded leaves and the teardrop pearl created a harmonious blend of glitz and elegance, aligning perfectly with the style of Pooja Hegde's attire.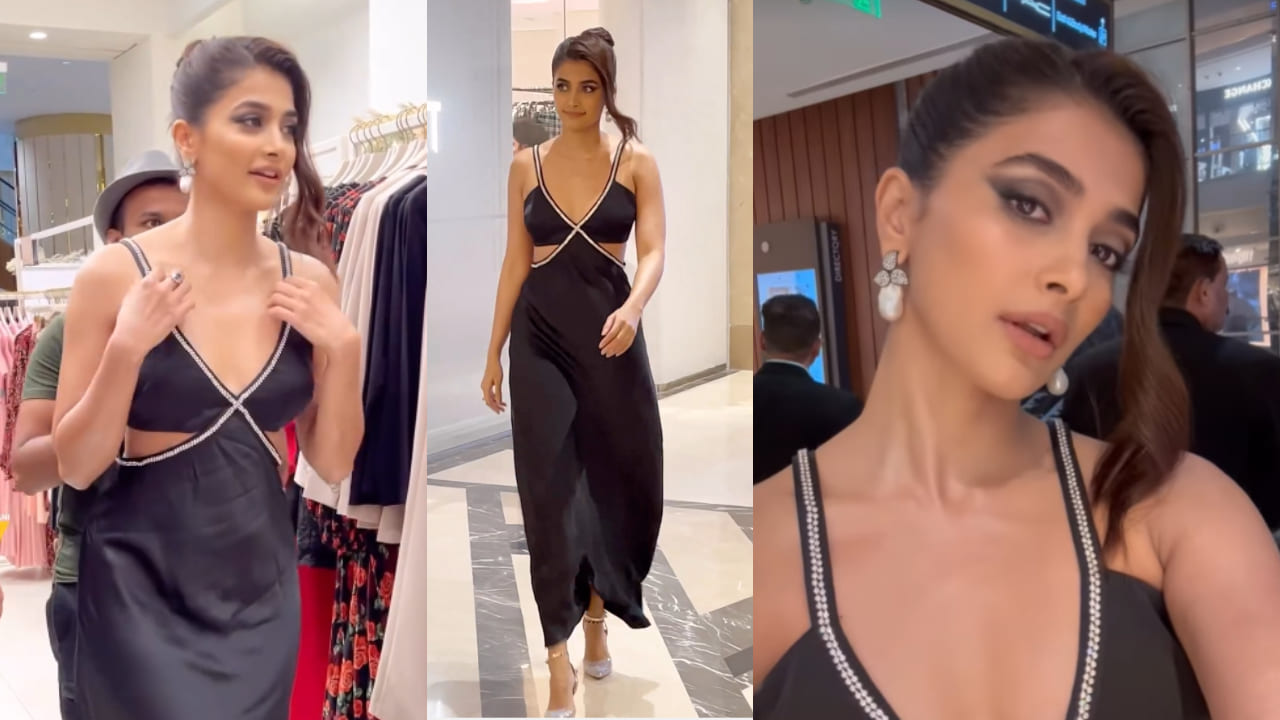 Pooja Hegde's choice of hanging pearl drop earrings was not only a fashion statement but also a testament to her meticulous attention to detail. The unique design of these earrings, with stone-studded leaves and a large teardrop pearl, struck the ideal balance between glitz and elegance. This accessory perfectly matched her ensemble, showcasing her ability to curate a look that is not just stylish but also harmonious and refined. Pooja Hegde's fashion choices continue to inspire and captivate, making her a prominent figure in the world of style and glamour.
Completing her picture-perfect look, Pooja Hegde demonstrated her exceptional sense of style and attention to detail in every aspect of her ensemble. Her choice of footwear was no exception, as she added an element of refinement to her overall appearance with silver pointy-toe heels that featured a stylish slingback design. These heels not only complemented her dress but also added a touch of sophistication and contemporary elegance to her look. Pooja Hegde's fashion choices extended to every detail of her attire, ensuring a flawless and cohesive ensemble.
Moving on to her hair and cosmetics, Pooja opted for a side-parted hairstyle that added a sense of classic beauty to her overall look. She slicked her hair into a neat high bun, which not only highlighted her facial features but also provided a clean and polished appearance. This hairstyle showcased her commitment to maintaining an elegant and timeless look, emphasizing her graceful demeanor.
Pooja Hegde's makeup choices further enhanced her natural beauty without overshadowing her attire. The side-parted bun allowed her makeup to take center stage, and she opted for a makeup look that was subtle and understated. This approach featured neutral tones and a soft touch of rosy blush, highlighting her radiant complexion. Pooja chose a glossy nude lip color that added a hint of sophistication to her makeup, allowing her natural beauty to shine through.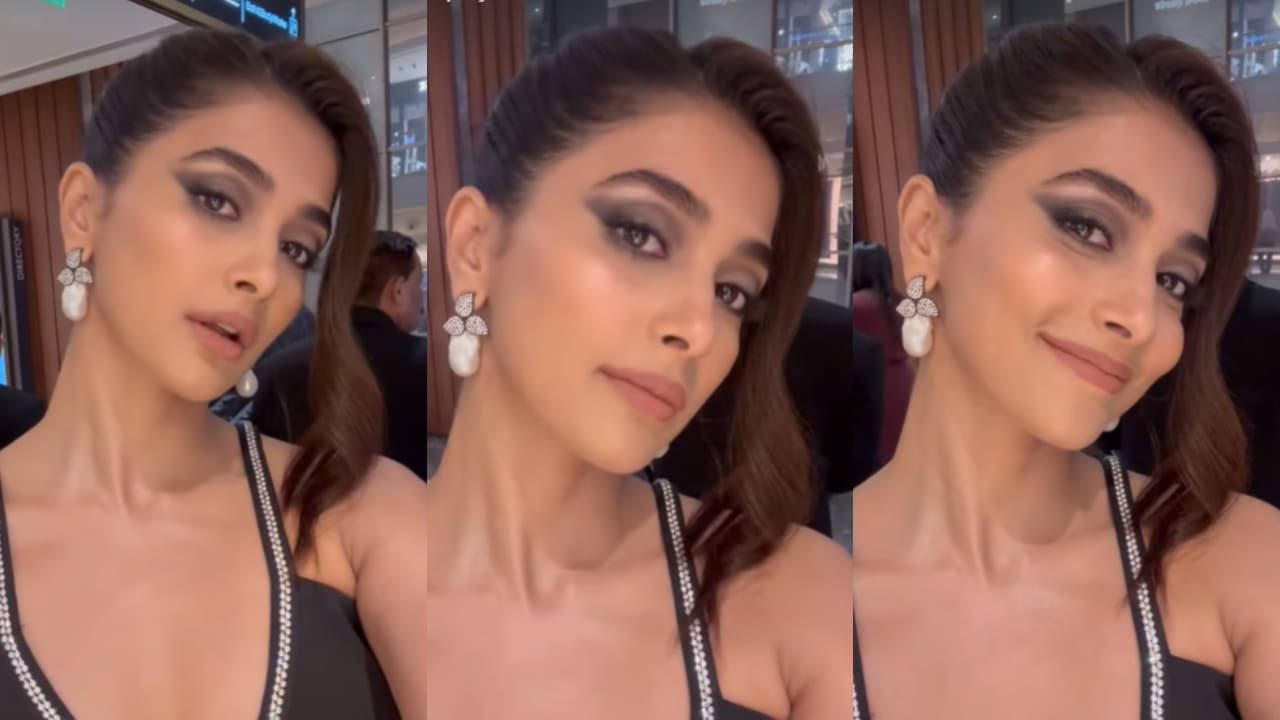 In conclusion, Pooja Hegde's picture-perfect look was a testament to her impeccable style and her ability to pay attention to even the minutest of details. Her choice of silver pointy-toe heels with a stylish slingback design added a refined touch to her ensemble. The side-parted bun hairstyle and subtle makeup emphasized her classic beauty, while the glossy nude lip color added a hint of sophistication. Pooja Hegde's fashion choices, combined with her flawless hair and makeup, continued to exemplify her status as a style icon who effortlessly combines elegance with contemporary trends, making her a prominent figure in the world of fashion and glamour.