Pooja Hegde's Rs. 48,500 ivory embroidered short kurta sharara set is made for mehendi ceremonies!
Pooja Hegde, one of the gorgeous and up-and-coming actresses in Bollywood, has consistently been a trendsetter in the world of fashion. Her exceptional fashion sense often places her at the forefront of fresh and innovative fashion statements. Recently, she turned heads with a stunning ethnic ensemble that captured the essence of contemporary Indian fashion.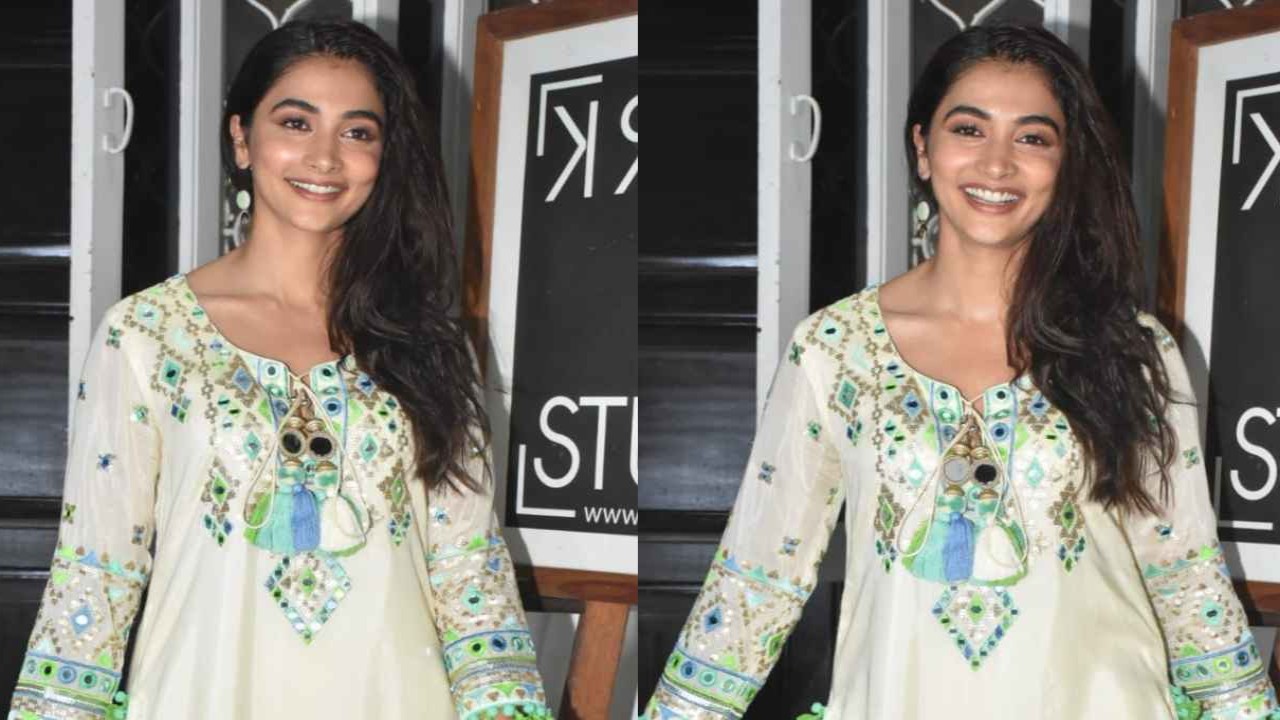 Pooja chose to wear an exquisite Rs. 48,500 ivory embroidered short kurta sharara set, and it was nothing short of a masterpiece. The ensemble was tailor-made for those who have a deep appreciation for ethnic wear and are in search of the perfect outfit for special occasions like mehendi ceremonies. The combination of a short kurta and sharara pants created a harmonious blend of traditional and modern aesthetics.
This stunning creation was crafted by the renowned designer Gopi Vaid, and it truly reflects the designer's artistic prowess. The intricate embroidery and attention to detail in the ensemble are a testament to the designer's dedication to preserving the rich heritage of Indian craftsmanship while infusing contemporary elements. Pooja Hegde's choice of this outfit not only showcased her individual style but also paid homage to the beauty of Indian ethnic wear, making her a source of inspiration for fashion enthusiasts and brides-to-be alike.
Pooja Hegde, the talented and fashion-forward actress, made yet another stunning fashion choice by wearing a gorgeous ethnic set that beautifully combined tradition and contemporary style. The ensemble featured an ivory short three-quarter-sleeved kurta, which was both elegant and visually striking. The U-shaped neckline, laden with mirror work, added a touch of glamour and dazzle to the outfit.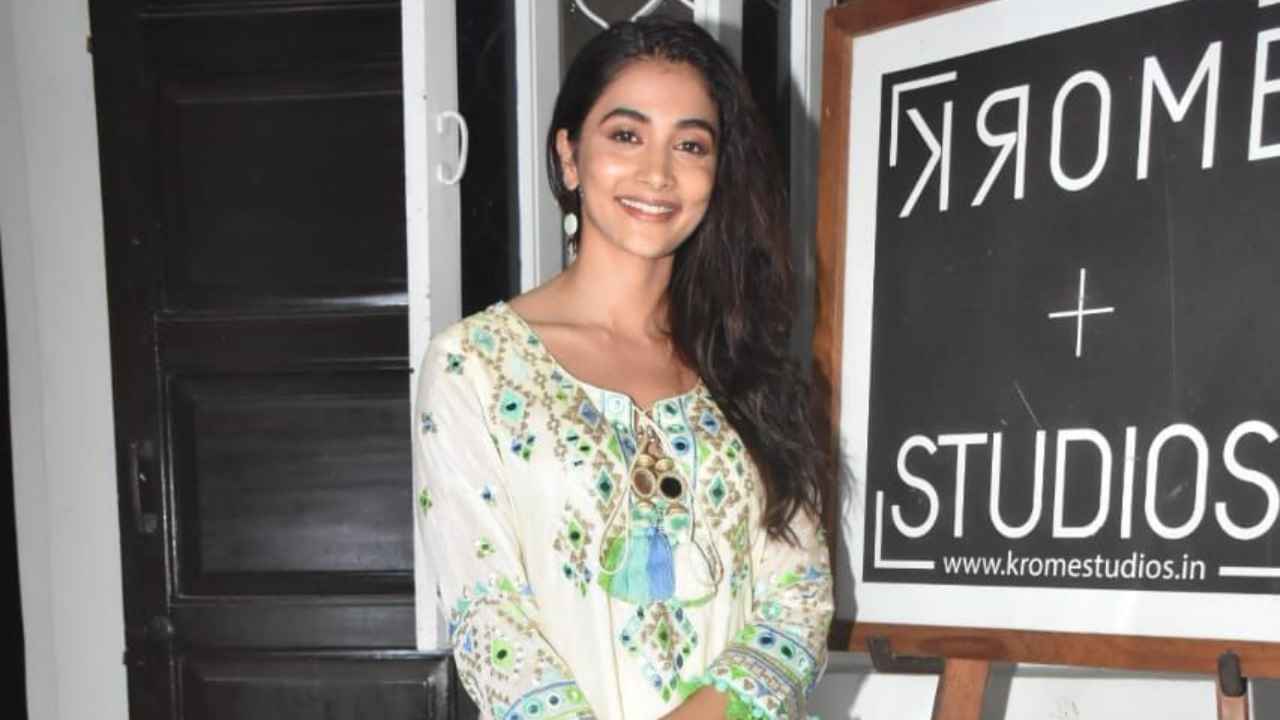 What made this piece truly exceptional were the carefully curated details that adorned it. The stylish kurta featured pom-poms and tassels at the edges, creating a playful and lively effect, adding a sense of fun to the overall look. These embellishments not only added character to the outfit but also showcased Pooja's penchant for unique and eye-catching details.
In addition to the mirror work and playful elements, this fashion-forward piece was covered with geometric, intricate, and colorful hand and machine embroidery. These artistic touches at the chest and the edge of the kurta provided a mesmerizing contrast to the serene ivory background. The blend of colors and patterns added depth and vibrancy to the ensemble, making it a true work of art in the world of ethnic fashion.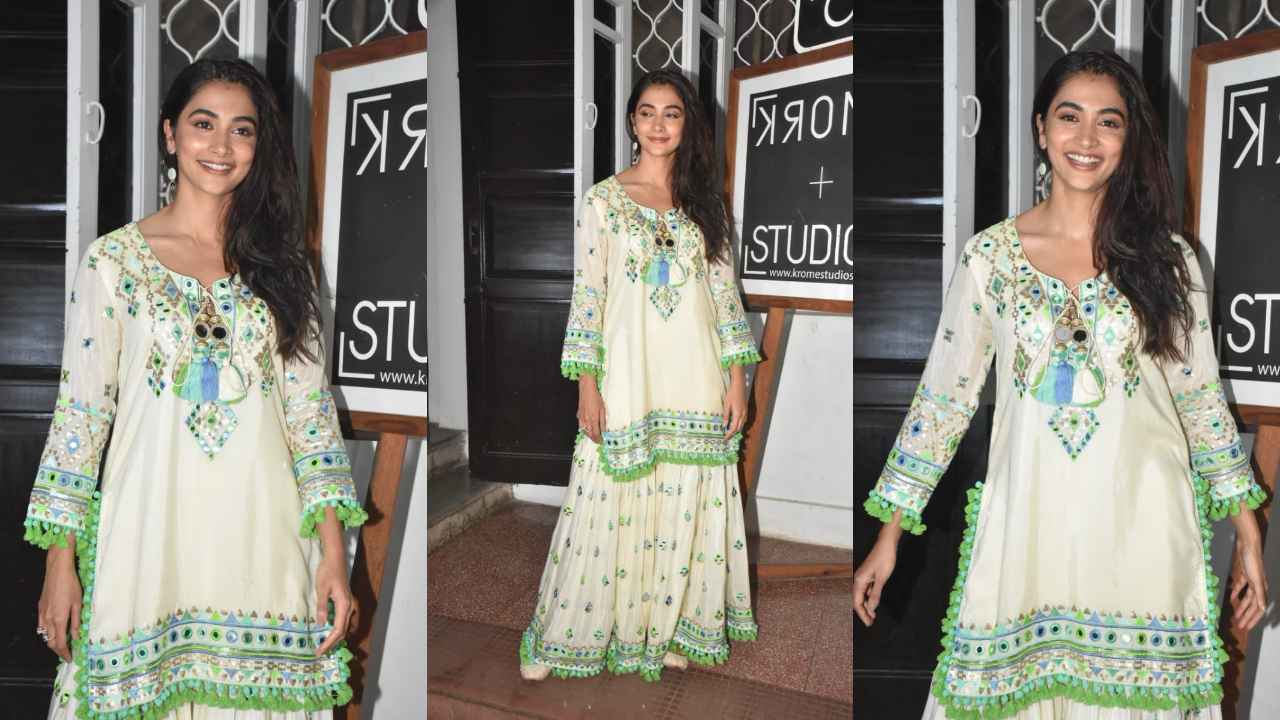 Pooja Hegde's choice of this ensemble not only exemplified her bold and individual style but also highlighted her ability to seamlessly merge the traditional with the contemporary, creating a look that's both timeless and modern. Her outfit was not just clothing; it was a statement, reflecting her creative and fashion-forward approach to personal style.
Pooja Hegde continued to showcase her impeccable fashion choices by pairing her stunning ethnic kurta with matching pleated sharara pants adorned with delicate blue and green mirror work. These elegant pants were not only fashionable but also complemented the kurta's design, creating a harmonious look.
The classy floor-length pants were further enhanced with tassels and pom-poms at their edges, mirroring the playful and whimsical elements found in the kurta. This added a sense of cohesiveness to the entire ensemble, creating a well-rounded and eye-catching outfit.
Interestingly, Pooja chose not to carry a dupatta with her ensemble, allowing the beauty of the original set to shine on its own. The entire outfit, worth Rs. 48,500, was a creation of the renowned designer Gopi Vaid. This choice not only highlighted Pooja's confidence in her fashion decisions but also celebrated the craftsmanship and artistry of the designer, who expertly combined traditional Indian elements with contemporary style to craft a truly exceptional outfit. Pooja Hegde's ensemble was a testament to the fact that sometimes, less is more, and the original design can be a fashion statement in itself.
Pooja Hegde's exceptional ethnic ensemble was beautifully completed with her attention to detail and an eye for balance. She chose to pair her outfit with matching ivory juttis, which not only provided a sense of cohesion but also added a touch of traditional charm to her look. These stylish flats perfectly complemented her outfit, offering both comfort and elegance.
In terms of accessories, Pooja Hegde made a bold decision to go the minimalistic route, demonstrating her fashion finesse. She opted for simple green earrings, and her choice was spot-on. These earrings added a subtle pop of color and perfectly complemented her ensemble without stealing the focus from the outfit itself. It's a testament to her ability to strike a harmonious balance between her clothing and accessories, ensuring that her overall look was polished and well-coordinated.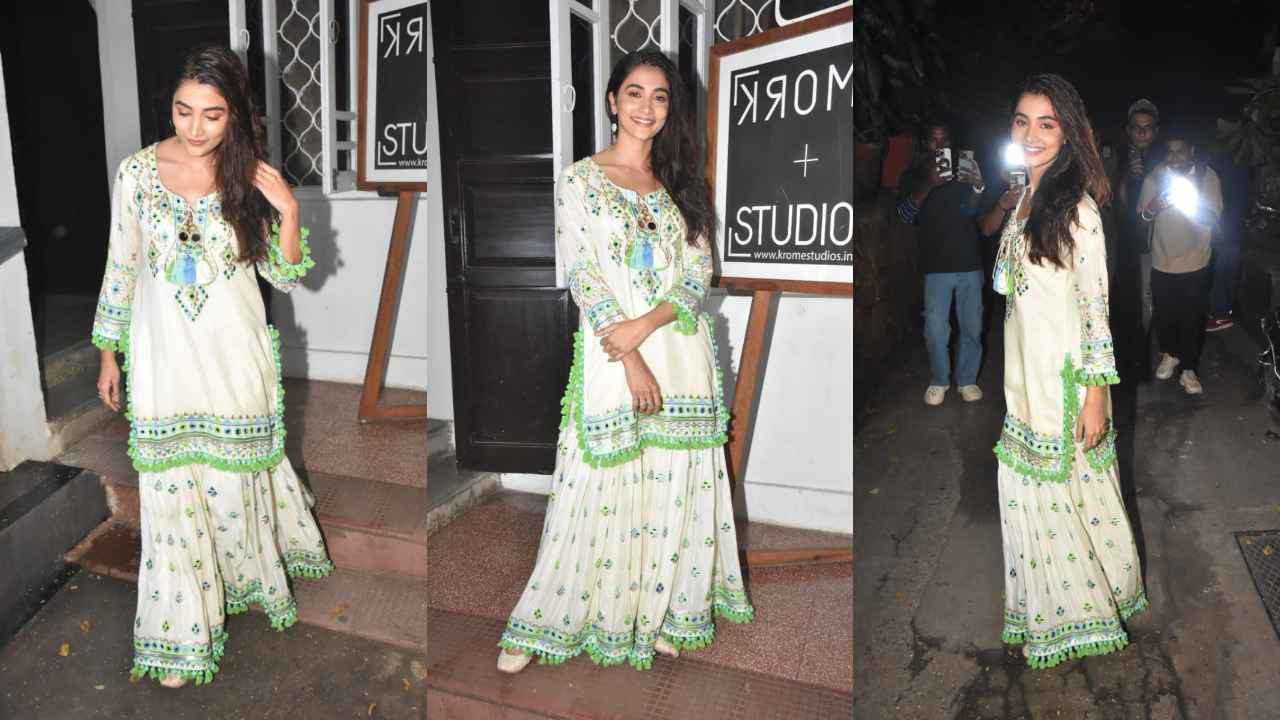 Pooja's choice to wear matching juttis and understated green earrings showcased her knack for understated and refined fashion. The combination of her clothing, footwear, and accessories highlighted her exceptional sense of style and made her a true fashion icon in the world of ethnic wear. Her outfit was a lesson in how attention to even the smallest details can elevate an ensemble to create a memorable and well-balanced look.
Pooja Hegde, the Housefull 4 actress, left no stone unturned in ensuring that her hair and makeup game perfectly complemented her exceptional ethnic ensemble. Her choices were both sophisticated and in line with her overall stylish appearance.
For her hair, Pooja opted for an open and natural look, which added a touch of effortlessness to her overall appearance. The sleek and simplistic hairstyle perfectly framed her face and allowed her outfit to take the center stage. It highlighted her natural beauty and showcased her confidence in embracing her own features.
In terms of makeup, Pooja continued with the theme of understated elegance. She chose a subtle makeup look, which emphasized her facial features without being overwhelming. Her mascara-laden eyelashes brought attention to her eyes, while the subtle blush added a hint of color and radiance to her cheeks. Her highlighted cheekbones enhanced her facial structure, adding a touch of glamour. To complete the look, Pooja wore a light brown glossy lipgloss, which perfectly tied everything together, adding a touch of sophistication to her makeup.
Pooja Hegde's hair and makeup choices were a reflection of her overall fashion sense – chic, balanced, and harmonious. Her ability to strike a perfect balance between her clothing, accessories, and beauty choices demonstrated her keen eye for detail and the art of looking effortlessly glamorous while allowing her outfit to shine. It was yet another example of her fashion-forward approach, leaving a lasting impact on those who admire her style.