Suhana Khan serves casual comfort in floral printed ribbed maxi dress
Suhana Khan, the daughter of Bollywood superstar Shah Rukh Khan, has indeed established herself as a fashion icon with her impeccable sense of style. Over the past few months, she has consistently wowed us with her stunning fashion choices, whether it's her airport looks or her appearances on the red carpet.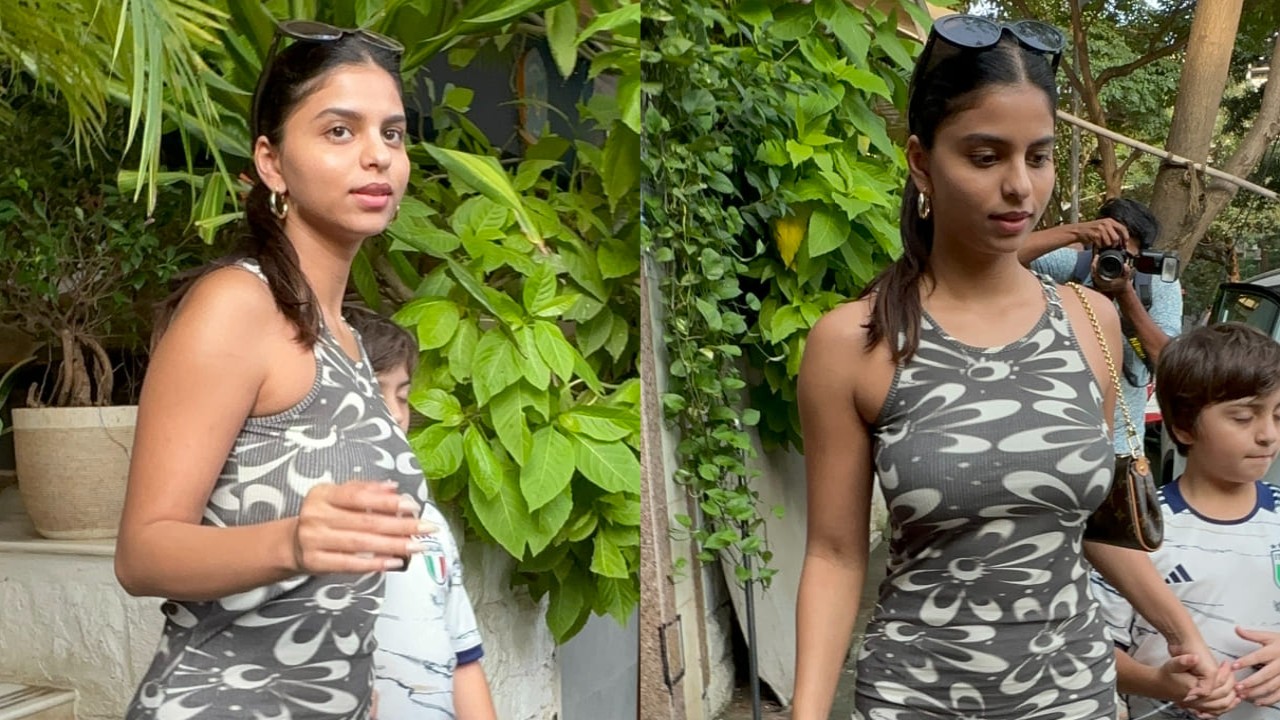 Suhana Khan's fashion sense is beyond her years, and she has a knack for effortlessly blending trendy and classic elements to create unforgettable ensembles. Her fashion choices often reflect her confidence and individuality, making her a standout in the world of celebrity fashion.
From casual yet chic airport outfits that are perfect for jet-setting to glamorous red carpet appearances that leave everyone in awe, Suhana Khan has proven that she is a force to be reckoned with in the fashion industry. Her ability to experiment with different styles, from elegant and sophisticated to edgy and trendy, sets her apart as a true fashion queen.
Suhana Khan's fashion journey has been nothing short of remarkable, and we can't wait to see what stunning looks she'll grace us with in the future. With her unique fashion sense and innate style, she continues to inspire and captivate fashion enthusiasts across the globe.
Suhana Khan's penchant for figure-hugging silhouettes has certainly not gone unnoticed. She effortlessly carries off this style with grace and confidence. Recently, she was spotted in Mumbai, accompanied by her younger brother Abram, and as always, her choice of attire left a lasting impression. Let's take a closer look at what she wore during this recent outing.
Suhana Khan's recent fashion choice made quite an impression when she was photographed wearing a captivating gray and white ribbed tank top maxi dress adorned with a beautiful flower motif. This ensemble not only catches the eye with its stunning design but also promises a high level of comfort, thanks to the use of extremely soft and elastic cotton fabric.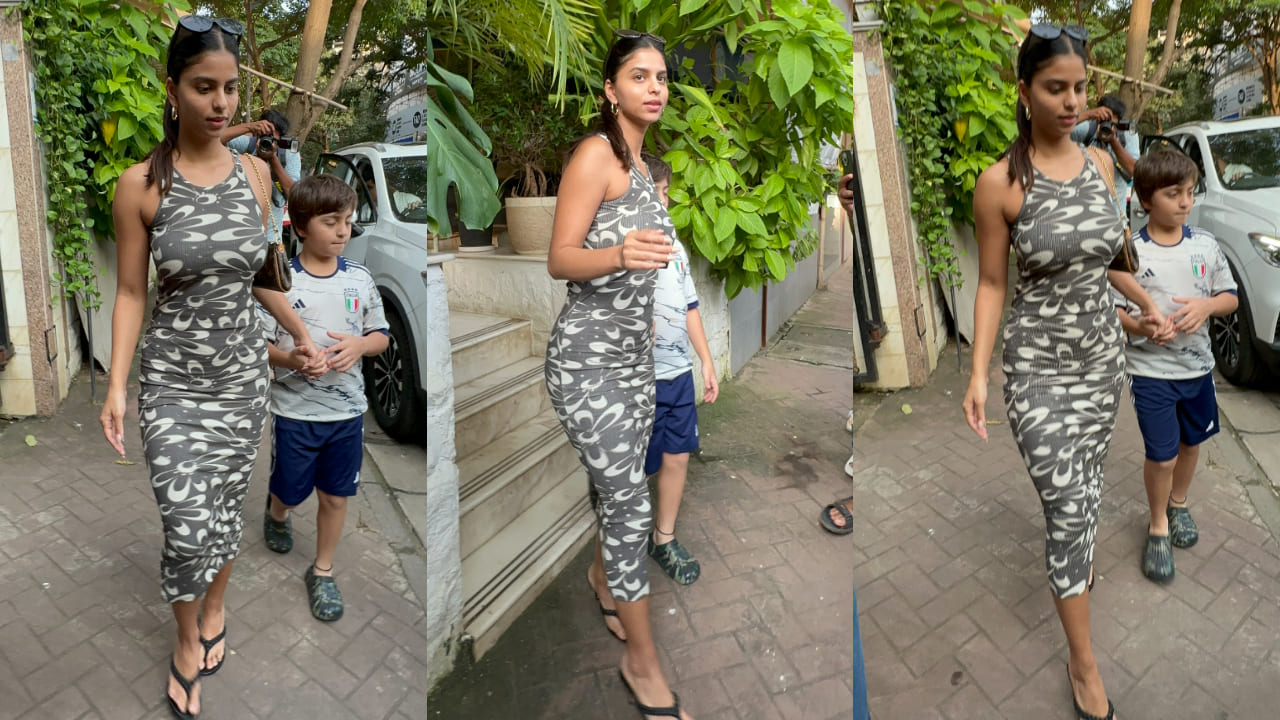 The dress's design is undoubtedly a standout, with its elegant gray and white color palette and the intricate floral pattern that adds a touch of sophistication. The ribbed texture adds an interesting dimension to the dress, making it visually appealing and fashion-forward.
What truly sets this outfit apart is the choice of cotton fabric. Cotton is well-regarded for its breathability, making it an excellent choice for clothing in various weather conditions. Moreover, its softness against the skin ensures a pleasant wearing experience. The added elasticity of the fabric allows the dress to nicely mold to the body's natural contours, enhancing both style and comfort.
Suhana Khan's fashion choice serves as a reminder that it's possible to achieve a perfect balance between looking fabulous and feeling comfortable. This particular dress is an example of how fashion can cater to both aesthetics and the wearer's well-being, making it a noteworthy addition to her wardrobe and an inspiration for fashion enthusiasts everywhere.
The dress's figure-hugging style not only adds to its aesthetic appeal but also serves a functional purpose by being lightweight and breathable. This combination of form and function makes it an ideal choice for everyday wear. Suhana Khan effortlessly demonstrated this as she donned the elegant and comfortable outfit during her casual stroll.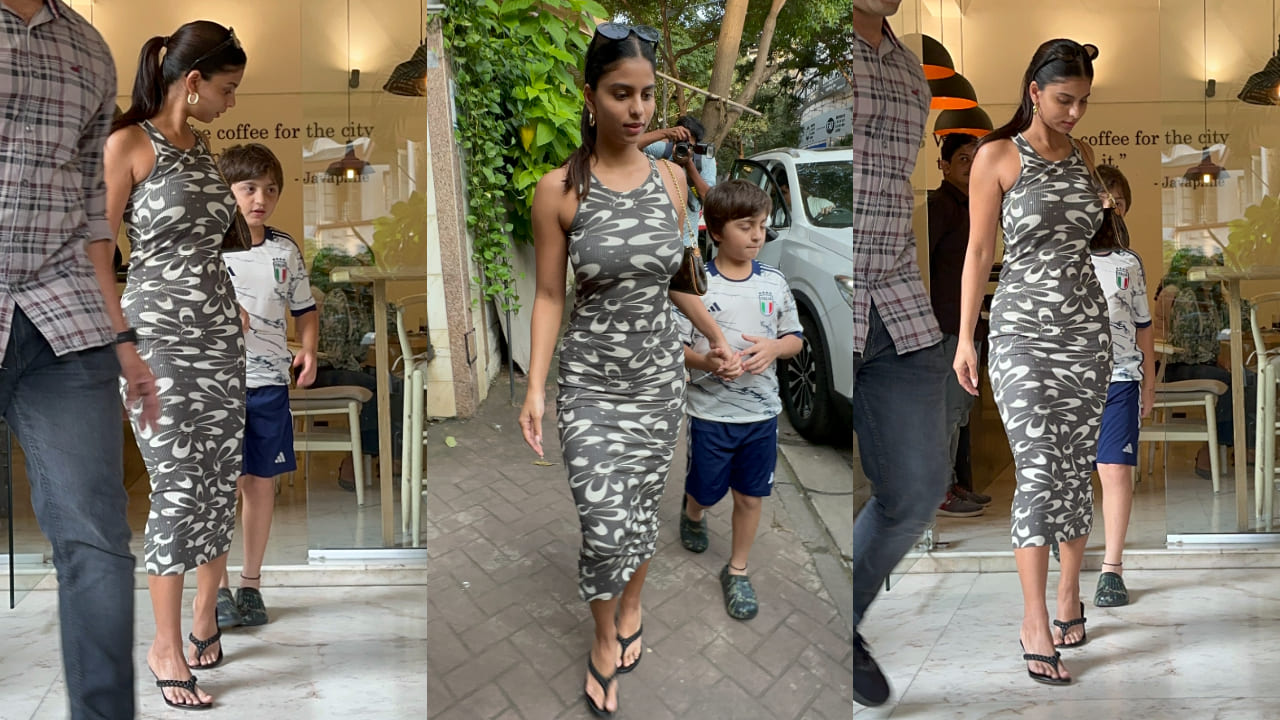 Her ability to look great while maintaining comfort is a testament to her exquisite sense of style. Suhana showcases how one can appear effortlessly stylish without sacrificing comfort, a balance that many aspire to achieve in their fashion choices. Her fashion sensibility adds a touch of inspiration to those looking to elevate their everyday attire.
Suhana's knack for choosing stylish and comfortable designs continues to captivate and excite fashion enthusiasts. Her choices serve as a reminder that fashion can be both visually appealing and comfortable, providing individuals with the confidence to embrace their personal style while feeling at ease in their clothing.
Suhana Khan certainly caught the eye of many as she stepped out in the stunning Marcia Bijou Long Tank Top Dress Floral Cappuccino. This fashionable attire, retailing for Rs. 15,900, showcased her impeccable taste and sense of style. The dress looked absolutely fantastic on her, and she exuded confidence as she gracefully strolled down the streets.
The Marcia Bijou Long Tank Top Dress in Floral Cappuccino is undoubtedly a statement piece, and Suhana's choice to wear it only highlighted its elegance. The floral pattern added a touch of charm to the outfit, while the cappuccino color provided a sophisticated and timeless appeal. It's clear that Suhana Khan knows how to effortlessly combine high fashion with her own unique flair.
Her confident stride in this remarkable dress served as a reminder that fashion is not just about what you wear, but how you carry it. Suhana Khan's fashion choices continue to captivate and inspire, making her a style icon for many who admire her exquisite taste and ability to make any outfit look extraordinary.
Suhana Khan's attention to detail and keen fashion sense were further exemplified by her choice of accessories to complement her stunning outfit. She elegantly accessorized with golden hoops, adding a touch of refinement to her attire. These golden hoops not only elevated her overall look but also served as a stylish and subtle statement piece.
To complete her modern and glamorous appearance, Suhana added a pair of black sunglasses. Instead of wearing them conventionally, she pulled them up on her head, a fashionable twist that added an extra dimension to her ensemble. This choice not only protected her eyes from the sun but also showcased her flair for mixing functionality with style.
Suhana Khan's ability to select the perfect accessories and incorporate them seamlessly into her outfit demonstrates her fashion prowess. Her attention to even the smallest details underscores her status as a style icon, leaving an impression on fashion enthusiasts who admire her ability to effortlessly combine elegance, refinement, and a modern edge.
Suhana Khan's commitment to fashion continued with her choice of accessories to enhance her overall style. She added a beautiful shoulder bag, casually thrown over her shoulder, to complement her lovely dress. This addition not only showcased her practicality but also added a touch of sophistication to her ensemble, serving as both a functional and stylish accessory.
For footwear, Suhana opted for simple black flats, prioritizing comfort while maintaining her fashionable edge. These flats not only allowed her to stroll comfortably but also lent a casual yet chic touch to her outfit. It's clear that Suhana understands the importance of balancing style with comfort in her fashion choices.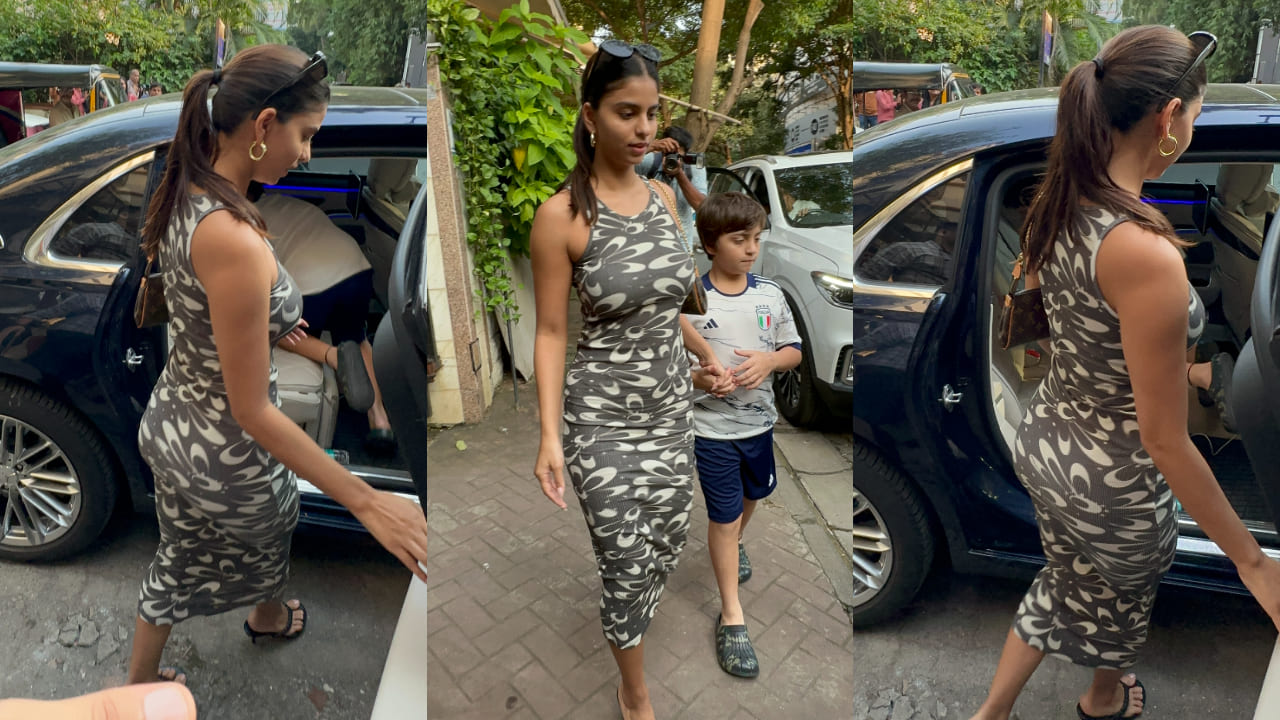 Her hairdo for the day was a classic ponytail with a center partition, which harmonized perfectly with her entire look. This choice of hairstyle highlighted her features and added an element of neatness to her appearance, further emphasizing her impeccable sense of style.
Suhana Khan's ability to flawlessly coordinate her accessories and hairstyle with her outfit showcases her fashion versatility. Her attention to both comfort and aesthetics highlights her status as a fashion icon, inspiring others to achieve a balanced and stylish look for any occasion.