Suhana Khan SLAYS in Falguni Shane Peacock's white kurta churidar set, perfect for intimate home festivities
Business tycoon Mukesh Ambani's magnificent Ganpati celebration night, held on the prestigious festival of Ganesh Chaturthi, indeed brought together a galaxy of Bollywood celebrities. Among the illustrious attendees was none other than the flamboyant superstar, Shah Rukh Khan, who was accompanied by his family.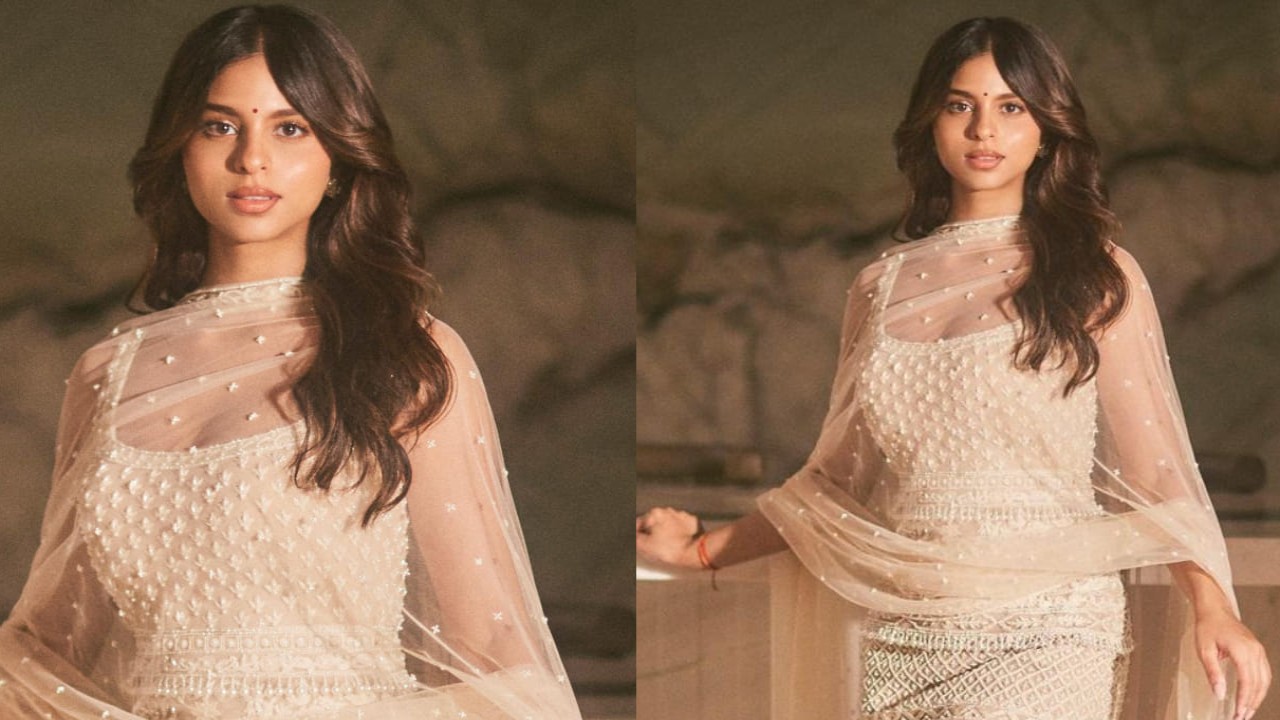 However, it was Shah Rukh Khan's daughter, the lovely Suhana Khan, who truly stole the spotlight with her ethereal appearance. Suhana graced the event in an immaculate white kurta churidar ensemble, and her choice of attire exuded elegance and grace. The simplicity of the outfit brilliantly showcased her youthful attractiveness, while also highlighting her innate natural sense of style.
The pristine white kurta churidar ensemble not only accentuated Suhana's beauty but also reflected a timeless and classic fashion choice. White is a color that embodies purity and sophistication, and Suhana carried it with finesse. Her understated yet striking appearance demonstrated that she possesses an innate understanding of fashion and the ability to make a statement with subtlety.
Suhana Khan's presence at the event was a testament to her emerging status as a style icon. Her choice of attire at Mukesh Ambani's Ganpati celebration night was a perfect example of how she can effortlessly blend tradition and modernity, leaving a lasting impression as a fashion-forward individual in her own right.
Suhana Khan's appearance at the Ganpati celebration night was indeed a showcase of easy elegance and charm. Her choice of a beautiful white kurta was a testament to her refined fashion sense. The kurta itself was a work of art, embellished with sparkling pearls and adorned with elaborate threadwork flower designs, which added a sense of glitz and opulence to the ensemble.
Suhana's sleeveless kurti, featuring a deep square neckline, further elevated her composed and sophisticated demeanor. The neckline not only showcased her graceful collarbone but also added a touch of modernity to the traditional outfit. It was a clever fusion of classic and contemporary elements, demonstrating her ability to seamlessly blend different styles.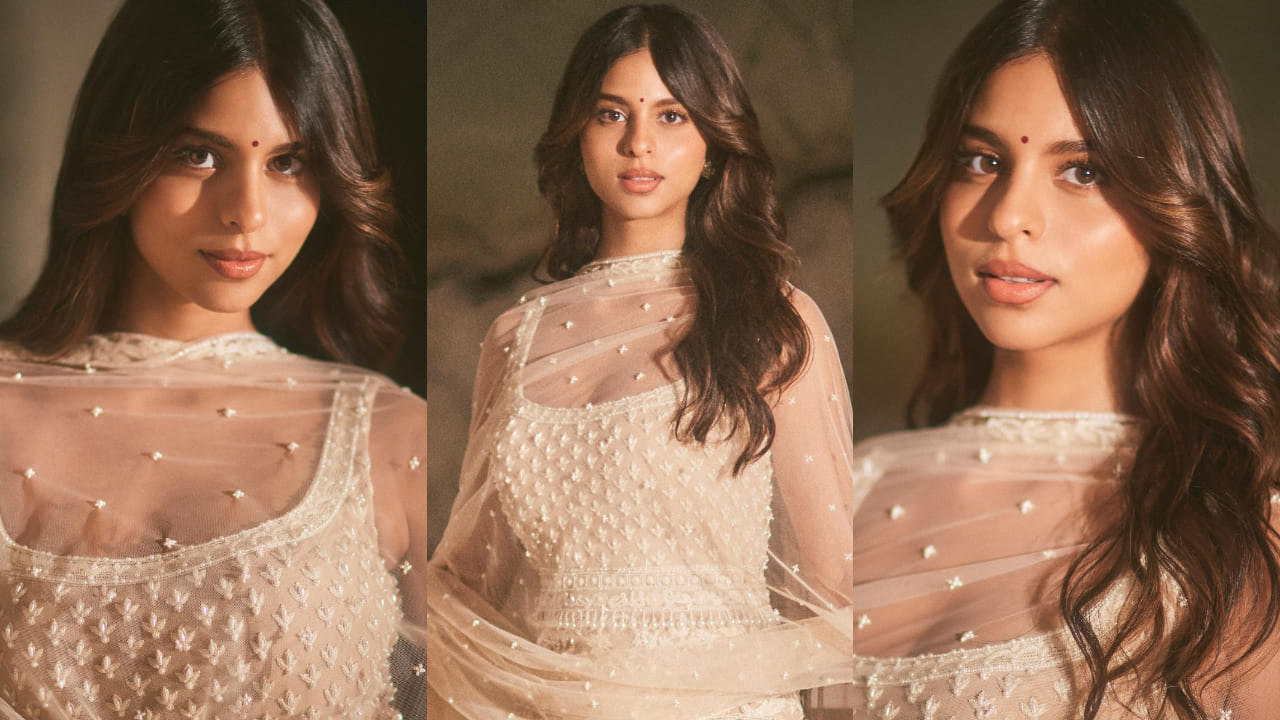 The sparkling pearls and intricate threadwork flower designs on the kurta added a sense of richness and detail to the outfit, enhancing its overall appeal. Suhana Khan's choice of attire not only highlighted her youthful beauty but also exemplified her unique fashion sensibility, making her a fashion-forward figure to watch in the industry.
In sum, Suhana Khan's presence at the event exuded grace, elegance, and a keen fashion sense. Her white kurta ensemble, adorned with pearls and intricate embroidery, was a visual delight and a testament to her ability to make a stylish statement with sophistication and charm.
The delicate decoration of tiny pearl beads along the border of Suhana Khan's kurta added a mesmerizing and enchanting touch to the ensemble, further enhancing its attractiveness. These intricate pearl beadwork details not only showcased exquisite craftsmanship but also contributed to the overall elegance of her attire.
Suhana Khan's choice of this superbly created ensemble demonstrated her exceptional taste and her ability to seamlessly integrate traditional elements with modern design. The fusion of traditional threadwork flower designs with contemporary pearl embellishments highlighted her innate sense of style and her knack for making fashion statements that are both unique and timeless.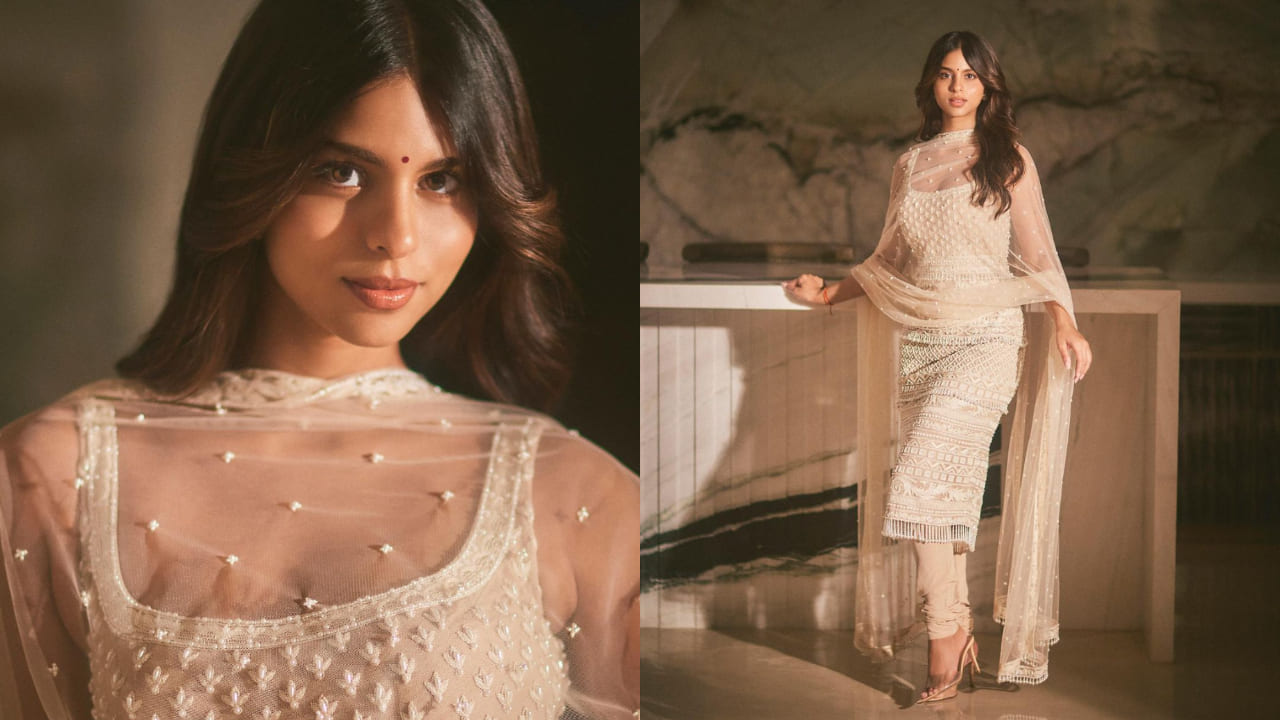 The careful attention to detail, such as the pearl border, exemplified Suhana's commitment to fashion excellence. Her choice of attire at the event once again solidified her status as a rising fashion icon, someone who effortlessly combines tradition and modernity to create a stunning and unforgettable look.
Suhana Khan's impeccable fashion sense was truly evident in her choice of attire at the event. She expertly matched her pristine white kurta with a similarly colored churidar salwar, creating a cohesive and elegant look. This coordinated ensemble showcased her keen eye for fashion coordination and her ability to create a harmonious outfit.
To complete her ensemble, Suhana hung a white dupatta over her shoulders. The pearl-embroidered dupatta added an extra layer of refinement and sophistication to the overall outfit. The pearl embroidery on the dupatta complemented the embellishments on her kurta, creating a sense of symmetry and balance in her appearance.
The choice of the white dupatta not only served a practical purpose but also added a touch of traditional charm to the modern elements of her outfit. It draped gracefully over her shoulders, enhancing the overall grace and poise of her look.
Suhana Khan's attention to detail in coordinating her outfit, from the matching churidar salwar to the pearl-embroidered white dupatta, further highlighted her status as a budding fashion icon with a deep understanding of style and elegance. Her impeccable fashion choices continue to make her a trendsetter in the world of fashion.
The fact that the borders of Suhana Khan's dupatta were adorned with the same pearl droplets as her kurta added an extra layer of allure to her overall look. This thoughtful coordination of design elements throughout her outfit demonstrated Suhana's exceptional sense of style and her meticulous attention to detail.
Suhana's ability to seamlessly integrate matching pearl embellishments into both her kurta and dupatta showcased her fashion acumen and her commitment to creating a cohesive and harmonious appearance. It's this kind of precision and attention to detail that sets her apart as a fashion-forward individual in the industry.
Her fastidious attention to detail, from the matching pearl accents to the overall coordination of her attire, highlighted Suhana Khan's outstanding sense of style. Her ability to curate a well-thought-out and visually appealing ensemble is a testament to her emerging status as a fashion icon who knows how to make a lasting impression with her fashion choices.
Suhana Khan's flawless outfit for the Ganesh Chaturthi celebration night was the creation of the renowned designer duo, Falguni Shane Peacock. This choice of designer highlighted her affinity for high fashion and her ability to collaborate with top-notch designers to curate her exquisite looks.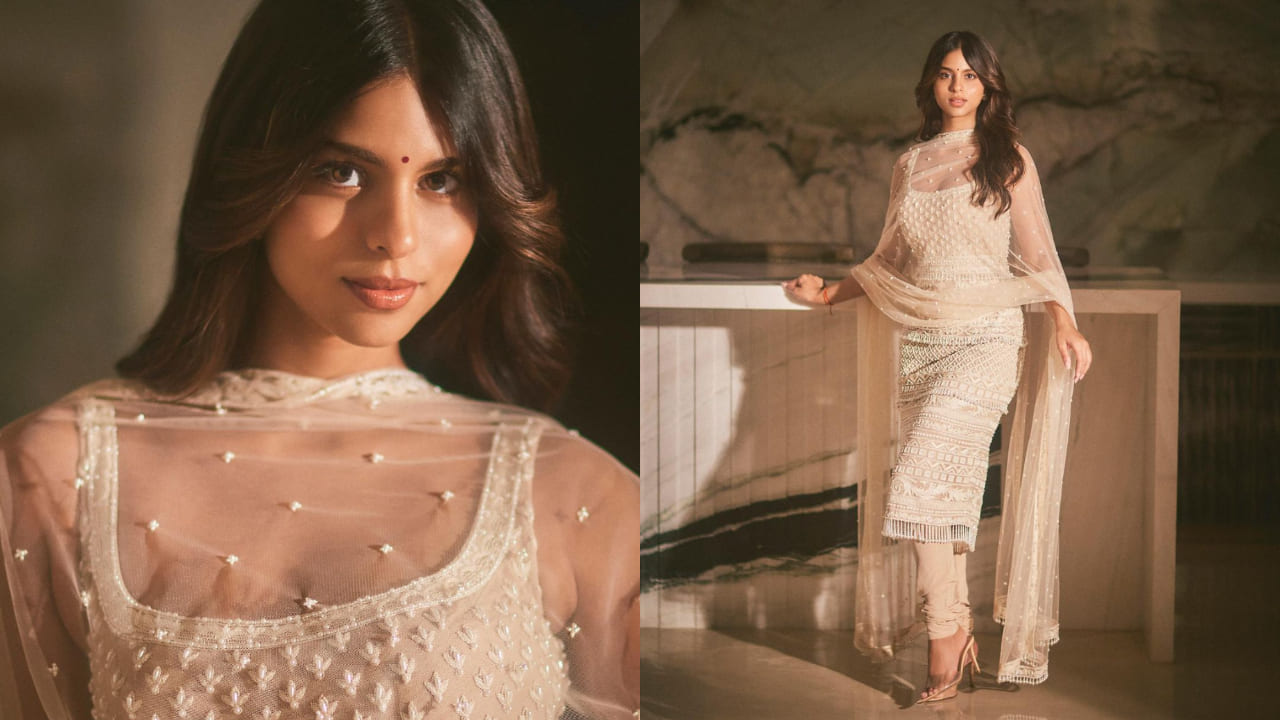 Her beautiful locks were styled in loose waves, adding a touch of easy elegance to her entire look. The loose waves not only enhanced her natural beauty but also harmonized perfectly with the overall grace and sophistication of her ensemble. This hairstyle choice was a testament to her fashion-forward approach, balancing simplicity and glamour effortlessly.
In terms of makeup, Suhana opted for a delicate brown lipstick, beautifully executed by makeup artist Mehak Oberoi. This makeup choice was a clever decision, as it kept her look simple yet dramatic. The brown lipstick likely complemented her skin tone and attire while allowing her features to shine without overpowering them.
Suhana Khan's collaborative effort with Falguni Shane Peacock for her outfit, combined with her choice of hairstyle and makeup, once again showcased her impeccable taste in fashion and her ability to strike a balance between traditional elegance and modern simplicity. Her ability to curate a well-rounded and stunning appearance continues to make her a fashion inspiration to many.
Suhana's choice to decorate her forehead with a red bindi was not only a nod to tradition but also added a touch of auspiciousness to the occasion. The bindi, a symbol of beauty and cultural significance, beautifully complemented her overall appearance and highlighted the cultural significance of the event.
In every aspect of her meticulously styled look, Suhana Khan demonstrated her intuitive sense of style and fashion finesse. Her ability to effortlessly blend tradition with modernity, her attention to detail in coordinating her outfit and accessories, her choice of hairstyle and makeup, and her thoughtful inclusion of the bindi all showcased why she is emerging as a Gen Z fashion icon.
Suhana Khan's fashion choices continue to captivate and inspire a new generation of style enthusiasts. Her ability to curate a look that is both elegant and contemporary reaffirms her status as a trendsetter in the world of fashion, and her meticulously styled appearances consistently make a lasting impact on the fashion industry.