Mouni Roy's vacation style secrets to chill with your bestie!
When it comes to heading out with your closest buddy, having your sense of style on point is a must. And who better to look up to for fashion guidance than the lovely Mouni Roy? She has established herself as a true fashion icon, and her impeccable style serves as a source of inspiration for those looking to up their fashion game. With Mouni's fashion sense, you can be sure to make a lasting impression on your future vacation with your bestie.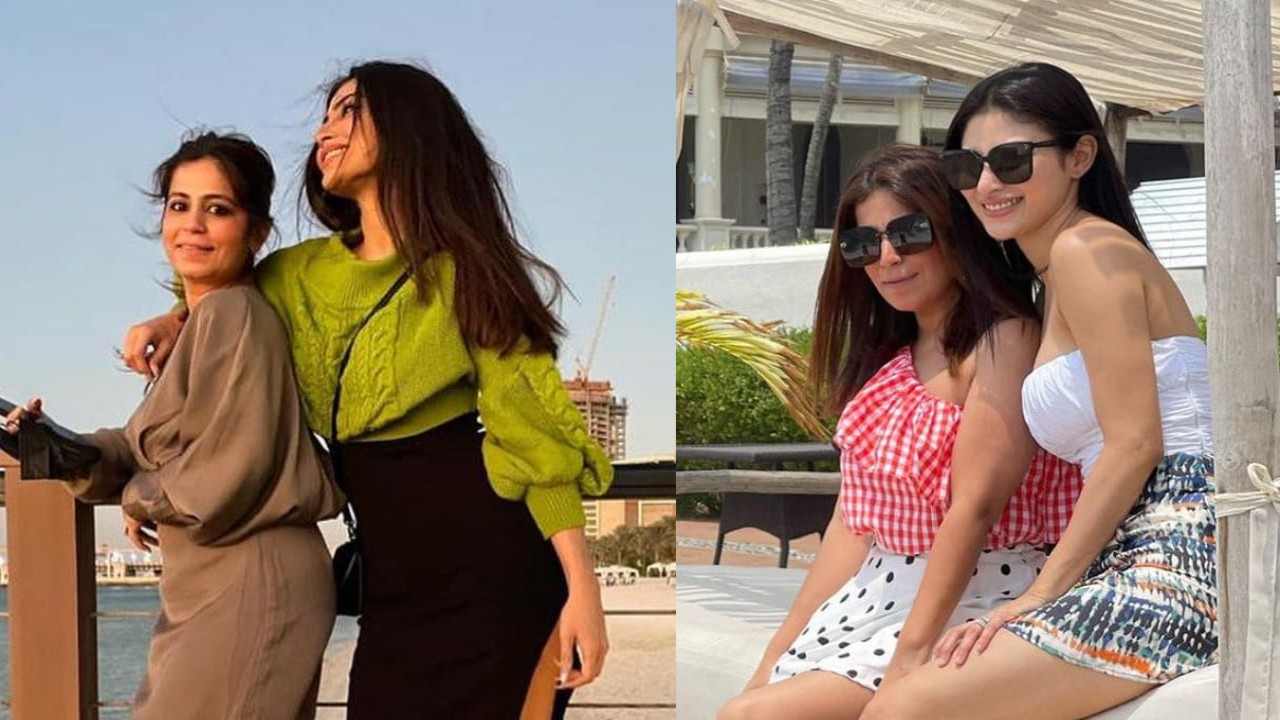 Mouni Roy is renowned for her versatility in fashion. She effortlessly transitions between traditional Indian attire and contemporary Western looks, making her an ideal role model for those who love experimenting with different styles. Whether it's a beach vacation or a city getaway, you can count on Mouni to offer a diverse range of style inspirations that cater to all occasions.
Her keen attention to detail, from her choice of outfits to her makeup and accessories, reflects her dedication to looking her best at all times. This level of commitment to fashion allows her to stand out and exude a sense of confidence and grace. Mouni Roy's fashion choices are not just about following trends but about setting new ones, which is why she's a reliable source of style guidance for your next getaway with your best friend.
Mouni Roy possesses the remarkable ability to carry every outfit with grace, whether it's an airy spring skirt or a fashionable ensemble. Her fashion choices strike the perfect balance between elegance and comfort, making them ideal for a day spent wandering along the shoreline or exploring a new city. Mouni's outfits are a testament to her understanding of how to blend style with practicality, ensuring you not only look good but feel comfortable on your next outing with your best friend.
Mouni's fashion sense offers valuable lessons in creating a style that is versatile and adaptable to various situations. Her wardrobe choices reflect her ability to be both chic and comfortable, providing the perfect inspiration for your next adventure. By taking a cue from Mouni, you can enhance your fashion game, turn heads, and create lasting memories in style. So, get ready to make your next outing with your bestie a truly fashionable and unforgettable experience.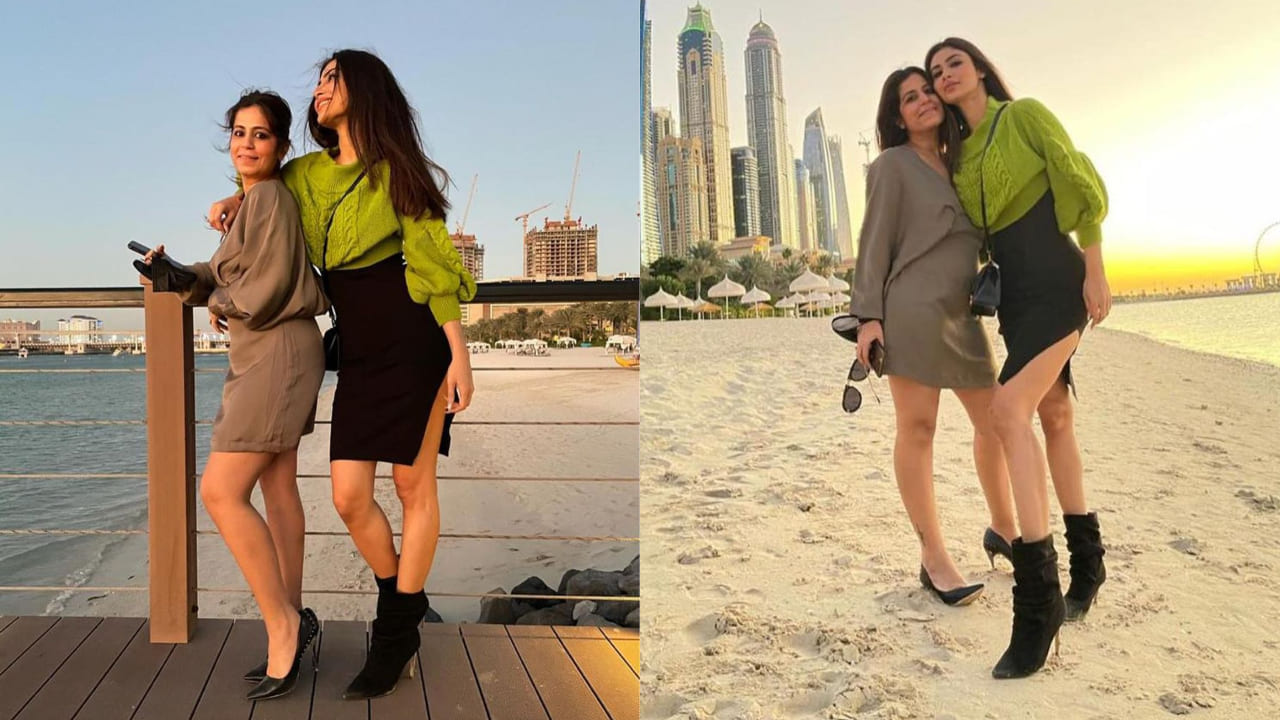 Mouni Roy's amazing attire was perfectly accessorized with some chic and functional accessories that elevated her overall look. She opted for a crossbody sling purse that added both practicality and flair to her lovely ensemble. The choice of the bag was not only stylish but also highly convenient, allowing her to carry her necessities while maintaining an effortlessly elegant appearance. The bag also harmonized well with her outfit, contributing to the overall cohesion of her style.
To complete her sophisticated outfit, Mouni chose a pair of high-ankle boots. These boots not only gave her ensemble a fashionable edge but also added a sense of refinement. The boots were a wise addition that not only contributed to the overall style but also provided functionality, especially if she was exploring a new city or taking a stroll along the shoreline. The boots perfectly complemented her outfit, underscoring her meticulous attention to detail in creating a well-coordinated look.
Mouni Roy's choice of accessories, from the crossbody sling purse to the high-ankle boots, demonstrated her ability to combine style and practicality. Her ensemble was not only visually appealing but also suited for a variety of activities, reflecting her understanding of the importance of both fashion and functionality in creating a memorable and comfortable outfit. It was a fashion lesson in achieving a harmonious balance between style and practicality.
To add a burst of color and individuality to her appearance, Mouni accessorized her ensemble with a patterned scarf. This scarf not only provided a touch of vibrancy but also showcased her ability to infuse her personal style into any outfit. It was the perfect finishing touch that brought a sense of uniqueness and personality to the overall look.
Mouni Roy's choice of a longline black coat, paired with sleek trousers and accessorized with a patterned scarf, was a true embodiment of elegance and class. Her fashion choices exemplified her capacity to create a stylish and refined outfit that made a lasting impression. This ensemble was a masterclass in achieving a balance between timeless sophistication and individuality in fashion.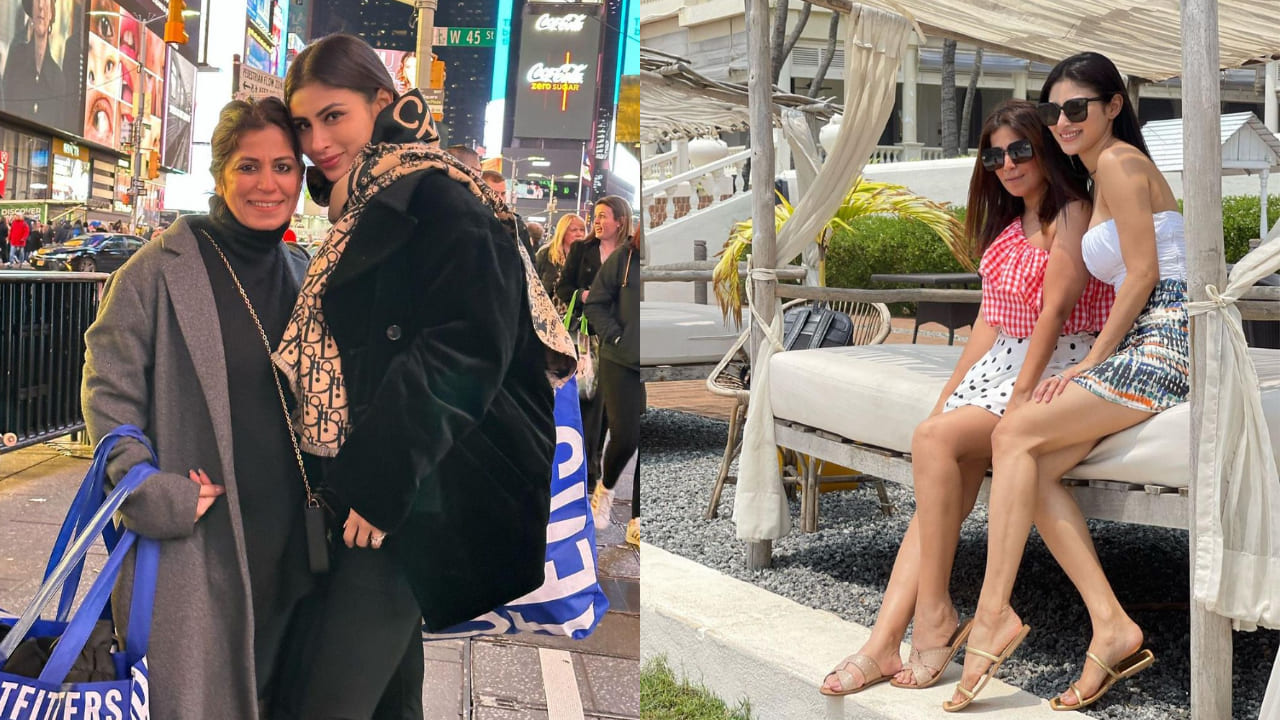 Mouni Roy appeared to be all set for some beach fun, radiating a stunning aura in her choice of swimwear. She donned a magnificent blue bikini with white stripes, and she looked absolutely stunning. The bikini top, in particular, featured large straps and a distinctive twisted bandeau shape, which added a pop of color and fashion-forward style to the overall look. Mouni's choice of swimwear was not just about enjoying the beach but also about making a fashionable statement that showcased her innate style.
The blue bikini with its white stripes exuded a sense of freshness and a vibrant beachy vibe. The large straps added an element of comfort and ensured that she could enjoy her beach activities with ease. The unique twisted bandeau shape of the bikini top was a standout feature that showcased Mouni's penchant for distinctive fashion choices, even in a relaxed beach setting.
Mouni Roy beautifully demonstrated the perfect balance of elegance and comfort in her beach attire. Her choice of swimwear emphasized that you could look great while having fun in the sun. This beach-ready ensemble was not just about enjoying the sea and sand but also about celebrating style and individuality, making a fashion statement that transcended traditional swimwear.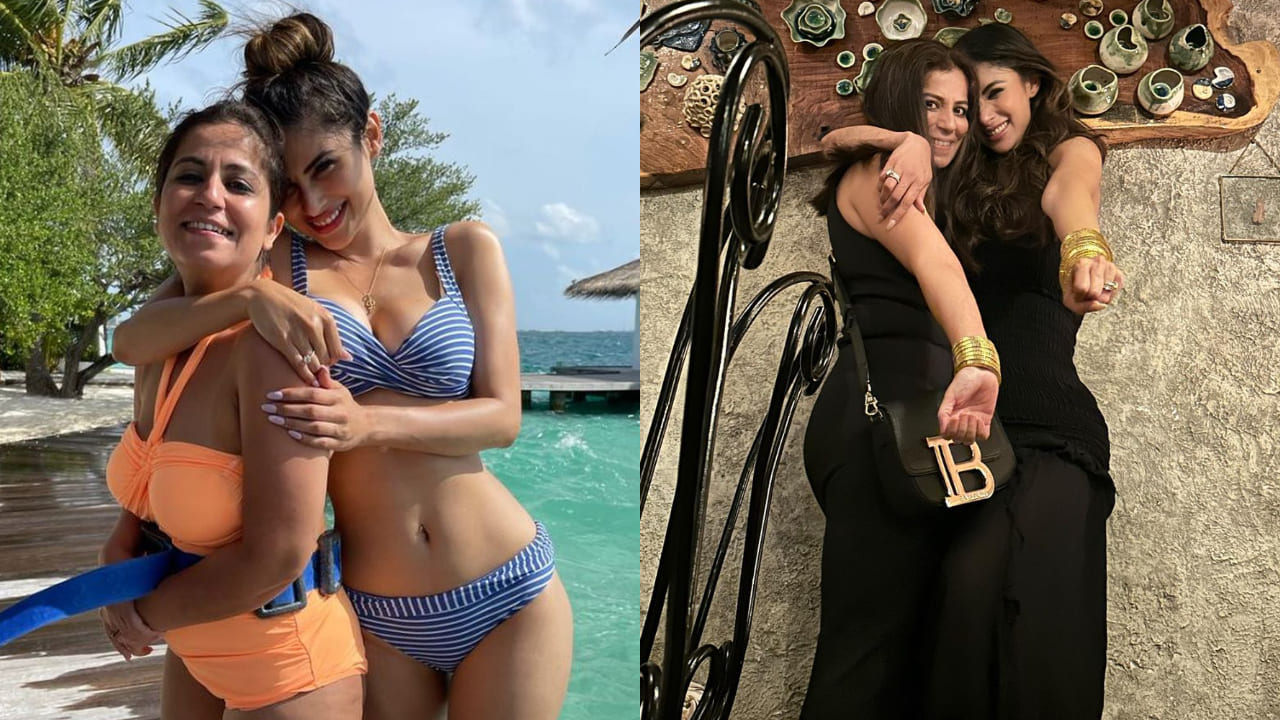 Mouni Roy's affinity for black bodycon clothing showcases her fashion-forward approach and her love for the classics. Her choice of the golden bracelet further illustrates her ability to enhance her outfits with the right accessories, creating a look that's both glamorous and memorable. Her fashion choices continue to be a source of inspiration for those who admire her impeccable style.