Mouni Roy makes a case for bandeau dresses in long black smocked dress with Rs. 9,14,898 Chanel bag
In the world of high fashion, Bollywood's beloved style icon, Mouni Roy, reigns supreme. With her impeccable taste and a penchant for extravagant ensembles, she consistently captivates fashion enthusiasts. Mouni has a knack for choosing the most extravagant clothes and pairing them with the most opulent bags, thereby creating classy and sophisticated ensembles that leave an indelible mark on the fashion landscape.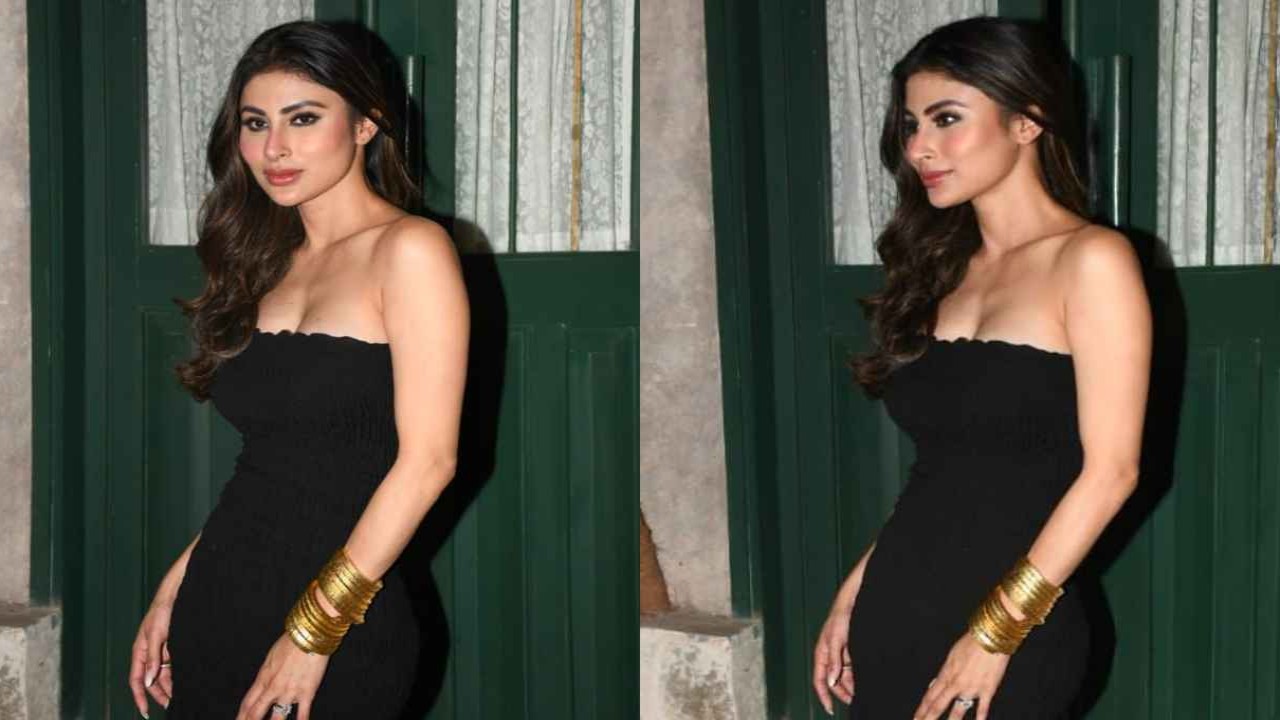 Recently, the "Virgin Tree" actress attended a friend's birthday party, and her captivating ensemble once again set tongues wagging. Mouni Roy's stunning appearance was a sight to behold, as she donned a long, sleek black bandeau dress that exuded an air of sophistication and grace. The choice of the dress alone was enough to turn heads and make a fashion statement, but she didn't stop there.
What truly stole the show was her selection of a lavish Chanel bag as her accessory. The Chanel bag added an extra layer of luxury and glamour to her ensemble, making it clear that Mouni Roy not only knows how to make a fashionable entrance but also has a remarkable ability to redefine chic elegance. Her presence at the event was a testament to her style prowess, solidifying her status as a true fashion icon in the world of Bollywood and high fashion.
The stunning Naagin actress has once again graced the spotlight with her impeccable fashion sense. Recently, she was spotted and snapped in an extraordinary black sleeveless, off-shoulder bandeau dress that left onlookers in awe. This exquisite creation was crafted from sheer chiffon, adding an element of elegance and sophistication to her appearance. The plunging neckline of the dress brought forth a sultry and alluring vibe, making it a head-turning choice for any occasion.
The partly lined black outfit continued to surprise with its intricate details and alluring design. The dress not only featured the elements mentioned earlier but also had a gently flared skirt. This design choice added a touch of whimsy and movement to the ensemble, making it both stylish and comfortable to wear. At the hem of the dress, a gathered tier further accentuated its charm, giving it a unique and eye-catching quality that sets it apart.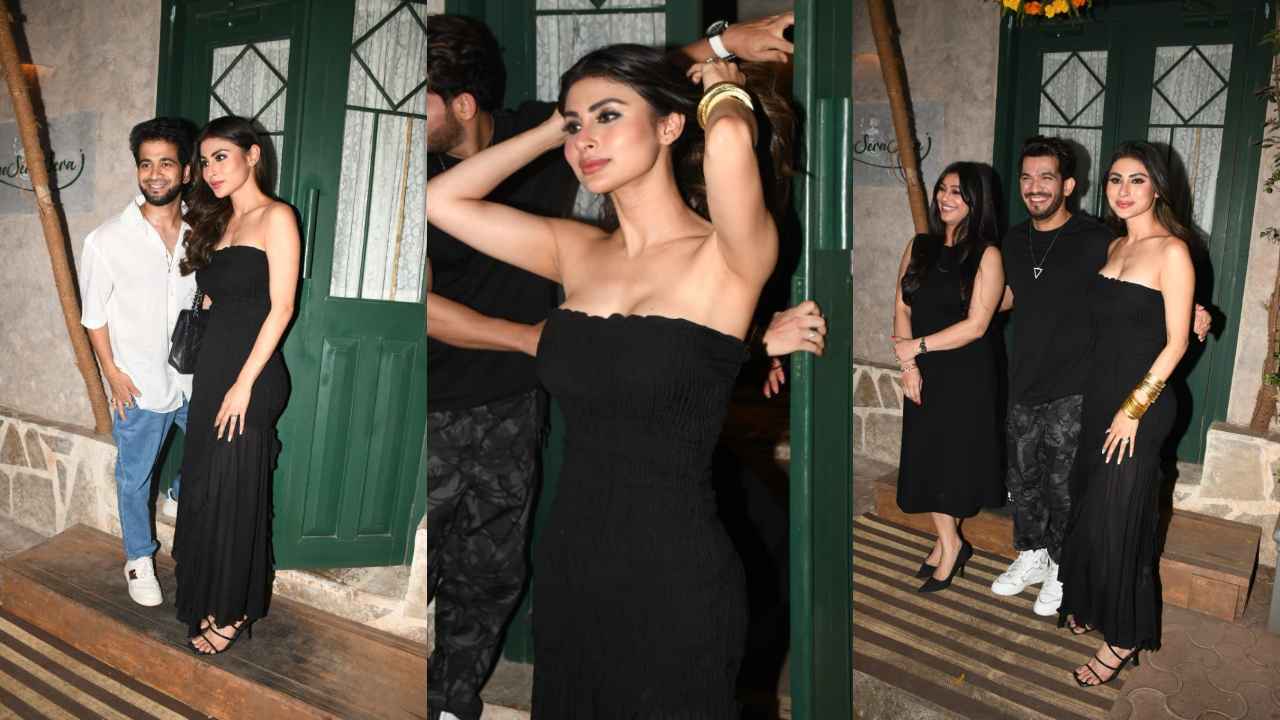 The overall allure of this classy dress was undeniable. The combination of sheer chiffon, the sultry off-shoulder neckline, the smocked bodice, and the gently flared skirt created a harmonious blend of sensuality and sophistication. It's no wonder that observers and fashion enthusiasts were left awestruck by the actress's choice of attire. If you're seeking a dress that embodies both elegance and allure, this outfit is a must-buy, showcasing the perfect fusion of style, grace, and individuality.
In addition to her exquisite dress, the incredible Mouni Roy displayed a keen sense of fashion by carefully selecting her accessories. To give her stylish outfit an overall harmonious appeal, she opted for black strappy heels. These footwear choices not only complemented her dress but also added a touch of sophistication to her look, highlighting her commitment to a cohesive and well-thought-out ensemble.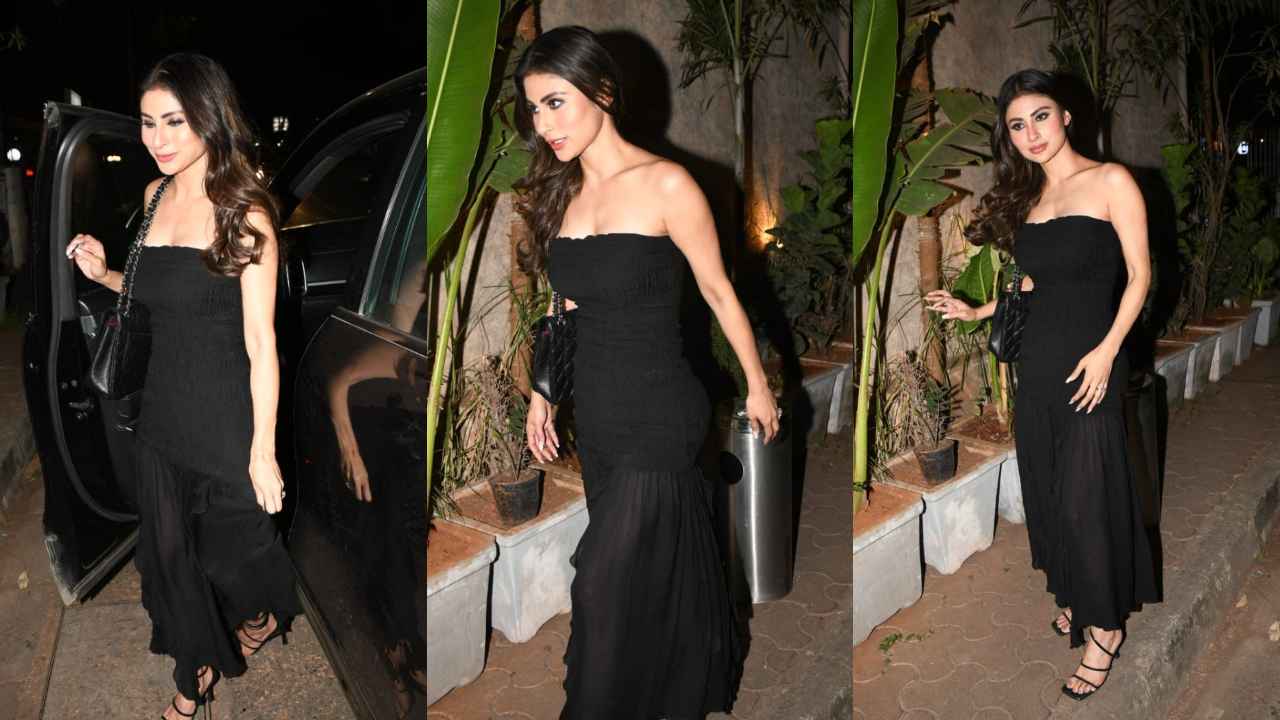 But Mouni's fashion statement didn't end there. The talented "Made In China" actress made a bold choice by accessorizing her outfit with a Chanel jumbo double flap shoulder bag. This particular bag, known for its luxury and elegance, came in a striking black caviar color. The bag's worth, approximately Rs. 9,14,898, underlined her penchant for high-end and opulent fashion items. It's clear that Mouni Roy not only pays meticulous attention to her clothing but also invests in accessories that elevate her style and add a touch of extravagance to her overall look. Her outfit was a testament to her impeccable fashion choices and her ability to effortlessly blend high fashion with personal elegance.
The Chanel jumbo double flap shoulder bag that Mouni Roy chose to accessorize her outfit with is an extravagant piece that embodies the essence of timeless design from the iconic fashion house. Chanel is renowned for its commitment to sophistication and luxury, and this bag is no exception. With a rather sophisticated edge, it stands as a symbol of enduring elegance and style.
In addition to her stunning outfit and luxurious accessories, the gorgeous Mouni Roy further elevated her classy ensemble with carefully chosen jewelry. She opted for layered gold bracelets and rings, which added a touch of glamour and sophistication to her overall look. The choice of gold accessories not only complemented her black dress but also introduced a hint of opulence, enhancing her already impressive fashion statement.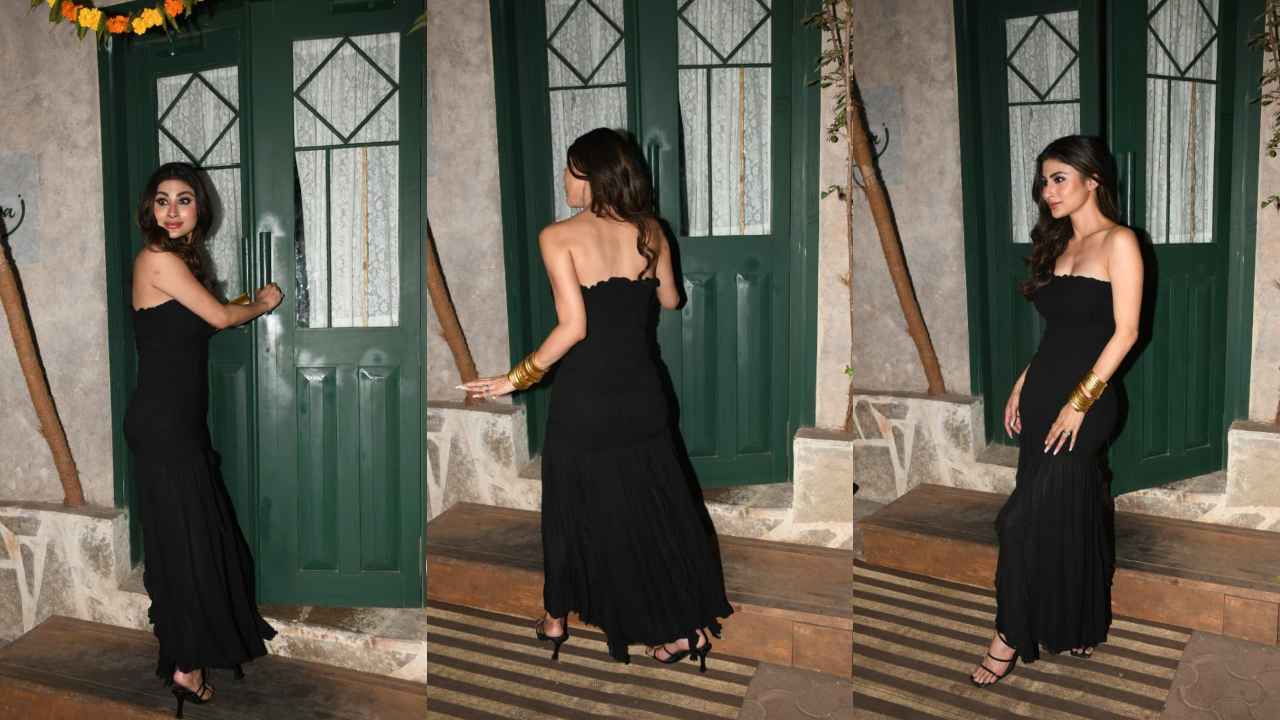 Now, let's turn our attention to Mouni Roy's hair and makeup, where her talent truly shines. The talented "London Confidential" actress displayed a mastery of the art of beauty, leaving no detail unattended. Her hair was impeccably styled, framing her face with elegance. Whether it was a sleek and polished look or a flowing cascade of locks, her hair choices always harmonized with her outfit and the occasion.
Mouni's makeup game was equally on point. Her choice of makeup highlighted her features flawlessly, enhancing her natural beauty while maintaining a sense of refinement and sophistication. Whether it was the flawless application of foundation, the perfectly defined eyes, or the subtle lip color, her makeup choices underscored her fashion prowess.
The talented diva's makeup choices were equally remarkable. She opted for an oh-so-glamorous look that accentuated her features with precision. Her dark smokey eyeliner gave her eyes a captivating intensity, while mascara-laden lashes added a dramatic flair that highlighted her gaze. The choice of super rouged and highlighted cheeks brought a healthy and radiant glow to her complexion, enhancing her facial structure.
To complete her makeup, Mouni chose a glossy nude-colored lipstick, a selection that perfectly complemented and elevated her entire ensemble. The muted lip color allowed the focus to remain on her mesmerizing eyes and the elegance of her outfit while maintaining a sense of sophistication.
It's clear that Mouni Roy's choices in hair and makeup were in perfect harmony with her outfit, creating a captivating and cohesive look that left onlookers and fashion enthusiasts in admiration. Her talent for selecting the right hair and makeup styles showcased her fashion finesse, making her choices truly remarkable.