Mouni Roy looks bewitching in Prémya by Manishii's black shimmery fishtail saree with matching bustier blouse
Mouni Roy, the rising star of Indian entertainment and a notable figure in the fashion world, once again graced our screens with her unparalleled style and grace. In a recent social media update, the classy actress, best known for her role in "Sultan of Delhi," left her fans spellbound with her captivating new look. Mouni Roy's ability to make a strong style statement is well-known, and she continues to be a source of inspiration for those who admire her acting talent and her impeccable fashion sense.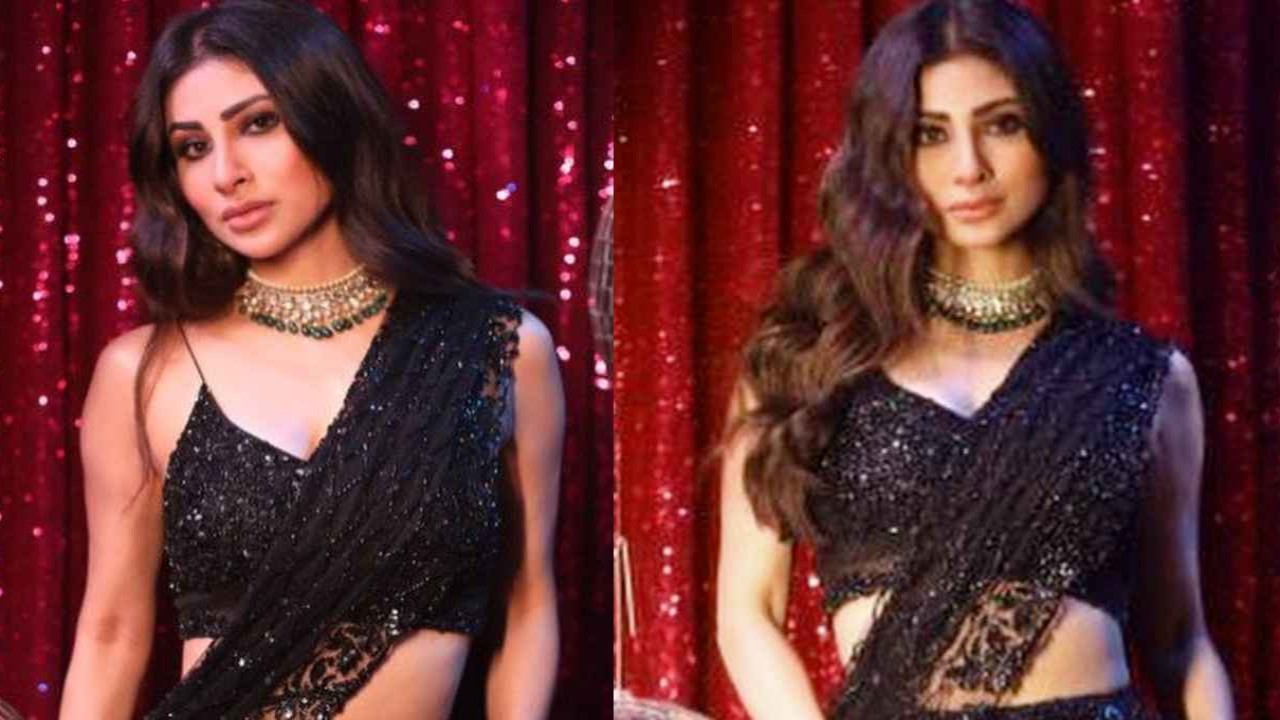 Mouni Roy's social media presence has become a platform to showcase her evolving style and her knack for staying ahead of the fashion curve. With each update, she reaffirms her status as a rising fashion icon, known for her stunning wardrobe choices and her innate sense of grace and sophistication.
Her captivating new look undoubtedly piqued the interest of her fans and fashion enthusiasts, leaving everyone eager to see more of her exceptional style choices. Mouni Roy's presence in both the entertainment and fashion worlds is a testament to her multi-faceted talents, and her appearances continue to be a delightful treat for those who appreciate the fusion of beauty, style, and grace in the world of Indian entertainment.
Mouni Roy made an unforgettable fashion statement as she appeared wrapped in a stunning black shimmery fishtail saree designed by Prémya by Manishii. This glamorous choice of attire showcased her penchant for elegance and a touch of contemporary allure. The black saree with its shimmery texture and fishtail design perfectly accentuated her figure, adding a touch of drama and sophistication to her overall look.
The impeccable styling by the talented Rishika Devnani added a layer of finesse to Mouni Roy's ensemble. The meticulous attention to detail, from the choice of saree to the way it was draped, highlighted the actress's unique fashion sense and the expert touch of her stylist. This collaboration between Mouni Roy and Rishika Devnani was nothing short of fashion perfection, making it impossible not to fall in love with the result.
Mouni Roy's fashion choices have consistently made waves in the industry, and this appearance was no exception. Her ability to effortlessly blend traditional Indian wear with contemporary elements continues to leave a lasting impression, and her fans and fashion enthusiasts are left absolutely in love with her exquisite style.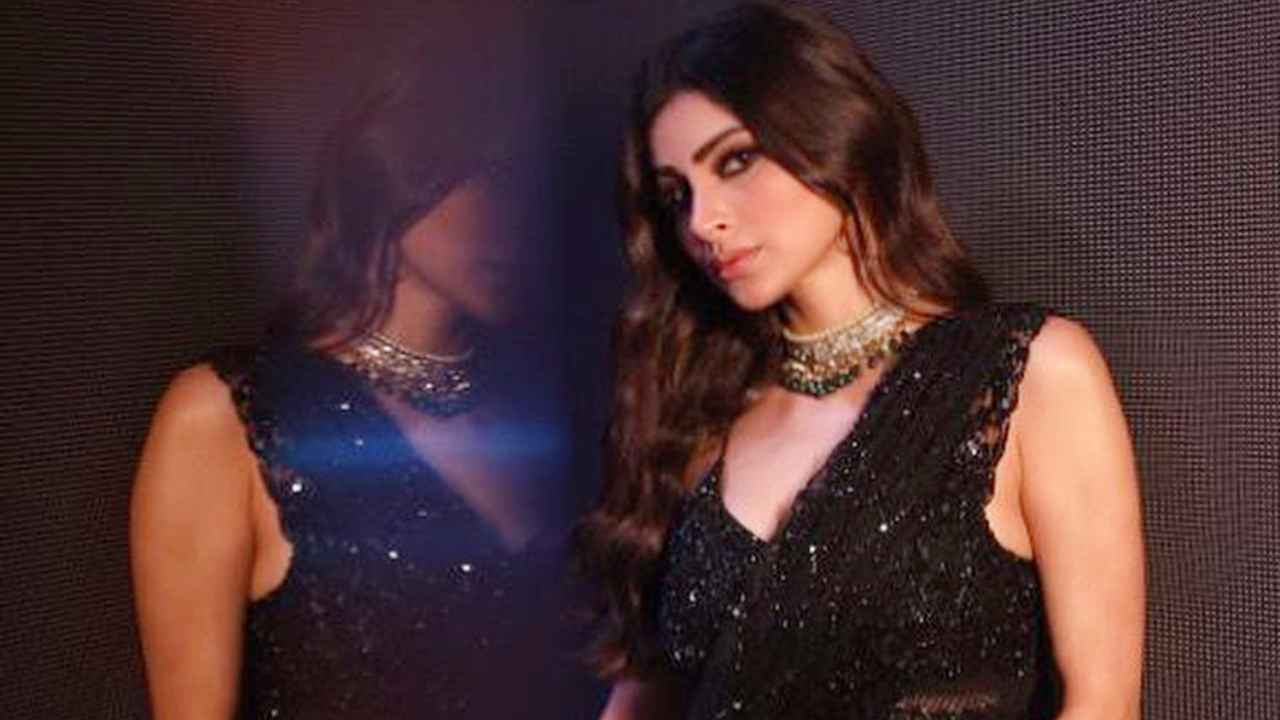 The undeniably gorgeous Mouni Roy, celebrated for her role in "Gold," once again demonstrated her innate style and flair, impeccably styled by the talented Rishika Devnani. In a recent fashion moment, Mouni made an unforgettable choice by wearing a shimmery and oh-so-glamorous black mermaid saree. This stunning ensemble was embroidered with an intricate pattern that added a touch of opulence to her look, making her the center of attention.
One of the notable features of her saree was the attached pallu, which gave her ensemble a well-tied and seamlessly draped appeal. The pallu, draped with finesse, not only added to the elegance of her appearance but also showcased Mouni Roy's commitment to a flawless and polished style. The overall result was a fashion statement that exuded sophistication and glamour.
Styled by Rishika Devnani, Mouni Roy continues to be a trendsetter in the fashion world. Her choice of this black mermaid saree, coupled with the expert styling, reaffirms her status as a fashion icon who effortlessly blends classic elegance with contemporary allure. It's no wonder that fans and fashion enthusiasts are once again left in awe of her exquisite fashion choices.
Mouni Roy's impeccable fashion sense was further highlighted by her choice to pair her exquisite black ensemble with a matching bustier blouse, giving it a unique and stylish edge. The bustier blouse perfectly complemented the shimmery mermaid saree, creating a harmonious and well-coordinated look.
This sleeveless sequin-laden blouse added a touch of glamour and sophistication to her outfit. The sequins added a subtle shimmer that beautifully accentuated the black saree, making her ensemble all the more captivating. The sleek straps and deep, plunging neckline of the blouse contributed to its overall allure, adding a bold and contemporary element to her classic attire.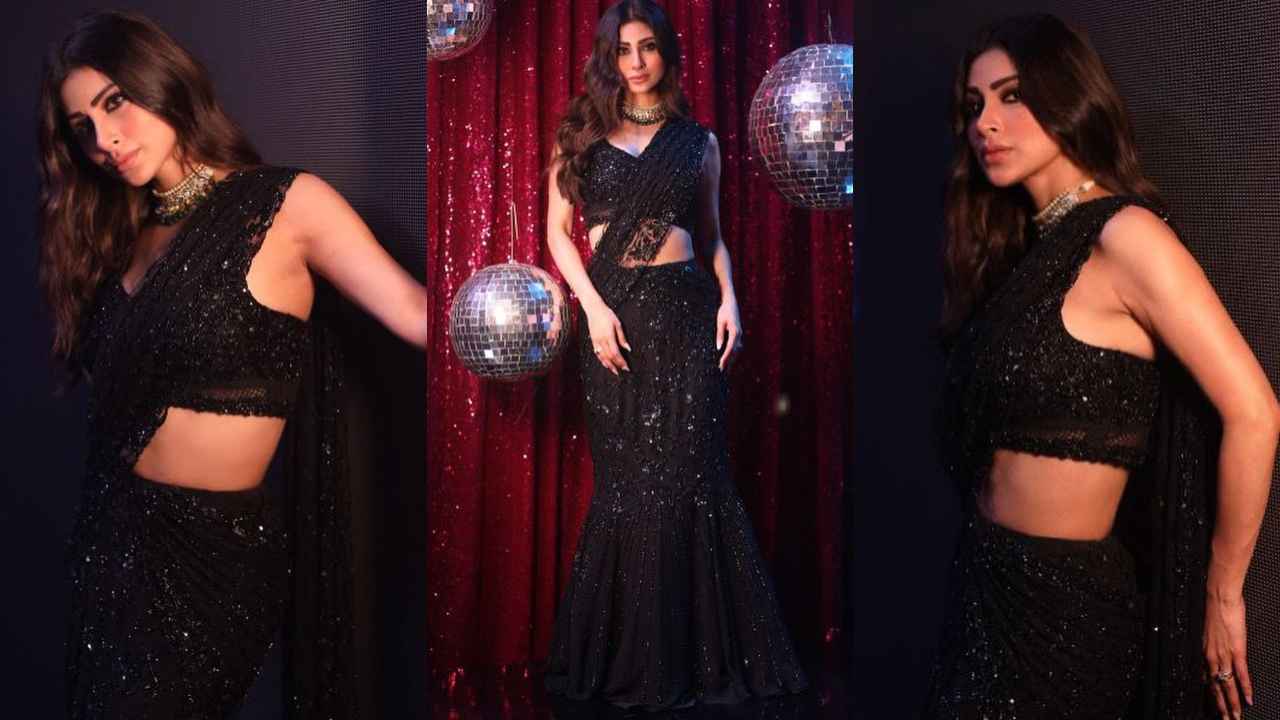 Mouni Roy's choice of blouse was a masterstroke in fashion coordination, and it showcased her talent for blending tradition with modernity. The result was a look that exuded elegance, style, and charisma, once again solidifying her position as a fashion icon in the entertainment industry. Her attention to detail and the ability to select the perfect blouse to complement her saree reflected her fashion finesse, leaving fans and fashion enthusiasts thoroughly impressed.
It's safe to say that this super stylish piece, worth Rs. 72,000, is undoubtedly one of Prémya by Manishii's timeless creations. The exquisite black mermaid saree paired with the sequin-laden bustier blouse is a testament to the designer's expertise and the brand's commitment to creating fashion statements that stand the test of time. The attention to detail, quality craftsmanship, and a touch of contemporary appeal make this outfit a prized addition to anyone's wardrobe.
Furthermore, the classy London Confidential actress made an apt choice by completing her traditional outfit with matching black heels. The heels not only added height and grace to her overall look but also ensured that she moved with confidence and poise. The black heels were the perfect finishing touch, complementing the shimmery saree and the sleek blouse while showcasing Mouni Roy's impeccable styling choices.
Mouni Roy's fashion sensibility, combined with her choice of this stunning Prémya by Manishii creation and the perfectly coordinated heels, further solidifies her status as a true style icon. Her ability to make timeless fashion choices and create a polished and elegant appearance is a source of inspiration for fashion enthusiasts and a reminder that classic style never goes out of vogue.
Mouni Roy's commitment to impeccable accessorizing didn't stop at her choice of a stunning black ensemble. The stylish Romeo Akbar Waiter actress elevated her ethnic and elegant outfit with an exquisite gold choker-like traditional necklace, adorned with syndicate polki, uncut diamonds, and green crystals. This remarkable piece was sourced from none other than the iconic Golecha Jewels, renowned for their fine craftsmanship and unique designs.
The intricate details and the combination of syndicate polki, uncut diamonds, and green crystals in the necklace added a touch of opulence and traditional charm to her appearance. The choker not only complemented her black outfit but also served as a focal point, making a striking statement in its own right.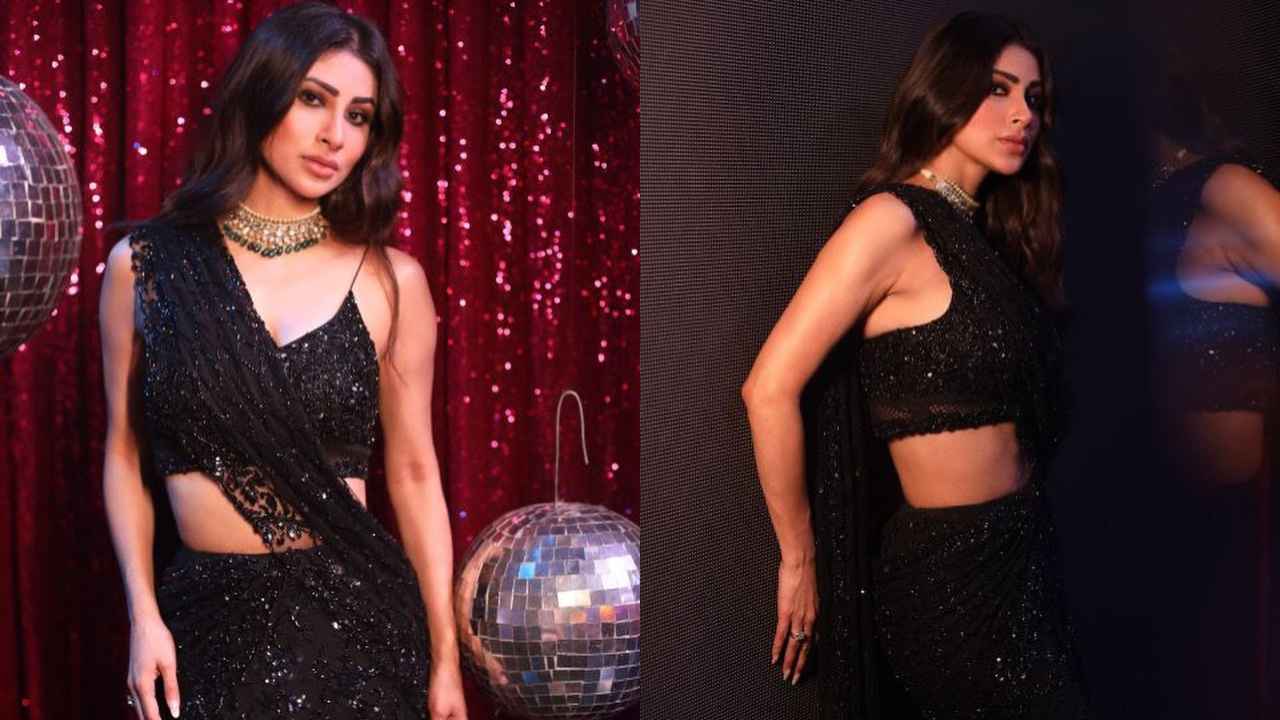 Mouni Roy's choice to accessorize with the Golecha Jewels necklace was a masterstroke in enhancing her overall look. The exquisite piece exuded luxury and sophistication, contributing to the elegance and allure of her ensemble. Her attention to detail and her ability to select the perfect accessories showcased her fashion finesse and her talent for creating a cohesive and captivating appearance. Fans and fashion enthusiasts couldn't help but be captivated by the drop-dead gorgeous ensemble she presented.