Zeenat Aman works monochromatic magic in AMPM's midi-dress, setting the bar high for Gen-Z
Move over, Gen-Z, because a new fashion star has arrived, and she's bringing back the funky vibes of the 1970s with her appearance. This iconic fashionista is none other than the lovely veteran actress Zeenat Aman, who once commanded the silver screen with her captivating performances and unique style. Zeenat Aman is intent on giving the younger stars a run for their money by gracing the fashion scene with her class, elegance, and unmistakable charisma.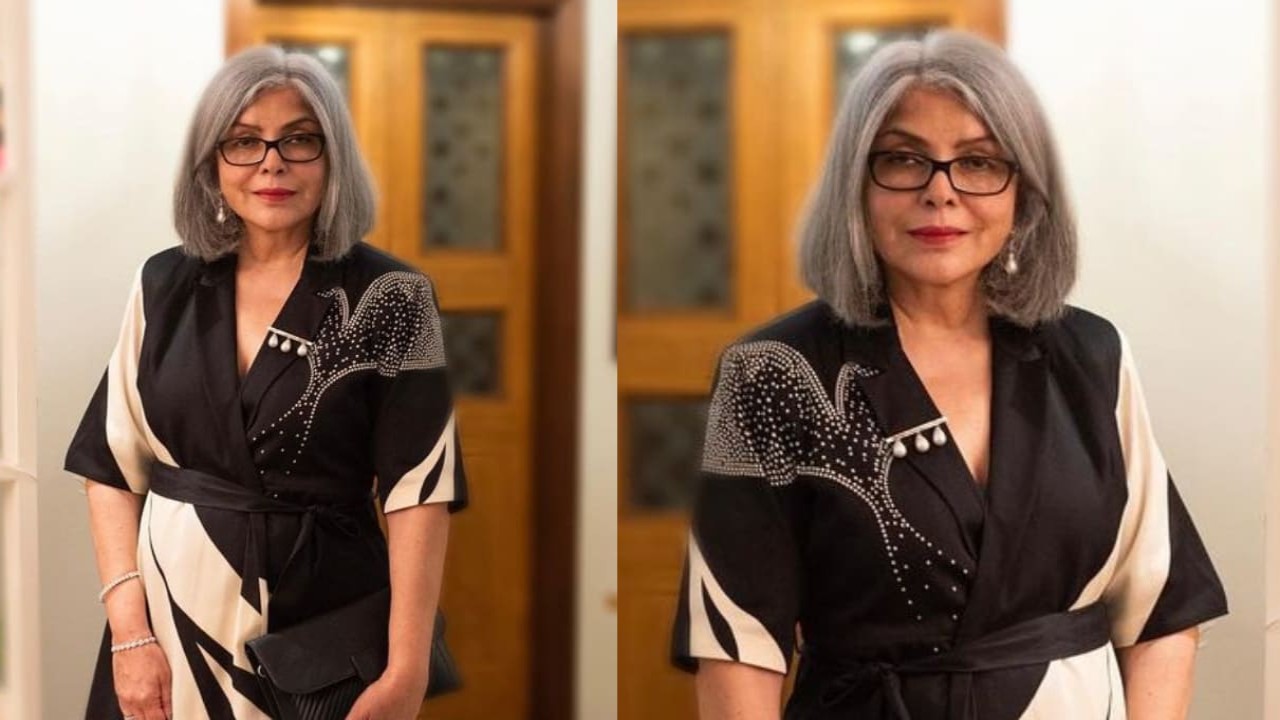 Zeenat Aman's return to the limelight is a much-anticipated event in the world of entertainment and fashion. Her timeless beauty, combined with a deep sense of style and panache, serves as an inspiration to those who appreciate classic glamour and fashion. Her bold and unique fashion choices from the '70s era continue to be celebrated and have now made a comeback in a modern context, proving that true style is indeed eternal.
Zeenat Aman's resurgence on the fashion scene is a powerful reminder that age is just a number when it comes to fashion and style. Her undeniable charisma and elegance continue to captivate audiences, making her a timeless fashion icon and a strong competitor for the younger stars in the industry. Her return to the spotlight is a delightful and inspiring moment for those who admire her for both her on-screen talent and her impeccable fashion sense.
Zeenat Aman is undeniably setting the bar high and reminding us all how it's done when it comes to fashion. Her unique style, which seamlessly blends elements from her iconic '70s bell-bottom trousers to her effortlessly elegant boho outfits, is a testament to her enduring fashion sensibility. With every appearance, she reaffirms that great style knows no age boundaries and transcends generational limits.
Her signature bell-bottom trousers, which became a symbol of her fashion legacy, continue to influence and inspire contemporary fashion trends. Zeenat's ability to effortlessly adapt her style from one era to another while retaining her unmistakable elegance is a masterclass in fashion versatility.
Zeenat Aman's return to the fashion scene serves as a powerful reminder that age is no barrier to embracing and celebrating personal style. Her timeless charm and her ability to adapt and evolve with the ever-changing fashion landscape showcase the enduring and ageless nature of true fashion. She's here to prove that great style is a timeless art that can be appreciated and emulated by fashion enthusiasts of all ages.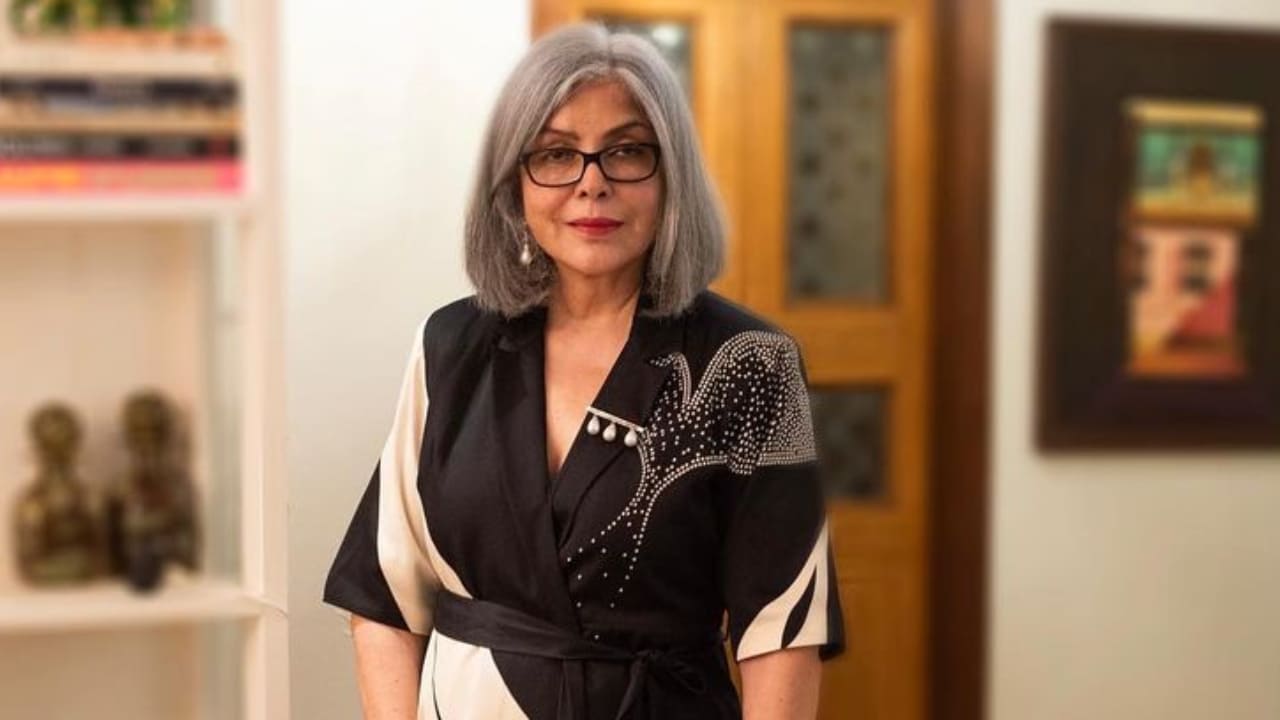 Zeenat Aman's fashion choices continue to captivate as she graces the scene in a stunning wrapped midi-dress that is bound to turn heads. This gorgeous dress, characterized by its unique design, exudes refinement and flair.
The abstract design of the dress is a testament to Zeenat's daring and bold fashion sense. It not only reflects her own distinctive style but also sets a new standard for contemporary fashion. The dress is a beautiful blend of classic elegance and modern trends, and its abstract pattern showcases her willingness to push the boundaries of conventional fashion.
The monochromatic richness of the print further enhances the dress's appeal, making it a genuine fashion statement. The black and white color scheme exudes sophistication and timelessness, creating a look that is both classic and chic. Zeenat Aman's choice of this stunning midi-dress reaffirms her status as a fashion icon and a true trendsetter, capable of effortlessly combining artistry and style in the world of glamour.
This dress truly highlights Zeenat Aman's inherent beauty, as it features a flattering V-neck notched lapel collar and contemporary half sleeves. The design of the dress is a showcase of her timeless elegance and impeccable fashion sense. The V-neck and notched lapel collar add a touch of sophistication, accentuating her neckline and creating a refined and eye-catching look. The contemporary half sleeves perfectly balance the overall design, making it both modern and classic.
But there's more to this stunning ensemble! The high-low hemline of the dress adds a lively and dynamic element to its overall design. This feature not only enhances the dress's visual appeal but also adds movement and fluidity to the outfit, making it perfect for both formal and semi-formal occasions. Zeenat Aman's choice to incorporate the high-low hemline showcases her keen eye for fashion trends and her ability to make a classic style statement with a contemporary twist.
Zeenat Aman undoubtedly knows how to rock a wrapped dress like no other. Her classic fashion choices continue to leave us all in awe. This ensemble is a testament to her enduring style, which effortlessly blends sophistication, innovation, and timeless beauty. Zeenat Aman's fashion sense remains an inspiration for those who appreciate the art of dressing with grace and poise.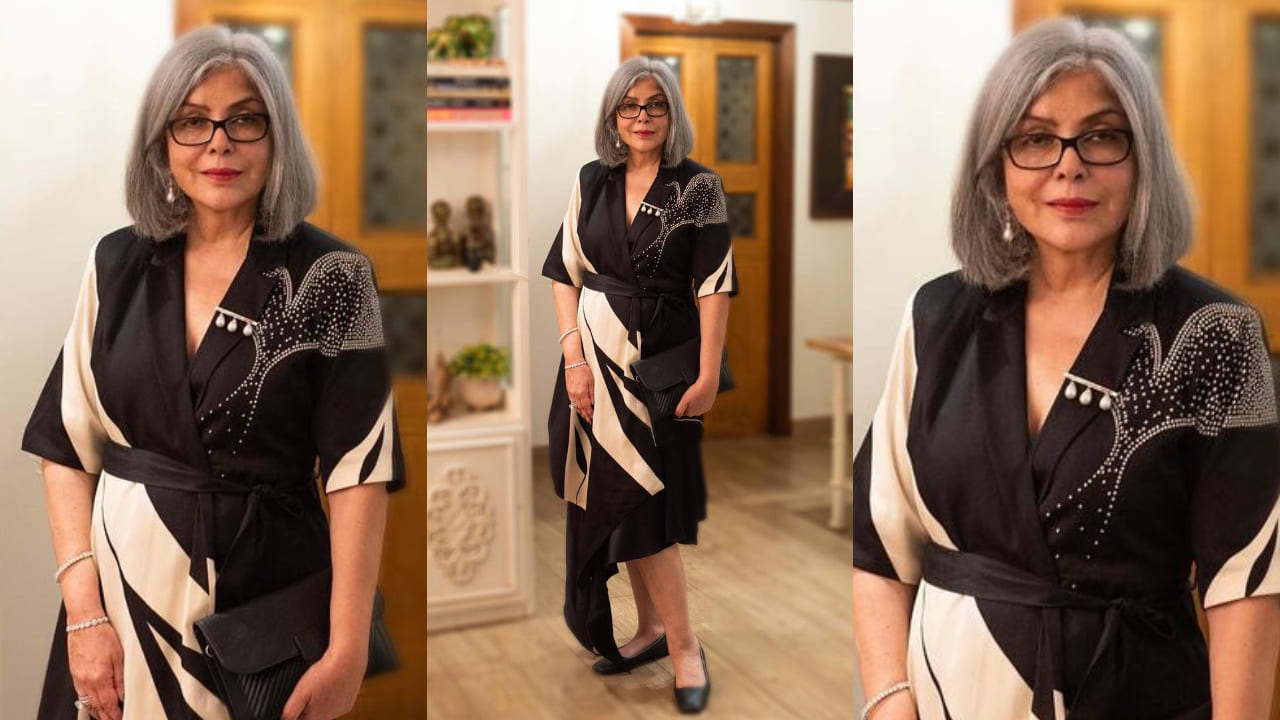 Zeenat Aman's innate sense of style extends to her choice of accessories, and she knows just how to make a statement with them. For this appearance, her earrings were nothing short of magnificent. She adorned her ears with drop earrings that added a touch of glitter and glamor to her overall look. The exquisite design of the earrings perfectly complemented her dress, adding a sense of luxury and elegance.
But the allure of her accessories didn't stop at her ears. Zeenat Aman's wrists were adorned with bangles that shone and glittered, capturing the light with every graceful movement she made. These bangles not only added a hint of tradition and culture but also contributed to the overall charm and sophistication of her appearance. Her choice of accessories, from the dazzling earrings to the shimmering bangles, showcased her talent for perfectly enhancing her ensemble and turning heads wherever she went.
Zeenat Aman's ability to select accessories that effortlessly elevate her look speaks to her deep understanding of how to add that extra touch of elegance and allure to her overall appearance. Her choice of earrings and bangles was a masterstroke in style coordination, reinforcing her status as a fashion icon with an enduring sense of glamour and grace.
Zeenat Aman added the perfect finishing touch to her stunning ensemble with a pair of square toe ballerina shoes in a traditional black shade. These stylish and comfortable shoes not only ensured that she could move with ease but also offered a sophisticated touch to her entire look. The square toe design is a contemporary choice that complements the classic elegance of her dress, striking a harmonious balance between tradition and modernity.
Her choice of footwear highlighted her impeccable fashion sense and a keen eye for details. The black ballerina shoes were not just an accessory; they were an integral part of her overall look, contributing to the cohesive and polished appearance she effortlessly carries. Zeenat Aman's style choices clearly go beyond apparel – her attention to detail and immaculate accessorizing, including her choice of shoes, undoubtedly distinguish her as a style star who understands the nuances of fashion and knows how to make a lasting impression.
Fashion enthusiasts, prepare to drool, because Zeenat Aman has made a triumphant return in an ensemble straight from AMPM couture! Her choice of this exquisite outfit is a testament to her enduring fashion sense and ability to make an impact with her style. This iconic actress continues to captivate with her impeccable fashion choices, and her return is a delightful moment for those who admire her.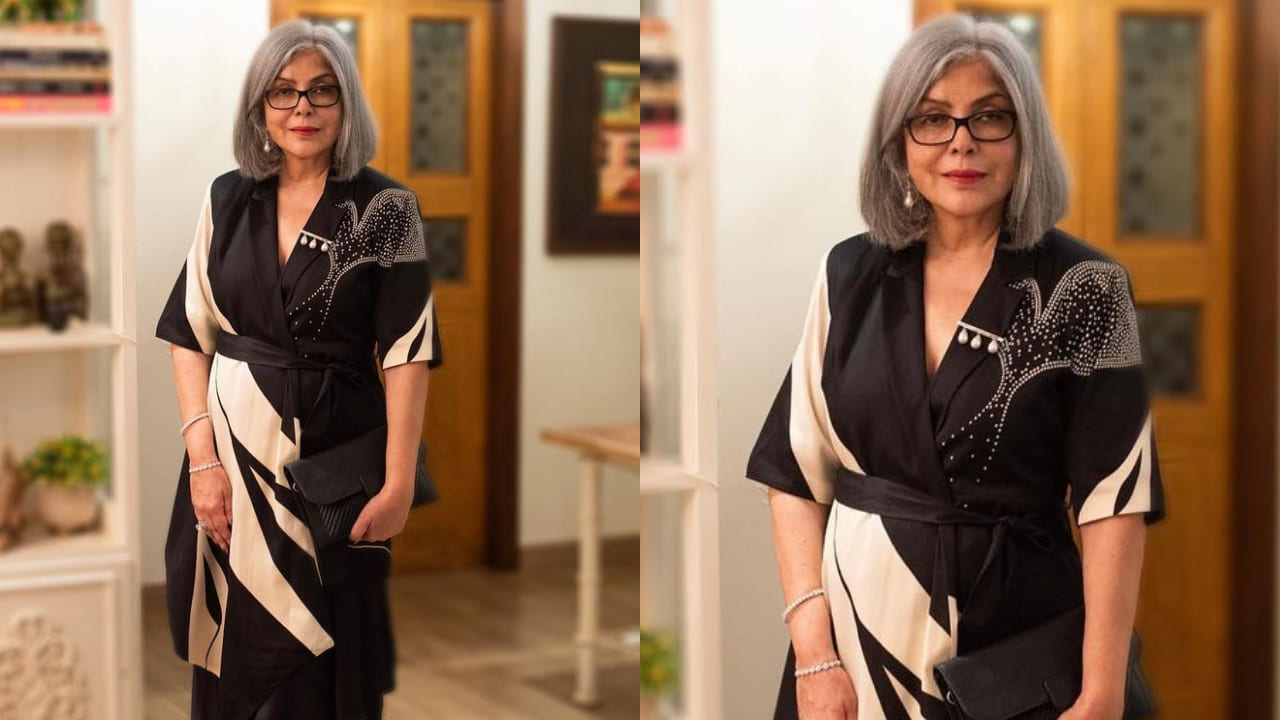 Zeenat Aman's shoulder-length hair perfectly complements her exquisite attire. Her classic and effortlessly stylish image is a testament to the fact that true style knows no age. Her fashion choices showcase her understanding of the nuances of personal style, and her appearance with this outfit is a treat for fashion enthusiasts who are seeking more of her perfect wardrobe choices.
We can't stop gushing over Zeenat Aman's reappearance, and the excitement for what she'll bring to the fashion scene next is palpable. Her timeless elegance and her ability to effortlessly blend tradition with contemporary trends make her a beloved fashion icon, and we eagerly await more of her impeccable wardrobe choices that are sure to inspire and enchant.