Sonam Kapoor's Dior outfit was perfectly classy with her Rs 2.26 lakh micro handbag
The Dior brand has always been synonymous with dreamy and luxurious fashion, and its Pre-Fall 2023 collection was no exception. Housed in the fashion capital of Paris but showcased across the globe, including Mumbai, this swanky collection was a visual delight.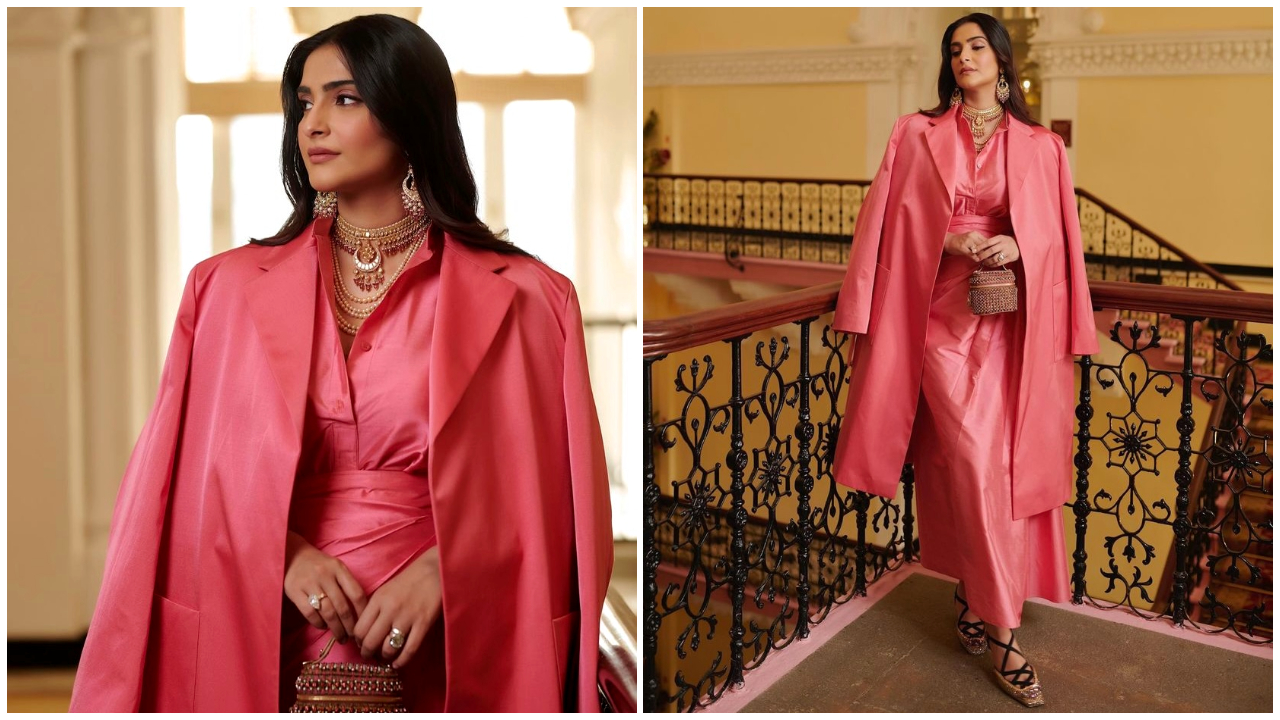 The Gateway of India in Mumbai served as the backdrop for this fashion extravaganza. Although the lighting may not have been perfect, the breathtaking arrangement of flowers created a Spring-like aura, setting the stage for a memorable event. The contrast between the setting and the ensembles worn by models, celebrities, and influencers added a unique touch to the show.
One standout from the event was Sonam Kapoor Ahuja, who effortlessly pushed the boundaries of fashion with her choice of coats. Her ability to carry off these statement pieces without making them look forced is a testament to her impeccable style and fashion sense.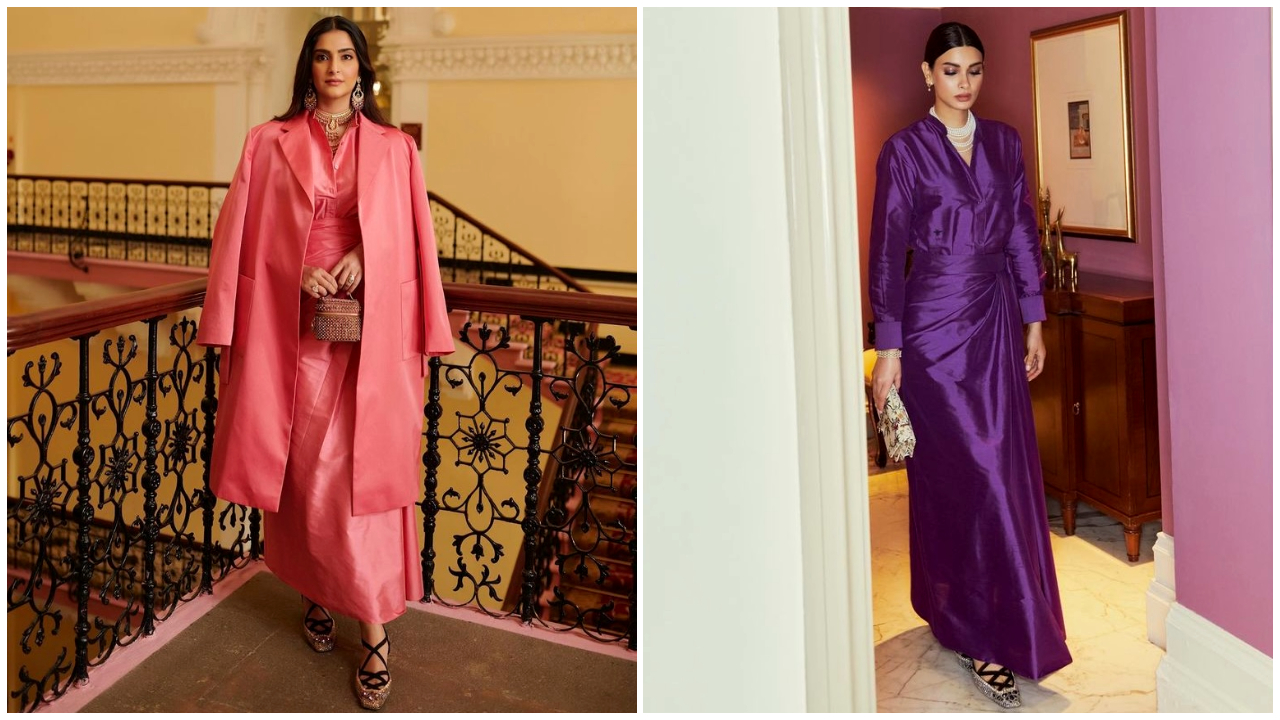 The photos from the event serve as evidence of the fashion spectacle that took place, where Dior's Pre-Fall 2023 collection took center stage. Sonam Kapoor Ahuja's fashion choices, in particular, left a lasting impression and set a high standard for fashion enthusiasts and designers alike.
As the temperatures rise, it's natural to wonder what coats are doing in the world of fashion. However, when it comes to trends, there are always unexpected twists, and it takes someone as fashion-forward as Sonam Kapoor Ahuja to make unconventional clothing not only wearable but also admirable.
During the event, Sonam was a vision of style, showcasing her ability to effortlessly pull off non-guessable fashion choices. One of the highlights was a color-coordinated outfit and accessories that she elegantly flaunted. Her impeccable style was curated by the talented stylist Nikhil Mansata.
Among the multitude of looks that Nikhil put together for the runway show, one stood out as a clear favorite. The anticipation builds as we await details about this particular ensemble, eager to dive deeper into the world of Sonam Kapoor Ahuja's fashion-forward choices. Fashion enthusiasts and admirers eagerly look forward to the revelation of this standout outfit.
Sonam Kapoor radiated regal elegance in her impeccable outfit choice. Her appearance was nothing short of on-fleek, and it highlighted her ability to embrace and elevate even the most monochromatic of hues.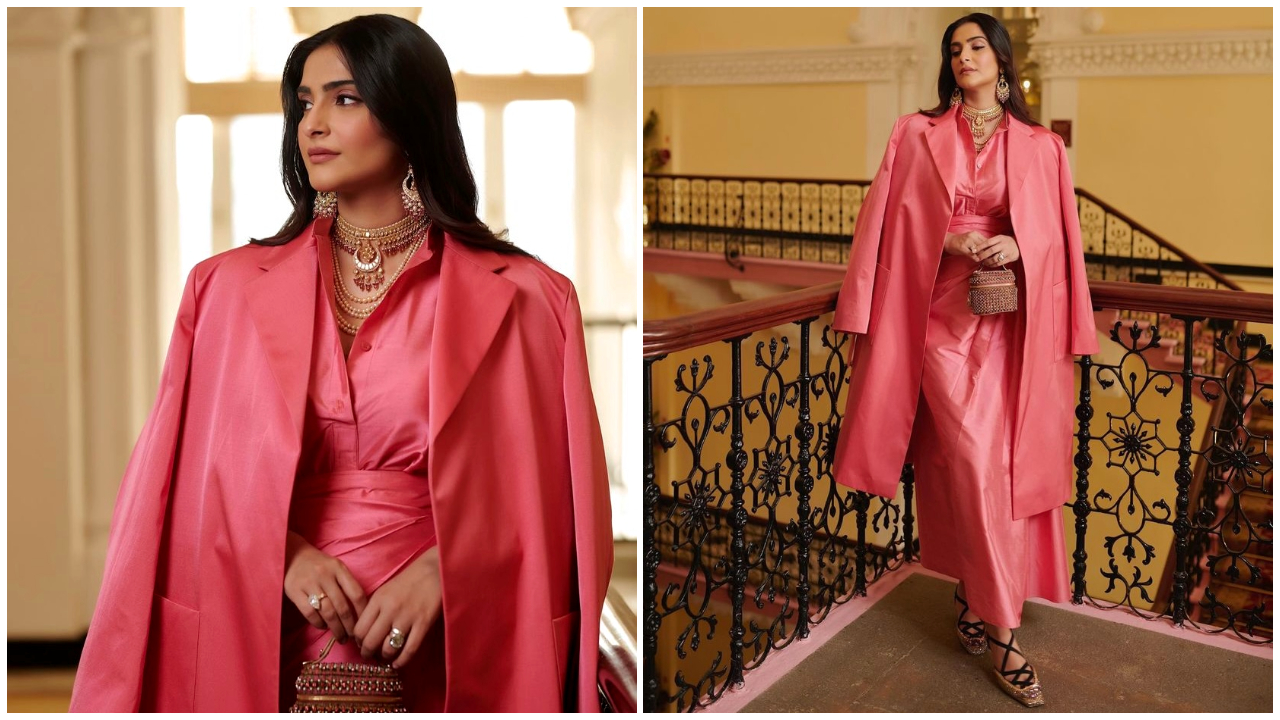 In this instance, she chose a stunning pink ensemble that proved how a single color can be far from disappointing. The outfit was a creation from the prestigious Dior fashion house and consisted of a dress with a unique design. The dress featured two halves of a shirt, adding an interesting twist to the silhouette, and was paired with a wrap skirt.
The use of silk fabric in this ensemble contributed to its overall sheen and sophistication. Sonam Kapoor effortlessly pulled off this look, making it clear that she has an innate understanding of fashion and how to make a statement with her style choices. Her fashion sensibilities continue to inspire and captivate fashion enthusiasts around the world.
Sonam Kapoor's outfit was a masterpiece of fashion details and luxury. Her skirt, with its bow and drape-like appearance, added a touch of grace and femininity to her look. The long-sleeved shirt featuring a collar lent a sense of sophistication to the ensemble.
To complete her outfit, Sonam layered on an oversized coat, which not only added an extra layer of style but also showcased her ability to effortlessly play with proportions and silhouettes. Her choice of clothing reflected her impeccable taste and fashion-forward approach.
One of the standout pieces from her ensemble was the Micro Lady Dior Vanity Case, priced at Rs. 2,26,080.80. This accessory was already near and dear to fashion enthusiasts' hearts, and for good reason. It featured a zip closure, top handle, a 'D.I.O.R.' charm, and intricate embellishments such as strass and white round beads. This vanity case was a testament to Dior's craftsmanship and Sonam's eye for luxury.
Sonam Kapoor's outfit and choice of accessories exemplified a blend of elegance, style, and opulence. Her fashion choices consistently set a high standard in the world of fashion and continue to inspire those who appreciate the art of dressing well.
Absolutely, vintage jewelry has the power to transform and elevate any look. Sonam Kapoor's choice of vintage pieces added a touch of timeless elegance to her overall appearance, making a significant difference in her style.
Her choice of jewelry included rings from Sunita Kapoor and pieces from Gem Palace, which undoubtedly added a touch of luxury and sophistication. The pearl and choker necklace, along with the chaandbali earrings, added a sense of regal charm, perfectly complementing her outfit.
For footwear, Sonam opted for a pair of black strappy shoes, which added a contemporary and stylish element to her ensemble. It's a testament to her ability to blend classic and modern elements seamlessly.
Her makeup was on point, with a matte finish that highlighted her features without being overpowering. Her hairstyle, gorgeously straight, added a sense of sleekness and sophistication to her overall look.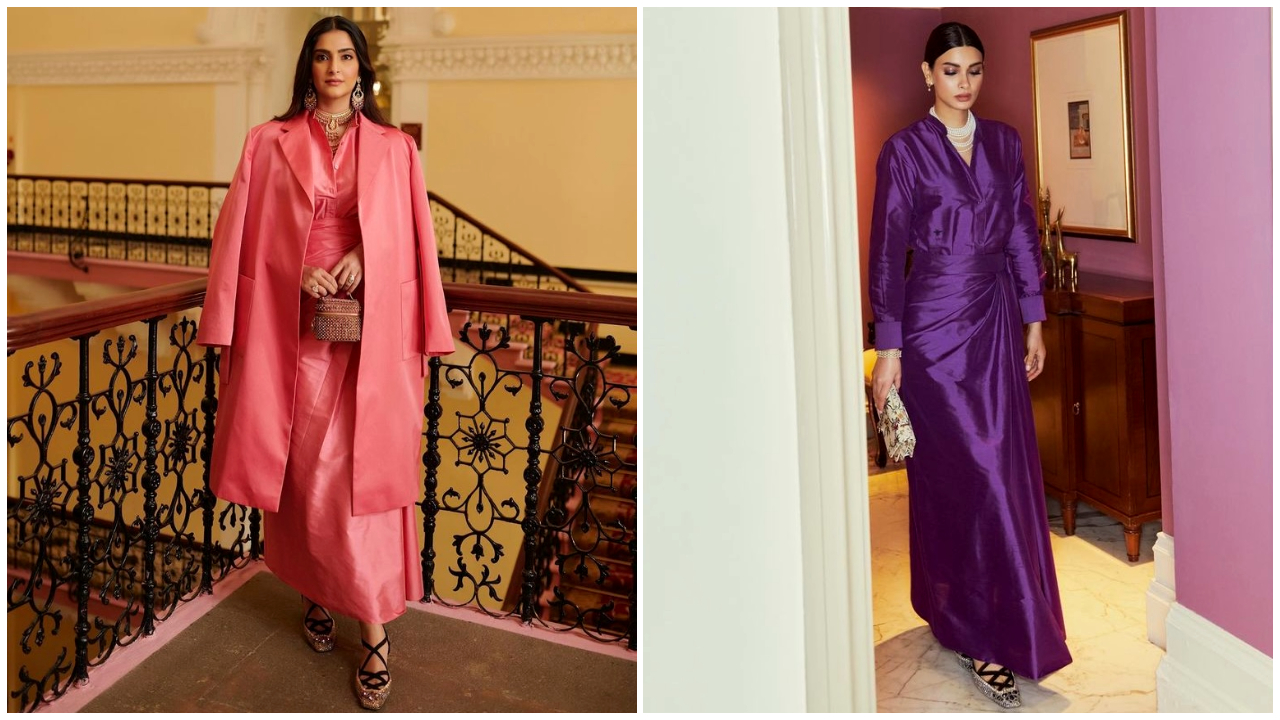 In summary, Sonam Kapoor's attention to detail and her choice of vintage jewelry, along with her impeccable makeup and hairstyle, showcased her mastery of fashion and style. Her ability to effortlessly incorporate elements from different eras and create a harmonious and stunning look is truly commendable.