Sonam Kapoor Commands London Streets in Enchanting Edward Crutchley Ensemble and Dazzling Monies Necklace!
Sonam Kapoor Ahuja's distinct fashion sense and style are certainly noteworthy, embodying a carefree, classy, and chic aura. Her recent pre-birthday look once again solidified her reputation as a fashion visionary, effortlessly blending elements to create an impactful ensemble. Her ability to pull off a wide range of styles is evident, making a bold statement with every choice.
As a Gemini, Sonam Kapoor Ahuja's versatility and adaptability shine through in her fashion choices. Her pre-birthday look showcases her innate ability to effortlessly blend different elements, resulting in a look that's uniquely hers. This versatility allows her to experiment with various styles and effortlessly pull them off, making her a true fashion chameleon.
During the summer months, when comfort and style are both essential, Sonam Kapoor Ahuja's mini dresses and denim ensembles stand out as go-to options. The combination of mini dresses and denim perfectly captures the essence of a cozy yet fashionable outfit. This choice provides the ideal balance between staying comfortable in warmer weather while maintaining a chic appearance.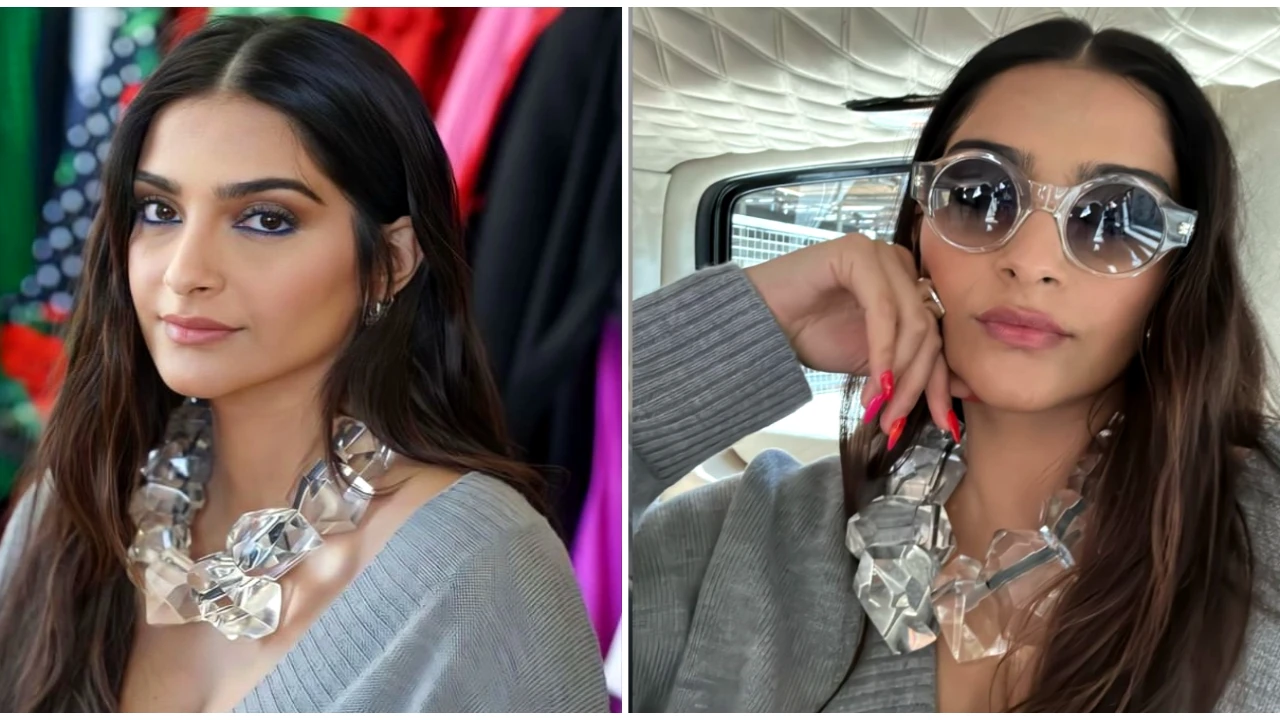 With the rainy season approaching, the timing is ideal to embrace statement attire like this. The versatility of the outfit ensures it can be worn throughout the transition from summer to rainy days. Alternatively, it can be set aside for a winter style turn, demonstrating the timelessness and adaptability of Sonam Kapoor Ahuja's fashion choices.
Vayu's mother, Sonam Kapoor Ahuja, celebrated her birthday in an outfit and accessories meticulously curated by a team of talented stylists. Rhea Kapoor, along with Manisha Melwani, Prabh Malait, and Bidipto Das, orchestrated an ensemble that perfectly encapsulated Sonam's style and personality. If you're drawn to the charm of grays and are looking for inspiration on how to incorporate this hue into your wardrobe, Sonam's outfit is a fantastic reference point.
Here's how you can recreate and adapt Sonam Kapoor Ahuja's birthday look:
Monochromatic Elegance: Start with a monochromatic base by opting for gray hues. A gray dress or separates in different shades of gray can create a sophisticated and cohesive look.
Layering and Textures: Experiment with layering and textures to add depth to your outfit. Incorporate pieces with different fabric textures, such as silk, chiffon, or satin, to create visual interest.
Statement Accessories: Sonam's outfit was elevated by carefully chosen accessories. Consider statement earrings, necklaces, or bracelets that complement the gray palette and add a touch of glamour.
Structured Silhouettes: Embrace structured silhouettes to exude elegance. Tailored blazers, coats, or dresses with defined cuts can create a polished and refined look.
Play with Lengths: Mix and match lengths within your outfit to create balance. A midi dress or skirt paired with ankle boots or heels can elongate your silhouette.
Subtle Makeup and Hair: Sonam's natural and understated makeup and hair added to the overall look's sophistication. Opt for nude or soft-toned makeup and consider a sleek hairstyle.
Confidence is Key: No matter the pieces you choose, remember that confidence is the ultimate accessory. Own your style and carry yourself with grace and poise.
Sonam Kapoor's fashion choices often embody a blend of elegance and uniqueness, and her outfit description showcases her keen eye for detail and style. Let's break down the elements of her ensemble:
Coat with Oversized Fit: Sonam's coat served as the centerpiece of her outfit, featuring an oversized fit that exudes a contemporary and fashion-forward vibe. The drop shoulders and flap pockets contribute to the coat's relaxed yet structured look, creating a sophisticated silhouette.
Knitted Sweater: Layered underneath the coat, Sonam wore a knitted sweater that added warmth and texture to the ensemble. The sweater's plunging V-ribbed neckline and hem add a touch of sensuality and playfulness to the look, providing a beautiful contrast to the coat's oversized structure.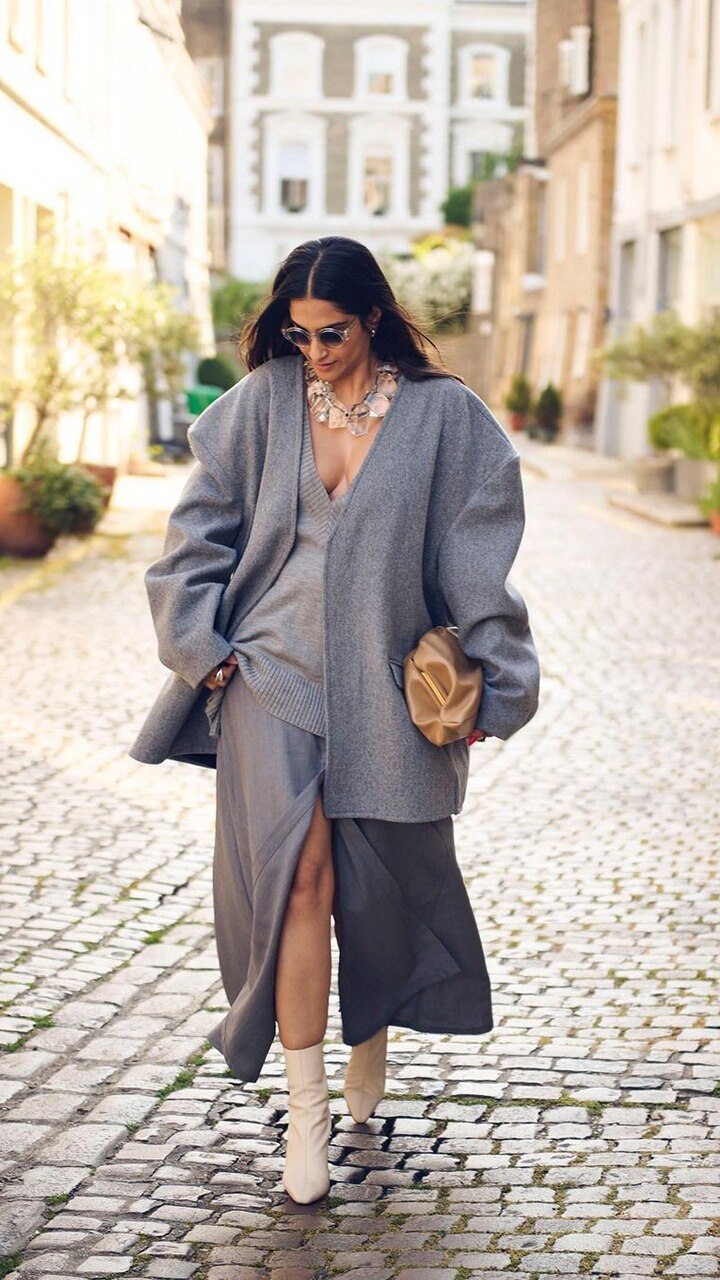 Tea-Length Trousers: The ensemble is completed by tea-length trousers that offer a roomy silhouette and side slits. This choice not only adds movement and fluidity to the outfit but also balances the proportions of the coat and sweater.
The combination of these three pieces forms a cohesive outfit that merges comfort, style, and sophistication. The oversized coat, knitted sweater, and tea-length trousers come together to create a look that is both visually appealing and versatile. Sonam's ensemble showcases her ability to artfully layer different elements to achieve a harmonious and fashionable result.
Sonam Kapoor's daytime look exuded a sense of sophistication and glamour, with a touch of fancy elegance brought in by her choice of accessories. The caramel brown Bottega Veneta clutch she carried added a luxurious and stylish touch to her ensemble. The puffy and structured design of the clutch made it a versatile accessory that can seamlessly transition from daytime outings to date night looks. Whether paired with mini skirts, dresses, or pantsuits, this clutch effortlessly adds a hint of chic to any outfit.
To amplify the allure of her outfit, Sonam Kapoor incorporated a chunky necklace that introduced an elevated level of sheerness to her look. The Xena necklace from Monies showcased the enchanting beauty of sheer elements, perfectly aligned with its name's meaning. Made from acrylic and wire and featuring a magnetic lock, this accessory exudes an air of contemporary charm. Priced at Rs 93,090.66, this necklace serves as an investment piece that promises to captivate across different seasons.
Sonam Kapoor's choice of the Xena necklace demonstrates its potential to become a statement accessory for a variety of occasions. Its versatility shines as it can be styled for parties, nighttime celebrations, Sangeet events, and cocktail parties. The necklace's modern and eye-catching design ensures it remains a swoon-worthy addition to your collection year after year.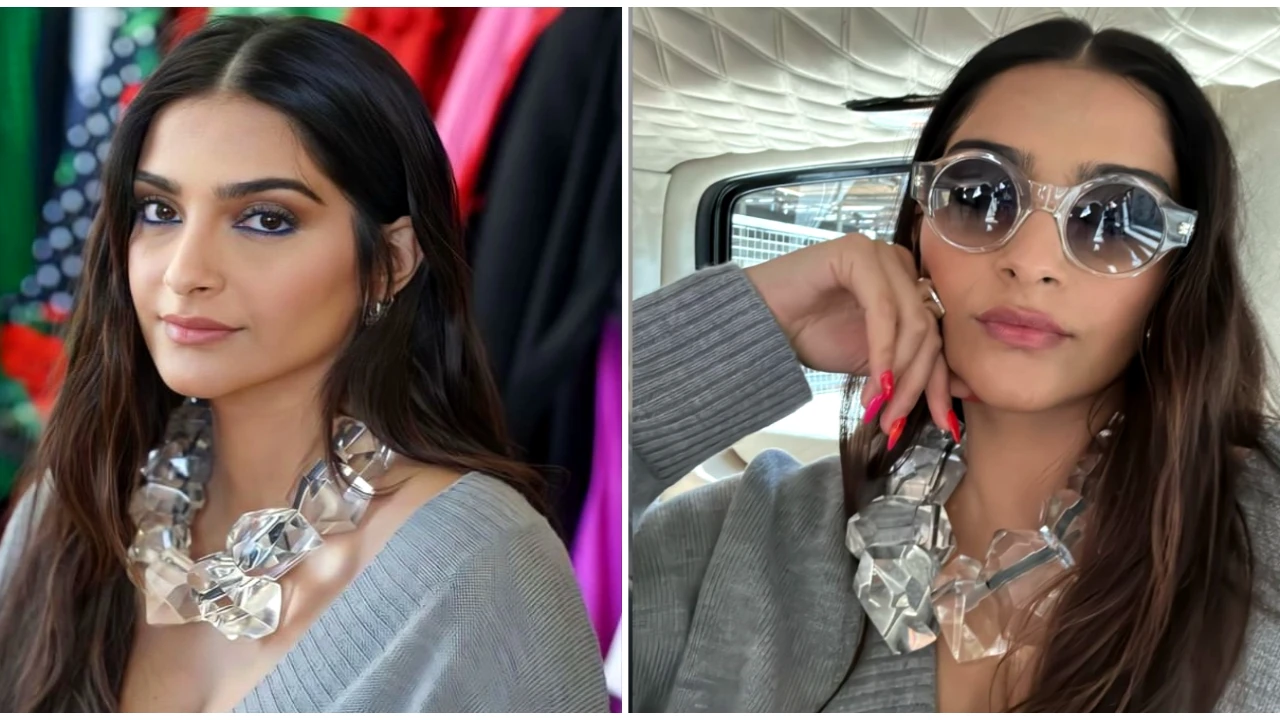 In summary, Sonam Kapoor's daytime look showcases her mastery of accessorizing to achieve an elegant and sophisticated ensemble. The caramel brown Bottega Veneta clutch and the striking Xena necklace from Monies stand out as defining elements of her outfit. These accessories not only add depth and charm but also serve as symbols of her ability to curate looks that effortlessly transition from day to night and cater to a range of celebrations.