Nora Fatehi Radiates Glamour and Empowerment as She Embarks on a Fendace Fashion Triumph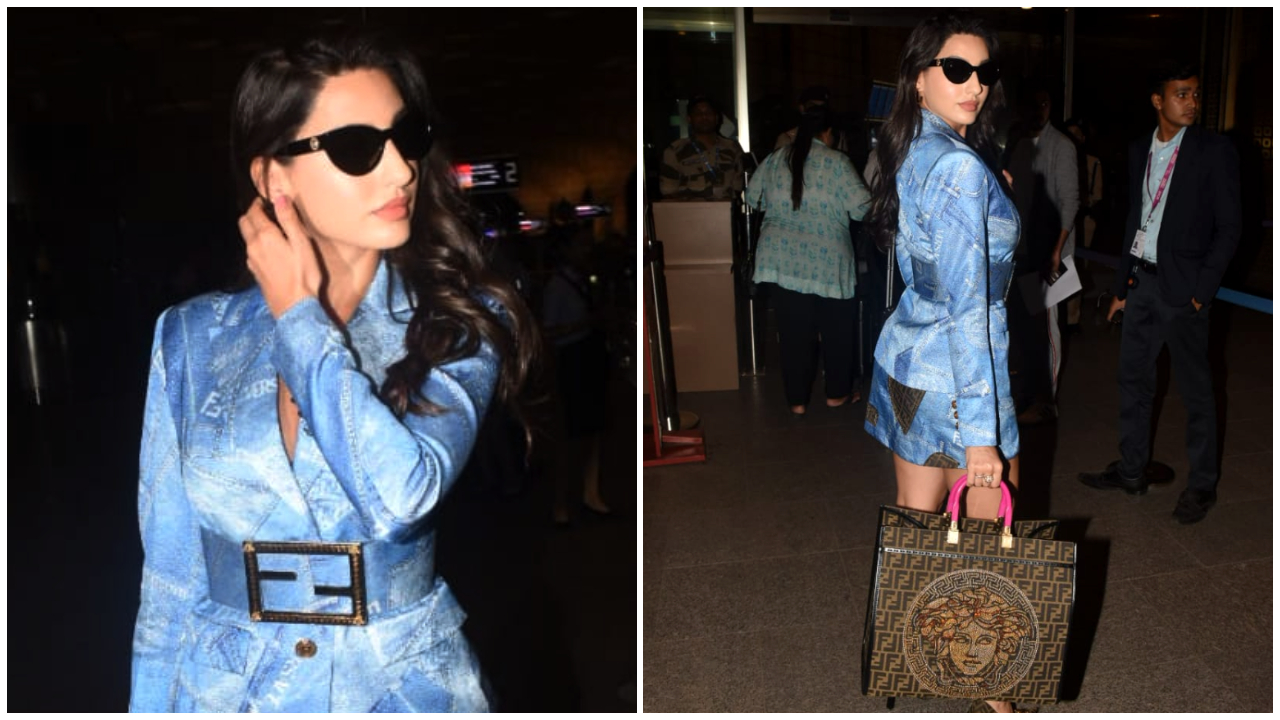 Nora Fatehi's recent airport look has certainly caught the attention of fashion enthusiasts, showcasing her impeccable sense of style. The co-ordinated denim outfit from Fendace, a fusion of Fendi and Versace, speaks volumes about her ability to effortlessly embrace and rock chic creations.
The combination of Fendi and Versace in the form of Fendace is a match made in fashion heaven. Nora Fatehi's choice to don this co-ordinated denim outfit exemplifies her confidence and flair for making bold fashion statements. The fusion of two iconic brands adds a touch of luxury and exclusivity to her ensemble, making it a standout choice.
Nora's fondness for fashion collaborations is evident from her embrace of outfits established by Fendi x Versace. Her willingness to experiment with diverse styles underscores her adventurous spirit in the realm of fashion. By opting for outfits that merge the aesthetics of renowned brands, she showcases a keen understanding of the evolving fashion landscape.
As Nora travels to Abu Dhabi for the star-studded IIFA event, her choice of a new outfit is a testament to her dedication to maintaining her stylish persona. The anticipation of her appearance at such an esteemed gathering only heightens the excitement surrounding her fashion choices.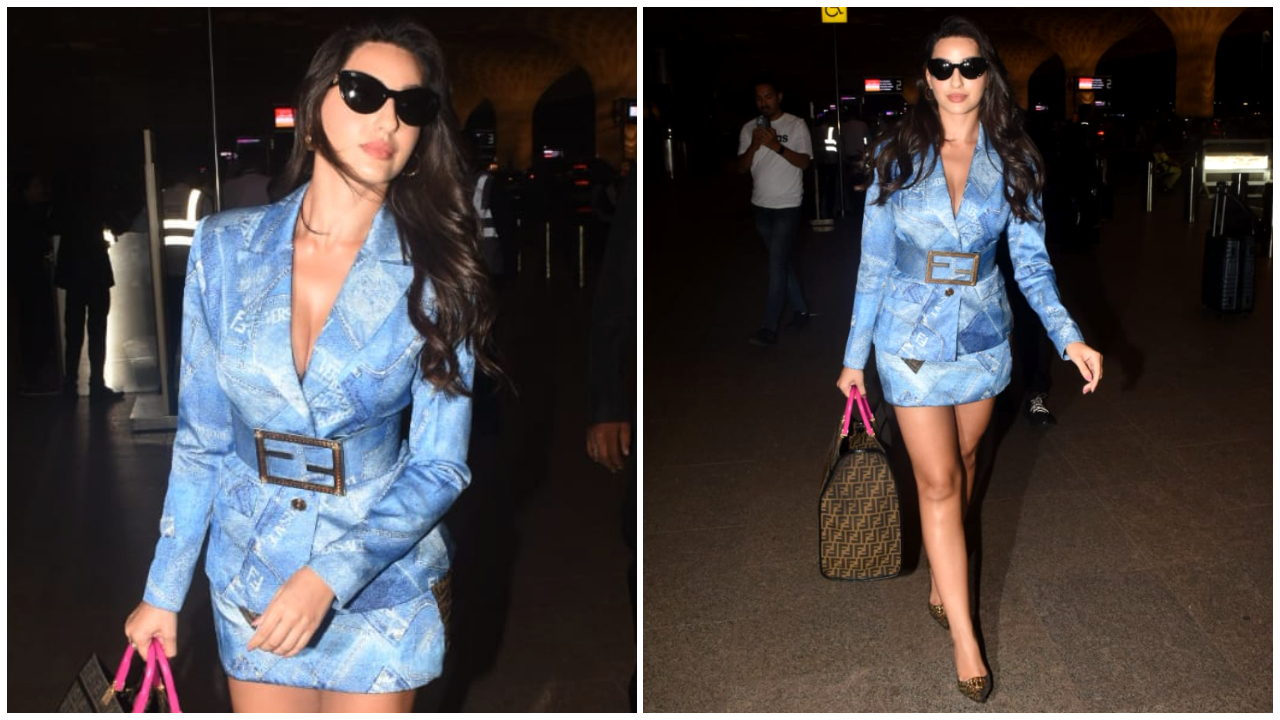 Nora Fatehi's single-breasted denim blazer, meticulously curated, showcased a captivating blend of design elements that exude modernity and opulence. The blazer's design featured an array of patchwork prints asymmetrically positioned, adding an artistic and dynamic touch to the ensemble. The notch lapel and flap pockets contributed to the blazer's structured elegance, while the deep neckline added a hint of allure to the overall look.
The standout feature of the blazer was undoubtedly the Medusa buttons, a signature hallmark of Versace. These buttons added a luxurious and iconic touch, instantly elevating the blazer's aesthetic. The inclusion of metallic threading further accentuated the blazer's visual appeal, creating a harmonious interplay of textures and details.
Crafted from a blend of materials including polyester, cupro, and metalized polyester, the blazer's composition ensured both comfort and sophistication. The fabric selection speaks to Versace's dedication to creating pieces that not only look exquisite but also feel exceptional against the skin.
With an approximate value of Rs 99,909.15, the blazer reflects the investment in high-quality materials, meticulous craftsmanship, and the fusion of artistic elements that make it a true work of wearable art.
Nora's choice to pair the blazer with a mini skirt priced around Rs 1,94,440.18 demonstrates her fashion prowess in creating a cohesive and dynamic outfit. The ensemble injects a dash of summery vibrancy into her travel look, effortlessly blending sophistication with a contemporary spin.
In essence, Nora Fatehi's travel ensemble, comprising the intricate single-breasted blazer and mini skirt, exemplifies her ability to embrace high-fashion pieces with finesse. The ensemble's attention to detail, luxurious materials, and creative design elements truly embody the spirit of Versace's iconic aesthetics. With this outfit, she skillfully captures the essence of a stylish and summery travel look, leaving an indelible mark on the fashion landscape.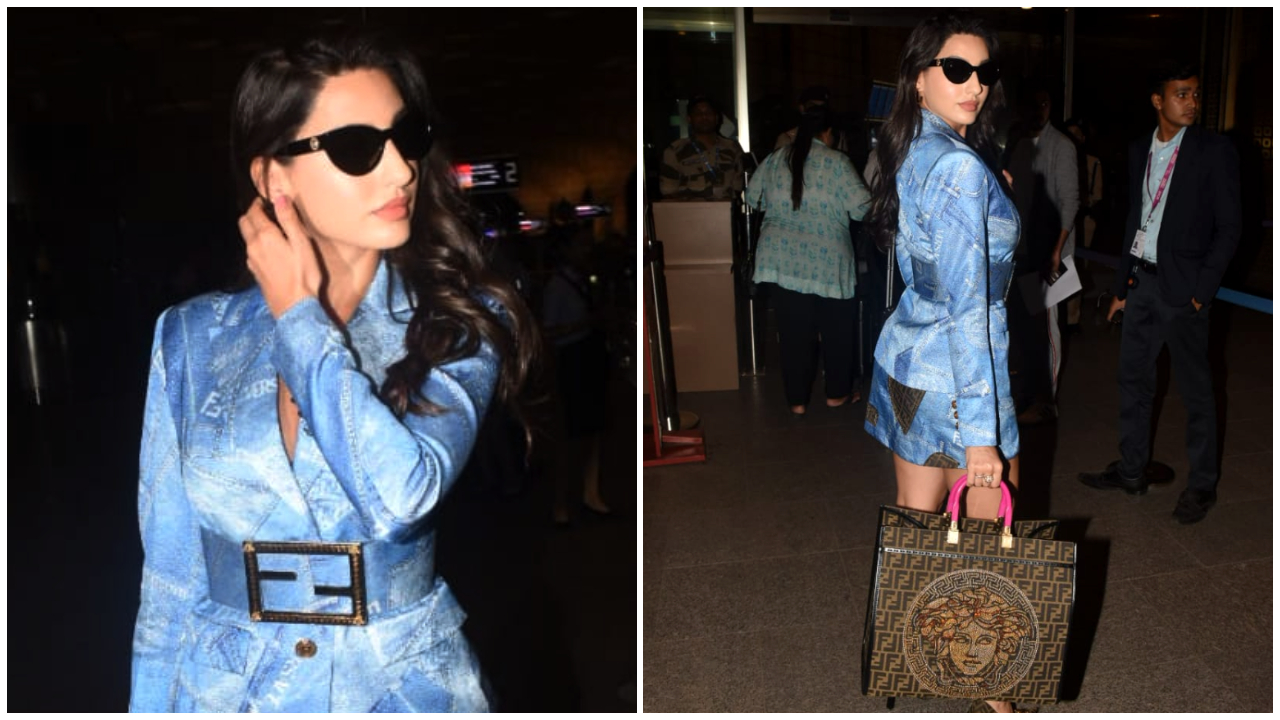 Nora Fatehi's commitment to her Fendace ensemble is evident in the thoughtful details she added to complete her look. Every element she chose served to enhance the overall aesthetic, creating a harmonious and stylish appearance.
Starting with her choice of accessories, Nora's mini gold hoop earrings were a subtle yet impactful addition. These earrings effortlessly complemented her outfit, adding a touch of elegance and continuity to the ensemble. By opting for classic gold hoops, she ensured that her accessories didn't overpower the statement pieces of her look.
Her black sunglasses added an air of mystery and sophistication to her appearance. Sunglasses not only serve a functional purpose but also contribute to the overall style. They are an excellent way to add an element of intrigue while maintaining a polished look.
The pointed-toe pumps, previously worn on a couple of occasions, demonstrate Nora's commitment to reimagining her wardrobe with versatile pieces. These pumps offer a sleek and timeless touch that pairs seamlessly with the ensemble. Their black color enhances the outfit's cohesion while adding a touch of sophistication to her look.
The square-shaped Sunshine tote bag, featuring pink top handles and gold baroque embellishments, served as a striking accessory that added vibrancy to her outfit. The bag's design details complemented the overall aesthetic, and its functionality made it a practical yet stylish addition.
Nora's wavy side-parted hairstyle added a touch of romanticism and movement to her overall look. The soft waves contributed to the relaxed and chic vibe she was aiming for. Her choice of a peach lipstick added a pop of color to her makeup, enhancing her natural beauty while maintaining the outfit's balance.
Nora Fatehi's meticulous attention to detail in completing her Fendace ensemble is a testament to her fashion sensibility. Her choice of accessories, footwear, and bag exemplifies her ability to curate a look that's not only stylish but also well-rounded and cohesive. With each element carefully chosen to enhance the overall impact, she showcases her expertise in crafting an ensemble that resonates with elegance and sophistication.
Absolutely, adding the right accessories can truly elevate your look and make it more visually enticing. Here are some tips on how to polish off your ensemble with sunglasses, jewelry, and footwear:
Sunglasses: Sunglasses not only protect your eyes from the sun but also add a stylish touch to your outfit. Choose a pair that complements the overall vibe of your look. Aviators, oversized frames, cat-eye shapes, or classic wayfarers are all great options, depending on your personal style. Remember, sunglasses can also be a statement piece, so don't be afraid to go for bold colors or unique designs.
Jewelry: Rings and bracelets can add a touch of elegance and personality to your outfit. Delicate and stackable rings can be layered to create a unique look on your fingers. As for bracelets, consider a mix of bangles, cuffs, or even a watch. The key is to strike a balance between simplicity and extravagance, depending on the formality of your ensemble.
Footwear: Pumps or stilettos are excellent choices for adding sophistication and height to your look. They instantly elongate your legs and create a more refined silhouette. Nude or black pumps are versatile options that can be paired with a wide range of outfits. If you're feeling adventurous, you can also opt for statement heels with unique textures or embellishments.
Remember, the art of accessorizing is all about balance. If your outfit is already busy with patterns or bold colors, opt for more subtle accessories. Conversely, if your outfit is minimalistic, you have room to play with bolder and more eye-catching accessories.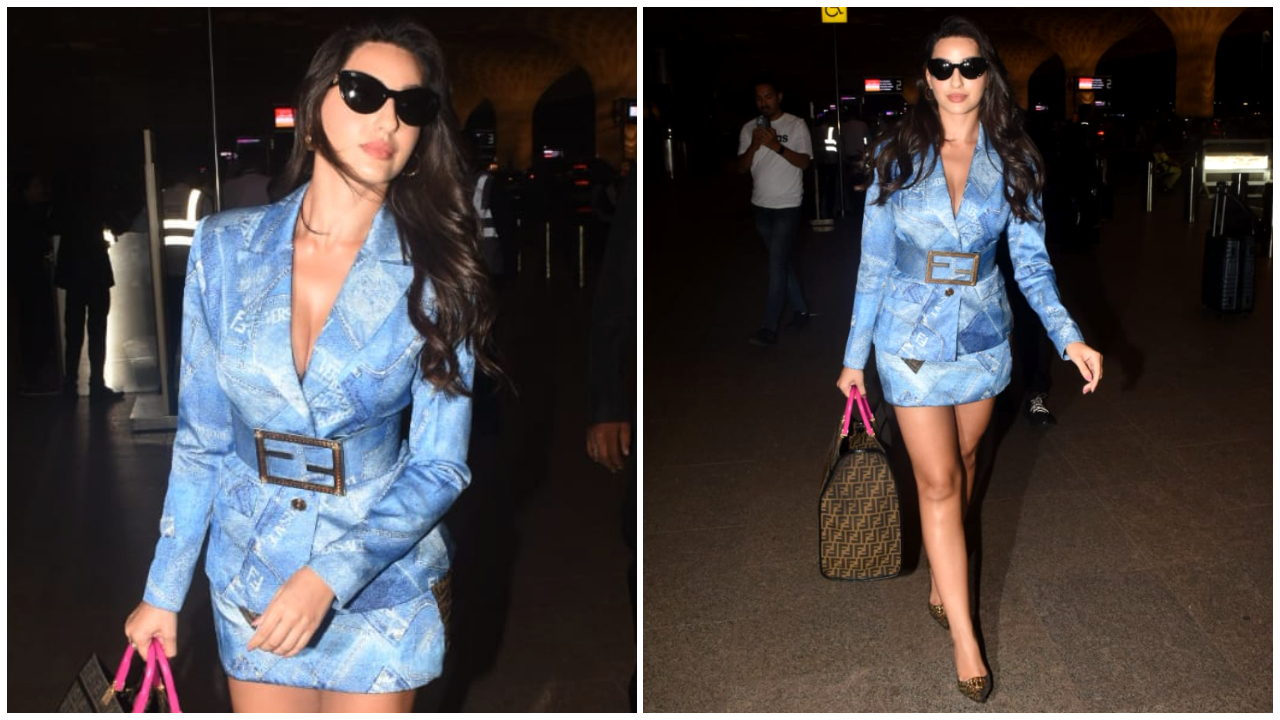 Ultimately, accessories are a wonderful way to express your personal style and add that extra "wow" factor to your ensemble. Experiment with different combinations to find what works best for you, and don't be afraid to step out of your comfort zone and try new things.