Nora Fatehi Empowers Art-Meets-Fashion Mood with a Colorful Co-ord Set!
Nora Fatehi, the Bollywood diva and international sensation, is not just known for her impeccable dance moves but also for her remarkable fashion sense that sets her apart in the industry. With every appearance, she manages to make a bold statement, leaving her fans and fashion enthusiasts in awe. Nora's style can be described as a perfect blend of contemporary and chic, with a touch of her own unique flair. Whether it's a red carpet event or a casual outing, she effortlessly experiments with various styles, always managing to exude confidence and elegance.
But Nora Fatehi's fashion prowess doesn't end there. She is known for her daring and experimental approach to fashion, constantly pushing the boundaries and challenging traditional norms. Whether it's rocking an edgy street style look or donning an ethereal couture gown, she knows how to make a statement with her fashion choices. Her keen sense of style and willingness to take risks have made her a favorite among designers and fashion enthusiasts alike.
Nora's love for accessorizing sets her apart from the crowd. She knows how to pick the right pieces to elevate her outfits, whether it's a bold statement necklace, elegant earrings, or a chic handbag. Her attention to detail ensures that every aspect of her look is carefully curated, adding an extra layer of sophistication to her overall appearance.
Beyond her impeccable fashion sense, Nora Fatehi's remarkable talent as an actress, dancer, and model shines through in every endeavor she undertakes. Her charismatic on-screen presence and mesmerizing dance moves have earned her a massive global following, making her an influential figure not just in the fashion world but in the entertainment industry as well.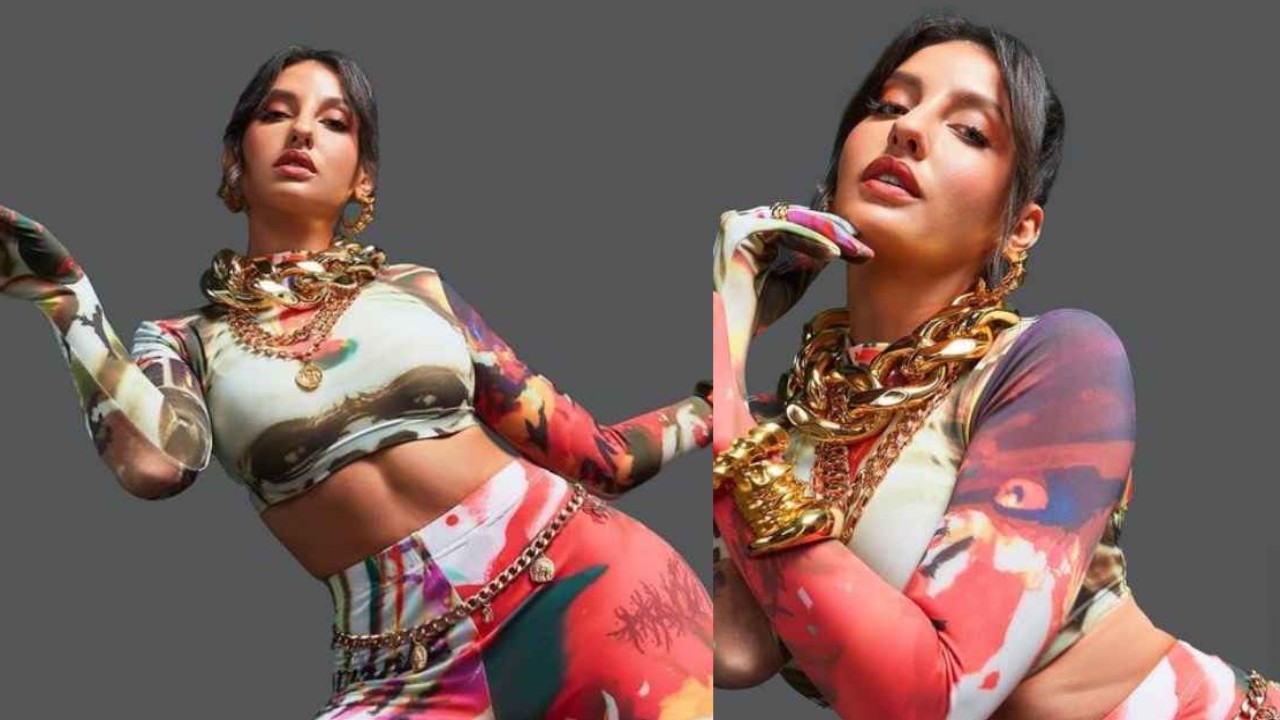 Nora Fatehi's choice to wear this Huemn co-ord set showcased her appreciation for cutting-edge fashion and her willingness to embrace the unconventional. The avant-garde nature of the outfit perfectly matched her bold personality and artistic flair. The mix of vibrant colors and abstract patterns made her look like a walking masterpiece, captivating everyone's attention.
It's no surprise that Nora effortlessly posed like a living artwork in this ensemble. Her confidence and poise added an extra layer of elegance to the already captivating outfit. By choosing this unique co-ord set, she proved once again that she is not afraid to step out of her comfort zone and experiment with fashion, making her a true trendsetter.
Huemn's designs are known for pushing the boundaries of creativity, and this co-ord set was no exception. The fusion of geometric and abstract shapes on the fabric showcased the brand's commitment to innovative and thought-provoking fashion. Nora Fatehi's choice to wear this ensemble not only highlighted her impeccable fashion sense but also served as a testament to her appreciation for art in all its forms.
With this remarkable fashion moment, Nora Fatehi left a lasting impression on the fashion world, inspiring others to embrace their individuality and explore the endless possibilities that fashion offers. As she continues to surprise and captivate with her style choices, we can't wait to see what other fashion masterpieces she'll unveil in the future.
Nora Fatehi's choice of the Huemn co-ord set perfectly showcased her sartorial prowess and innate ability to select outfits that flatter her figure. The silhouette of the ensemble expertly accentuated her curves, creating a harmonious balance of grace and fluidity. As she moved, the vibrant colors and intricate patterns on the fabric seemed to come alive, evoking the feeling of witnessing a stunning painting in motion.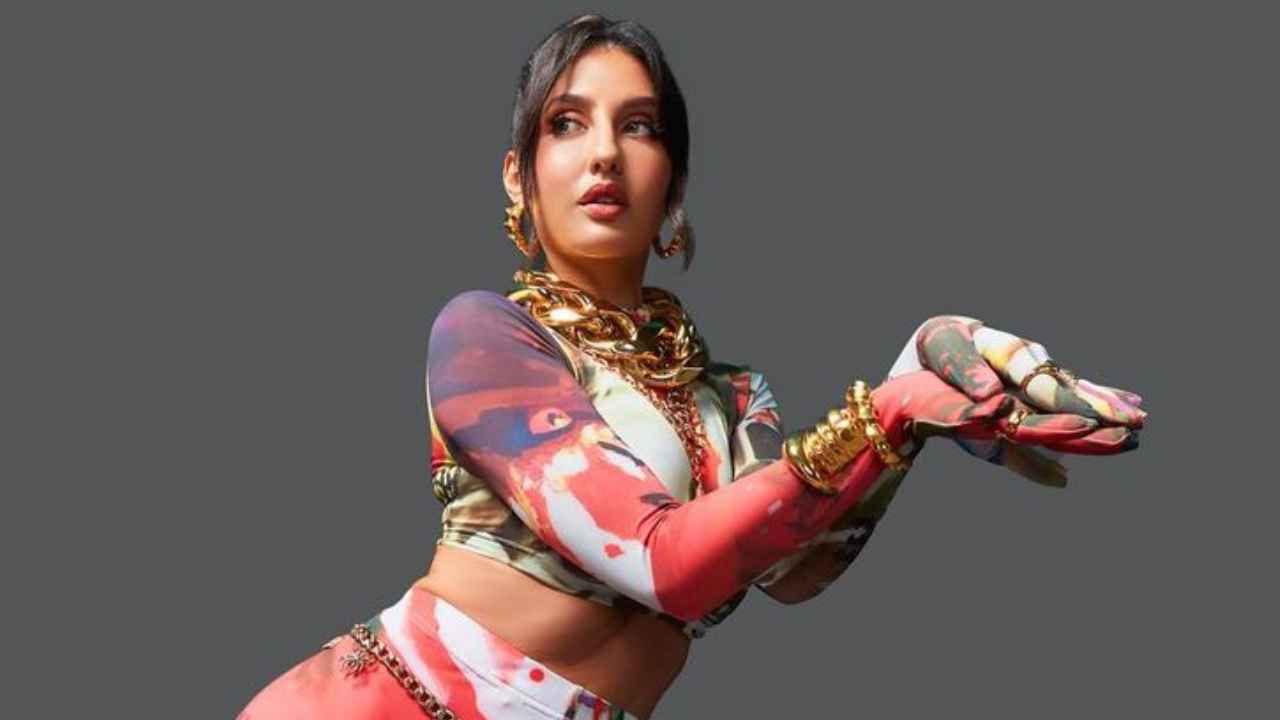 The crop top, priced at Rs. 6,500, added a touch of contemporary flair to the overall look. Its bold design and perfect fit complemented Nora's toned midriff, adding a dash of confidence to her demeanor. The matching figure-hugging leggings, also worth Rs. 6,500, beautifully emphasized her long, lean legs, creating a seamless and cohesive ensemble.
Beyond its aesthetic appeal, the co-ord set was a testament to Nora Fatehi's fashion sensibility and her ability to pull off bold and unconventional styles with ease. Her choice to wear this outfit not only displayed her appreciation for Huemn's avant-garde designs but also showcased her willingness to invest in artistic and unique pieces.
As a fashion icon, Nora's endorsement of this co-ord set undoubtedly brought attention to Huemn's creative and innovative approach to design. Her influence in the fashion industry continues to inspire fans and designers alike, encouraging them to explore boundary-pushing styles and celebrate fashion as a form of artistic expression.
In the world of fashion, Nora Fatehi's enchanting presence and style choices continue to leave an indelible mark, reminding us that fashion is not just about clothing, but an art form that allows individuals to express their personalities and embrace their uniqueness.
Indeed, the Huemn co-ord set served as the perfect canvas for Nora Fatehi's artistic persona to shine through. With its contemporary design and avant-garde elements, the outfit allowed her to make a bold and creative statement, aligning perfectly with her unique sense of style.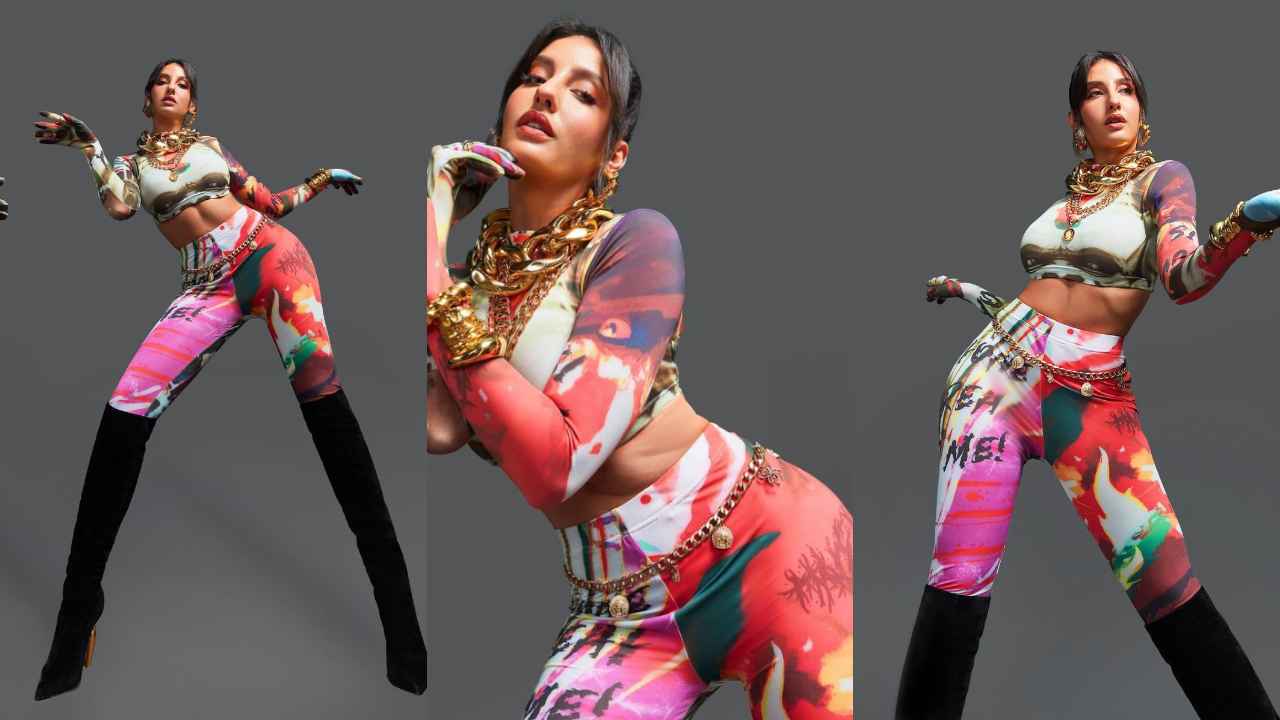 The ensemble's harmonious blend of colors, patterns, and textures was reminiscent of the abstract art movements that emerged in the 20th century. The designers at Huemn demonstrated their artistic prowess by skillfully incorporating these elements into the fabric, creating a mesmerizing and visually captivating piece.
The outfit's abstract patterns and artistic motifs added depth and intrigue to Nora's overall look, drawing attention to her as if she were a living work of art. The way the colors flowed seamlessly together and the patterns intertwined echoed the artistic freedom and experimentation often associated with abstract art.
By choosing this distinctive co-ord set, Nora Fatehi not only showcased her fashion-forward approach but also celebrated the concept of fashion as an art form. Her ability to express herself through her outfit choices further solidified her status as a trendsetter in the industry.
As an artist herself, Nora's appreciation for the outfit's creative design and its nod to abstract art movements was undoubtedly evident. Through this ensemble, she conveyed her affinity for art and demonstrated that fashion can be a means of self-expression, much like a painting or a sculpture.
Nora Fatehi's fashion artistry reached new heights with her choice of accessories and makeup to complement the Huemn co-ord set. The addition of the Condora Botta Alta boots from Christian Louboutin elevated the ensemble to a whole new level of luxury and sophistication. The knee-length black boots seamlessly integrated with the artistic flair of the co-ord set, creating a visually striking and cohesive look. The iconic red sole, synonymous with Christian Louboutin, added a touch of opulence, accentuating the overall glamour of Nora's ensemble.
The meticulous attention to detail in her accessorizing further accentuated the contemporary work of art she donned. The gold neckpiece from Pipa Bella, along with the earrings, ring, and bangle from MISHO by Suhani Parekh, perfectly complemented the outfit, adding a touch of elegance and finesse.
Nora's hairstylist, Marce Pedrozo, skillfully crafted a classy updo that enhanced the overall sophistication of the look. Her makeup, featuring a perfectly applied rouge blush, shimmery eyeshadow, and a peach-orange lipstick, brought out her natural beauty while perfectly harmonizing with the vibrant colors of the co-ord set.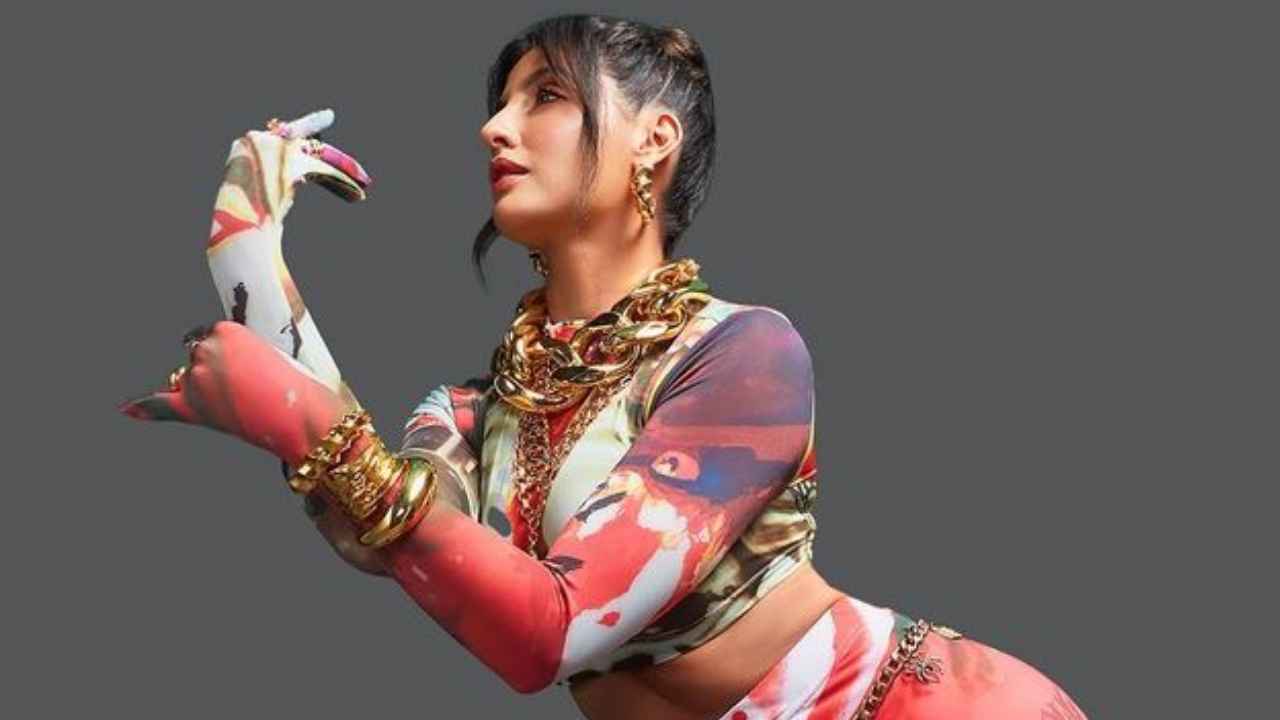 The way Nora Fatehi carried herself in this ensemble exuded poise, confidence, and charisma, giving off an aura of a living sculpture. Her presence and grace captured the boundless creativity of modern art, reaffirming her status as a fashion icon and a true embodiment of artistic expression.
As Nora continues to push the boundaries of fashion and embrace her artistic persona, she serves as an inspiration to fashion enthusiasts and artists alike, reminding us that fashion can be an extension of one's creativity and individuality. Her ability to transform an outfit into a captivating visual spectacle cements her place as a prominent figure in the world of fashion and entertainment.