Fashion is the armor that allows you to face the realities of everyday life. A product is a souvenir, and a brand is a voice. When done with a reputable brand, shopping is a fantastic virtue.
Everyone, from a two-year-old toddler to a 60-year-old man, wants to grow up in fashionable branded clothing. A good brand offers you good quality at an affordable price. In addition to this, some of the most common characteristics that are looked into while shopping for clothes from brands are consistency, passion, distinctiveness. One of the brand characteristics that help customers recognize and differentiate one product from another is the brand name.
Here are top 10 fashion brands that have over the years provided a variety of apparel and most trusted brands when it comes to shopping:
1

.

Allen Solly
Allen Solly is a brand that has given birth to a whole new type of consumer. Its superb fashion developed a sophisticated casuals sector in India when it was launched in 1993. Madhura Fashion & Lifestyle, a branch of Aditya Birla fashion and retail limited, launched Allen Solly in India. Allen Solly is one of India's most well-known brands. Allen Solly is a pioneer for western wear in India, and its Friday dressing fashion idea redefines workwear in the country.
2. Park Avenue
This brand essentially offers well-dressed males fashionable and unique clothing alternatives. Its designs reflect the most up-to-date international fabric, styling, color, and fashion trends as India's premium lifestyle brand. In addition, during the 2015 Images Fashion Awards, the brand was awarded the 'Best Design Concept' of the Year Award for Innovative AUTOFIT Concept. 
3. Van Heusen 
Aditya Birla manufactures and markets Van Heusen, the world's best-selling shirt brand, which offers a comprehensive range of trendy Men's and Women's dress shirts, neckwear, slacks, polos, blazers, and more. Van Heusen adds fashion-forward power dressing to the wardrobe of today's multi-faceted professional. Van Heusen also offers a refined elegance that reflects today's style statement. With power-packed details and excellent fabrics, it focuses on self-expression and individualism. Van Heusen has successfully defined corporate attire for both ladies and men.
4. Pepe jeans 
It is a denim and casual wear jeans brand, as the name implies. Three brothers started the company in 1973 with a weekend stall at London's Portobello Road Market, before expanding to a store on Carnaby Street and then across Europe in the 1980s. T-shirts, jeans, standard fit shirts, polo shirts, capris, and other items are available. 
5. Peter England
Peter England, one of India's most trusted garment brands, specialised in men's clothing and is one of the country's most well-known fashion labels. Madura Fashion owns it and offers the most up-to-date formal clothing for guys. It features a large variety that includes everything a man needs in his wardrobe. They offer casual shirts, casual trousers, jeans, t-shirts, polos, shorts, and chinos for everyday wear. They bought joggers and track trousers for exercise. They also sell undershirts, undergarments, and vests for innerwear. 
6. Biba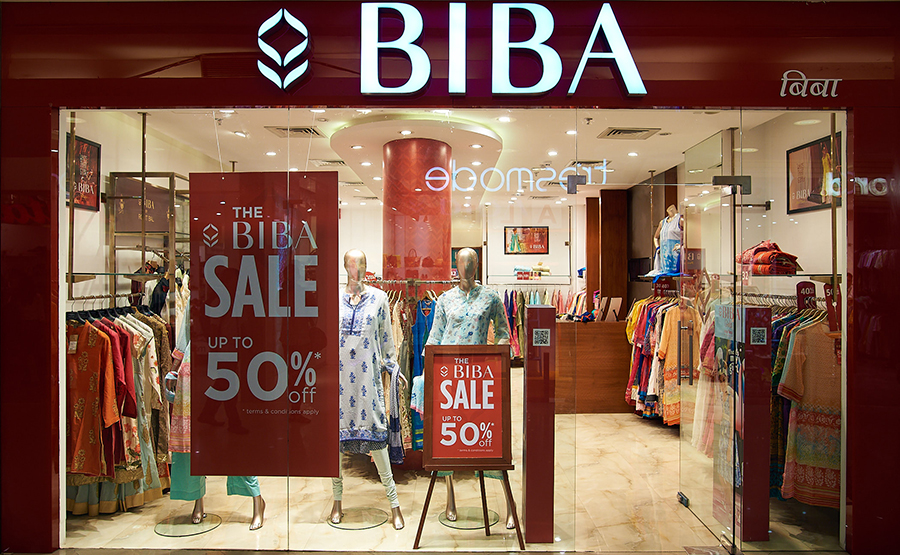 Meena Bindra launched Biba, a high-end apparel line for women and girls, in 1988. Despite its humble beginnings, the business quickly blossomed into one of India's fashion behemoths. Biba is known for creating enticing ethnic wear, such as Salwar Kameez and Churidars, with traditional Indian motifs and hues. The mix-and-match collection is popular among college students and professional women since it combines tradition with contemporary.
7. Levis
In India, Levi's is one of the most well-known brands. Levi Strauss & Co., based in San Francisco, owns it. Jeans, shorts, shirts, t-shirts, trousers, jackets, underwear, socks, shoes, skirts, belts, overalls, jumpsuits, and a big and tall assortment are all available. In addition, Levi's jeans come in a wide variety of styles. Skinny, slim, bootcut, taper, flare, relaxed, and big & tall are some of the styles available. 
8. Louis Phillipe
Louis Philippe is a high-end Indian men's clothing brand. Louis Philippe is an Indian brand named after King Louis Philippe of France. Louis Philippe, which is owned by the Aditya Birla Group, is one of India's top garment companies, as well as a shoe, watch, and wallet manufacturer. 
9. Fab India
Fab India is a local fashion label that has earned a lot of attention for its eye-catching collection, which is a mix of ethnic and western styles. It placed a greater emphasis on high-quality apparel than anything else, which is evident in its designs. Due to its great quality and diversity, Fab India has grown tremendously in recent years, with several stores around the country. 
10. Monte Carlo 
Monte Carlo is a fashion house that offers a diverse range of clothing for men, women, and children. The brand takes a functional, fashionable, and high-quality approach to clothes.