Kriti Sanon looks HOT in autumn-inspired white mini-dress with off-shoulder design and Rs. 3,35,395 Dior bag!
Bollywood boasts a plethora of undoubtedly fashionable actresses, but it's safe to say that Kriti Sanon stands out at the top of this illustrious list. The stunning actress, best known for her role in "Ganapath," has not only made a mark in the industry for her acting prowess but also for her impeccable fashion choices. Kriti's style is a captivating blend of elegance, trendiness, and a unique flair that sets her apart from the crowd.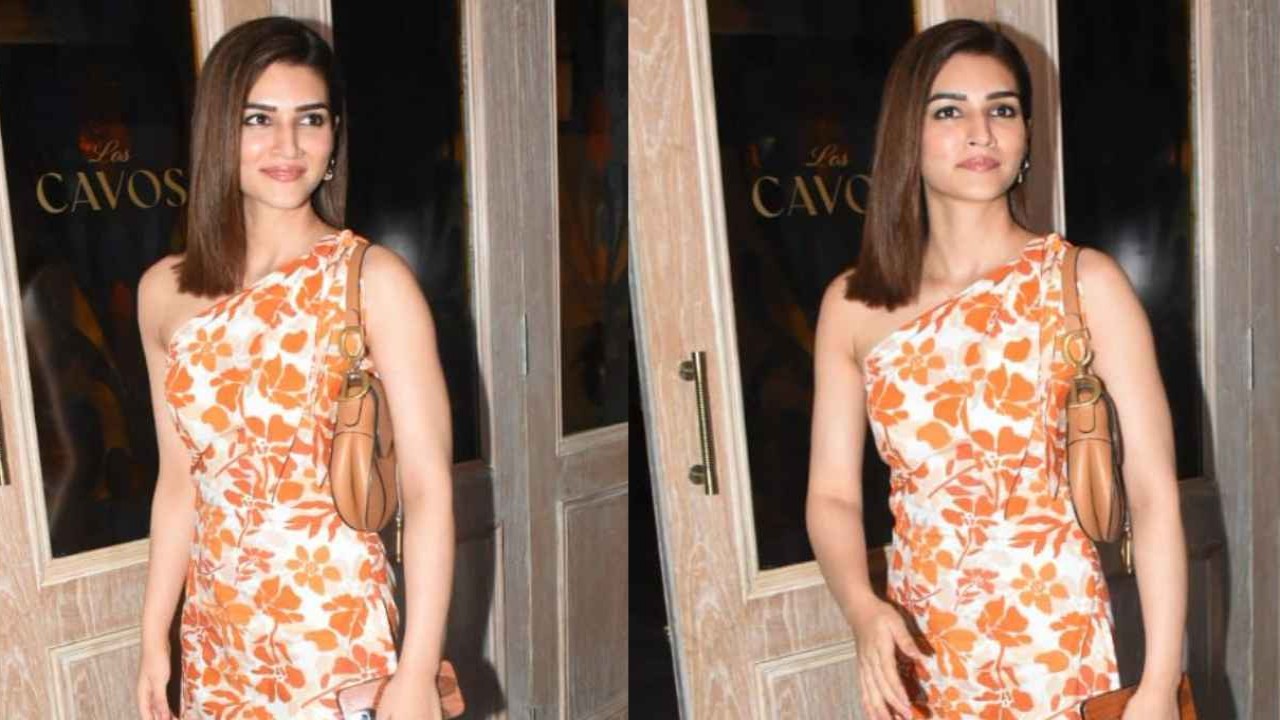 Recently, the immensely talented "Bhediya" actress made a remarkable appearance in Los Cavos, Mumbai, that sent fashion enthusiasts into a frenzy. Her choice of attire was a testament to her remarkable sense of style. She graced the event in a stunning white mini-dress that had all the elements of a showstopper. The dress was a masterpiece in itself, featuring adjustable straps and a slim-fit silhouette that accentuated her curves flawlessly.
Kriti Sanon's fashion choices have a distinct charm, and she effortlessly exudes class and sophistication with every outfit she wears. Her white mini-dress in Los Cavos, Mumbai, was a testament to her innate style sensibilities and her ability to turn heads wherever she goes. It's no wonder that she continues to be a fashion icon in the Bollywood industry, setting trends and inspiring countless fashion enthusiasts along the way.
For her night out, Kriti Sanon made quite the stylish entrance, and the paparazzi couldn't get enough of her. She was spotted stepping out in a gorgeous white mini-dress that was adorned with a captivating floral print in autumn-inspired colors. This choice of outfit showcased her fashion-forward sensibilities and her ability to stay in sync with the seasonal trends.
The thigh-length dress was a real showstopper, with its unique design elements. On one side, it featured a chic one-shoulder style with an interesting tie-up detail at the back, adding a touch of sophistication and intrigue to her look. On the other side, the dress was sleeveless, with an asymmetrical neckline that lent an edgy and contemporary vibe to her ensemble.
Kriti Sanon's fashion choices are a testament to her ability to embrace diversity in design, effortlessly blending classic elements with modern twists. Her white mini-dress with its autumn-inspired floral print was a striking choice that not only highlighted her style but also made her the center of attention on her night out. It's clear that Kriti knows how to make a statement with her fashion, and she continues to be an inspiration for fashion enthusiasts everywhere.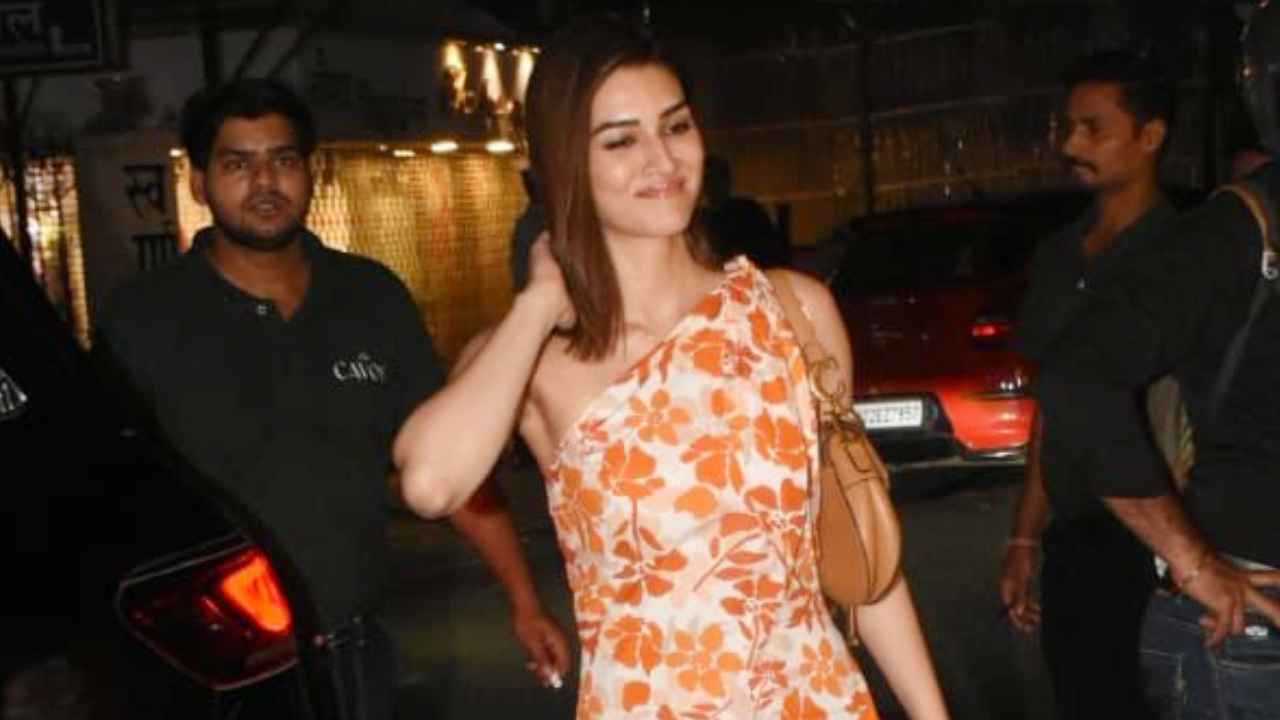 Kriti Sanon's choice of attire for her night out is not only stylish but also budget-friendly. She was seen donning a 100% cotton dress from the brand Summer Somewhere, which came with a modest price tag of Rs. 5,990. This demonstrates that you don't need to break the bank to look fashionable, and Kriti is setting an example of affordable yet chic dressing.
The dress not only appealed to the wallet but also had the style elements to turn heads. It featured adjustable straps, allowing for a customized fit, and a slim fit silhouette that hugged her curves in all the right places. This design accentuated her figure flawlessly, highlighting her innate grace and elegance.
Kriti Sanon, known for her versatility in both acting and fashion, looked undeniably amazing in this budget-friendly yet stunning outfit. Her ability to make affordable fashion choices appear glamorous is commendable, and it's no wonder that her style resonates with many. Her appearance in this dress from Summer Somewhere is a reminder that you can look fabulous without overspending, making her a fashion icon worth admiring.
Kriti Sanon's fashion choices extend beyond her clothing and include her impeccable choice of accessories. To complete her stylish outfit, the talented actress opted for sleek white-colored flat sandals. This choice not only added comfort to her look but also contributed to an overall harmonious appeal, seamlessly blending with the white mini-dress and enhancing her elegant presence.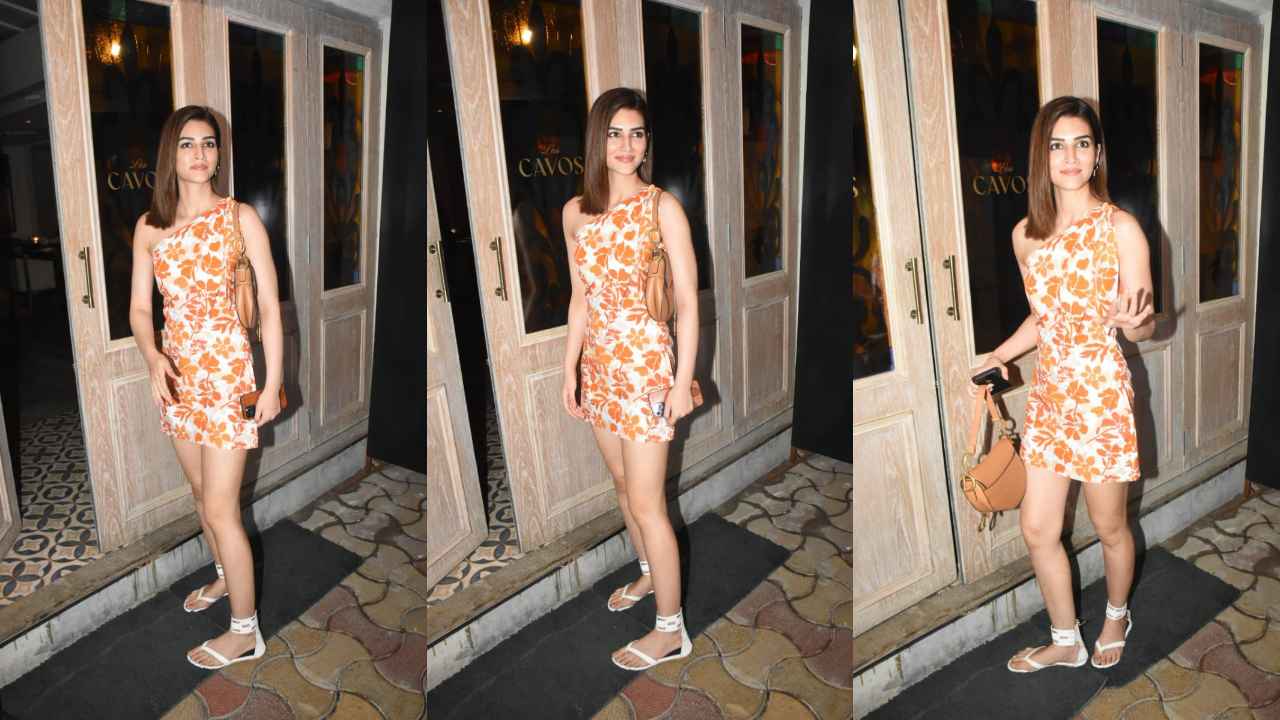 In the accessory department, Kriti decided to take the minimalistic route. She selected a pair of dainty earrings that perfectly complemented her attire without overpowering it. This minimalist approach to jewelry allows the focus to remain on her outfit and natural beauty, showing her sophistication and attention to detail.
Adding a touch of luxury to her ensemble, the "Shehzada" actress chose to carry a Dior Golden saddle-grained calfskin bag. This designer bag was a statement piece, elevating her overall look and adding a touch of opulence to her otherwise understated outfit. Kriti's choice of accessories demonstrates her ability to strike a balance between minimalism and luxury, making her a true fashion maven in the industry.
Last but certainly not least, let's discuss Kriti Sanon's impeccable hair and makeup, which added the finishing touches to her stunning appearance. The "Housefull 4" actress's hair and makeup game was undeniably on point.
For her hairstyle, the classy "Raabta" actress opted for a sleek and straight look with a side parting. This hairstyle not only exuded elegance but also framed her face to perfection. The straight hair highlighted her facial features and added a touch of sophistication to her overall ensemble, showcasing her keen sense of style.
Kriti's makeup was equally flawless. She appeared to have chosen a makeup palette that emphasized a natural and radiant look. Her makeup complemented her attire and hairstyle, enhancing her beauty without being overpowering. The result was a polished and refined appearance that truly showcased Kriti Sanon's understanding of how to put together a harmonious and well-balanced look.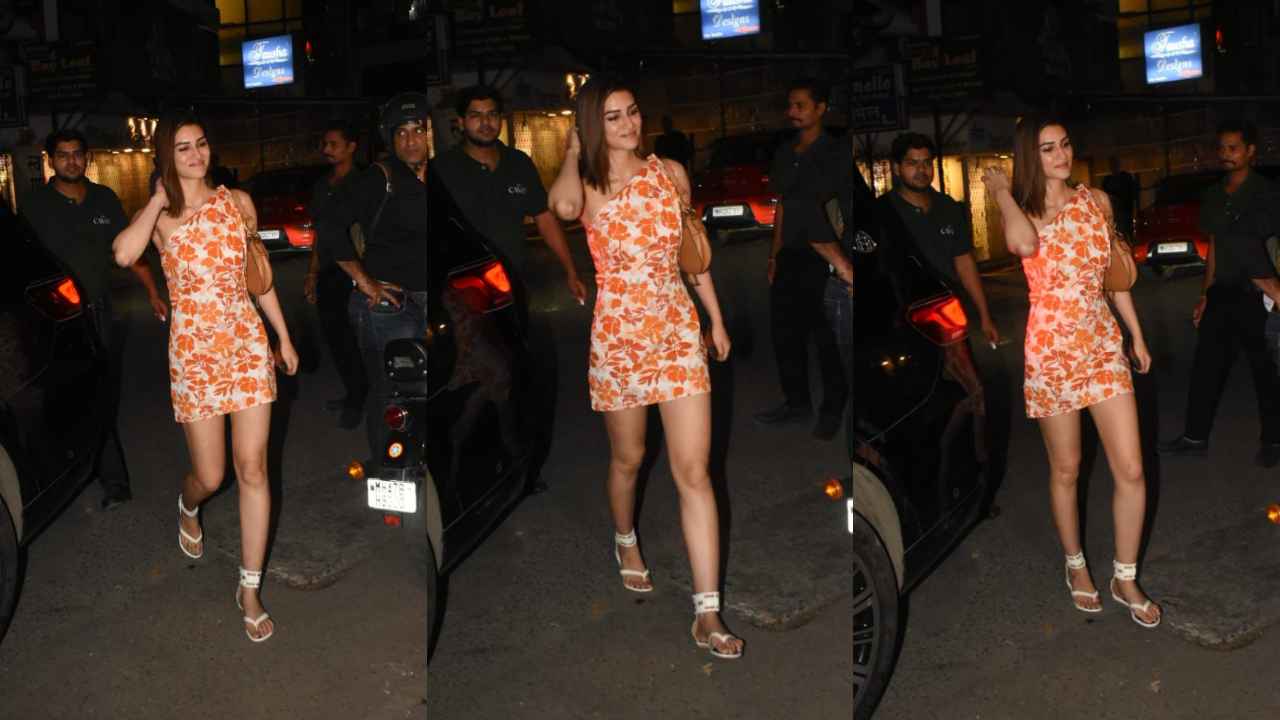 In sum, Kriti Sanon's attention to detail when it comes to her hair and makeup further solidifies her status as a true fashion icon. Her ability to flawlessly execute every aspect of her appearance, from clothing to accessories to hairstyling and makeup, continues to inspire and captivate fashion enthusiasts and fans alike.