Khushi Kapoor's pink Rs. 2,23,106 off-shoulder corded lace bodycon midi dress from Marchesa is a must-have!
In the dazzling and glitzy world of Bollywood, where stars shine brighter than the constellations, a new sensation has emerged in the form of Khushi Kapoor. This young Gen-Z diva is not only gaining recognition for her acting talent but is also making a significant impact with her impeccable sense of style. Recently, as "The Archies" actress, Khushi Kapoor managed to captivate everyone's attention and set the fashion world abuzz with her choice of attire.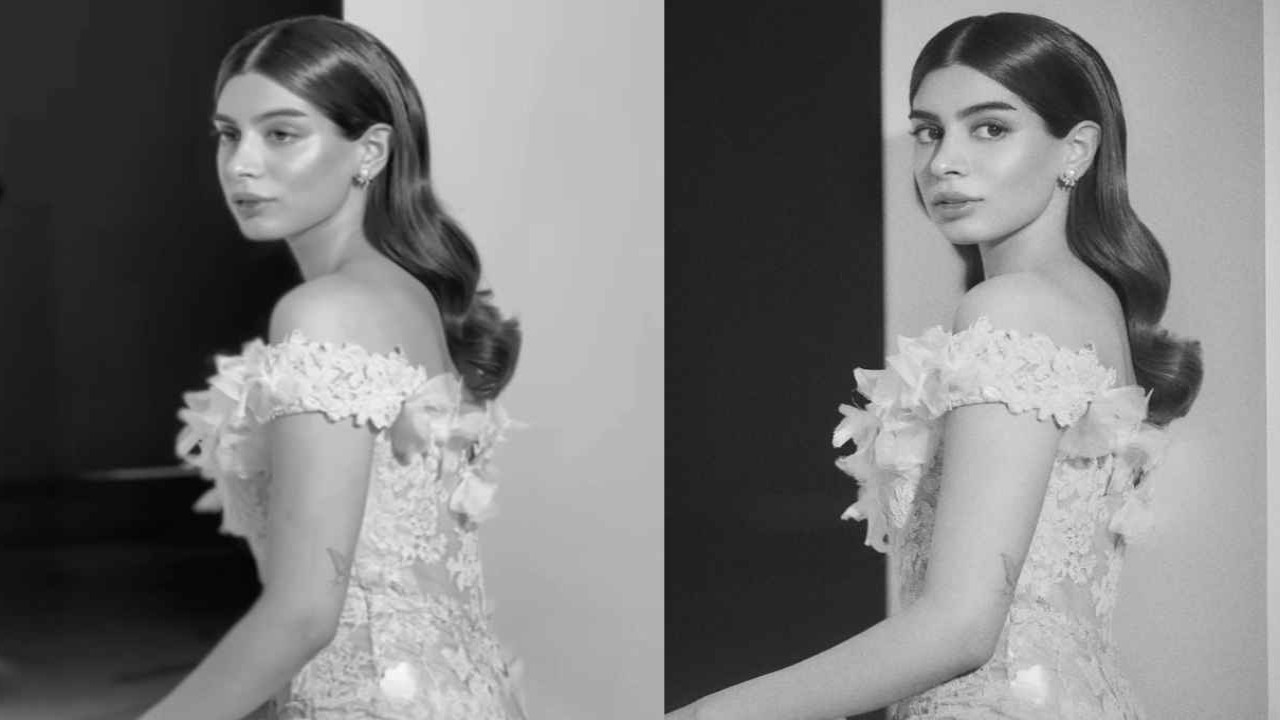 Her stunning outfit was none other than a magnificent pink off-shoulder midi dress from the renowned fashion house, Marchesa. This choice of attire spoke volumes about her fashion sensibilities and her ability to make a statement in the world of glamour. Marchesa, known for its high-end and elegant designs, perfectly complemented Khushi's charismatic presence.
Khushi Kapoor's choice of the off-shoulder pink midi dress demonstrated her understanding of fashion and her willingness to explore and embrace luxury brands. Her appearance in this ensemble not only solidified her status as a style icon but also hinted at a promising career ahead, both on and off the silver screen. Khushi Kapoor has undoubtedly made a remarkable entry into Bollywood's fashion elite, and her fashion choices continue to inspire and excite fashion aficionados around the world.
Khushi Kapoor's appearance in the pink off-shoulder corded lace midi dress was nothing short of a fashion revelation. This exquisite ensemble was a masterpiece that beautifully showcased her innate sense of style. The dress itself was an embodiment of grace and sophistication, exuding an aura of timeless elegance.
The straight neckline of the dress was adorned with exquisite 3D flowers, adding a touch of romantic charm and intricate detailing to the outfit. This delicate embellishment enhanced the dress's overall allure, making it a true work of art.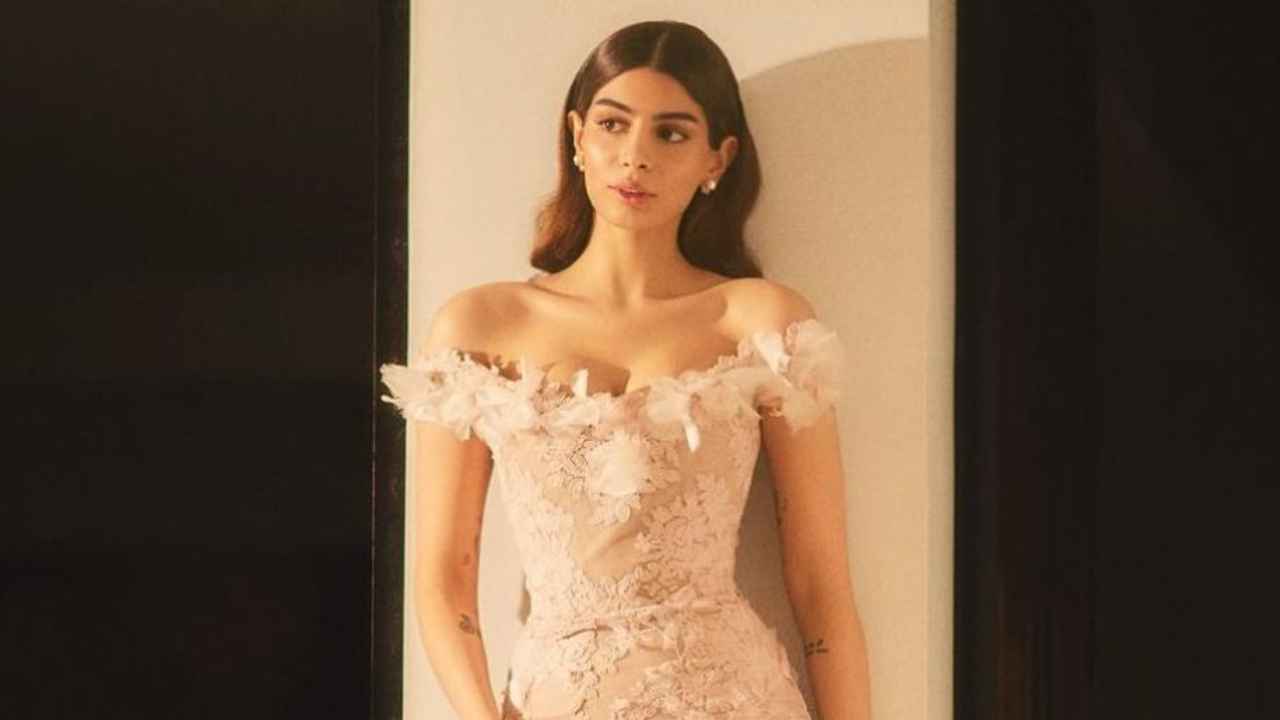 The blush pink organza fabric of the dress clung to Khushi like a second skin, accentuating every curve and contour of her figure. This snug fit not only highlighted her natural beauty but also made her appear ethereal and otherworldly. Khushi Kapoor's choice of attire was a testament to her ability to embrace both grace and contemporary fashion trends, and it undoubtedly left a lasting impression in the world of high fashion and style.
The bodycon silhouette of the dress gave Khushi Kapoor an alluring charm that left onlookers captivated. This figure-hugging design not only accentuated her natural grace but also showcased her confidence in carrying such a bold and contemporary style. The dress's bodycon fit was a perfect choice for Khushi, as it highlighted her curves and added an element of allure to her overall look.
The allure of this dress was further heightened by its asymmetrical edges, which brought a touch of avant-garde to the ensemble. This unconventional detail added a layer of modernity to the otherwise timeless elegance of the dress, demonstrating Khushi's willingness to experiment with her style and her ability to seamlessly blend classic and contemporary elements.
The plunging neckline of the dress lent a sultry and daring edge to the entire ensemble. It showcased the diva's confidence and panache, making it clear that Khushi Kapoor was not just a rising star in Bollywood but also a fashion maven who knew how to make a statement. Her choice of attire was bold, stylish, and confident, cementing her position as a young fashion icon to watch in the ever-evolving world of glamour and high fashion.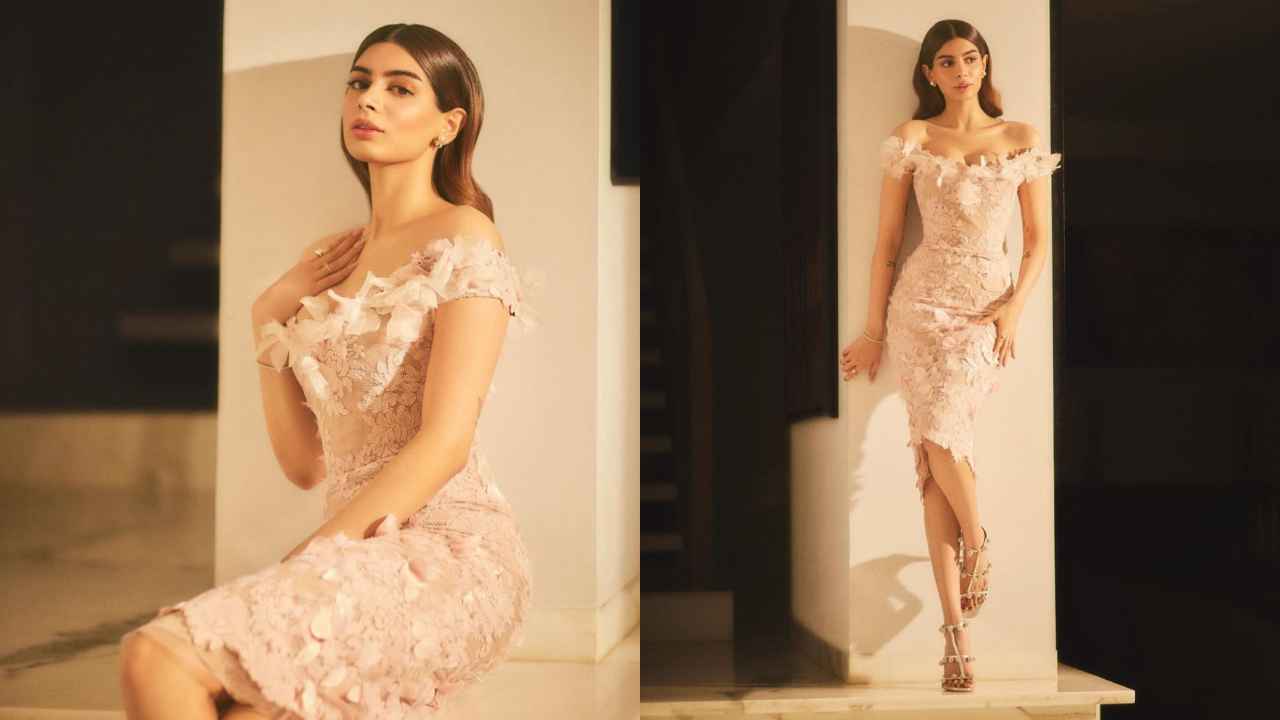 Furthermore, Khushi Kapoor's fashion acumen extended beyond just the dress itself. Her choice of strappy and stylish heels harmonized perfectly with the overall look. These heels not only complemented the dress but also added an extra touch of elegance, making her appear like a modern-day fairy-tale princess. Her choice of footwear showcased her attention to detail and her commitment to creating a well-coordinated and harmonious ensemble.
In the accessory department, Khushi Kapoor opted for a minimalist yet sophisticated approach. She expertly paired her dress with delicate pearl earrings, which added a layer of refinement to the overall look. These minimalistic earrings served to highlight her natural beauty and allowed the focus to remain on the dress and her inherent grace. This choice demonstrated her understanding of how to strike a perfect balance between fashion and subtlety, making her a true fashion icon in the making.
Khushi Kapoor's meticulous attention to the finer details of her outfit, from her choice of heels to her delicate earrings, further solidified her status as a rising style sensation in the world of Bollywood. Her ability to curate a look that is both glamorous and understated is a testament to her evolving fashion sense and her potential to influence and inspire the fashion world in the years to come.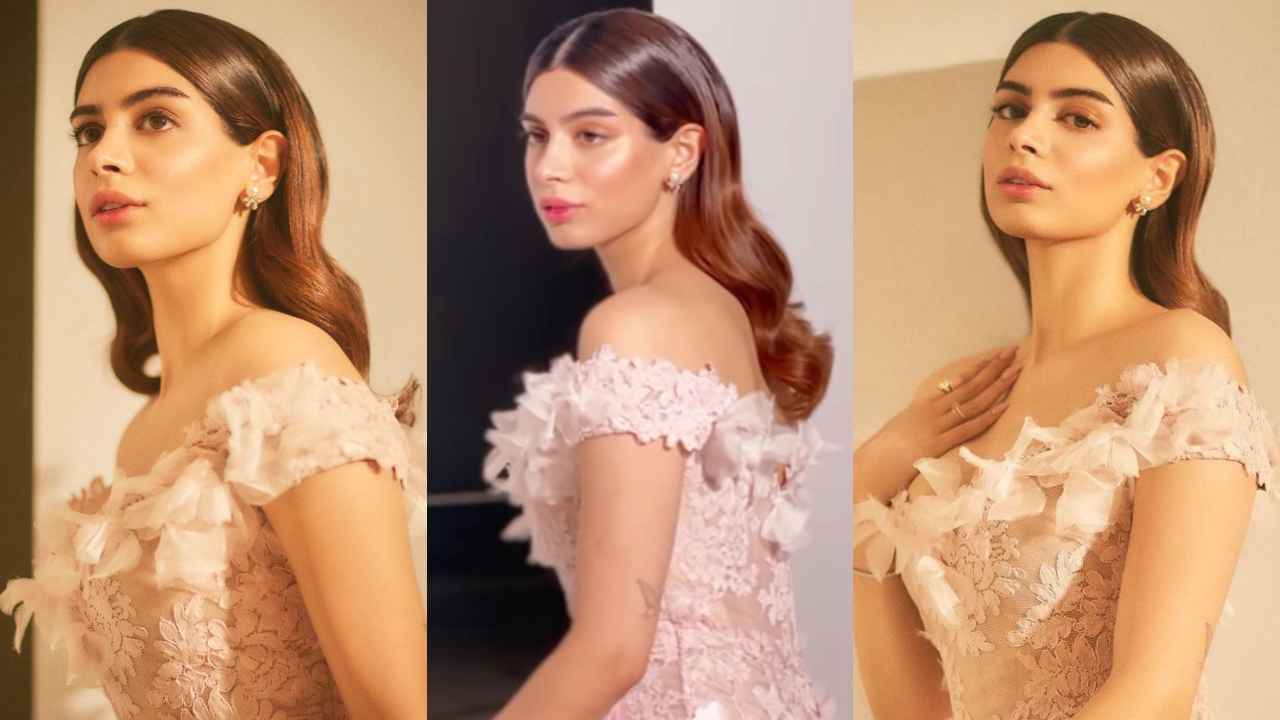 Khushi Kapoor's hair and makeup choices for this remarkable ensemble were nothing short of perfection. Her flowing, open hair was meticulously styled, with a sleek front and soft waves that cascaded down her shoulders. This hairstyle not only showcased her beauty but also accentuated her overall charm. The combination of a sleek front and gentle waves was a harmonious blend of sophistication and a touch of romantic allure, which perfectly complemented her attire.
Her makeup, like a work of art, played a pivotal role in enhancing her entire look. Khushi Kapoor's well-defined eyebrows, mascara-laden eyelashes, and subtle pinkish eyeshadow all worked in unison to emphasize her mesmerizing eyes. The light eyeliner further defined her gaze, and her flushed cheeks with a hint of highlighter added a radiant and youthful glow to her complexion.
To complete her makeup, Khushi chose the perfect pink lipstick that effortlessly tied the entire look together. The choice of lipstick not only matched the pink hue of her dress but also added a touch of vibrancy to her appearance. With her immaculate makeup, Khushi Kapoor elevated her ensemble to another level, showcasing her understanding of how to strike the perfect balance between fashion and beauty. Her appearance was a testament to her growing status as a fashion and beauty icon in the making.