Malaika Arora wears an all-black outfit with sleeveless top, tights, and expensive Dior bag
Malaika Arora, Bollywood's beloved fashionista, has consistently dazzled us with her impeccable fashion sense, and her recent all-black ensemble is no exception. She is renowned for her ability to look spectacular in everything she wears, and this time was no different. In this striking all-black outfit, she demonstrated her fashion-forward thinking, effortlessly pulling off a sleek and trendy look.
What's noteworthy about Malaika's ensemble is her ability to showcase that athleisure wear can indeed be both chic and comfortable. Athleisure has become a prominent fashion trend, blending sporty and casual elements with high fashion. Malaika's choice to embrace this trend while maintaining her signature sense of style is a testament to her fashion acumen. She proves that you can be comfortable without sacrificing sophistication.
Her addition of an expensive Dior bag and a luxurious Balenciaga cap to the ensemble further solidifies her status as a fashion icon. These high-end accessories add a touch of luxury to the overall look, elevating it to a new level of elegance.
Malaika Arora's recent all-black ensemble showcases her remarkable fashion sense and her ability to effortlessly navigate the athleisure trend while maintaining her chic and sophisticated style. Her choice of high-end accessories demonstrates her fashion prowess, leaving us eagerly awaiting her next fashion-forward appearance. She continues to inspire and set trends in the fashion world, earning her status as a beloved fashion icon in Bollywood and beyond.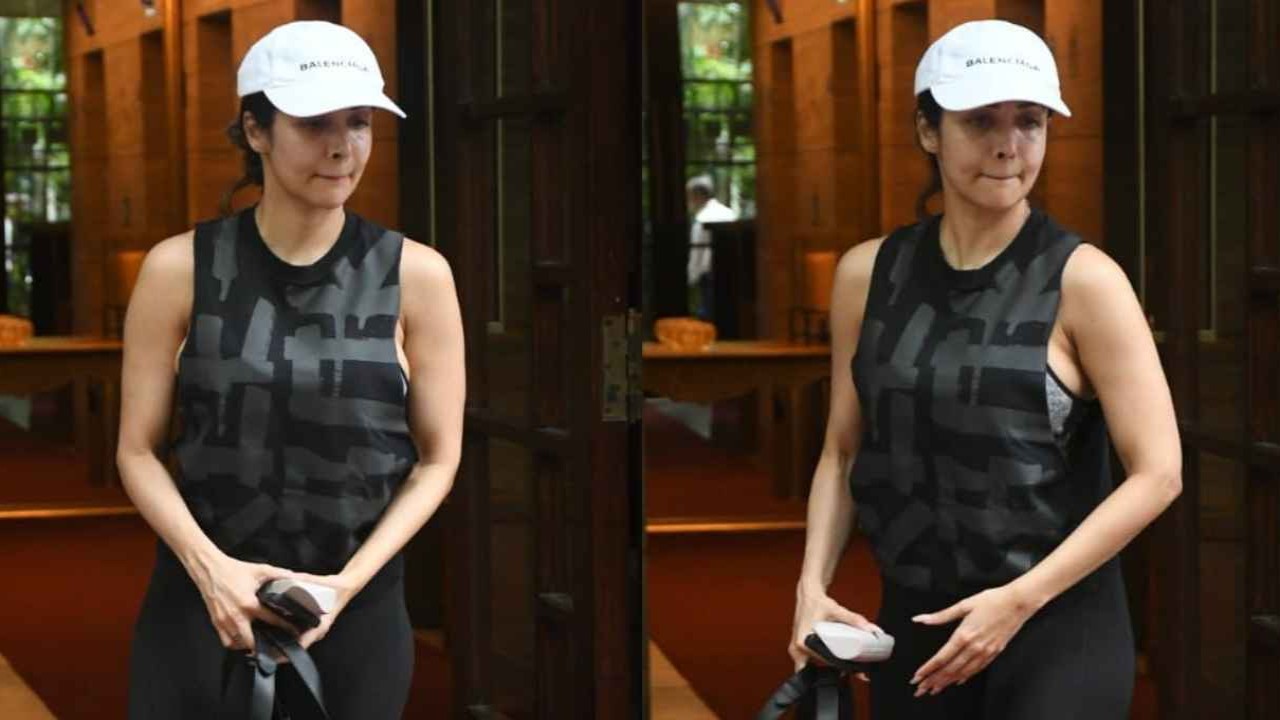 Malaika Arora's choice of clothing for her all-black ensemble demonstrates her keen fashion sense and her ability to play with textures and contrasts. Let's break down the elements of her outfit:
Black Sleeveless Fitted Top with Faux Leather Prints: Malaika opted for a black sleeveless fitted top adorned with faux leather prints. This choice adds a touch of texture and visual interest to her attire. The faux leather prints not only create an edgy and chic vibe but also contribute to the overall monochromatic charm of the outfit.
Ankle-Length Tights with White Accents: To complement the top, she paired it with ankle-length tights featuring white accents along the edges. The white accents add a subtle yet striking contrast to the predominantly black ensemble, creating a visually appealing balance.
Pure White Sneakers: Malaika's choice of pure white sneakers injects a subtle pop of contrast into her overall look. White sneakers are known for their versatility and ability to add a fresh and sporty element to any outfit. In this case, they not only enhance the monochromatic charm but also contribute to the comfort and athleisure vibe of the ensemble.
Accessories: While you mentioned that Malaika's choice of accessories caught the eye, the details of her accessories are not provided. However, accessories often play a crucial role in completing a look and can add a personal touch to the overall style.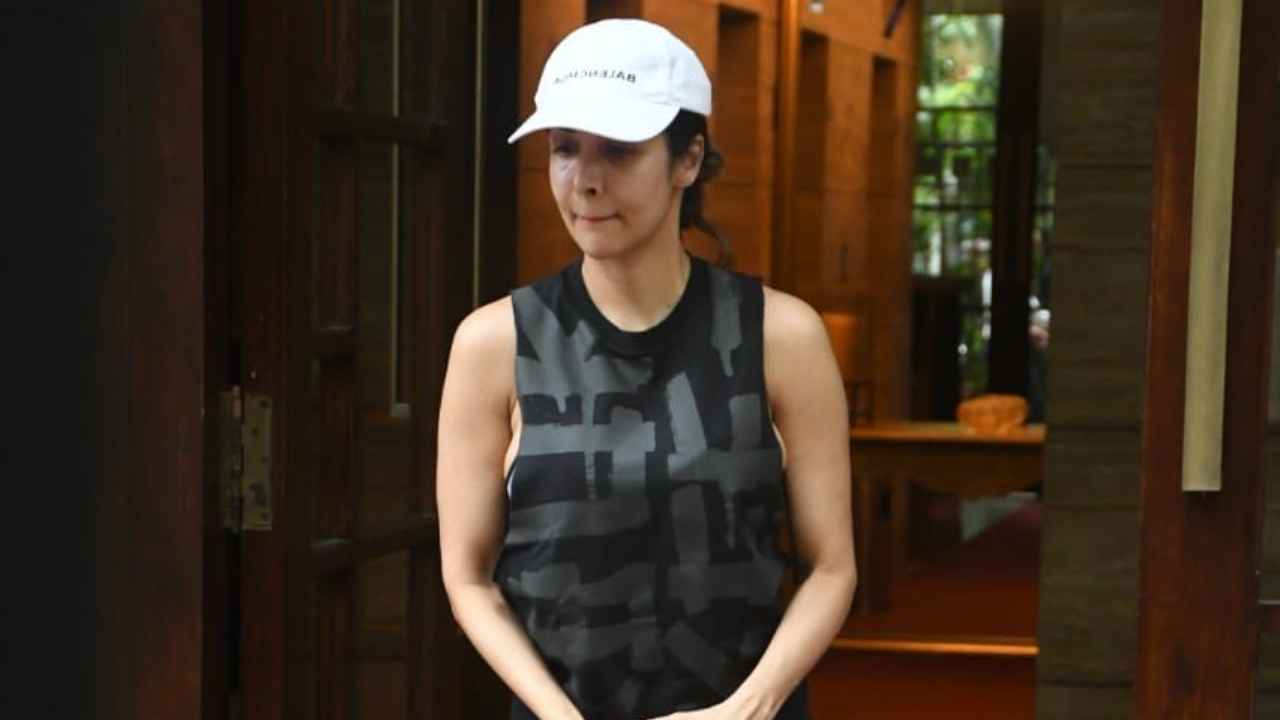 Malaika Arora's all-black ensemble demonstrates her fashion-forward thinking, with a focus on textures, contrasts, and monochromatic charm. Her choice of clothing and footwear reflects her ability to create a balanced and chic athleisure-inspired look. Her accessories, which are not detailed here, likely add the finishing touches to her outfit, enhancing its overall impact. Malaika's fashion choices continue to inspire and set trends in the fashion world, showcasing her status as a style icon.
Malaika Arora's selection of the Dior Small Toujours Bag from the Spring-Summer 2023 fashion show undoubtedly added an air of luxury to her already stylish outfit. This choice demonstrates her keen eye for high-end accessories and her commitment to elevating her overall look.
The Dior Small Toujours Bag is a remarkable piece crafted in black calfskin with meticulous Micro-Cannage topstitching. This intricate detailing adds a touch of sophistication and texture to the bag, making it a standout accessory. The fact that it's from the Spring-Summer 2023 fashion show underlines Malaika's ability to stay ahead of fashion trends.
This bag not only boasts a casual and practical design but also offers a spacious interior compartment accompanied by a matching pouch. The inclusion of a matching pouch ensures efficient organization of essentials, making it both stylish and functional.
The leather strap closure not only secures items within the bag but also enhances the bag's elegant silhouette. It's a testament to Dior's commitment to both form and function, and Malaika's choice highlights her appreciation for accessories that seamlessly blend style and utility.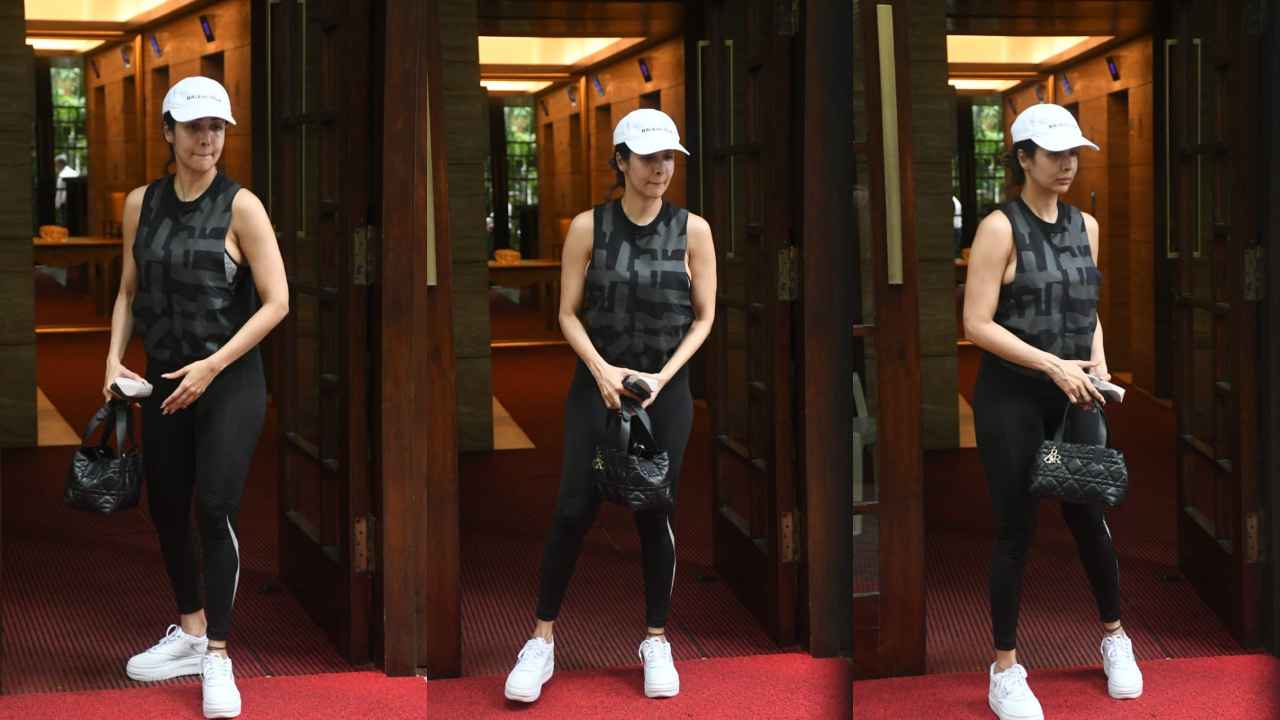 Malaika Arora's choice of the Dior Small Toujours Bag added a touch of luxury and sophistication to her outfit, showcasing her fashion expertise and her ability to select high-end accessories that complement her overall look. This bag not only serves as a statement piece but also offers practicality and organization, making it a perfect addition to her ensemble. Malaika continues to inspire with her impeccable fashion choices and attention to detail.
The details you provided about Malaika Arora's accessories add further depth to her fashion choices, highlighting her penchant for luxury and style. Let's delve into the details:
Dior Small Toujours Bag: The adjustable leather handles and the classy Dior charm of this bag indeed make it a true statement piece. The meticulous craftsmanship and elegant design, coupled with its spacious interior and matching pouch, emphasize its status as a luxury accessory. With a price tag of Rs. 2,90,938, it's undoubtedly a luxurious addition to her ensemble, underlining her commitment to high-end fashion and quality.
Balenciaga Cap: Malaika's choice of a Balenciaga cap in white, valued at Rs. 31,170, adds a sporty yet fashionable element to her look. The classic baseball cap shape, adjustable hook and loop tab at the back, Balenciaga logo embroidered at the front, and the use of classy cotton drill exemplify the attention to detail that Balenciaga is known for. It's a stylish and versatile accessory that complements her athleisure-inspired outfit while adding a touch of luxury.
Malaika Arora's ability to select accessories that not only enhance her overall look but also reflect her fashion-forward sensibilities is truly remarkable. Her choices of high-end accessories demonstrate her commitment to quality and style, making her a notable figure in the world of fashion and luxury. As she continues to set trends and inspire with her fashion choices, we can anticipate more iconic looks from this Bollywood fashion icon.
Malaika Arora's recent outfit is undeniably a testament to her fashion-forward choices and her ability to elevate athleisure wear to an elegant and sophisticated level. Her keen sense of style, attention to detail, and her selection of high-end accessories all contribute to her status as a true fashion icon to watch.
In a world where fashion trends are ever-evolving, Malaika consistently demonstrates her ability to adapt and set the bar higher. Her outfit not only embraces the athleisure trend but also showcases how it can be transformed into a chic and stylish look.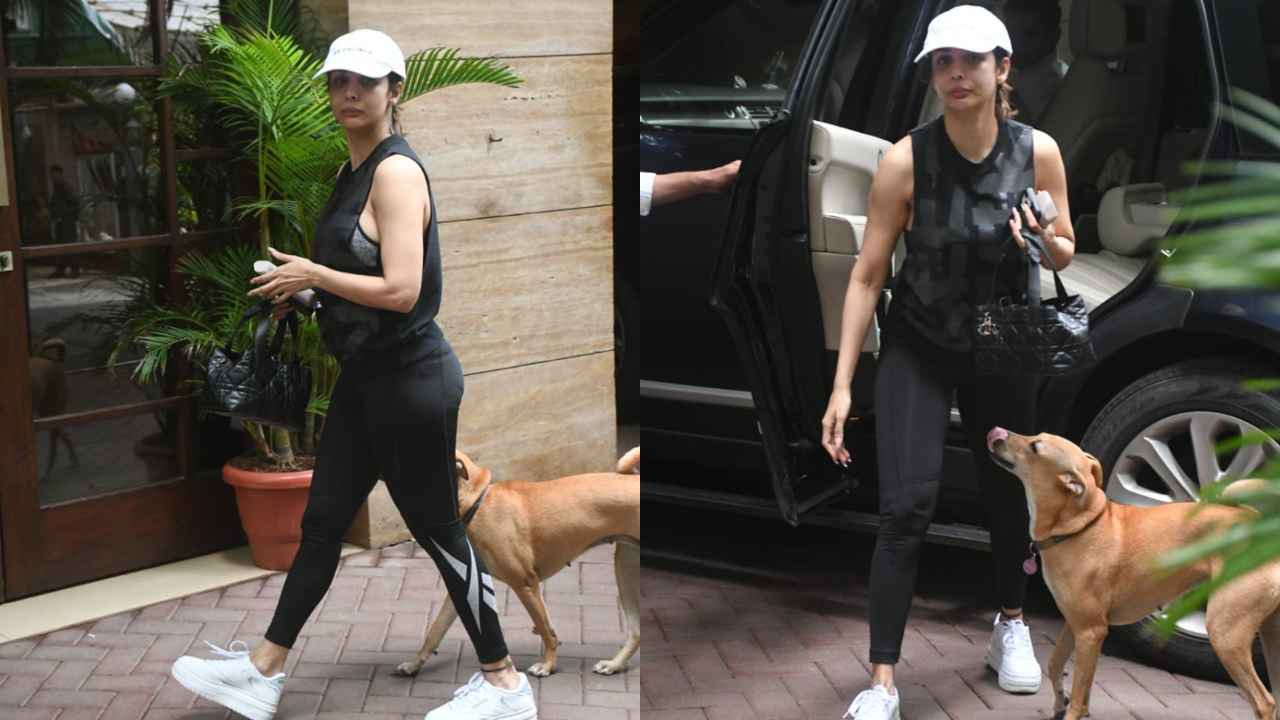 Furthermore, her choice of high-end accessories, such as the Dior Small Toujours Bag and the Balenciaga cap, underlines her commitment to quality and luxury. These accessories not only add a touch of glamour but also reflect her discerning taste and fashion prowess.
As Malaika Arora continues to inspire and set fashion standards, her fashion-forward choices serve as a source of inspiration for fashion enthusiasts worldwide. Her ability to blend comfort, style, and luxury in her outfits solidifies her position as a fashion icon, and we eagerly await her next iconic looks that are sure to captivate and inspire.