Palak Tiwari's embellished pre-draped tulle saree by Ohaila Khan is the ultimate choice for a modern bride
Palak Tiwari has indeed carved a niche for herself in the world of fashion and entertainment, distinguishing herself as a style icon with her super classy outfits and incomparable sense of style. Her ability to consistently make fashion statements that capture attention and admiration sets her apart in an industry known for its ever-evolving trends.
Her recent Instagram reel, featuring her in an ethereal saree, left her followers in awe, and rightly so. The choice of a saree for this occasion is not only a nod to tradition but also a testament to her ability to blend timeless elegance with contemporary style.
The description of her saree as "ethereal" aptly captures the essence of her fashion statement. Sarees have long been associated with grace and sophistication, and Palak's choice to wear one for this occasion epitomizes contemporary bridal elegance. With every graceful movement, she not only showcases the beauty of the saree but also adds her own unique charm and personality to the outfit.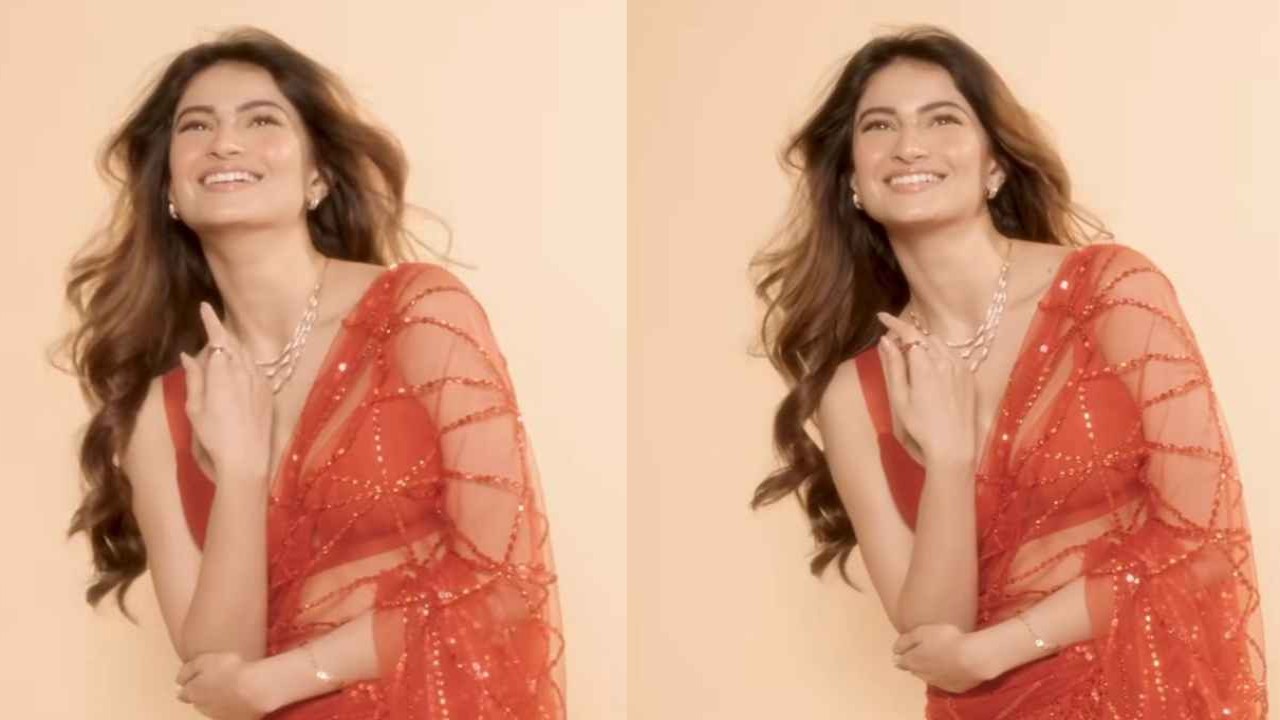 Palak Tiwari's fashion choices continue to inspire and captivate audiences, proving that she is a style icon to watch. Her ability to effortlessly bridge the gap between tradition and modernity, elegance and fashion-forwardness, is a testament to her fashion acumen. As she continues her journey in the entertainment industry, we can anticipate more fashion moments that solidify her status as a trendsetter and style icon.
Palak Tiwari's choice of attire for her Instagram reel is a true fusion of contemporary and traditional elements, showcasing her impeccable sense of style. Let's delve into the details of her outfit:
Orange-ish Red Saree Gown: Palak wore an orange-ish red saree gown, which is a unique amalgamation of a sensual mermaid gown and a traditional South Asian saree silhouette. This innovative design combines the best of both worlds, blending the allure of a mermaid gown with the elegance of a saree. The modern geometric pattern embellished with crystals adds a touch of sophistication and glamour to the outfit. The crystals, reflecting light and seemingly illuminating Palak's aura, enhance her natural beauty and radiance.
Designer Ohaila Khan: Palak's stunning attire was created by Ohaila Khan, a luxury label renowned for its hand-crafted creations that exude opulence and grace. Ohaila Khan's designs are synonymous with luxury and high fashion, making Palak's choice a testament to her appreciation for quality and craftsmanship.
Price Tag: This sheer piece of ethnic excellence, laden with sequins and crystals, comes with a heavy price tag of Rs. 99,000. The price reflects the intricacy of the design, the quality of materials used, and the attention to detail that goes into creating such a masterpiece.
Palak Tiwari's choice of attire for her Instagram reel showcases her ability to blend contemporary and traditional elements seamlessly. The innovative saree gown, designed by Ohaila Khan, is a striking example of her fashion-forward sensibility and her commitment to elegance and opulence. As she continues to make fashion statements that capture hearts and attention, she solidifies her status as a style icon who effortlessly pushes the boundaries of fashion and style.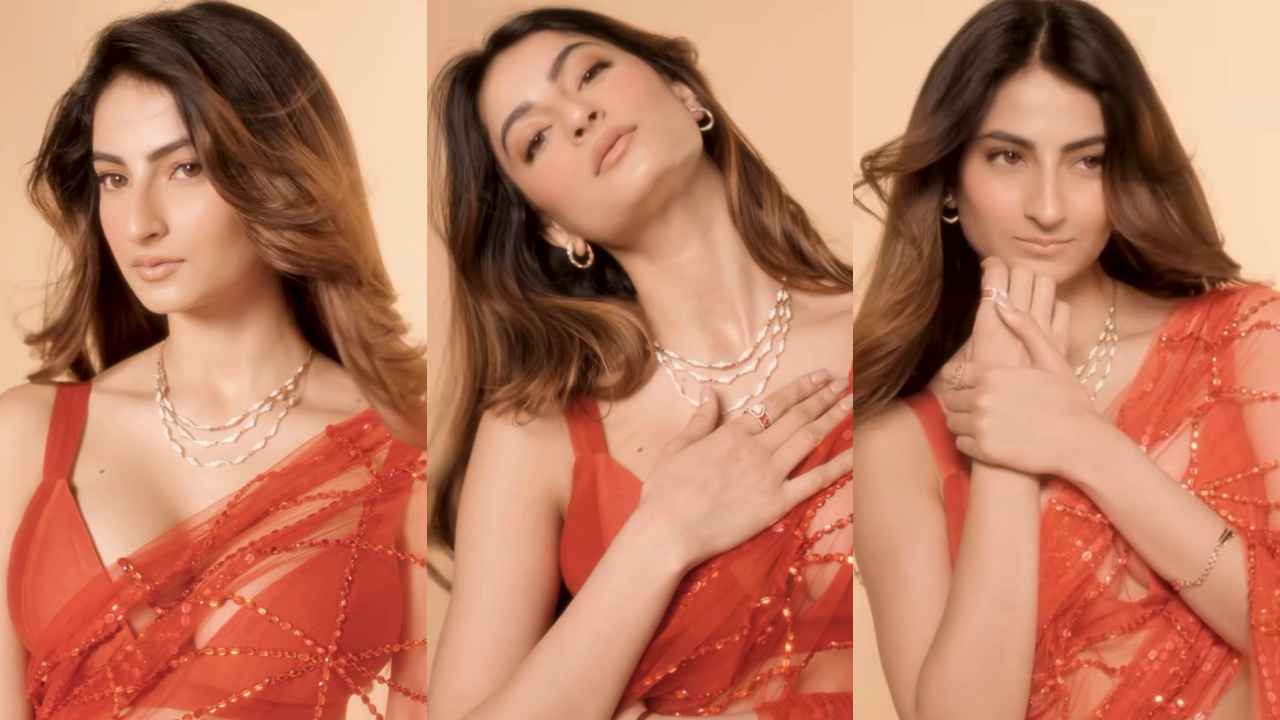 The vibrant color of Palak Tiwari's gorgeous ensemble not only showcases her impeccable fashion sense but also perfectly complements her complexion. The choice of an orange-ish red hue adds warmth and vibrancy to her look, enhancing her natural beauty.
The saree gown's design is nothing short of stunning, and it's evident that every detail was carefully considered. The matching sleeveless blouse, featuring wide straps, a sweetheart neckline, and a plunging neckline, adds a touch of sensuality to the outfit. These design elements not only contribute to the overall glamour but also highlight Palak's well-toned waist beautifully.
The combination of the saree gown and the blouse creates an ensemble that strikes a perfect balance between glamour and tradition. It's an ideal choice for a bride who wants to feel both glamorous and traditional on her special day. The saree gown's innovative design allows for a contemporary twist on a classic silhouette, making it a versatile choice for various occasions.
In essence, Palak Tiwari's choice of attire not only reflects her fashion-forward thinking but also showcases her ability to select outfits that are both visually striking and flattering to her figure. Her fashion choices continue to inspire and set trends, making her a style icon to watch in the ever-evolving world of fashion.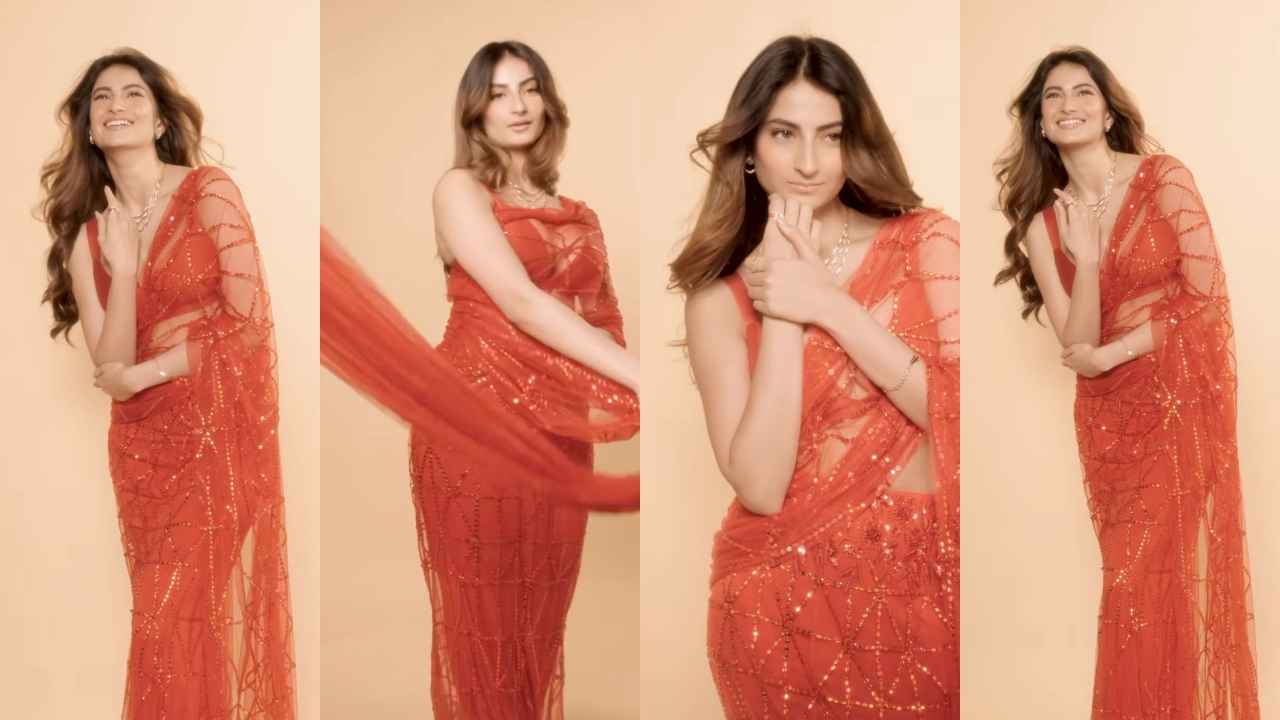 Palak Tiwari's attention to detail and her choice of accessories further elevate her stunning outfit. Let's explore the accessories that added a touch of elegance and refinement to her overall look:
Matching Heels: Palak completed her ensemble with matching heels from London Rag India. The choice of matching footwear not only adds cohesiveness to her look but also provides a seamless transition from her saree gown to her shoes, creating a harmonious overall appearance.
Layered Diamond Necklace: Her choice of a layered diamond necklace is a testament to her commitment to timeless beauty. The layered design adds depth and sophistication to her neckline, enhancing the overall glamour of her outfit.
Small Diamond Hoop Earrings: The small diamond hoop earrings are a classic choice that complements her outfit perfectly. They frame her face beautifully without overpowering her overall look, contributing to the overall sense of refinement.
Matching Bracelet: The matching bracelet adds an extra touch of sparkle and elegance to her wrist, harmonizing with the rest of her diamond jewelry.
Diamond Ring with Orange Crystals from Orra Fine Jewellery: Palak's choice of a diamond ring with orange crystals from Orra Fine Jewellery is a standout accessory. The incorporation of orange crystals adds a pop of color that complements the saree gown's vibrant hue. It's a striking piece that adds individuality and personality to her overall look.
Palak Tiwari's choice of accessories demonstrates her understanding of how to enhance her outfit and create a vision of timeless beauty. Each piece adds a layer of elegance and refinement, harmonizing with the overall ensemble. Her fashion choices continue to inspire and showcase her exceptional sense of style and attention to detail, solidifying her status as a style icon in the making.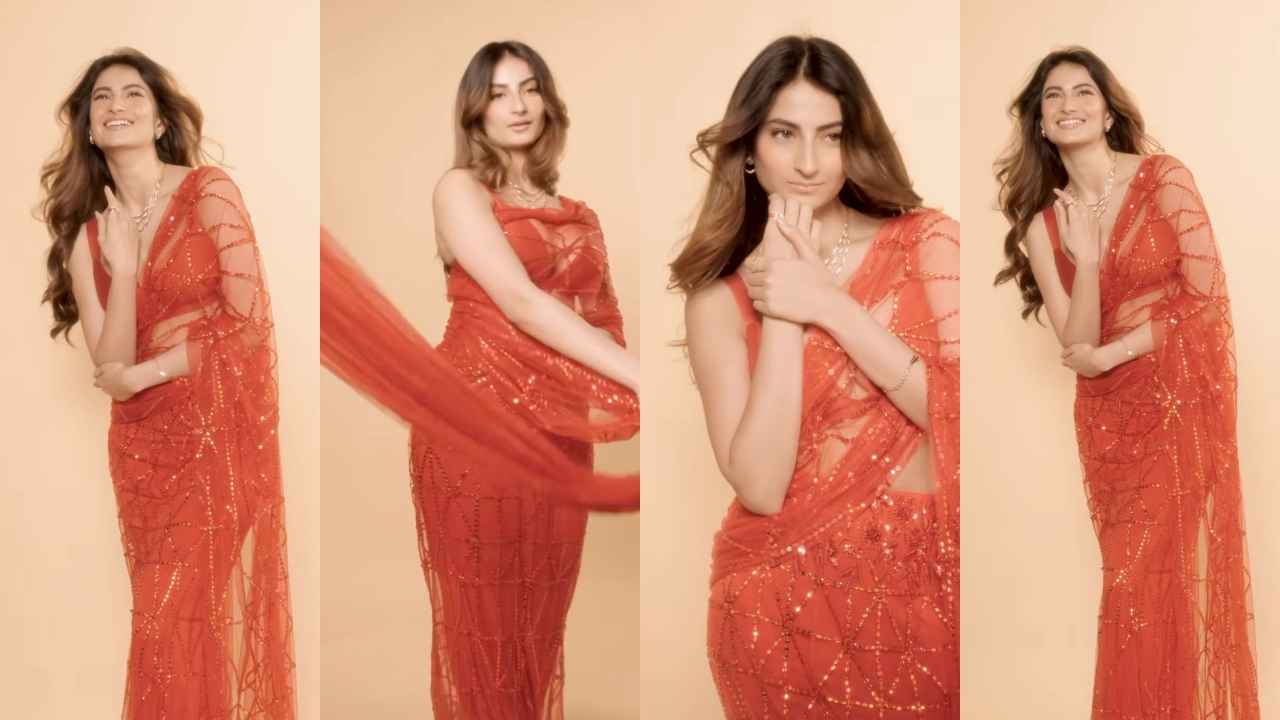 Palak Tiwari's choice of hairstyle and makeup further underscore her commitment to elegance and sophistication. Let's delve into the details:
Hairstyle: Palak's decision to style her hair into soft waves that cascaded down her shoulder adds a touch of timeless glamour to her overall look. The soft waves provide a perfect balance between relaxed charm and red-carpet sophistication.
Makeup Look: Palak's makeup look is a masterpiece in understated elegance, highlighting her natural beauty. The makeup elements you mentioned, including subtle eyeshadow, blush, highlighter, and the perfect nude glossy lipstick, all work harmoniously to enhance her features without overpowering her look.
Subtle Eyeshadow: The choice of subtle eyeshadow adds depth to her eyes while maintaining a natural and effortless allure.
Blush: The application of blush adds a healthy flush of color to her cheeks, creating a radiant complexion.
Highlighter: Highlighter subtly illuminates her facial features, creating a luminous and youthful glow.
Nude Glossy Lipstick: The choice of a nude glossy lipstick complements her vibrant saree gown without detracting from its impact. It adds a touch of refinement to her lips and overall appearance.
In summary, Palak Tiwari's choice of hairstyle and makeup highlights her natural beauty and allows her to shine like the star she is. Her commitment to understated elegance and her attention to detail in her makeup and hair choices further solidify her status as a fashion icon in the making. With each appearance, she continues to inspire and set new standards for sophistication and style.