Palak Tiwari serves affordability with a side of luxury in tie-up top, jeans, and expensive Louis Vuitton bag
Palak Tiwari's ability to make a style statement is indeed captivating, and her fashion choices reflect her talent for effortlessly blending affordability and luxury into her unique style. She approaches fashion like an artist with a vivid palette, consistently creating looks that balance opulence and practicality.
In her recent appearance, Palak Tiwari showcased her fashion alchemist skills by donning a bewitching green tie-up top paired with denim jeans. This combination reflects her ability to mix high fashion with down-to-earth sensibilities. The green tie-up top adds a touch of allure and sophistication, while the denim jeans provide a practical and comfortable foundation for the outfit.
Her choice to cradle an exquisite Louis Vuitton crossbody bag adds a luxurious element to the ensemble, elevating the overall look. It's a perfect example of how she seamlessly incorporates high-end pieces into her style without losing sight of practicality.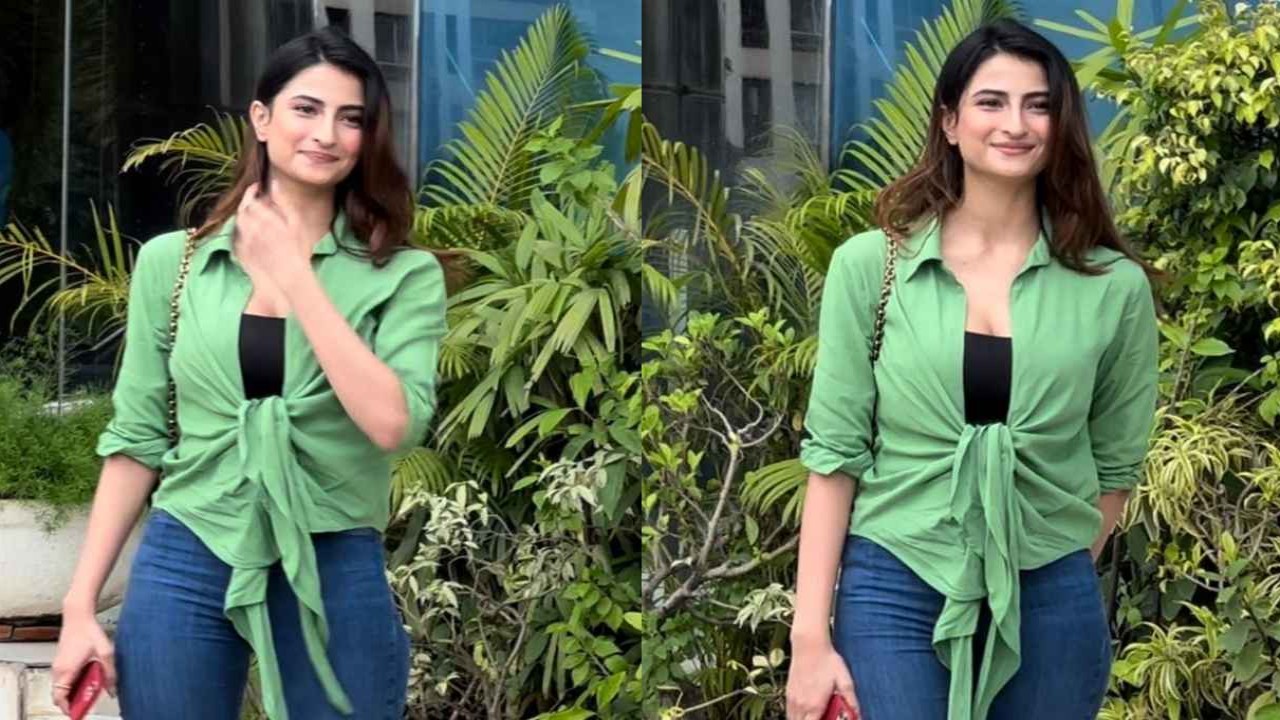 Palak Tiwari's fashion choices are a testament to her keen understanding of fashion and her ability to curate outfits that resonate with a wide audience. Her fusion of high fashion and down-to-earth sensibilities is both refreshing and inspiring, making her a style icon to watch.
Palak Tiwari's recent ensemble is a stunning example of her fashion prowess, showcasing her unique ability to blend affordability and luxury effortlessly. Her fashion alchemy continues to captivate and inspire, leaving us excited to see what captivating style statements she will make in the future.
Palak Tiwari's fashion choices are truly noteworthy, and her recent ensemble reflects her keen eye for detail and her ability to curate stylish and affordable looks. Let's break down the elements of her outfit:
Mint-Green Tie-Front Top: Palak wore a mint-green full-sleeved collar-neck Jordyn tie-front top from Superdown, valued at Rs. 4,000. This top features a front tie closure, a plunging neckline, classy buttoned cuffs, and lightweight jersey fabric with a curved hem and ruched design. The mint-green color adds a refreshing touch to the ensemble, and the front tie detail adds a playful element.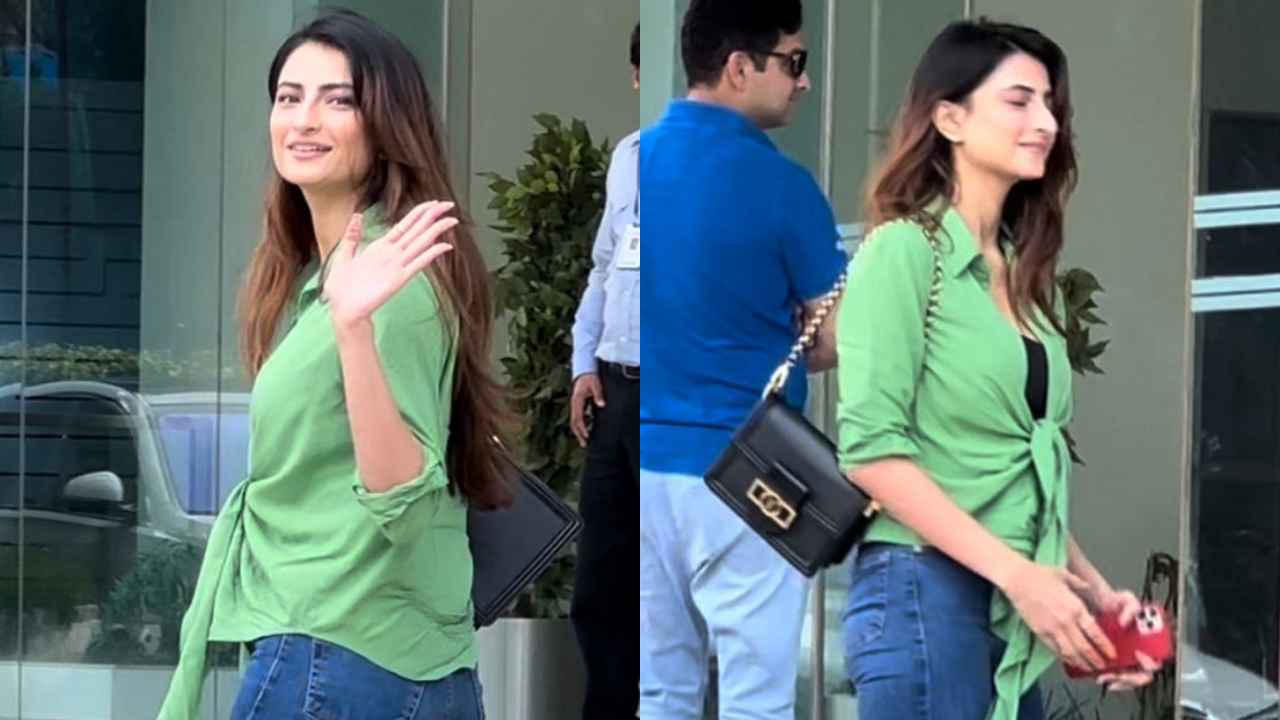 Layering with a Spaghetti Top: Palak layered the mint-green top over a beyond-black spaghetti top. This layering technique not only adds depth and dimension to her outfit but also provides extra coverage and versatility.
Blue Denim Boot-Cut Jeans: She paired the top with fitted blue denim boot-cut ankle-length jeans. The ripped effect at the edges of the jeans adds a trendy and edgy vibe to the overall look. Boot-cut jeans provide a classic silhouette that complements the top's style.
Black Strappy High-Heels: Palak completed her outfit with black chic strappy high-heels, which added a touch of sophistication and elegance. The black heels perfectly complemented the ensemble and added a stylish finishing touch.
Palak Tiwari's ability to mix and match different pieces to create a cohesive and fashionable look is impressive. Her outfit combines elements of playfulness, trendiness, and classic style, making it both versatile and eye-catching. Her choice of affordable yet stylish fashion pieces showcases her fashion-forward sensibility and makes her a relatable fashion icon for many.
Palak Tiwari's choice to pair her outfit with the black and gold Louis Vuitton Mini Dauphine Epi Leather crossbody bag adds a touch of luxury and elegance to her overall look. The bag, valued at Rs. 3,28,344, not only complements her ensemble but also showcases her appreciation for high-end fashion accessories.
The Louis Vuitton Mini Dauphine Epi Leather crossbody bag is known for its elegant styling and practical features, including multiple inside compartments and a removable braided leather-chain strap. This combination of functionality and luxury makes it a versatile and luxurious everyday bag, and it fits seamlessly with Palak's outfit.
In terms of her beauty regimen, Palak Tiwari's choice to leave her hair open and style it into loose waves that cascade gracefully down her shoulders adds a touch of natural beauty and effortless charm to her overall look. This hairstyle complements her outfit's casual yet chic vibe and adds a relaxed and stylish element to her appearance.
Overall, Palak Tiwari's attention to detail in her fashion choices, including her selection of a high-end bag and her effortless hairstyle, highlights her fashion expertise and ability to create a well-rounded and captivating look. Her fashion sensibility continues to inspire and leave a lasting impression in the fashion world.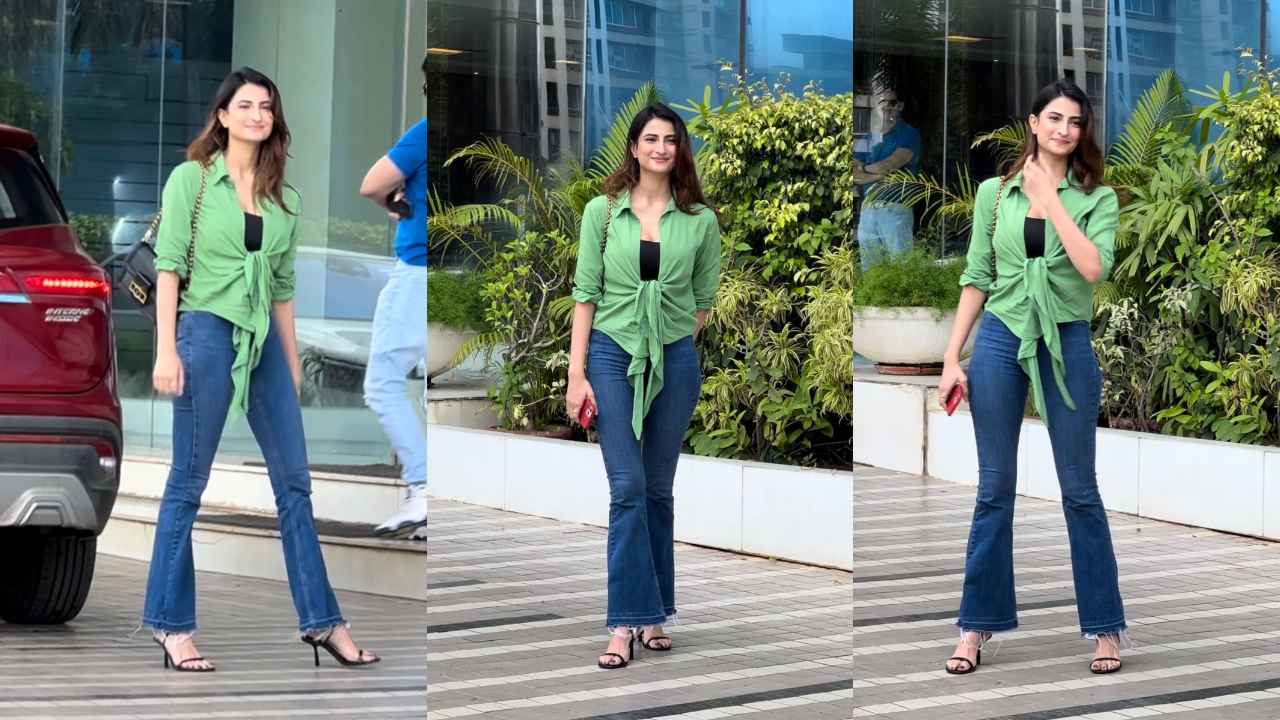 Palak Tiwari's choice of hairstyle and makeup perfectly complemented her overall look, enhancing the relaxed yet sophisticated vibe of her ensemble. Let's break down her makeup and hairstyle choices:
Hairstyle: Her decision to leave her hair open and style it into loose waves that cascaded gracefully down her shoulders added a touch of natural beauty and effortless charm to her appearance. This hairstyle not only complemented her outfit's casual yet chic vibe but also created a relaxed and stylish element that harmonized with the overall look.
Makeup: Palak opted for a subtle and natural makeup look, which emphasized her innate beauty while keeping the focus on her outfit. Her makeup choices included:
Mascara: She used mascara to emphasize her lashes, creating a subtle but impactful effect that framed her eyes beautifully.
Blush: A touch of blush highlighted her cheeks, adding a healthy flush of color to her complexion.
Nude Lipstick: Her choice of a nude lipstick perfectly complemented her entire outfit and allowed her natural beauty to shine through.
Palak Tiwari's makeup was indeed a masterclass in understated elegance. Her decision to keep her makeup minimal and natural underscored her fashion sensibility, emphasizing that sometimes less is more when it comes to achieving a sophisticated and stylish look. It's a testament to her understanding of how to balance makeup and fashion to create a harmonious and captivating overall appearance.
Shweta Tiwari's daughter, Palak Tiwari, has undeniably showcased her remarkable talent for seamlessly blending affordability with luxury in her recent fashion choices. Her latest ensemble serves as a striking testament to her impeccable fashion acumen and meticulous attention to detail.
In a world where fashion can often be synonymous with extravagance, Palak Tiwari's ability to curate outfits that strike a harmonious balance between affordability and luxury is truly exceptional. Her fashion choices demonstrate a thoughtful approach to style, where every element of her ensemble is carefully considered to create a well-rounded and captivating look.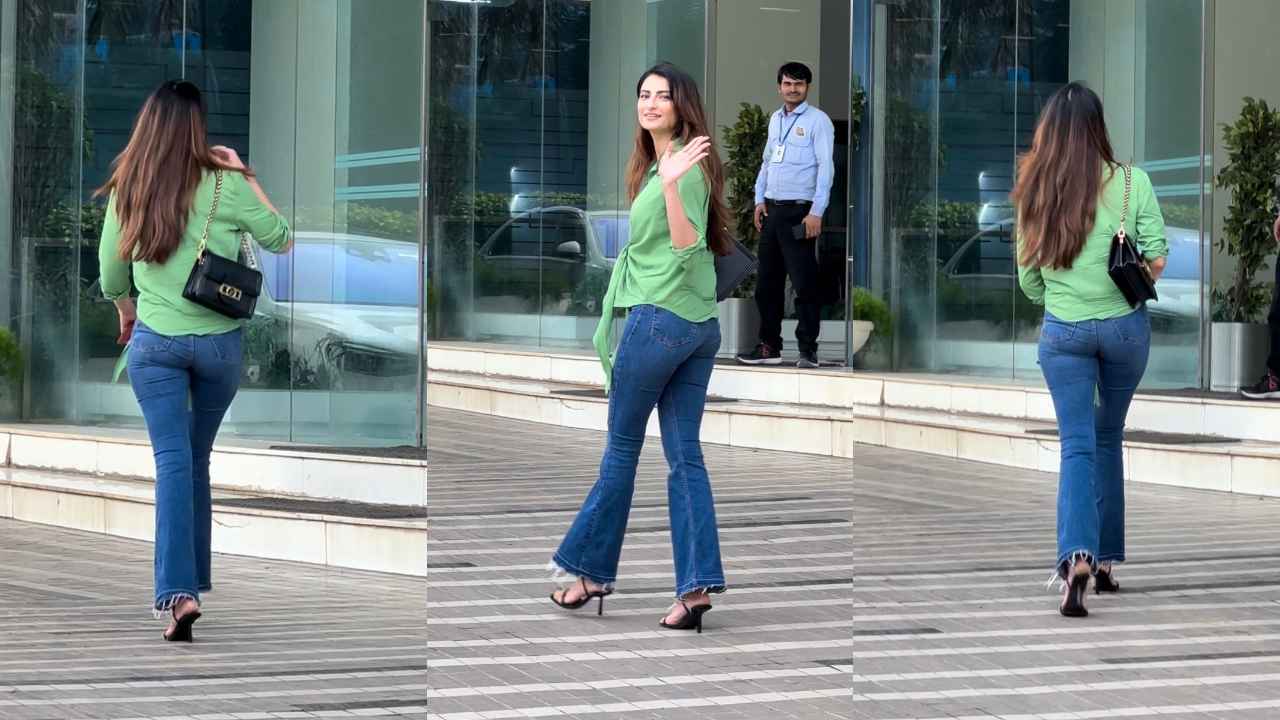 Palak's latest fashion ensemble not only showcases her keen eye for fashion but also highlights her capacity to combine different pieces to achieve a cohesive and stylish appearance. Her ability to select affordable yet chic fashion items while incorporating luxury accessories such as the Louis Vuitton bag demonstrates her fashion-forward sensibility and versatility.
The fashion world often leans towards extremes, with some prioritizing opulence while others emphasize affordability. However, Palak's approach to fashion bridges the gap, proving that one can achieve a chic and stylish look without breaking the bank. Her fashion choices serve as a refreshing reminder that high-end labels can seamlessly coexist with more budget-friendly options to create a fashionable and accessible wardrobe.
Furthermore, her talent for creating outfits that harmonize different elements demonstrates her unique fashion sensibility. It's a skill that not only showcases her individuality but also resonates with a broader audience seeking to emulate her style. Palak Tiwari's fashion choices continue to inspire and set new standards for how one can achieve a balanced and sophisticated look.
As she continues her fashion journey, we can eagerly anticipate more style-defining moments from Palak Tiwari, a rising star in the fashion world who is redefining what it means to be a fashion icon in today's diverse and inclusive landscape.