Priyanka Chopra to Alia Bhatt: Celeb-inspired ways to stun in color of the day, ORANGE
Navratri, the nine-night festival dedicated to the adoration of the goddess Durga, is not just a celebration of spirituality but also a vibrant showcase of fashion, colors, and style. Each day of Navratri is associated with a different color, and the festival presents a unique opportunity to experiment with your wardrobe and embrace the colorful essence of the occasion.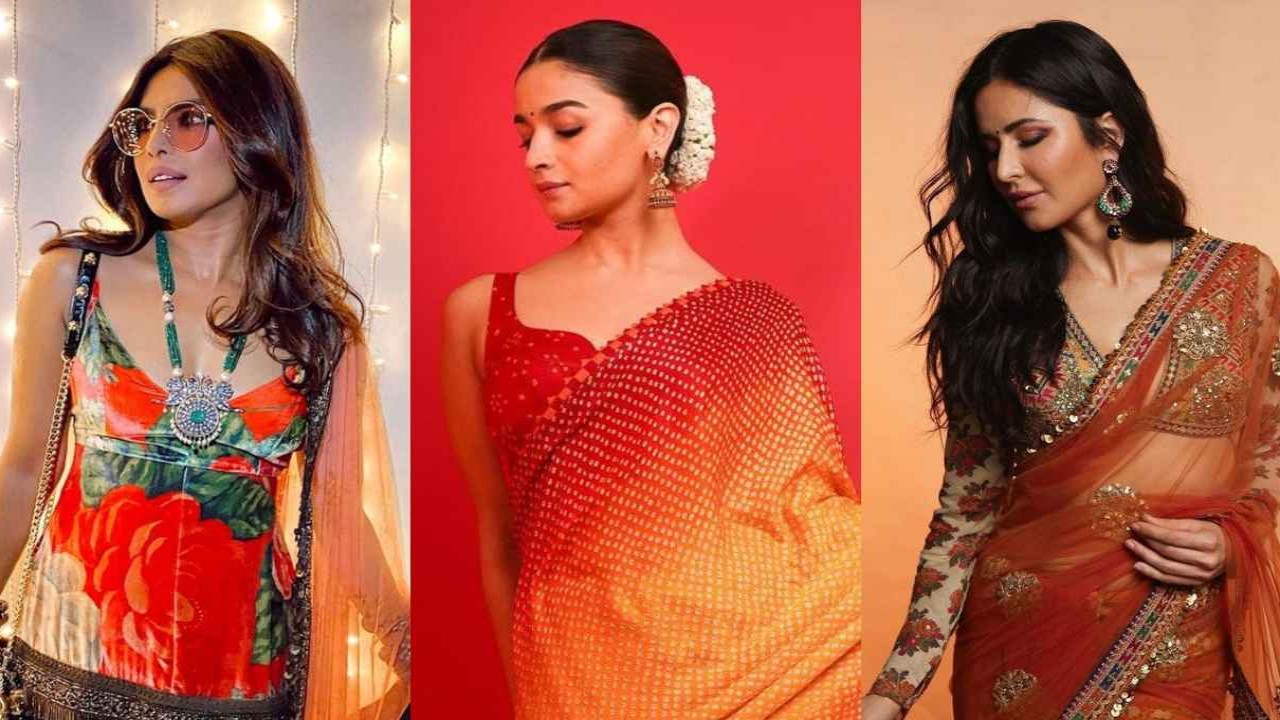 As we begin the auspicious journey of Navratri, starting with Pratipada and the color of the day, orange, it's a chance to draw inspiration from our favorite celebrities. They show us how to adorn this vivid hue with style and elegance, and you too can incorporate the splendor of orange into your Navratri wardrobe.
Navratri is not just a religious festival but also a celebration of tradition, culture, and style. The color-themed days give us the opportunity to express our individual fashion sensibilities while paying homage to the goddess and participating in the festivities. So, let's take a cue from our beloved celebrities and infuse our Navratri celebrations with the beauty and grace of the color orange.
The stylish Pooja Hegde never fails to captivate our attention, and she recently did so with an elegant outfit created by the renowned designer Arpita Mehta. Her choice was a gorgeous orange saree adorned with a white leafy print, which added a modern allure to this traditional attire. Pooja's fashion sense beautifully blends contemporary elements with classic styles, making her a fashion icon to watch.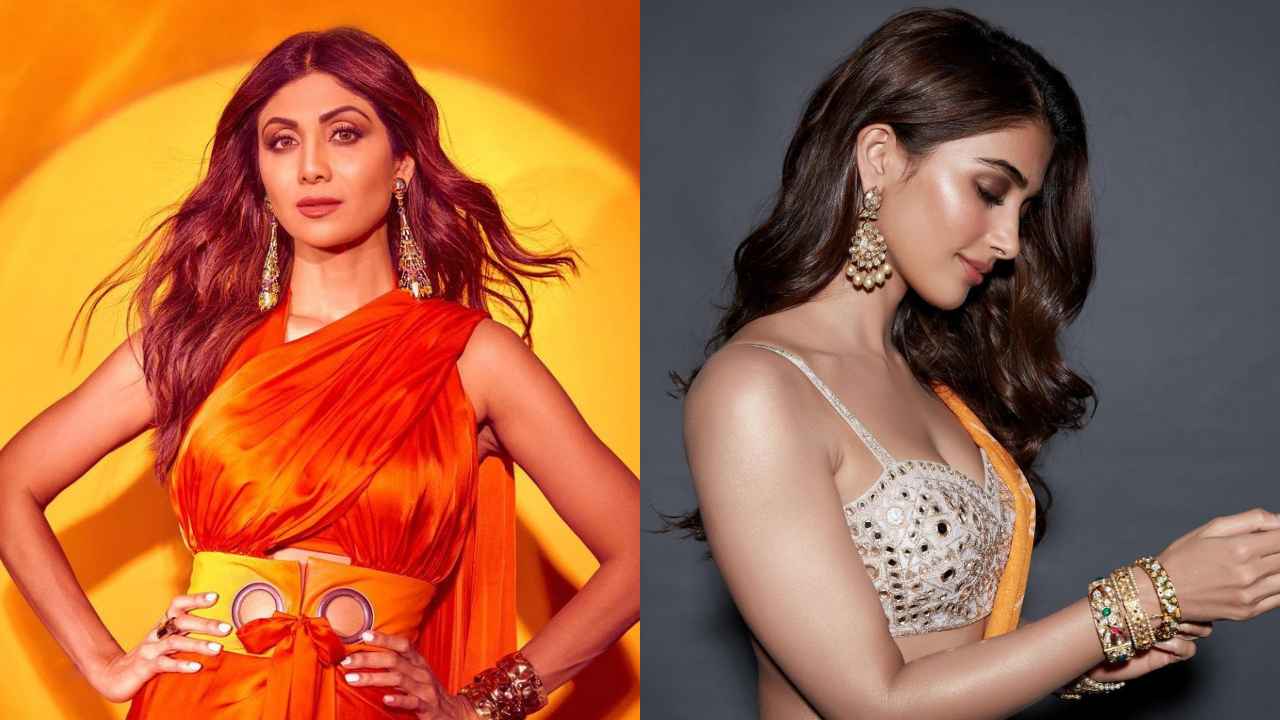 To complete her look, the "Beast" actress paired the saree with a silver blouse, which was a work of art in itself. The blouse featured intricate mirror work, sleek straps, and a plunging sweetheart neckline, adding a touch of glamour and sophistication to the ensemble. Pooja Hegde's fashion choices often exemplify how to make a statement with both elegance and boldness, and this outfit was no exception.
The short, sleeveless kurta with sleek straps and a plunging neckline was a bold and modern choice, showing that traditional outfits can exude a sense of allure and sophistication. The gorgeous floral design added a touch of vibrancy to the outfit, and it was paired with matching pants for a cohesive look. To complete the ensemble, a stylish sheer dupatta with a delicate black lace border was added, adding a layer of grace and charm.
These ethnic co-ord sets, like the one Priyanka Chopra wore, offer a great way to embrace the festive season with a unique and modernized twist. They allow individuals to celebrate tradition while also expressing their contemporary style sensibilities. Priyanka's choice is a reminder that fashion is a versatile canvas that can beautifully blend the best of both worlds, creating memorable and stylish looks that capture the essence of the festive season.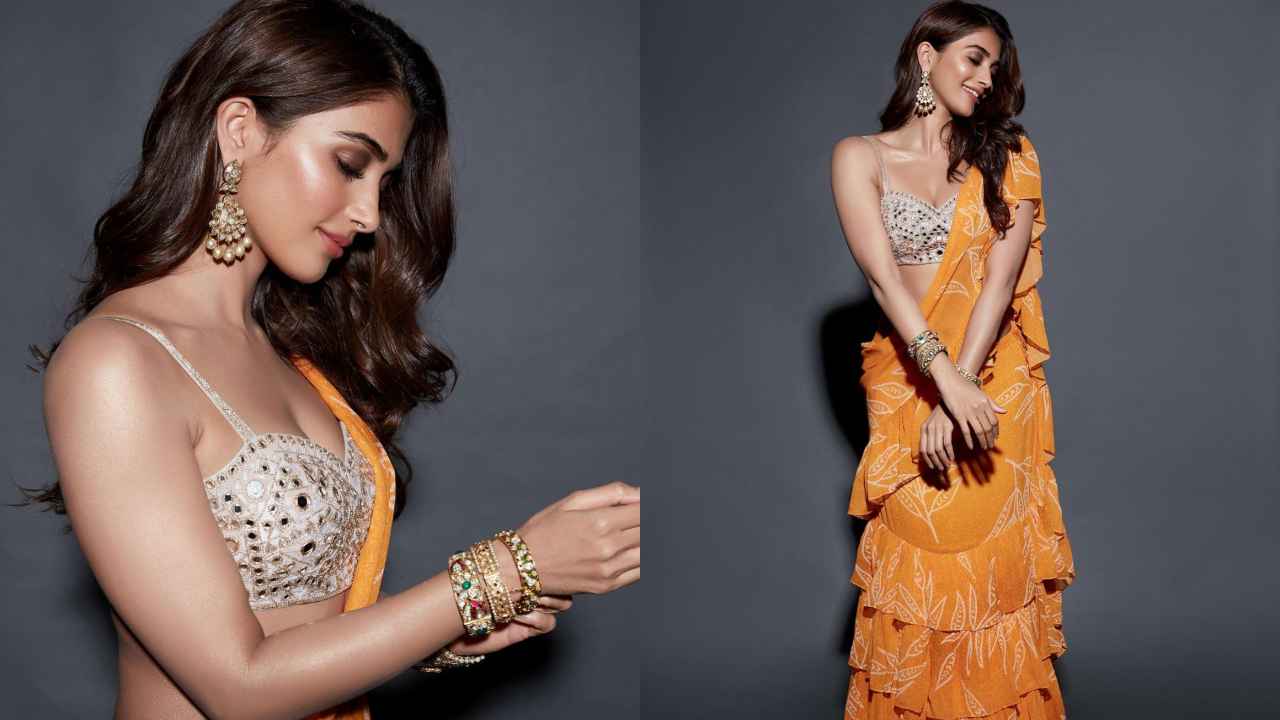 Shilpa Shetty, known for her timeless style, recently made quite the entrance in a striking orange fusion saree gown that immediately grabbed our attention. The bright and vibrant color of her outfit added a refreshing energy to her appearance, making her a standout in any room she entered. Shilpa has always been one to make a statement with her fashion choices, and this ensemble was no exception.
The stylish floor-length piece, designed by Cuin, featured a unique blend of traditional and contemporary elements. The pallu flowing at the back gave it a traditional saree touch, while the halter-neck style and ruched effect added a modern twist, creating a captivating contrast that contributed to the overall texture of the outfit. This fusion of styles allowed Shilpa to showcase her versatility in the world of fashion.
A tight light yellow belt, skillfully added to the ensemble, helped the talented actress flaunt her toned waist, adding an element of glamour and sophistication. Shilpa Shetty's choice of outfit is a wonderful way to kickstart the festivities with a bang.
It beautifully combines the traditional charm of a saree with the modern appeal of a gown, creating a unique and stylish look that embodies the spirit of celebration and fashion-forward thinking.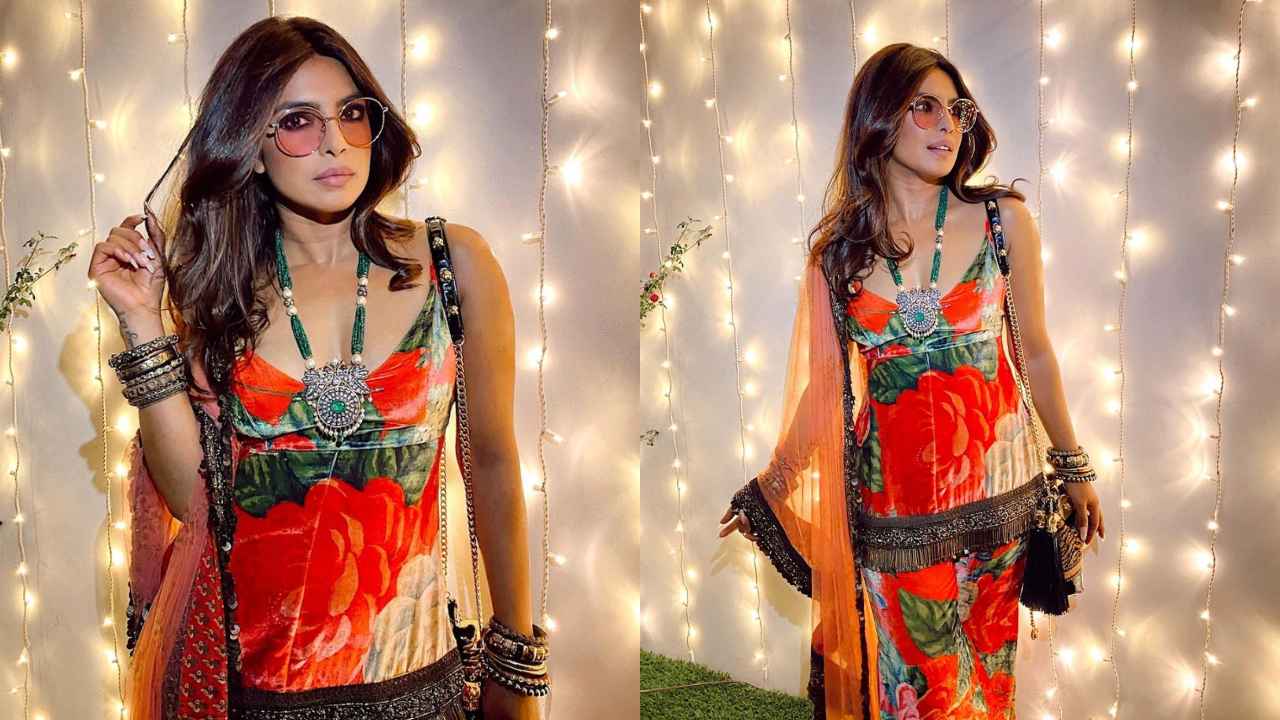 Alia Bhatt, with her impeccable fashion sense, recently made a stunning appearance in a breathtaking ombré saree that featured vibrant hues of orange. This exquisite creation was the work of none other than the celebrated designer duo Abu Jani and Sandeep Khosla. Alia's choice of this saree was a testament to her innate style and her ability to make a statement in the world of fashion.
Alia Bhatt's fashion choices always come with a touch of perfection, and her pairing of the ombré saree with a dark red blouse was no exception. The blouse was a masterpiece on its own, featuring a delicate orange print that beautifully complemented the saree's vibrant hues.
The plunging sweetheart neckline added a hint of sensuality and sophistication to the overall ensemble, showcasing Alia's ability to effortlessly blend traditional attire with contemporary design.
This exquisite creation, the fusion of the ombré saree and the intricately designed blouse, undoubtedly has the power to add an extra layer of awesomeness to your festive celebrations. Alia Bhatt's choice is a reminder of the creativity and versatility that fashion offers, allowing you to express your individuality and style while capturing the spirit of the occasion. It's a look that embodies grace, elegance, and a touch of modernity, making it a splendid choice for any celebratory event.
Katrina Kaif, known for her exceptional talent and exquisite style, recently made a striking appearance in a gorgeous orange saree that showcased her fashion prowess. This beautiful saree was crafted from a semi-sheer material, giving it an ethereal quality, and it was adorned with delicate gold flower embroidery. The saree was further elevated with a shimmery embellished gold border, adding a touch of opulence and charm to the ensemble.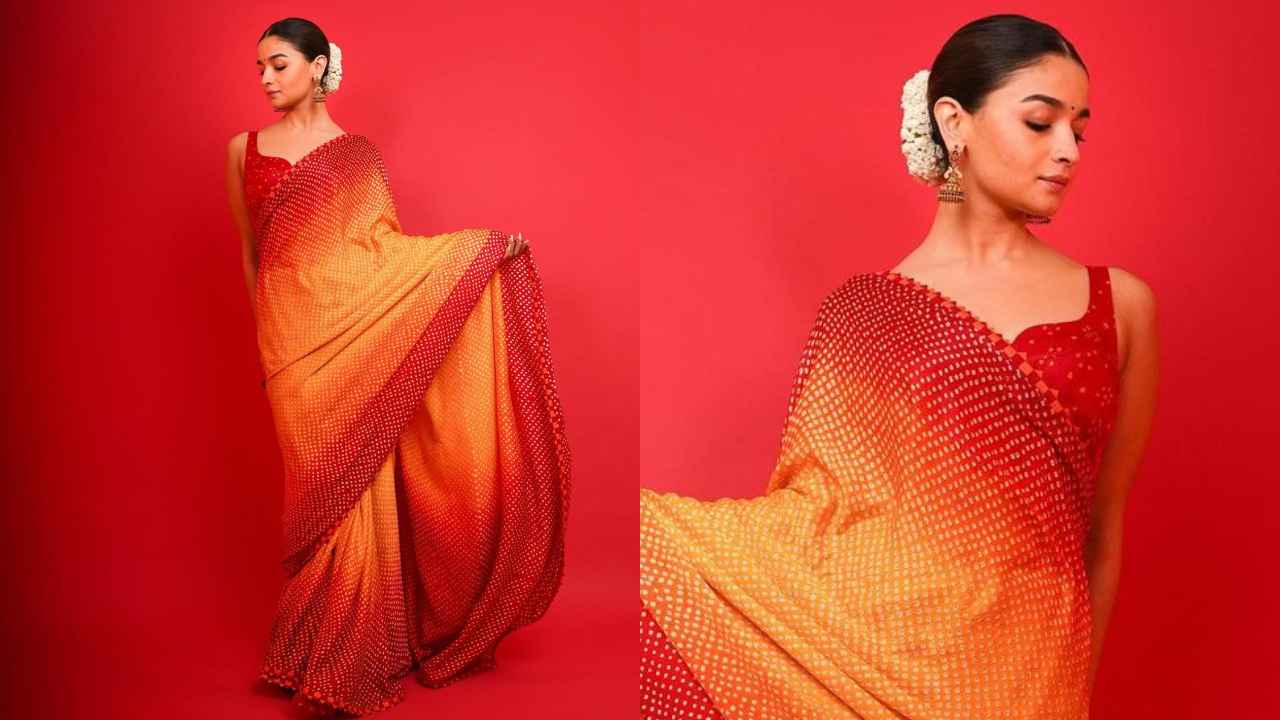 As our journey through the world of celebrity-inspired orange fashion for Navratri 2023 comes to a close, we hope you've discovered the perfect dose of inspiration to make your festive season truly unforgettable.
The fashion choices of these celebrities, from Pooja Hegde's classy layered saree to Priyanka Chopra Jonas' fusion kurta set, Shilpa Shetty's modernized saree gown, Alia Bhatt's beyond-gorgeous ombré drape, and Katrina Kaif's exquisite embroidered saree, are a testament to the versatility and elegance of the color orange.
These stylish ensembles showcase the rich spectrum of fashion possibilities that orange offers during the festive season. They beautifully blend tradition with contemporary design, allowing you to express your individual style while honoring the spirit of Navratri. Whether you prefer a classic saree or a fusion outfit, these celebrity-inspired choices have highlighted how to make a statement with grace and glamour, ensuring you shine brightly throughout the festivities.
May your Navratri celebrations be filled with joy, fashion, and the vibrant spirit of the color orange, leaving you with unforgettable memories and a sense of style that truly reflects your unique personality.