Sonam Kapoor's Aprajita Toor Kolhapuri flats are gloriously glam with her flower power-high kurta set
Sonam Kapoor Ahuja's recent ethnic look is a celebration of uncompromised comfort and triumph, encapsulated in a classic kurta suit and timeless footwear. Here's a closer look at her stylish ethnic ensemble:
Kurta Suit:
Sonam opted for a kurta suit, a quintessential and versatile ethnic outfit. Kurta suits are known for their comfort and elegance, making them a popular choice for various occasions.
The kurta suit showcased Sonam's fashion-forward approach, blending traditional elements with contemporary style.
Desi kurtas indeed have the power to bring smiles and make fashion statements. They offer a sense of comfort and timeless elegance that appeals to many. If you haven't explored desi fashion yet, now is a great time to do so, as Sonam Kapoor Ahuja's look showcases the versatility and charm of kurtas and ethnic accessories.
To embrace the elegance of blue and white, consider investing in a stylish three-piece kurta set. This ensemble typically includes a kurta, bottoms, and a matching dupatta, offering a complete and coordinated look. With the right accessories, you can elevate your kurta set and make it suitable for various occasions, from casual gatherings to festive celebrations.
Kurtas are not only fashionable but also versatile, making them a valuable addition to your wardrobe. They provide an opportunity to explore the rich world of ethnic fashion and discover why they are a beloved choice for many fashion enthusiasts. So, whether you're a regular wearer of desi kurtas or new to this style, embracing the elegance and charm of traditional Indian attire can be a delightful and stylish journey.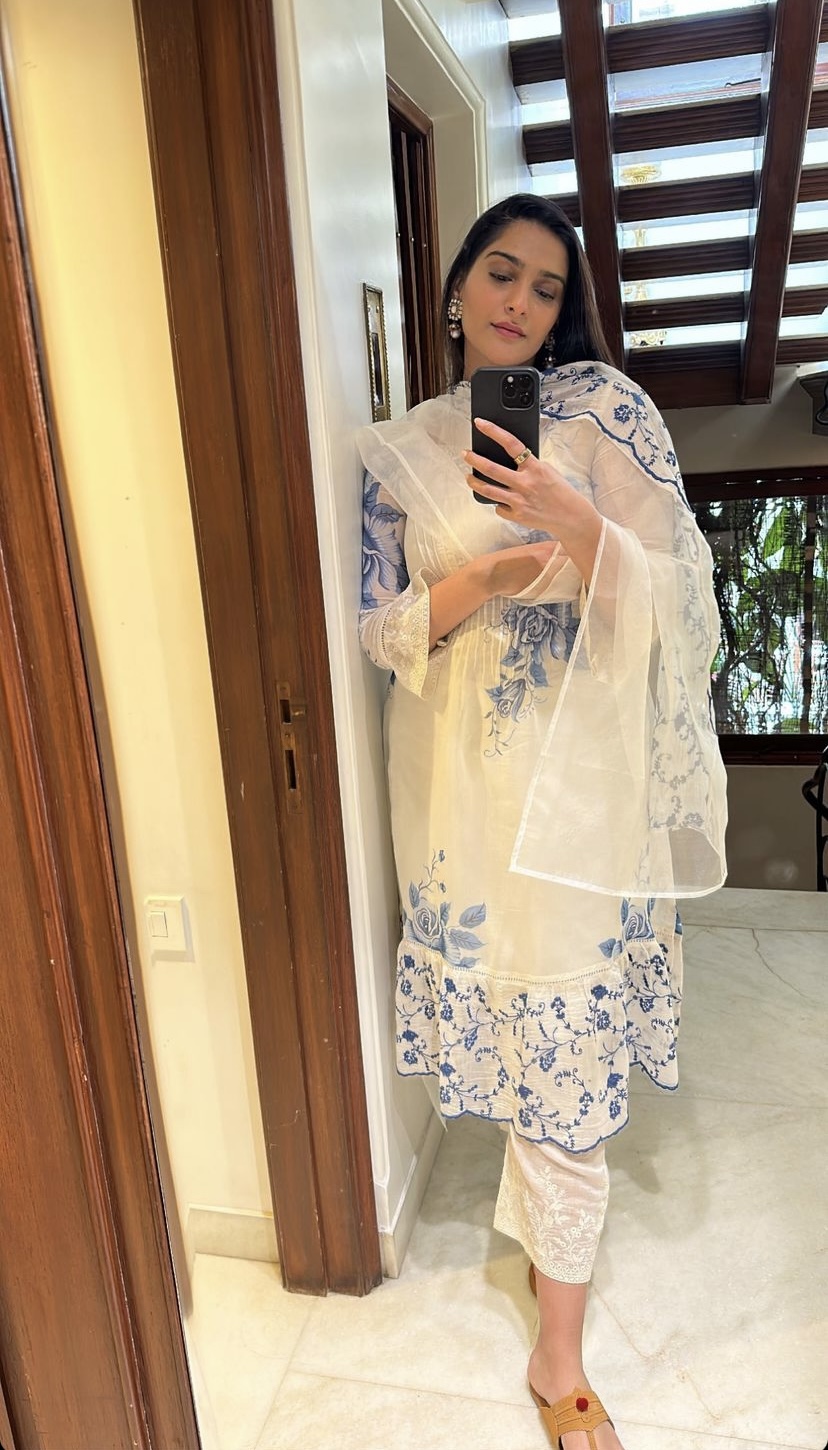 Sonam Kapoor's attire was a stunning midi kurta with intricate details and a blue rose print. Here's a breakdown of her outfit:
Midi Kurta:
The midi kurta featured a charming blue rose print, adding a touch of femininity and elegance to the ensemble.
It had three-quarter bell sleeves adorned with embroidery at the cuffs, which added a stylish and artistic element to the outfit.
The kurta's broad and flowy embroidered hem created a sense of movement and grace.
Styling with White Cropped Pants:
Sonam paired the midi kurta with plain white cropped pants, creating a balanced and coordinated look.
This combination allowed the kurta to take center stage while maintaining a fresh and breezy vibe.
Schiffli Embroidery:
The schiffli embroidery on the kurta added a decorative delight, showcasing intricate patterns and designs that enhanced the overall aesthetic.
The embroidery was a key element that contributed to the outfit's stunning appearance.
Organza Dupatta:
Sonam draped an organza dupatta over her ensemble, mirroring the floral embroidery seen on her kurta's hem.
The dupatta featured a scalloped edge, adding a touch of sophistication and completing the look with grace.
Sonam Kapoor's choice of attire exemplified the beauty of traditional Indian fashion, blending classic elements with contemporary style. The blue rose print, bell sleeves, and schiffli embroidery showcased the artistry and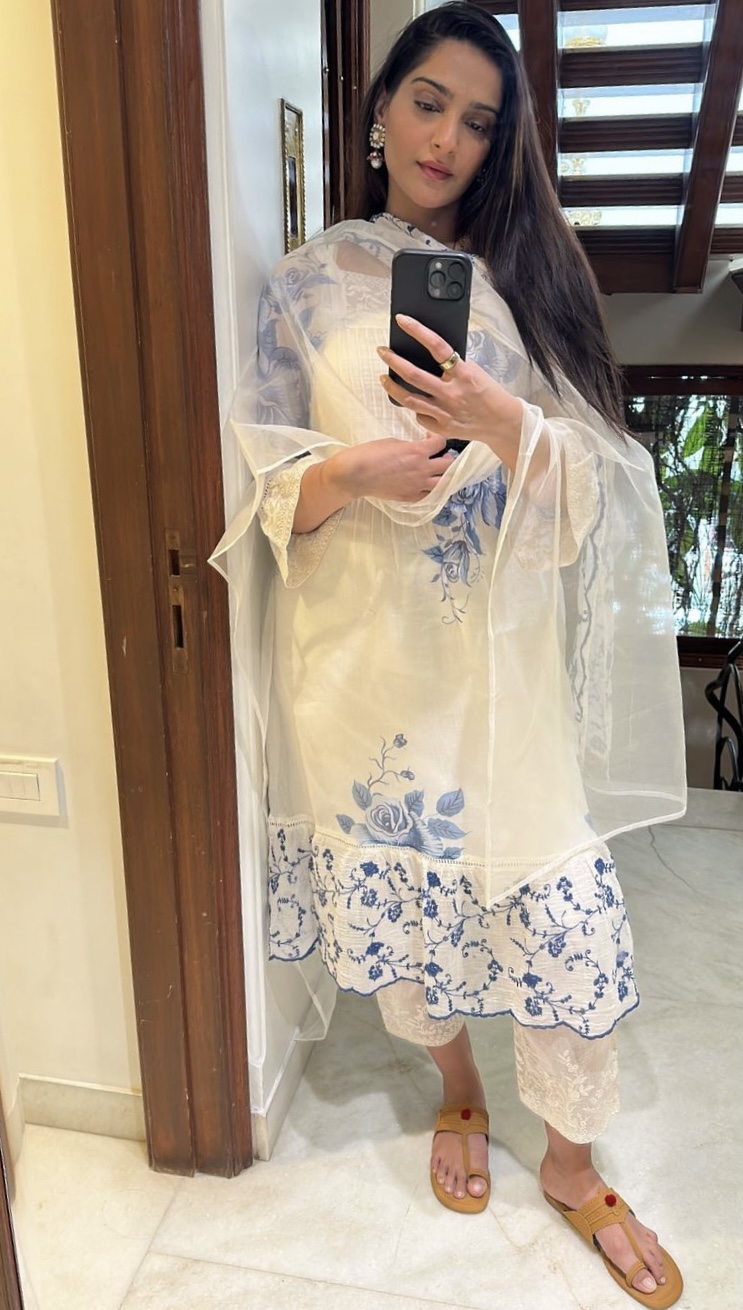 creativity of the outfit.
The coordination with white cropped pants and the addition of the organza dupatta added depth and elegance to the overall appearance. This ensemble can be worn for a daytime stroll or a celebration, making it a versatile and stylish choice for various occasions.
Sonam Kapoor's choice of footwear added an interesting contrast to her ensemble. Here's a closer look at her tan-hued Kolhapuri 'Bhoori' flats from Aprajita Toor:
Handcrafted Design:
The Kolhapuri flats were handcrafted, showcasing meticulous craftsmanship and attention to detail.
They were made from leatherette, a non-leather material, which is a sustainable choice that aligns with ethical fashion practices.
Decorative Elements:
The flats featured a range of decorative elements that enhanced their visual appeal. These elements included flower discs, woollen mini pom poms, a toe loop, and braided details.
These decorative touches added texture and a touch of bohemian charm to the footwear.
Tan Hue:
The tan color of the flats provided a warm and earthy contrast to the blue and white ensemble, creating a visually interesting combination.
Versatile Style: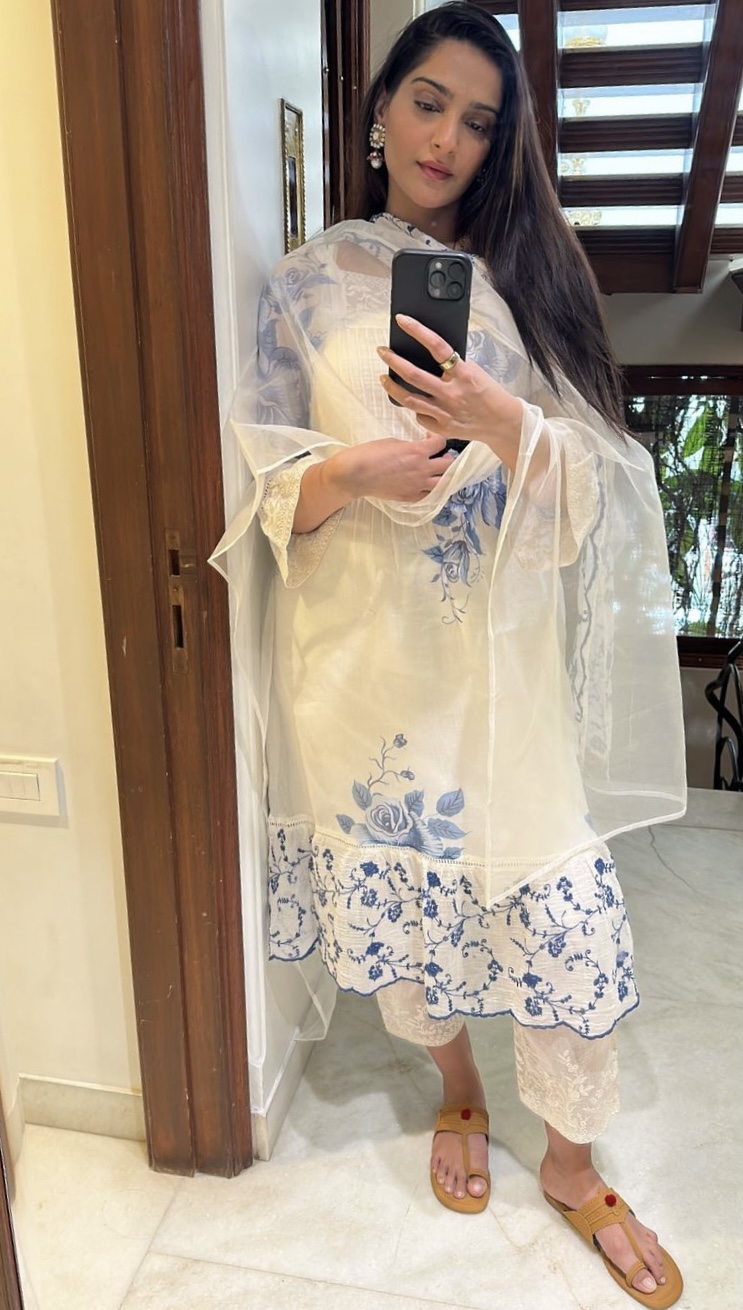 Kolhapuri flats are known for their comfort and versatility, making them a popular choice for ethnic and casual wear.
Sonam's choice of these flats allowed her to maintain a balanced and relaxed look while adding a touch of traditional Indian style to her outfit.
Sonam Kapoor's selection of the tan-hued Kolhapuri 'Bhoori' flats not only demonstrated her fashion-forward approach but also reflected her commitment to sustainable and ethical fashion choices. The handcrafted design and unique decorative elements made these flats a standout addition to her ensemble, providing both style and comfort.