Katrina Kaif's red Sabyasachi saree with plunging neckline blouse will inspire your next wedding outfit
Katrina Kaif, the Bollywood sensation, is widely recognized for her impeccable fashion sense, and she rarely misses an opportunity to captivate us with her style. Recently, she graced us with her presence in a magnificent dark romantic print ensemble that exuded charm and elegance. Her fashion choices consistently reflect her ability to make a statement and leave a lasting impression in the world of glamour.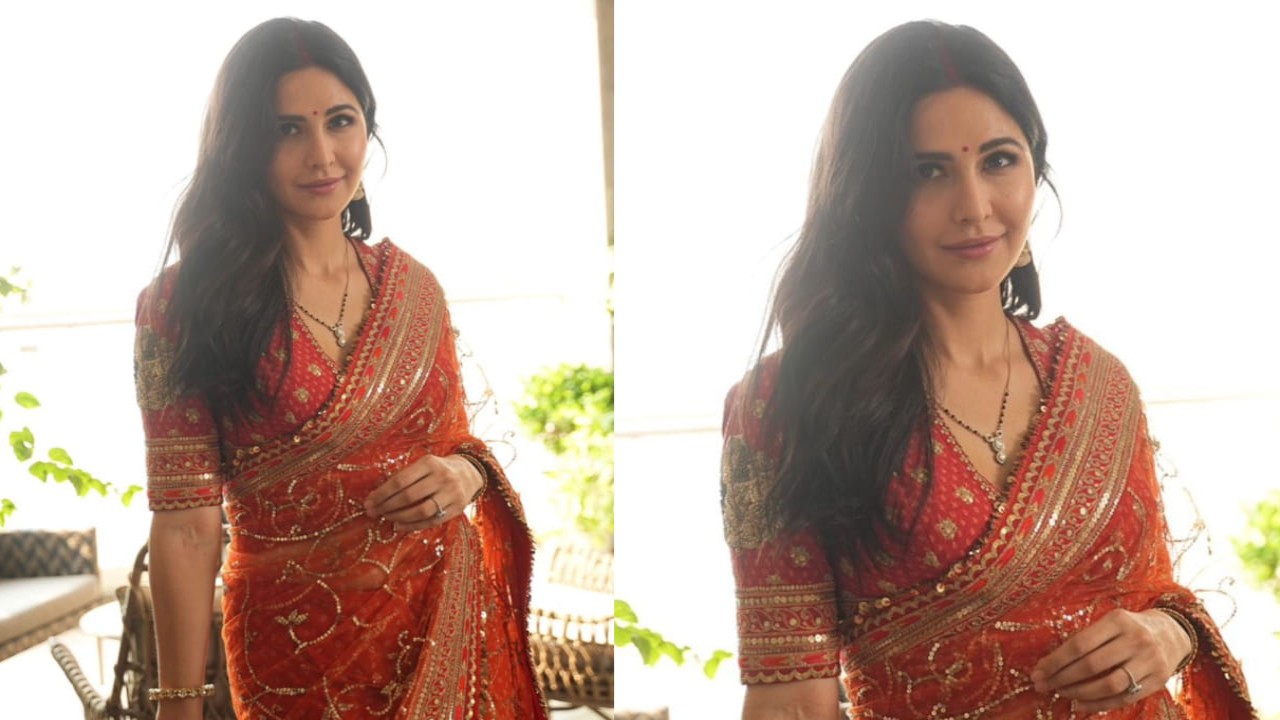 One of the remarkable aspects of Katrina Kaif's style is how she effortlessly owns whatever she wears. Her confidence shines through in every outfit she dons, and she has a unique knack for selecting ensembles that perfectly suit her personality and enhance her natural beauty. This self-assured approach to fashion allows her to consistently dominate the fashion game and set trends that others eagerly follow.
Katrina Kaif's ability to combine grace, charm, and a contemporary fashion sensibility in her outfits is truly admirable. Whether she's gracing the red carpet or stepping out casually, she manages to strike the right balance between sophistication and modernity, making her a fashion icon in her own right. Her fashion choices continue to inspire and set the bar high for those who appreciate style and elegance.
Katrina Kaif has once again showcased her impeccable fashion sense with a perfect ten-out-of-ten look in traditional clothing. For Karva Chauth, she chose to wear a stunning red saree, celebrating the timeless elegance of this classic Indian garment. Her choice of attire exemplifies her ability to effortlessly pull off traditional styles and make them appear both regal and fashionable.
In this classic red saree, Katrina Kaif embodies a sense of grace and charm that transcends eras. She proves that she can embrace and enhance any style, whether it's a contemporary, cutting-edge look or a traditional outfit like a saree. Her versatility in fashion allows her to seamlessly transition between different styles while maintaining her distinct elegance.
Katrina Kaif's latest traditional look not only captivates the hearts of her fans but also serves as a source of inspiration for those who admire her fashion choices. She continues to set the standard for blending the classic with the modern, demonstrating her ability to make any outfit uniquely her own and leaving an indelible mark in the world of fashion.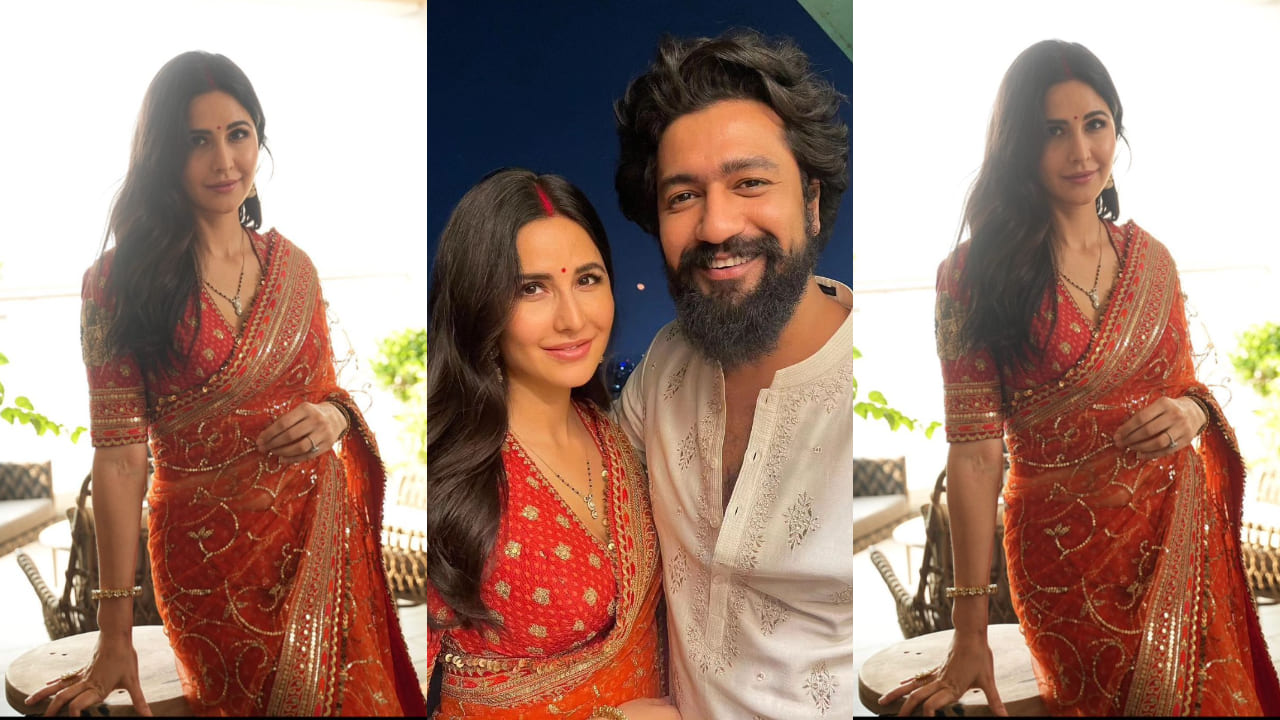 Katrina Kaif undoubtedly turned heads on Karva Chauth with her stunning ensemble. Her choice of a gorgeous crimson saree was an outstanding showpiece, catching the attention of onlookers and fashion enthusiasts alike. The bold and vibrant color perfectly complemented her innate attractiveness and added a sense of timeless elegance to her overall appearance.
To elevate the ensemble further, Katrina combined the saree with a deep V-neck blouse, which added a touch of allure to the traditional attire. The deep V-neck design not only exuded sophistication but also provided a modern twist to the classic outfit.
Adding another layer of glamour to her look, the blouse featured half sleeves made from a patterned fabric adorned with intricate sequin embroidery. This attention to detail in her outfit showcased her impeccable fashion taste and a flair for incorporating elements that truly make her stand out. Katrina Kaif's Karva Chauth attire was not only a stunning celebration of tradition but also a fashion statement that exuded grace and sophistication, making it a memorable and captivating choice.
Katrina Kaif's saree was further enhanced by a thick border adorned with exquisite golden embellishments crafted from opaque golden sequins. This intricate detailing not only added a touch of opulence but also infused the outfit with a sense of luxury and glamour. The golden embellishments beautifully contrasted with the rich crimson of the saree, creating a striking visual effect that drew attention to her attire.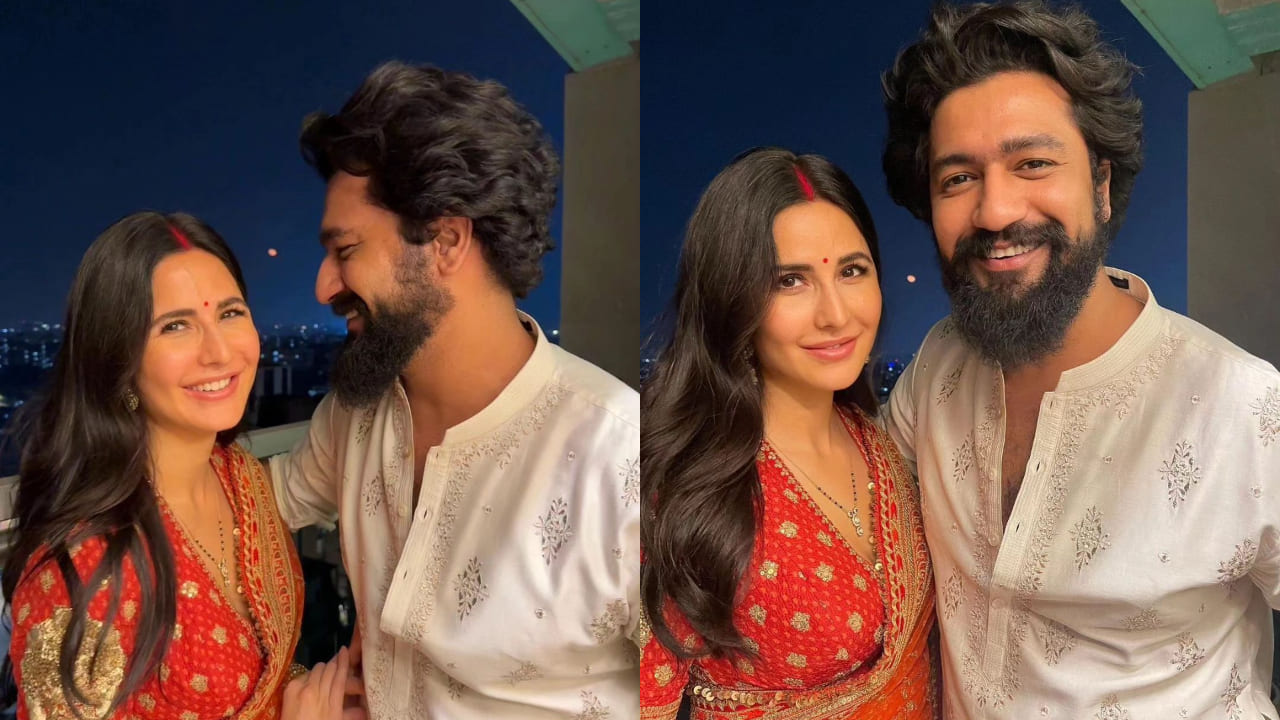 As Katrina gracefully draped the saree in a low pallu manner, she exuded an air of elegance and refinement. Her choice of draping style added to the overall appeal of the ensemble, highlighting the saree's beauty and showcasing her innate grace. The combination of the opulent border, the rich color, and her sophisticated draping made for a truly remarkable and memorable look, further solidifying Katrina Kaif's status as a fashion icon with an impeccable sense of style.
Katrina Kaif has consistently showcased her mastery in the art of accessorizing with just a few well-chosen pieces. For her Karva Chauth ensemble, she adorned her ears with a stunning pair of jhumkas. These golden jhumkas were adorned with glittering stones, which added a glamorous touch to her entire outfit. The delicate detailing and shimmering stones on the jhumkas beautifully complemented her elegant saree, enhancing the overall aesthetic.
The dome of the jhumkas featured a lovely gold-toned finish, which further heightened the sense of refinement in the accessory. This attention to detail demonstrates Katrina's exquisite taste in jewelry and her ability to select pieces that perfectly match her attire.
To complete her look, Katrina wore a stunning teardrop-shaped diamond mangal sutra around her neck. This exquisite piece not only accentuated her neckline but also added a touch of sophistication to her overall appearance. The mangal sutra served as a striking and meaningful addition to her ensemble, making her Karva Chauth look truly memorable and resplendent.
Katrina Kaif's haircut was refreshingly basic, yet it exuded effortless beauty for the occasion. She opted for a simple and classic hairstyle, which perfectly complemented her traditional attire. She styled her hair open, allowing it to flow freely with cascading curls. This hairstyle added a feminine and romantic touch to her entire look, enhancing the overall charm of her appearance.
The open, cascading curls not only framed her face beautifully but also added a soft and elegant dimension to her overall style. Katrina's choice of hairstyle showcased her understanding of how simplicity can be incredibly captivating and how it can enhance the allure of a traditional outfit like a saree. It was a perfect match for her Karva Chauth look, showcasing her natural beauty and grace with every flowing curl.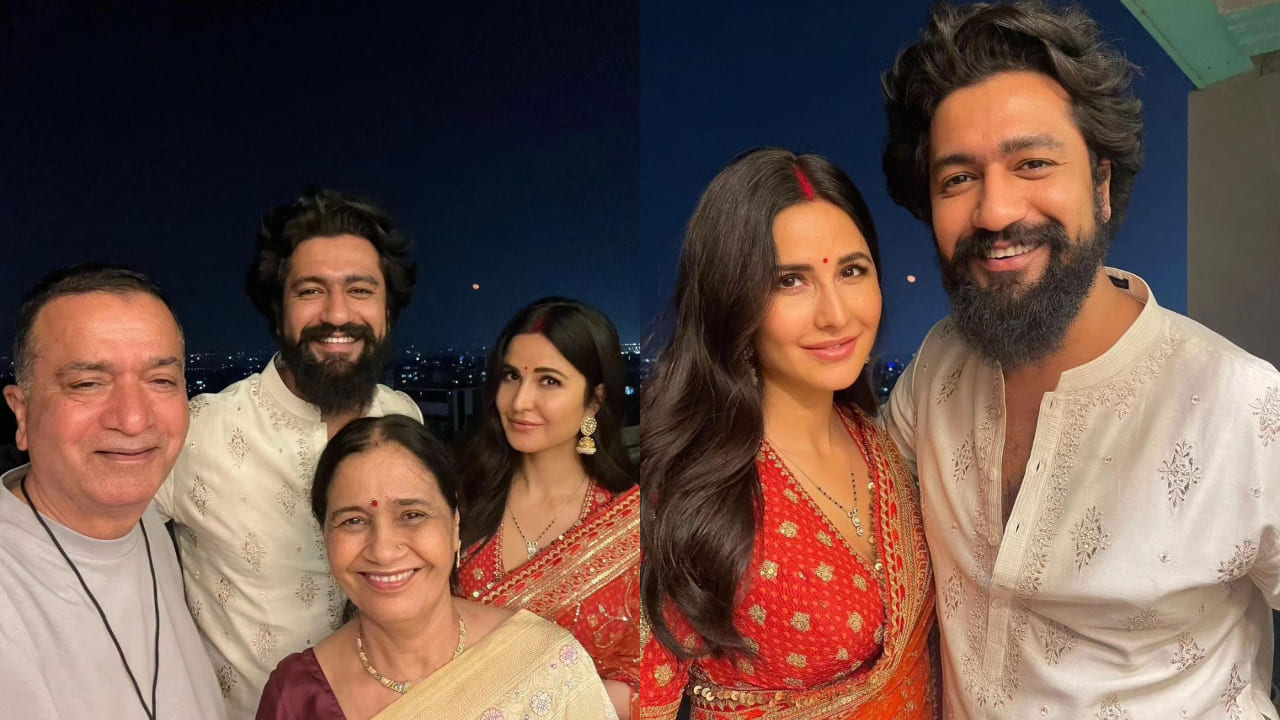 Katrina's makeup for the occasion was impeccably done, enhancing her already stunning features. Her cheeks were contoured and flushed, which lent her face a bright and chiseled appearance. This makeup technique added depth and definition to her facial features, further accentuating her beauty and radiance.
Her lips were highlighted with a glossy pink lipstick, providing a delicate flash of color to her overall look. The pink hue added a touch of vibrancy and femininity, perfectly harmonizing with her crimson saree and the traditional essence of the event.
In keeping with the traditions of Karva Chauth, Katrina added meaningful elements to her appearance. She adorned her hair parting with sindoor, a traditional symbol of wedded love and commitment. This act not only honored the auspiciousness of the event but also added a layer of cultural significance to her overall look.
To complete her traditional and exquisite ensemble, Katrina wore a little crimson bindi on her forehead. The bindi not only added a touch of elegance but also held cultural and symbolic significance, making her Karva Chauth look both visually stunning and deeply meaningful.