Ananya Panday's RipNdip sweater is the winter cool we totes have forgotten
Ananya Panday's recent fashion choice in Dubai certainly suggests that she's embracing cold-weather fashion with a twist. While Dubai is known for its sunny and warm climate, Ananya opted for a more winter-appropriate ensemble, and here's why:
Traveling by night can often be cooler and more comfortable than traveling during the day, especially when the temperature drops. In such cases, it's practical to wear warm clothes like sweaters to stay cozy and comfortable.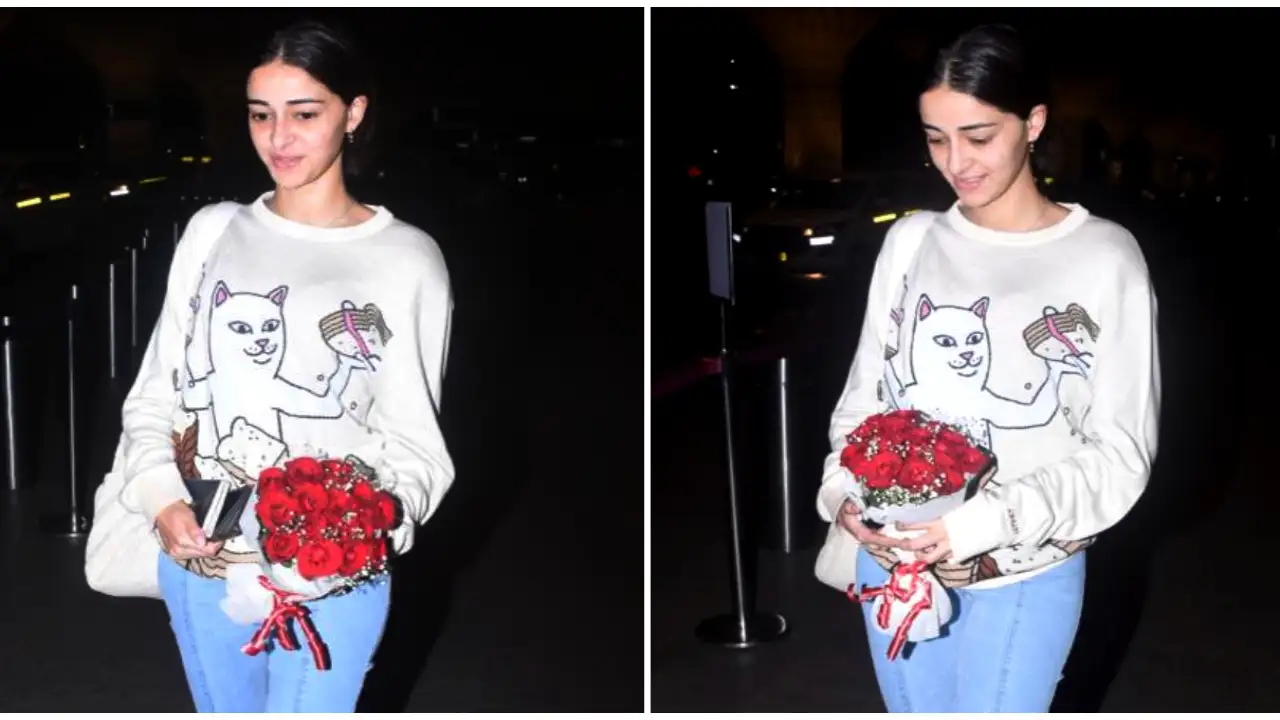 Sweaters not only provide comfort with their soft fabric but also offer a chic and stylish look. Ananya's choice of a sweater can be seen as a fashion-forward move, demonstrating that sweaters aren't just for keeping warm; they can also be a fashionable statement.
The pairing of a basic crop top and denim shorts with a sweater is an interesting contrast. It blends comfort with style, creating a unique and eye-catching look. Ananya Panday's ability to put together an outfit that balances practicality and fashion underscores her fashion sense and adaptability.
This fashion choice serves as a reminder that sometimes, it's essential to prioritize comfort while traveling, even in destinations known for their warm weather. Ananya's twist on cold-weather fashion in Dubai adds a touch of individuality to her style, making her a trendsetter in her own right.
Ananya Panday's choice to style denim and a sweater together in a casual summer look highlights the versatility of these wardrobe staples.
Denim is a timeless and versatile fabric that can be worn year-round. It's known for its durability and comfort, making it a popular choice in summer as well. Whether it's denim shorts, jeans, or a denim jacket, this fabric has indeed cemented itself as a must-have in summer fashion.
Sweaters, typically associated with colder seasons, can also be adapted for summer wear. Lightweight knit sweaters are a great choice for cool summer evenings or when there's a slight breeze. They provide both comfort and style.
Ananya's selection of the "Lets Get The Bread" knit sweater from RipNDip showcases how you can incorporate sweaters into your summer wardrobe. This particular sweater, with its long sleeves, graphic print, ribbed hem, and cuffs, adds a playful and fashionable element to her look.
Her outfit demonstrates that with the right choices, you can make seemingly season-specific clothing work for you year-round. Ananya Panday's fashion choices continue to reflect her sense of style and the ability to put together eye-catching and trendsetting ensembles, even in unexpected combinations like denim and summer sweaters.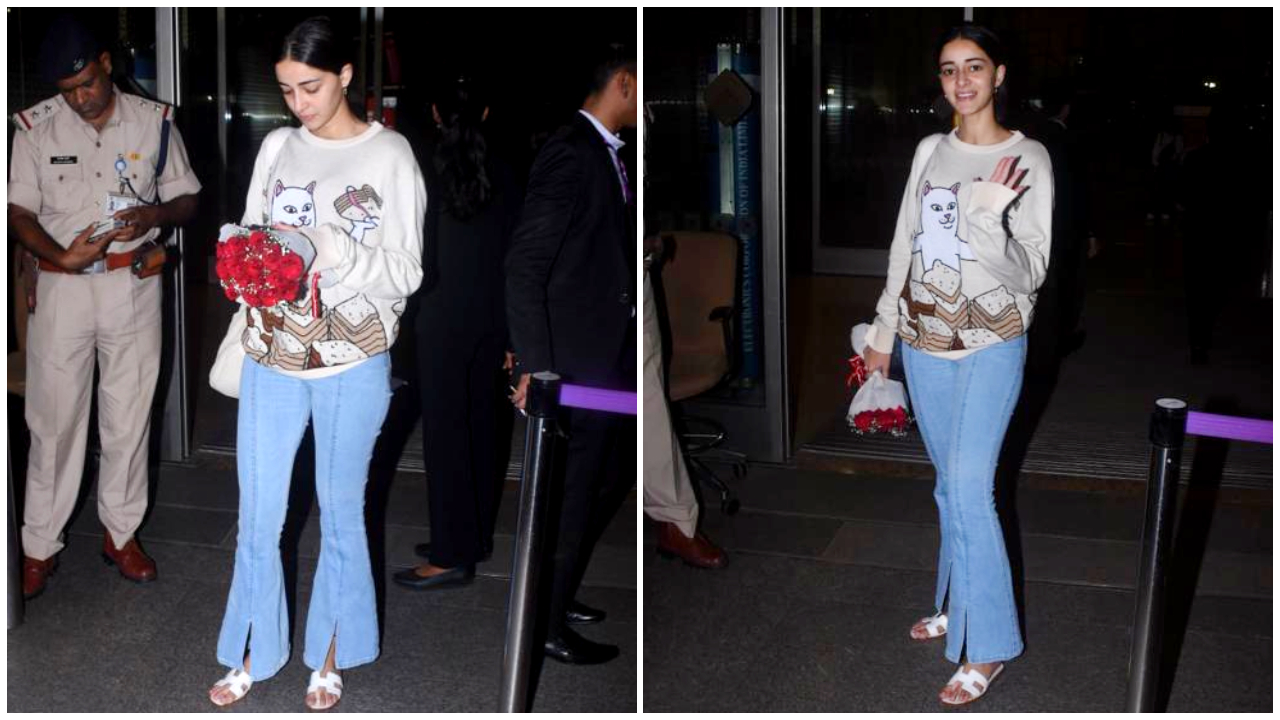 The "Lets Get The Bread" knit sweater from RipNDip, with its cute embroidery details and versatile design, offers numerous options for wearability. Here's how you can style it:
Casual Day Out: Follow Ananya Panday's lead by pairing the sweater with denim shorts. This combination is perfect for a casual day out with friends, whether you're going shopping, strolling around town, or grabbing a coffee. Add some sneakers or casual slip-on shoes to complete the look.
Skirt Styling: Another chic option is to team the sweater with a skirt. Whether it's a denim skirt, a flowy midi skirt, or a mini skirt, the sweater can add a touch of casual elegance to your outfit. This look can be versatile, suitable for brunch dates, picnics, or even a casual dinner with friends.
Pants for a Relaxed Look: If you prefer pants, opt for high-waisted jeans or trousers. Tucking the sweater into the pants can give you a neat and put-together appearance. This look can transition seamlessly from daytime activities like sightseeing or running errands to evening hangouts.
Travel-Friendly: As you mentioned, this sweater is a definite number one option for traveling. It will keep you warm and comfortable during flights, train rides, or long road trips. You can wear it with leggings or sweatpants for extra comfort.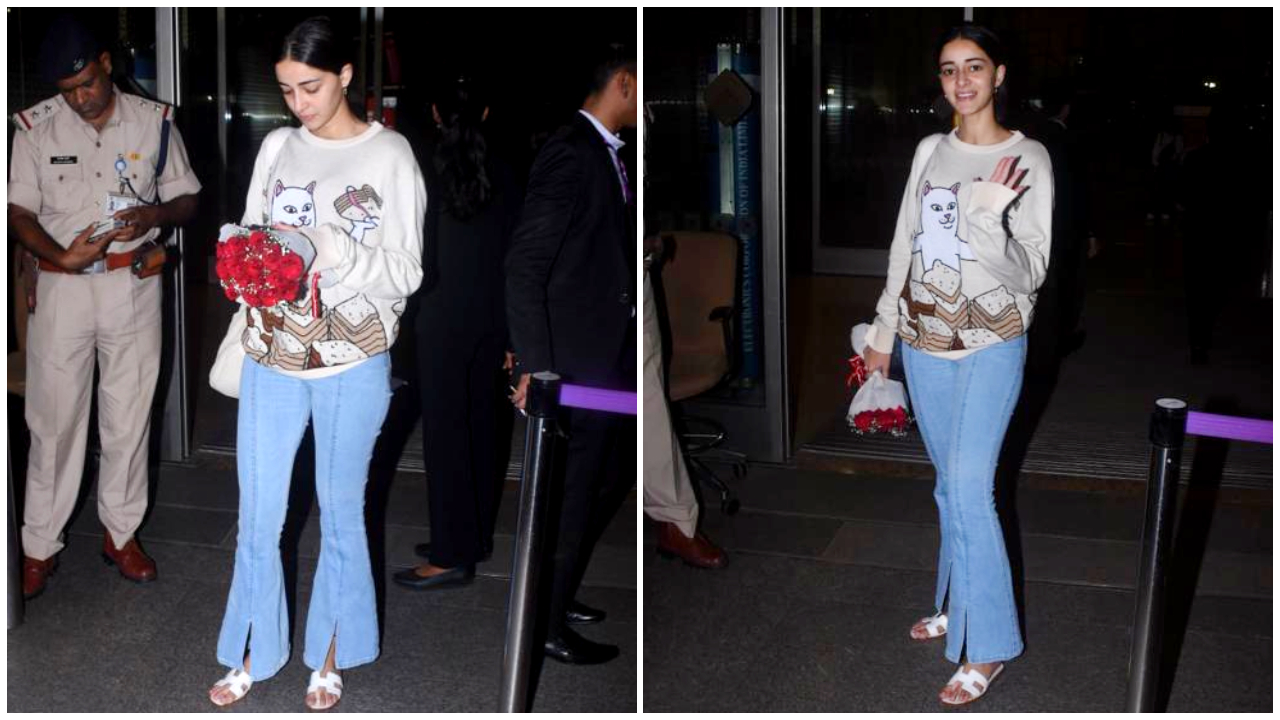 Cozy Moments: Don't forget that sweaters are also perfect for cozy moments at home. You can wear it with pajama bottoms or lounge pants while sipping on hot chocolate, reading a book, or binge-watching your favorite series.
Ultimately, the key to styling a versatile piece like this sweater is to mix and match it with different bottoms and footwear to create various looks suitable for different occasions. Ananya Panday's choice to initiate this style demonstrates how a single item can be adapted to suit a variety of settings and activities, making it a valuable addition to any wardrobe.
Ananya Panday's choice of light blue bell-bottom jeans to pair with the "Lets Get The Bread" knit sweater adds a refreshing and summery touch to her outfit. However, if you prefer a classic black bottom instead, that's absolutely a great option too, especially if you want to create a more monochromatic or neutral look.
One of the advantages of the sweater's design is that it features multiple hues, making it versatile and easy to pair with various colors. Whether you choose blue, black, or even other colors like gray or beige for your bottom wear, the sweater can adapt to your preferred style.
For her footwear, opting for a pair of white flats was a smart choice. White shoes can effortlessly complement a wide range of outfits and add a clean and polished look. They are particularly suitable for a casual and laid-back ensemble like this one.
To complete her look, Ananya Panday chose a backpack, which is not only a practical choice for carrying essentials but also adds a trendy and youthful element to the outfit. Backpacks are versatile accessories that can enhance both style and functionality.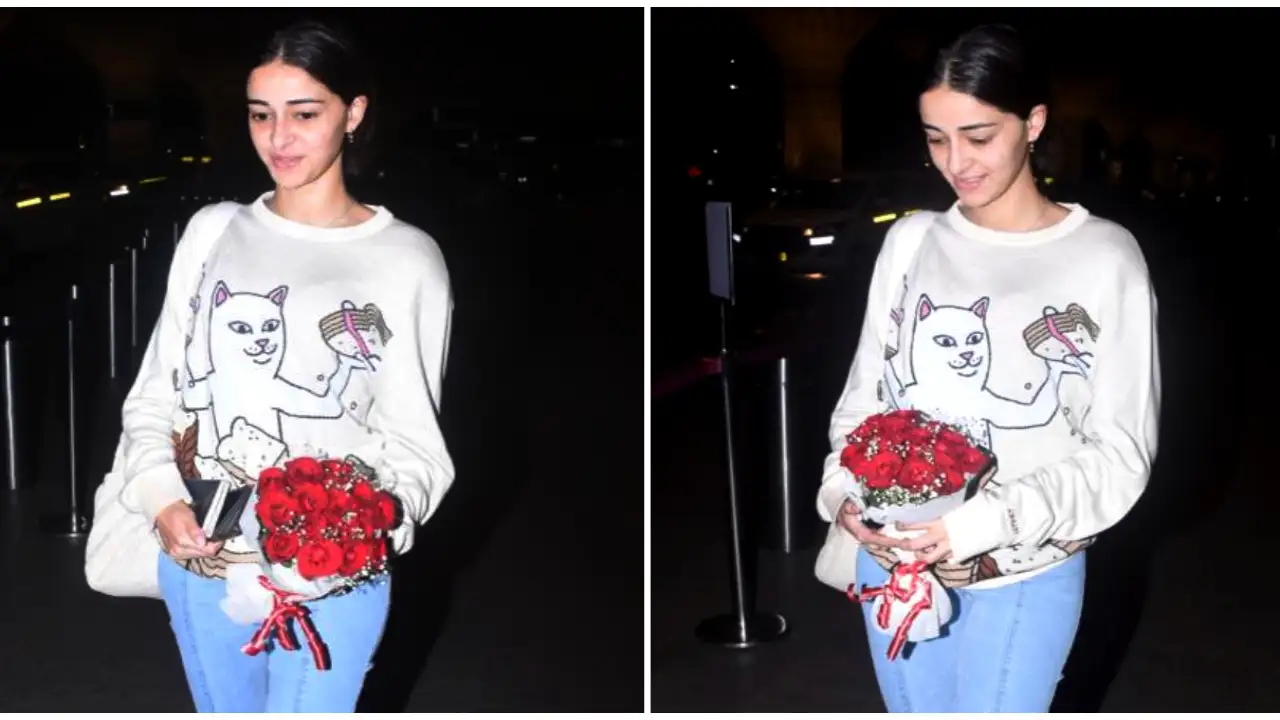 Ultimately, personalizing the outfit with your preferred color choices and accessories is key to making it your own. Whether you go for blue, black, or any other color, the "Lets Get The Bread" knit sweater offers plenty of room for creativity and individual style.