Ananya Panday Radiates Joy and Elegance as She Flaunts Ultimate Bridesmaid Glamour in Baby Pink Amit Aggarwal Lehenga at Alanna Panday's Mehendi
Ananya Panday's cousin, Alanna Panday, is on the verge of embarking on a new journey as she prepares to marry her boyfriend Ivor McCray on March 16. The pre-wedding celebrations have already commenced, igniting a wave of excitement and joy. Amidst these festivities, Ananya Panday has emerged as a fashion trailblazer, showcasing an array of stylish and chic looks that have captivated the onlookers.
In the lead-up to the wedding, Ananya has been adorning a series of uber-chic ensembles that perfectly complement the celebratory atmosphere. Recently, she graced Alanna's bridal shower in a stunning white dress from Saakshi & Kinni, radiating a sense of elegance and charm. This choice exemplified her ability to effortlessly capture attention while embracing the celebratory spirit of the occasion.
Notably, Ananya Panday's sartorial choices didn't cease to amaze as she stepped into the role of 'sister of the bride' at Alanna's mehendi ceremony. Donning a baby pink Amit Aggarwal lehenga, she effortlessly embodied the essence of grace and sophistication. The choice of color resonated with the festive spirit, while the intricate design of the lehenga highlighted her innate sense of style.
Ananya's choice to wear an Amit Aggarwal creation further emphasized her ability to merge contemporary aesthetics with traditional attire. This fusion of modernity and tradition is a hallmark of her fashion choices, showcasing her versatility and willingness to experiment.
As she arrived at the mehendi ceremony, Ananya Panday's appearance not only celebrated the joyous occasion but also paid tribute to her cousin's milestone moment. The 'sister of the bride' look was a manifestation of her support, love, and joy for Alanna's journey ahead.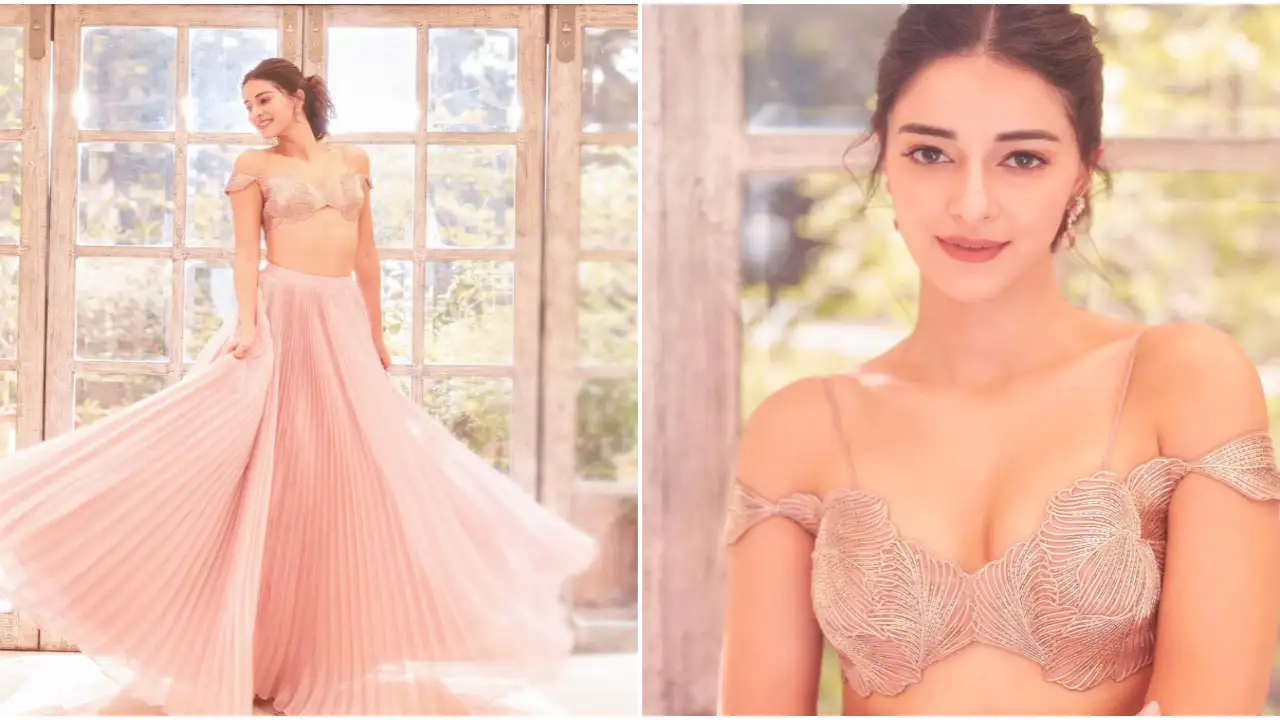 Ananya Panday's ethereal appearance in a pastel pink Amit Aggarwal lehenga has left us captivated. Like a vision of dreamy elegance, Ananya embraced the role of a princess bridesmaid with grace and style, all thanks to designer Amit Aggarwal. Styled by the talented Tanya Ghavri, Ananya's ensemble for Alanna's mehendi celebration epitomized a chic and contemporary aesthetic that seamlessly merged tradition and modernity.
The focal point of Ananya's look was the graceful pink lehenga crafted by designer Amit Aggarwal. This masterful creation showcased a flowy and pleated baby pink long skirt, exuding an aura of sophistication. The subtlety of the color contributed to the ensemble's dreamy appeal, reflecting Ananya's ability to strike the perfect balance between opulence and subtlety.
The actress ingeniously paired the lehenga with a delicate blush pink off-shoulder top, further elevating the ensemble's modern and stylish vibe. The off-shoulder neckline and the addition of a bralette with delicate straps introduced a contemporary touch that aligned flawlessly with Ananya's inherent fashion sense.
Tanya Ghavri's styling prowess came to the fore as she orchestrated an ensemble that effortlessly melded various elements to create a cohesive and stunning look. Ananya Panday's appearance as a princess bridesmaid underscored the ensemble's versatility, allowing her to embrace her role while exuding confidence and elegance.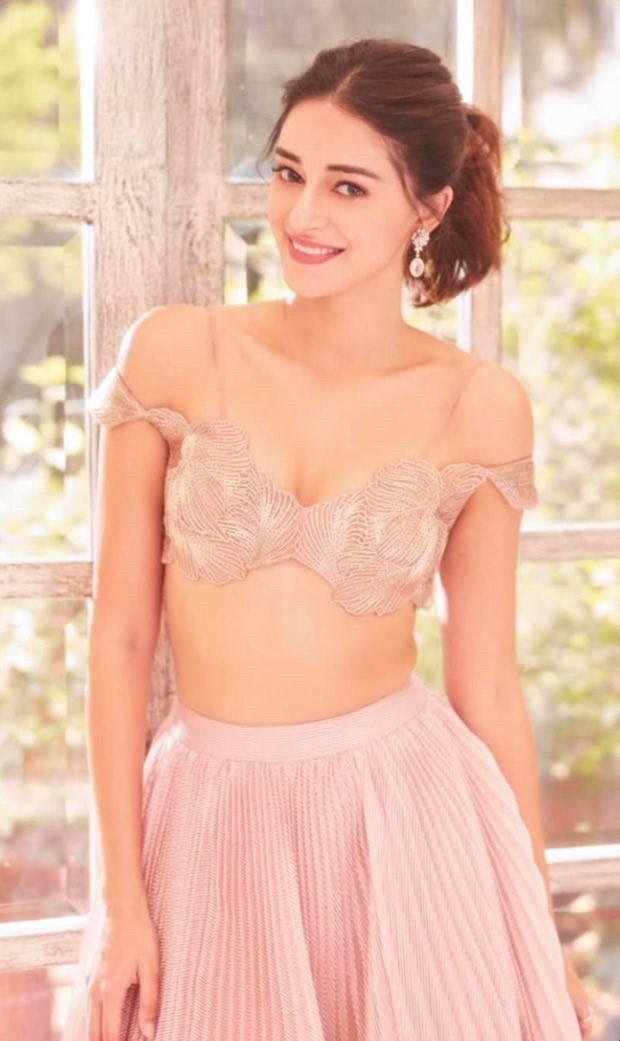 The ensemble's contemporary yet traditional charm resonated with the celebratory atmosphere of Alanna's mehendi ceremony, capturing the essence of the occasion while highlighting Ananya's individuality and personal style.
In essence, Ananya Panday's dreamy look in the pastel pink Amit Aggarwal lehenga is a testament to her ability to channel her inner princess with panache. The ensemble's harmonious fusion of elements, brought to life by designer Amit Aggarwal and stylist Tanya Ghavri, showcases Ananya's innate fashion sense and her talent for embracing modernity while paying homage to tradition.
Ananya Panday chose to embrace minimalism in her accessorizing, opting for a refined and understated approach. In contrast to elaborate adornments, she decided to let the elegance of simplicity shine through. For her ensemble's finishing touches, Ananya took the minimalist route by exclusively selecting a pair of diamond earrings.
This decision to opt for minimal accessories perfectly aligned with the chic and contemporary look she was embodying. By choosing to focus on a single accessory, the diamond earrings, Ananya highlighted her innate understanding of how less can often be more when it comes to achieving a polished and sophisticated appearance.
The diamond earrings, with their timeless allure, added a touch of sparkle that harmonized seamlessly with the ensemble's delicate pastel hues. This choice further emphasized Ananya's knack for making deliberate and thoughtful fashion decisions that complemented her overall look without overwhelming it.
In a world where accessories are often used to make bold statements, Ananya's choice to go minimal spoke volumes about her personal style. It showcased her confidence in letting the outfit take center stage while using accessories as a subtle enhancement rather than a focal point.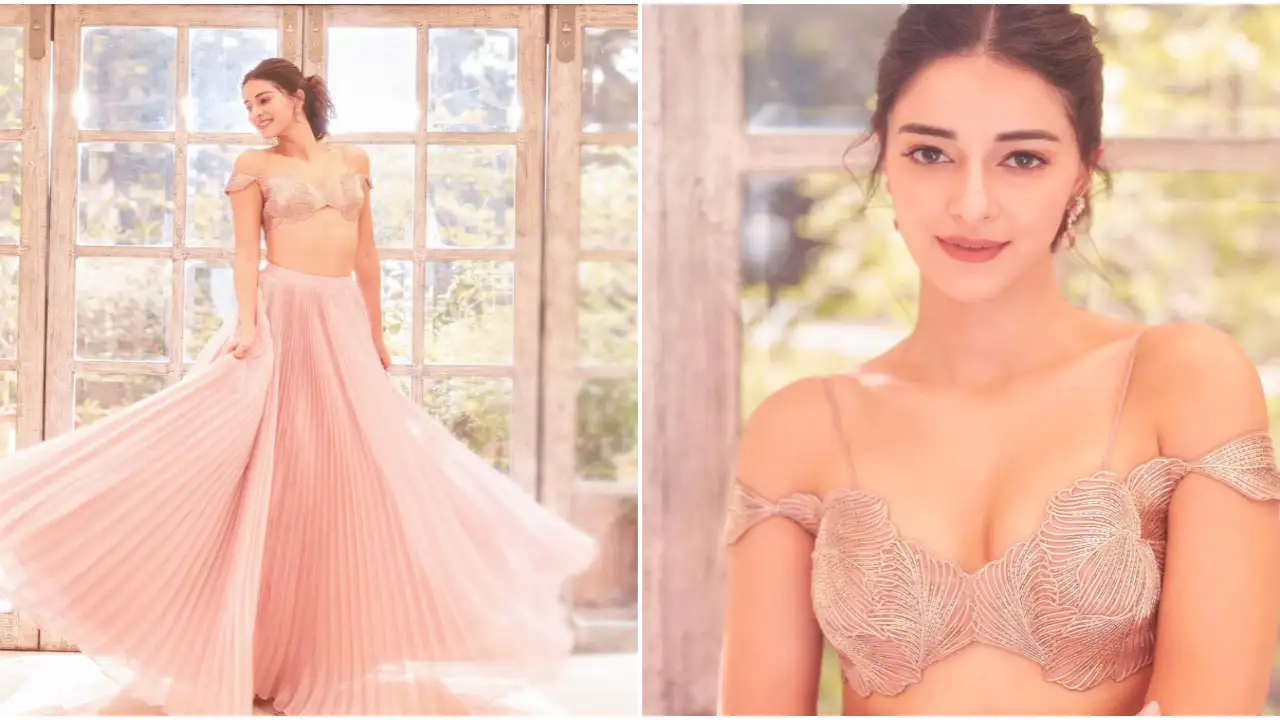 Ultimately, Ananya Panday's decision to don minimal accessories, with the single addition of diamond earrings, served as a masterclass in how to create an impactful look with an elegantly understated touch. This choice not only resonated with her ensemble's contemporary aesthetic but also highlighted her ability to curate a cohesive and refined appearance that celebrates simplicity as a form of elegance.
Ananya Panday's makeup choices were a testament to her mastery in the art of subtlety and enhancing natural beauty. Her minimal and dewy makeup was flawlessly executed, providing the perfect canvas for her overall look. The soft and radiant finish of her makeup highlighted her features without overpowering them. A standout element was her choice of a rosy nude lipstick, which harmonized exquisitely with the ensemble's pastel palette. This well-chosen lipstick shade acted as the final brushstroke, seamlessly tying together her makeup and outfit.
Her hairstyling was equally meticulous and thoughtful. She opted for a messy ponytail that exuded an effortless charm. The decision to keep face-framing tendrils loose at the front added a touch of softness to her look, framing her face beautifully and emphasizing her facial features.
Ananya's entire appearance came together with a sense of grace and modern sophistication, resonating perfectly with the occasion's celebratory spirit. Her portrayal as a stylish bridesmaid during Alanna's wedding festivities was a testament to her fashion sensibilities and her ability to curate a look that embodied both elegance and contemporary flair.
The dreamy pictures captured Ananya Panday's style journey in all its glory, showcasing her as a beacon of fashion inspiration. Her choices in makeup, hair, and overall styling were carefully orchestrated to create a harmonious and visually appealing ensemble. The photos stand as irrefutable proof of her ability to effortlessly bring together different elements to create a look that's both ethereal and contemporary, leaving a lasting impression of style and grace.