Ananya Panday Radiates '90s Elegance in Alex Perry Side-Cut-Out Gown, Exuding Glamour and Grace
Ananya Panday is making quite a fashion statement with her promotional appearances for "Dream Girl 2". Her choice of diverse and elegant outfits, ranging from colorful sarees to bodycon gowns, traditional costumes, and now a velvet blue outfit, demonstrates her versatility and sense of style. By carefully selecting outfits that accentuate her elegance, poise, and beauty, she's not only promoting her film but also becoming a trendsetter in the fashion world.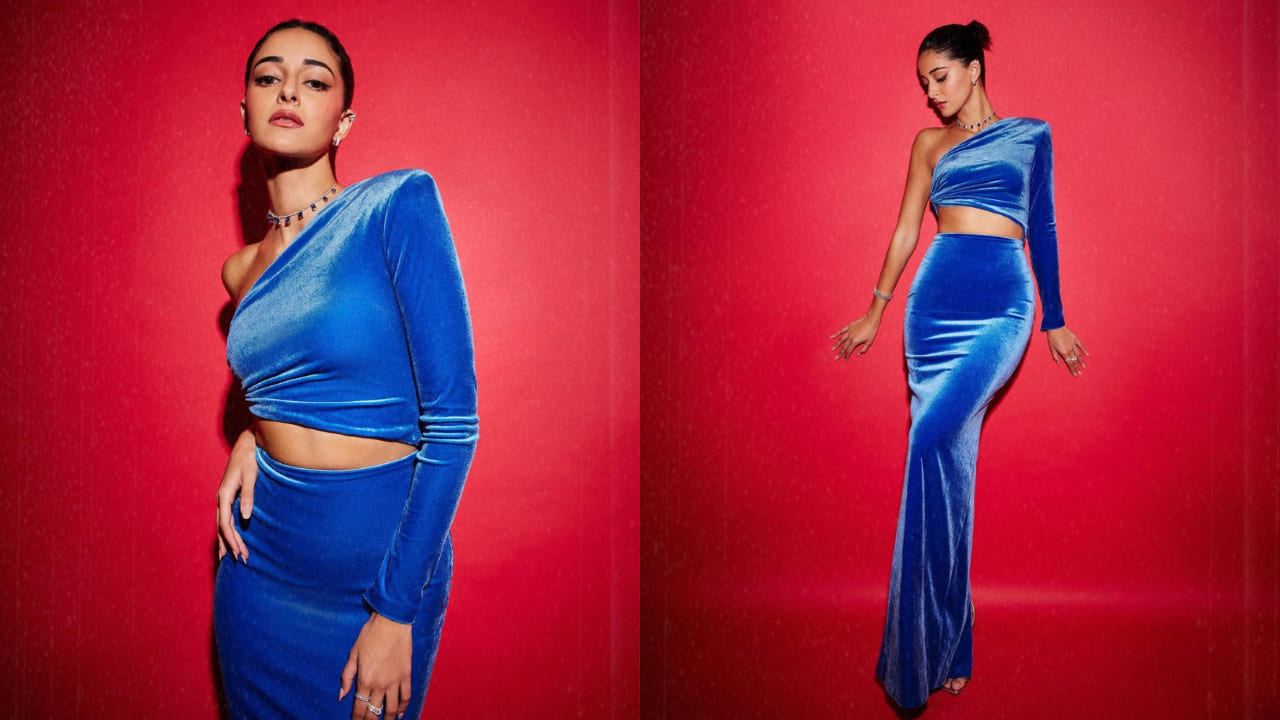 Fashion plays a significant role in the entertainment industry, as actors and actresses often become style icons for their fans and followers. Ananya Panday's ability to experiment with different styles and pull off various looks showcases her confidence and comfort with her personal style, which can inspire others to try new fashion trends as well.
Fashion is a form of self-expression, and celebrities like Ananya Panday use their appearances to communicate their personalities and create a lasting impression. Her fashion choices can influence and shape current fashion trends, as fans and designers alike take cues from her wardrobe selections.
It's worth noting that fashion is subjective and can vary greatly depending on individual preferences and cultural contexts. What might be considered elegant and stylish in one region or community might differ in another. Nonetheless, Ananya Panday's fashion journey seems to be leaving a positive impact on her audience, and she's certainly gaining attention for her impeccable style choices.
Ananya Panday once again captured the spotlight with her latest fashion statement that left everyone in awe. As she gracefully walked the red carpet, she donned a stunning one-shoulder-sleeved gown that exuded a perfect blend of refinement and charm. The gown's design was truly daring, featuring a cutaway portion that added an alluring touch of sensuality to the ensemble.
One couldn't help but notice the exceptional attention to detail in the outfit. The gown's long-fitting skirt not only flowed elegantly but also cleverly accentuated Ananya's slim thighs, showcasing her impeccable fashion sense and understanding of how to enhance her best features.
The gown, a creation by the renowned fashion brand Alex Perry, stands out as a prime example of timeless elegance with a contemporary twist. However, luxury and exclusivity come at a price, and this particular piece comes with a hefty price tag of Rs. 2,33,054. This showcases not only Ananya's impeccable taste but also the willingness of celebrities to invest in high-end designer wear to make a lasting impression on the red carpet and in the world of fashion.
Ananya Panday's choice of this luxurious velvet gown by Alex Perry highlights her ability to make a powerful fashion statement while embracing her individuality and confidence. As a style icon, she continues to inspire fashion enthusiasts and aficionados, setting trends and raising the bar for red carpet appearances.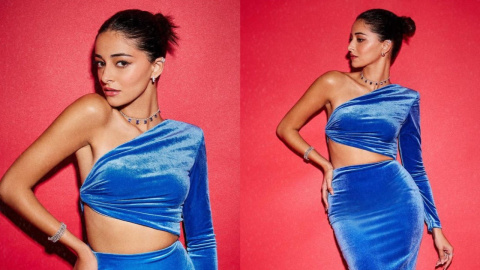 Ananya Panday, a true youth fashion icon, continues to leave everyone mesmerized with her impeccable sense of style. Her recent choice of a velvet blue ensemble was elevated to a whole new level of glamour by the addition of exquisite sparkling jewelry from Mahesh Notandass Fine Jewellery. The jewelry pieces not only enhanced her overall look but also added a touch of opulence and sophistication to her appearance.
Taking center stage was a remarkable necklace adorned with breathtaking blue stones that effortlessly captured the attention of all eyes. The necklace served as the pièce de résistance of her ensemble, exuding a sense of grandeur and luxury that perfectly complemented the occasion.
The carefully curated assortment of glittering bracelets and rings further contributed to the ensemble's allure, creating a harmonious balance between elegance and radiance. The strategic placement of these jewelry pieces added a captivating sparkle that seamlessly tied together Ananya's entire outfit.
By skillfully combining her velvet blue outfit with the dazzling jewelry from Mahesh Notandass Fine Jewellery, Ananya Panday demonstrated her innate ability to curate a look that's not only visually striking but also resonates with her personal style. Her fashion choices continue to set trends and inspire young individuals to explore their own sense of style, making her a true role model in the world of fashion and beauty.
Ananya Panday's choice of Ayana Silver Jewellery ear cuffs served as the perfect finishing touch to her ensemble, adding a distinct touch of refinement. These ear cuffs not only complemented her overall look but also showcased her attention to detail and finesse in accessorizing.
The Ayana Silver Jewellery ear cuffs undoubtedly contributed to the ensemble's sense of elegance and sophistication. Their unique design and placement on the ear added a modern and edgy twist, while still maintaining a sense of grace and refinement.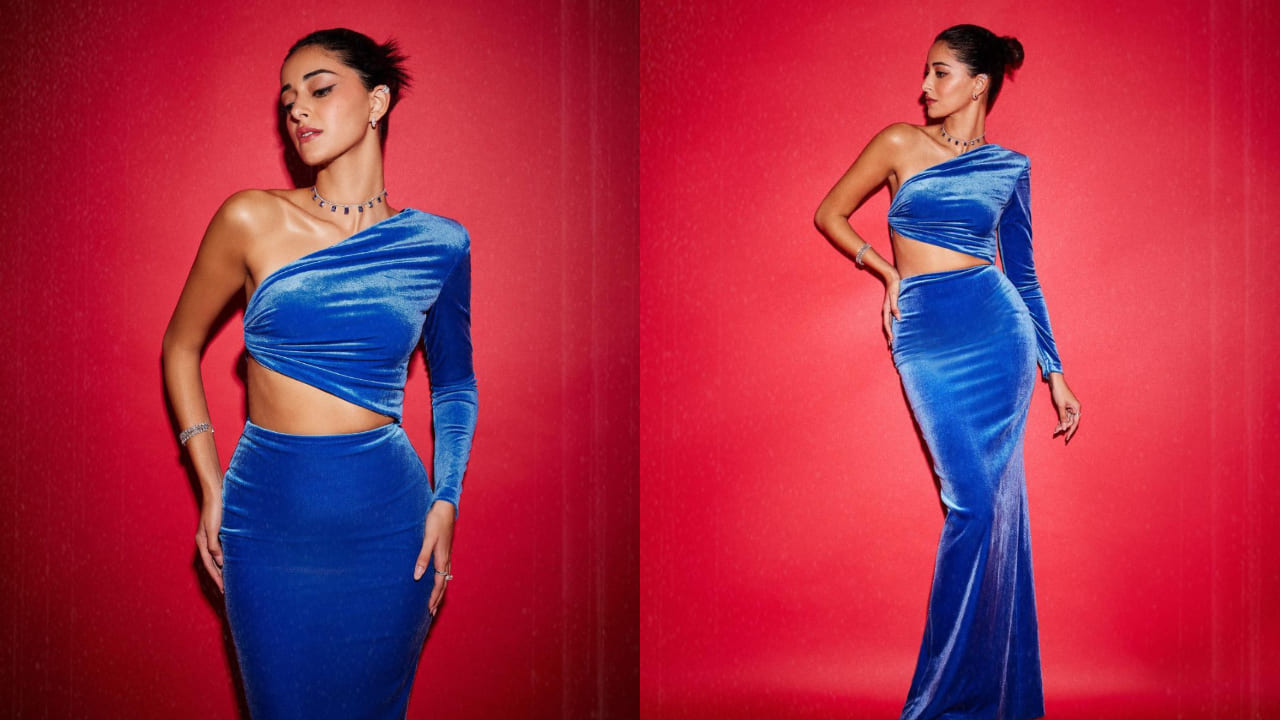 Accessorizing is an art in itself, and Ananya Panday's choice of the Ayana Silver Jewellery ear cuffs demonstrated her ability to elevate her outfit with just the right amount of flair. It's these thoughtful additions that showcase her exceptional fashion sense and contribute to her reputation as a style icon.
Ananya Panday, often regarded as Bollywood's style guru, once again left her fans in awe with her latest look, meticulously curated by the talented Meagan Concessio. Ayesha Devitre's touch was equally remarkable, as she skillfully fashioned a sleek high bun that added an element of sophistication to the overall ensemble.
The high bun, elegantly crafted by Ayesha Devitre, contributed significantly to the refinement of Ananya's appearance. The choice of a high bun not only showcased her facial features but also offered a clean and polished aesthetic that perfectly complemented her attire.
Ananya's attire, tightly wrapped and thoughtfully chosen, played a pivotal role in highlighting her figure. The dress, while accentuating her shape, managed to strike a balance between a stretched silhouette and graceful lines, a testament to her impeccable fashion sensibility.
Meagan Concessio's expertise in styling, combined with Ayesha Devitre's hairstyling finesse, came together seamlessly to create a look that is both alluring and sophisticated. Ananya Panday's ability to bring these elements together is a testament to her status as a fashion icon, one who consistently pushes the boundaries of style and sets trends in the industry.
Ananya Panday made a deliberate choice of minimal makeup to harmonize with her attire, and this decision was executed with finesse by the talented Stacy Gomes. By opting for minimal makeup, Ananya allowed her natural beauty to shine through, showcasing her inherent radiance and confidence.
Stacy Gomes' skill in applying makeup subtly enhanced Ananya's features, allowing her to radiate beauty without overpowering her overall look. This choice of minimalism was in perfect alignment with the ensemble, emphasizing a sense of understated elegance.
Adding to the ensemble's allure were a pair of exquisite Jimmy Choo shoes, chosen by Ananya herself. These shoes not only complemented her outfit but also introduced an element of glitz and glamour, elevating the entire look to a new level of sophistication.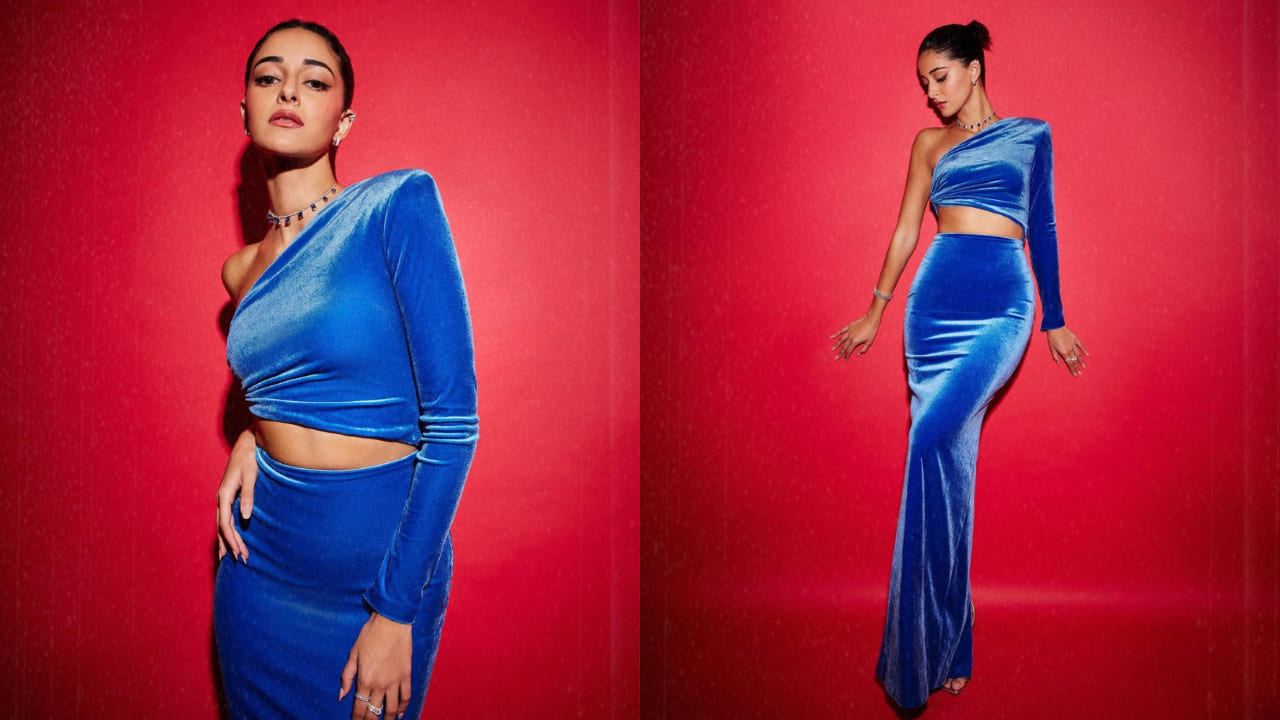 Ananya Panday's ability to curate a complete look that seamlessly blends style and grace is truly remarkable. Her selections reflect a deep understanding of fashion and an innate sense of what works best for her. With each appearance, she continues to reshape the fashion landscape, inspiring countless individuals to explore their own style journeys while embracing elegance and panache.