Malaika Arora's sheer golden saree with big teardrop earrings is the ULTIMATE Diwali puja look
Get ready for the much-anticipated return of the fashion sensation, Malaika Arora, the Bollywood diva whose style choices have always managed to turn heads and leave us in awe. However, this time, it's not just about admiring her impeccable gym looks. Malaika is back and ready to exhibit her fashion prowess once again, effortlessly slaying in both modern and traditional attire. Her exquisite taste and innate sense of style have never failed to astonish us, and we can't wait to see what she has in store for her latest fashion extravaganza.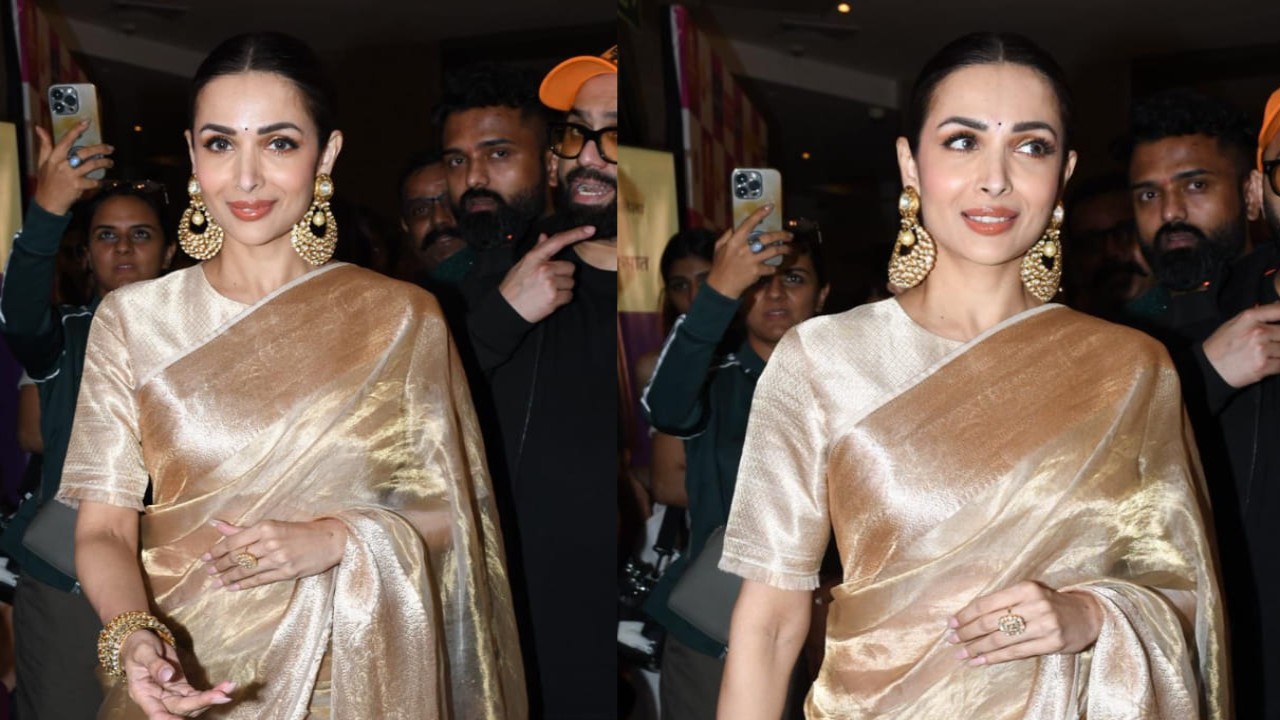 Malaika Arora is known for her versatility in fashion, seamlessly transitioning from elegant modern outfits to mesmerizing ethnic attire. She has the unique ability to embrace a wide range of styles and make them her own, setting trends that fashion enthusiasts around the world eagerly follow. Her wardrobe choices have always been a source of inspiration for those looking to elevate their style game, whether it's for a casual day out or a grand red carpet event.
As we embark on this journey to unravel the secrets behind Malaika's wardrobe, we anticipate a showcase of fashion excellence that's sure to leave a lasting impression. Stay tuned to discover the intricacies of her fashion choices, as we explore the fusion of modern and traditional elements in her iconic style, reaffirming her status as a fashion icon in the world of Bollywood. Malaika Arora's return to the fashion scene is an event to watch, and it promises to be a delightful display of her ever-evolving, trendsetting style.
Malaika Arora's ageless beauty is a testament to her timeless charm and her ability to continually surprise and inspire us. On a recent occasion, our favorite fashionista once again left a lasting impression as she donned a breathtaking traditional ensemble that had everyone in awe. Malaika's grace and poise were on full display as she effortlessly slayed in a mesmerizing golden saree that left us absolutely speechless.
The golden saree Malaika chose was nothing short of a masterpiece, perfectly showcasing her impeccable fashion sense. Its radiant color exuded opulence and grandeur, making it an ideal choice for a special occasion. The saree itself was a canvas of intricate detailing and craftsmanship, with its shimmering fabric capturing the light and creating a magical effect. Malaika's choice of this ethereal ensemble was a reflection of her ability to blend tradition with contemporary elegance.
What truly set this look apart was Malaika's inherent grace and confidence as she wore the saree. Her styling and poise turned the golden saree into an absolute showstopper. It's a testament to her fashion choices that consistently redefine beauty and glamour, all while maintaining an aura of agelessness that is nothing short of remarkable.
Malaika Arora's recent appearance in the mesmerizing golden saree is a reminder of her enduring impact on the world of fashion. Her choices not only inspire but also reinforce the idea that true beauty knows no age. Malaika's ageless charm and her impeccable style continue to captivate audiences and reaffirm her status as a fashion icon in the world of Bollywood.
The saree, crafted from fine woven tissue, emanated a sense of opulence that was truly captivating. Its delicate texture and shimmering quality added an air of luxury to Malaika's ensemble, making it a perfect choice for a special occasion. What further enhanced the saree's allure was the gleaming golden broad border that gracefully adorned its edges, lending just the right touch of glitz and glamour to the overall look. Malaika's decision to drape the saree in the traditional manner, with the pallu beautifully tucked at her shoulder, added a touch of timeless elegance and showcased her deep appreciation for the rich heritage of Indian fashion.
To complete her breathtaking traditional outfit, Malaika Arora made a stellar choice by pairing the exquisite golden saree with a subdued, yet equally stunning, gold-toned blouse. This blouse, with its jewel round neckline, was nothing short of a showstopper in its own right, adding a touch of regal elegance to the entire ensemble. The intricate detailing and the golden hue perfectly complemented the shimmering saree, creating a harmonious and captivating look.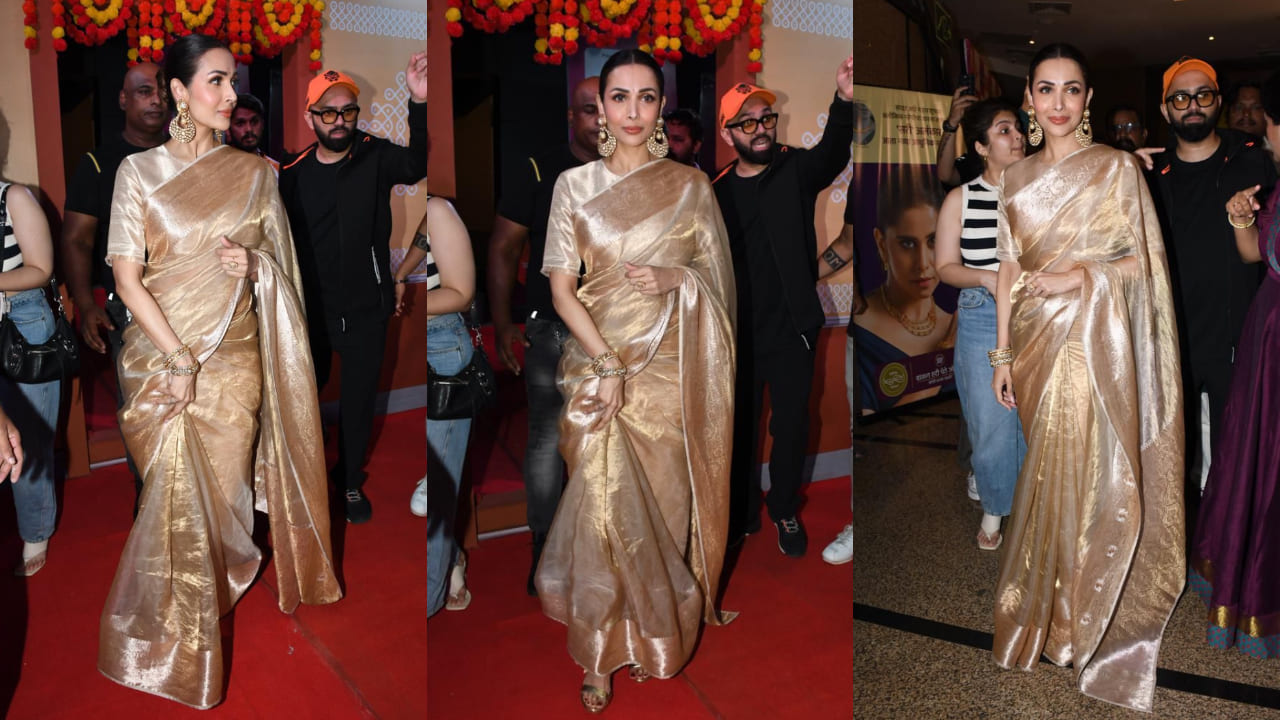 The blouse's half sleeves were the perfect length, striking a balance between traditional charm and modern sophistication, thereby flawlessly harmonizing with Malaika's overall style and making her entire appearance a true fashion masterpiece.
Indeed, Malaika Arora's sense of style goes beyond just her clothing. To elevate her already stunning look, she chose a pair of large teardrop-shaped stone-studded drop earrings that were nothing short of exquisite. These accessories perfectly complemented her dress, adding a touch of sophistication and grace to her overall appearance. The choice of teardrop-shaped earrings not only added an element of glamour but also beautifully accentuated her facial features.
Malaika's keen eye for detail in selecting accessories, and how she effortlessly incorporates them into her outfit, showcases her fashion finesse, making her appearance beautiful and truly fascinating.
Adorned with a stunning array of golden bangles gracing her wrists, Malaika infused an exquisite elegance into her attire. These ornate bangles, each one a gleaming testament to her impeccable taste, added a touch of regal charm to her ensemble. They jingled softly with every graceful movement, creating a melodious symphony that accompanied her steps.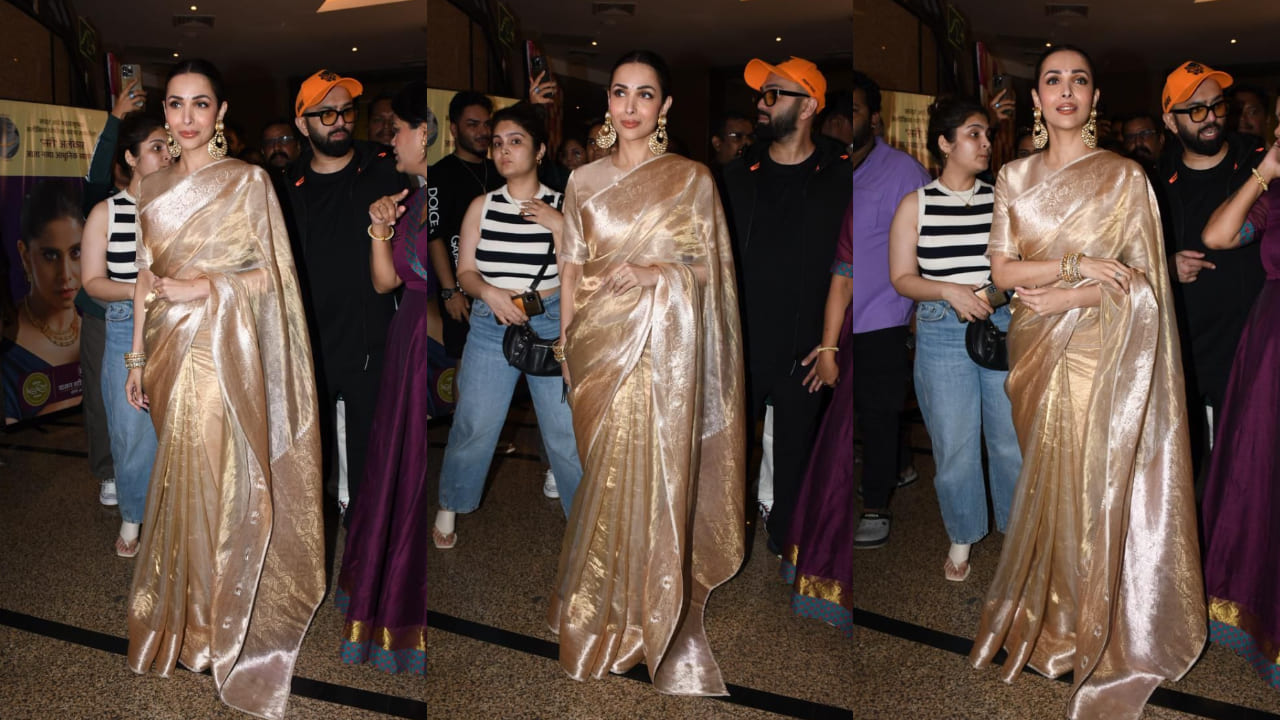 Commencing the transformation with makeup, Malaika began her journey to enhance her natural beauty. She understood that makeup was an art form, a medium through which she could express herself and highlight her best features. For her eyes, she opted for a captivating brown eyeshadow that accentuated her eyes with brilliance. The warm, earthy tones of the eyeshadow played a harmonious contrast with her deep, expressive eyes, making them the focal point of her look.
As Malaika expertly applied the eyeshadow, it blended seamlessly with her skin tone, creating a mesmerizing effect. Her eyes, framed in shades of chocolate and copper, seemed to come alive with a subtle, yet undeniable allure. The brown eyeshadow brought out the depth of her gaze, making it impossible for anyone to look away when she met their eyes.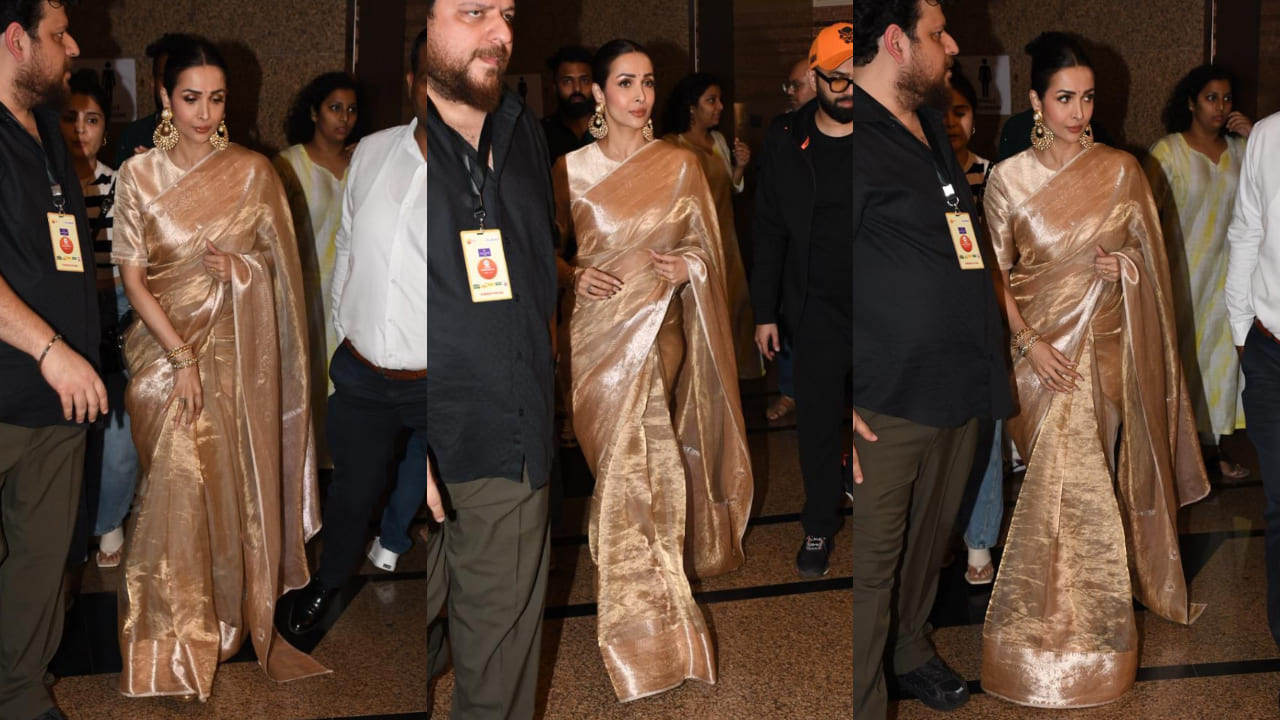 Malaika's choice of makeup was a testament to her refined taste and attention to detail. The captivating brown eyeshadow not only enhanced her natural beauty but also added a touch of mystery and allure to her overall appearance, completing her transformation into a vision of grace and elegance.