Parineeti Chopra's rosette blush crystal saree with a cape and emerald jewelry is every modern bride's dream
Hello there, fashion enthusiasts! Parineeti Chopra, our beloved Bollywood actress, tied the knot on September 24 in the enchanting city of Udaipur, Rajasthan. Ever since, she has been serving up some serious wedding inspiration that's capturing our hearts. Parineeti's fresh and exquisite bridal looks have been setting the internet on fire and leaving us utterly awestruck. With elegance and flair, she has been mastering every aspect of her bridal appearance, from her resplendent traditional attire to her immaculate makeup.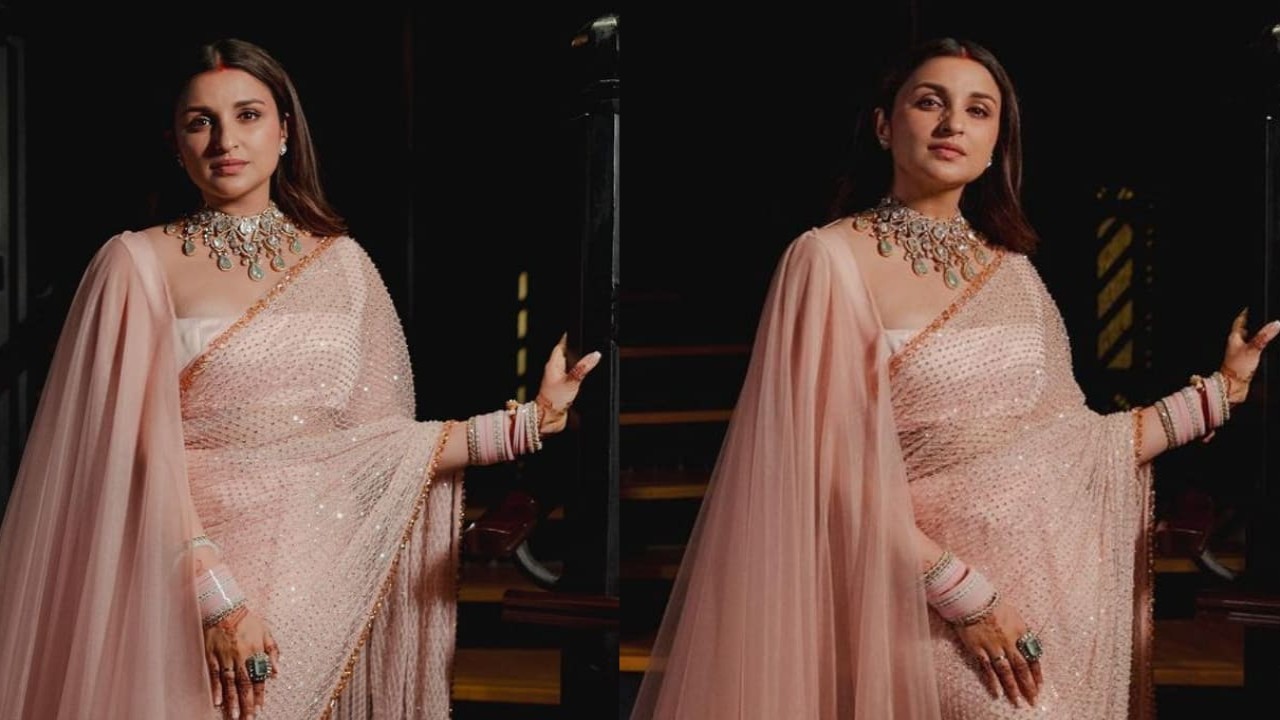 Parineeti Chopra's wedding extravaganza was a true fairytale affair in the backdrop of Udaipur, a city known for its regal charm and palatial settings. The stunning location provided the perfect canvas for her to showcase her impeccable taste and style. As one of Bollywood's most cherished actresses, Parineeti brought her signature charisma and elegance to every facet of her wedding festivities.
Parineeti's bridal attire choices have been nothing short of sensational. With each outfit, she has redefined the concept of timeless beauty and bridal grace. Her traditional ensembles have resonated with brides-to-be and fashion enthusiasts alike, serving as an exquisite source of inspiration for those looking to add a touch of regal charm to their own weddings.
Furthermore, her makeup has been a testament to her attention to detail. Parineeti's flawless and immaculate makeup has been an integral part of her stunning bridal transformation. Every look she has sported exudes a sense of sophistication, enhancing her natural beauty and bringing out the radiance of a bride in its full glory.
In a world where fashion and celebrity weddings are constantly in the spotlight, Parineeti Chopra's nuptials have truly stood out. She has managed to capture the essence of Bollywood glamour and Indian tradition, blending them seamlessly to create a wedding spectacle that will be remembered for years to come. Her wedding has been an inspiring journey for fashion enthusiasts and brides alike, and it cements her status as a true style icon in the world of Indian cinema.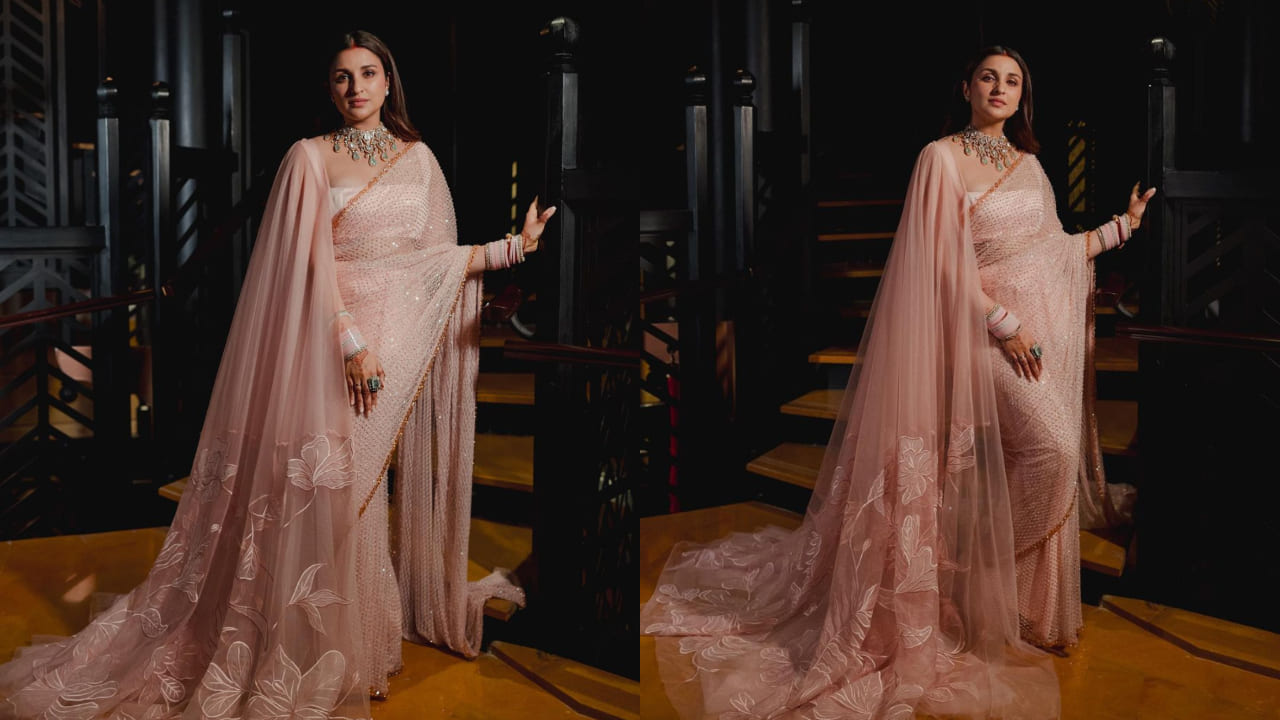 Parineeti Chopra never fails to enchant and captivate with her fashion choices, and she has continued to do so even after her ethereal bridal appearance. Recently, she left us in awe once more with her stunning attire for the Haldi ceremony. Traditionally, yellow has been the predominant color associated with Haldi ceremonies, symbolizing auspiciousness and happiness. However, Parineeti's choice of attire showcased her daring and unique sense of style.
For her Haldi ceremony, Parineeti opted for a magnificent Manish Malhotra suit that was a striking departure from the traditional yellow hues. Instead, she chose a bold and vibrant color that added a fresh and contemporary twist to the age-old ceremony. This decision to step outside the conventional color palette highlighted her fashion-forward mindset and her ability to make a statement with her choices.
The suit was a true masterpiece, adorned with intricate embellishments and embroidery that perfectly complemented the festive and celebratory atmosphere of the Haldi ceremony. Parineeti's ensemble was not just a reflection of her personal style but also a testament to the evolving landscape of Indian weddings, where brides are increasingly embracing unique and unconventional color palettes.
Parineeti's choice to break away from the traditional yellow for her Haldi ceremony is a reminder of her fearless and innovative approach to fashion. She continues to be a source of inspiration for brides-to-be and fashion enthusiasts, proving that it's possible to balance tradition with modernity while looking resplendent. Her vibrant attire, as part of her wedding celebrations, adds yet another chapter to her fashion legacy, cementing her status as a trendsetter and style icon in the world of Bollywood.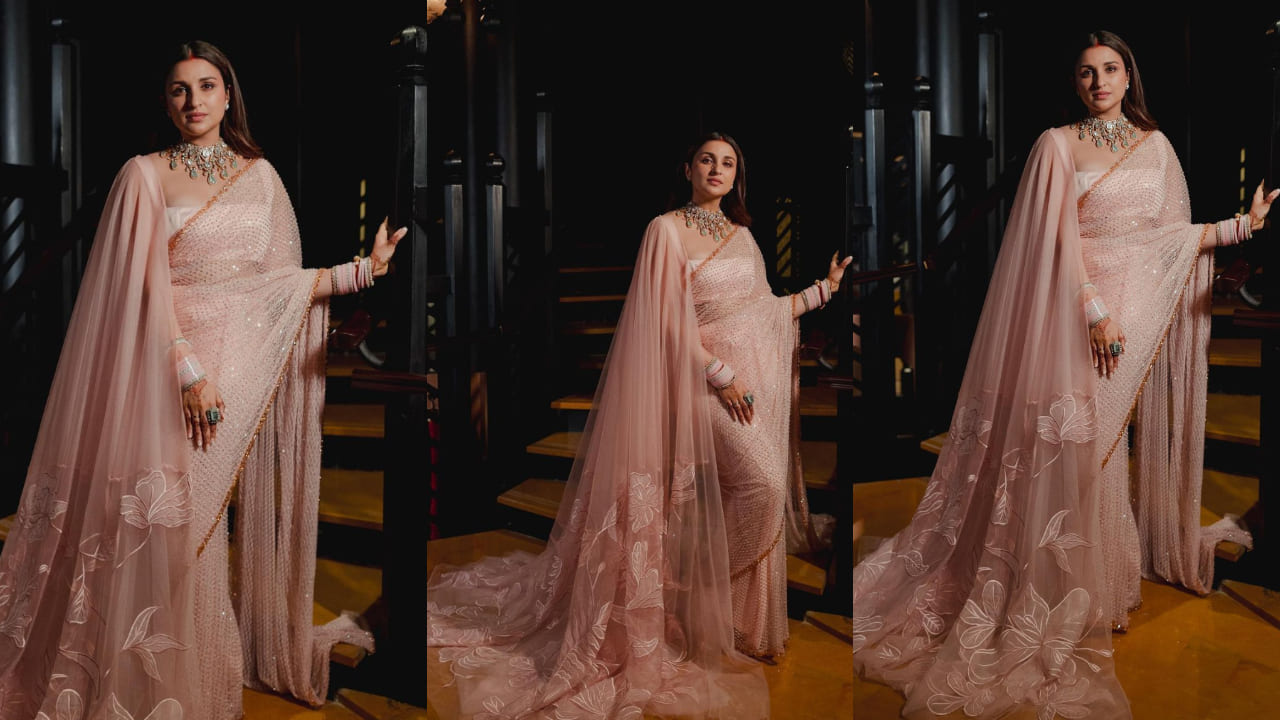 Parineeti Chopra's choice to wear a stunning and unconventional Haldi ensemble truly left us awestruck. Her fearless approach to embracing unique and vibrant colors for this traditional ceremony is a testament to her bold fashion choices. It's evident that she's not afraid to break away from the norm and redefine the expectations associated with different wedding rituals.
As the excitement mounts, all eyes are on the horizon for what she will wear at her upcoming cocktail reception. Will she opt for a glamorous and elegant gown, or will she surprise us with a trendy fusion ensemble that combines the best of both traditional and contemporary styles? The anticipation is palpable, and fans and fashion enthusiasts around the world are eagerly awaiting her next fashion spectacle.
One thing is for sure: Parineeti Chopra's exquisite style choices continue to keep us on our toes. With every appearance, she manages to reinvent herself, setting new standards in the world of fashion and leaving a lasting impact. Her fashion journey has been nothing short of spectacular, and her ability to seamlessly blend tradition with modernity is a source of inspiration for all who follow her. As we eagerly await her next fashion revelation at the cocktail reception, one thing is certain – Parineeti's style evolution is a constant delight and a true fashion spectacular.
Hold on to your seats, fashion enthusiasts, for Parineeti Chopra has once again left us mesmerized with her post-wedding cocktail party ensemble! Her choice for the occasion was nothing short of spectacular – a stunning powder pink saree that exuded elegance and glamour. Parineeti managed to strike the perfect balance between traditional charm and contemporary chic, showcasing her impeccable taste and style.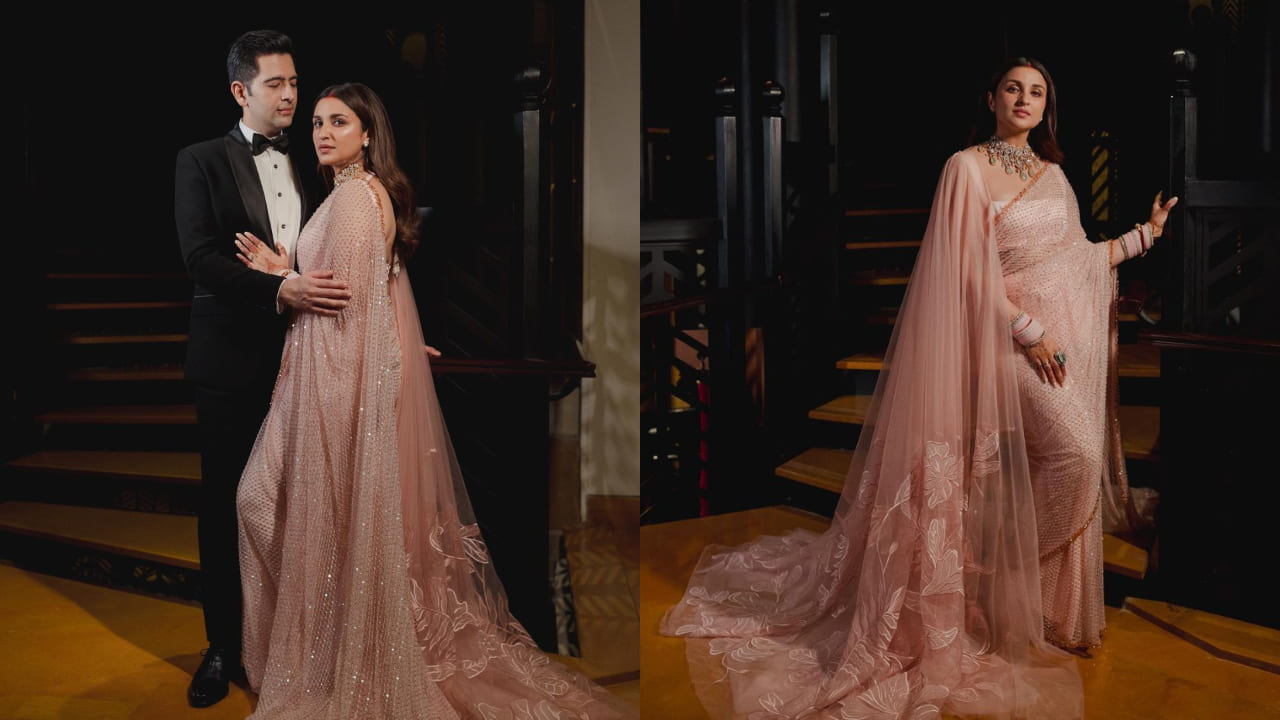 The saree she wore was a work of art in itself, crafted from delicate net fabric that added a touch of ethereal grace to her look. What truly set this ensemble apart was the intricate detailing – it was embellished with rosette pink crystal sequins from top to bottom. The shimmer and sparkle of these sequins made the saree radiate like a star in the night sky, capturing the attention of everyone in the room. Parineeti was an epitome of sophistication and glamour, as she effortlessly carried off this exquisite outfit with grace.
In her choice of this powder pink saree, Parineeti Chopra has once again demonstrated her ability to make a powerful fashion statement. Her fashion choices continue to inspire and influence, and she has a knack for selecting ensembles that perfectly complement the occasion. This after-wedding cocktail party look will undoubtedly remain etched in the memory of fashion enthusiasts and fans alike, proving that Parineeti is a true trendsetter and a style icon in the world of Bollywood.
Furthermore, Parineeti's choice of a sleeveless bustier to complement the saree was a stroke of fashion genius. This contemporary addition perfectly balanced the classic charm of the saree, adding a touch of modernism to the overall ensemble. However, what truly drew our attention was the distinctive square neckline of the bustier. This novel design element gave the entire outfit a unique and refreshing twist, making it stand out in the world of traditional Indian attire.
Behind this magnificent creation lies the genius of none other than Manish Malhotra, the renowned fashion designer who has time and again demonstrated his mastery in the world of Indian fashion. Manish Malhotra is celebrated for his ability to blend tradition with contemporary style, and he once again showcased his artistic prowess with Parineeti's cocktail party ensemble. The sequin-embellished saree and the modern, square-necked bustier were a perfect fusion of his creativity and Parineeti's elegance.
Hats off to Manish Malhotra for crafting yet another masterpiece that has left us all swooning. His artistic vision and ability to create fashion statements that resonate with the modern Indian woman are truly commendable. Together with Parineeti Chopra, he has managed to redefine bridal and party wear, setting new standards and inspiring fashion enthusiasts around the world. Their collaboration has once again proven that fashion is not just about clothing but a powerful form of self-expression and art.