Durga Pujo 2023: Kajol Devgan serves timeless pink elegance in embroidered saree with sultry sleeveless blouse
In the dazzling world of Bollywood, where fashion seamlessly meets the realm of entertainment, there are very few divas who can consistently and effortlessly ace their fashion statements quite like the legendary Kajol Devgan. This timeless beauty has always managed to strike a perfect balance between style and substance throughout her illustrious career. Not only is she celebrated for her impeccable fashion sense, but she's also renowned for her exceptional acting talent. In the ever-evolving landscape of the Indian film industry, Kajol remains a luminous icon whose influence transcends generations.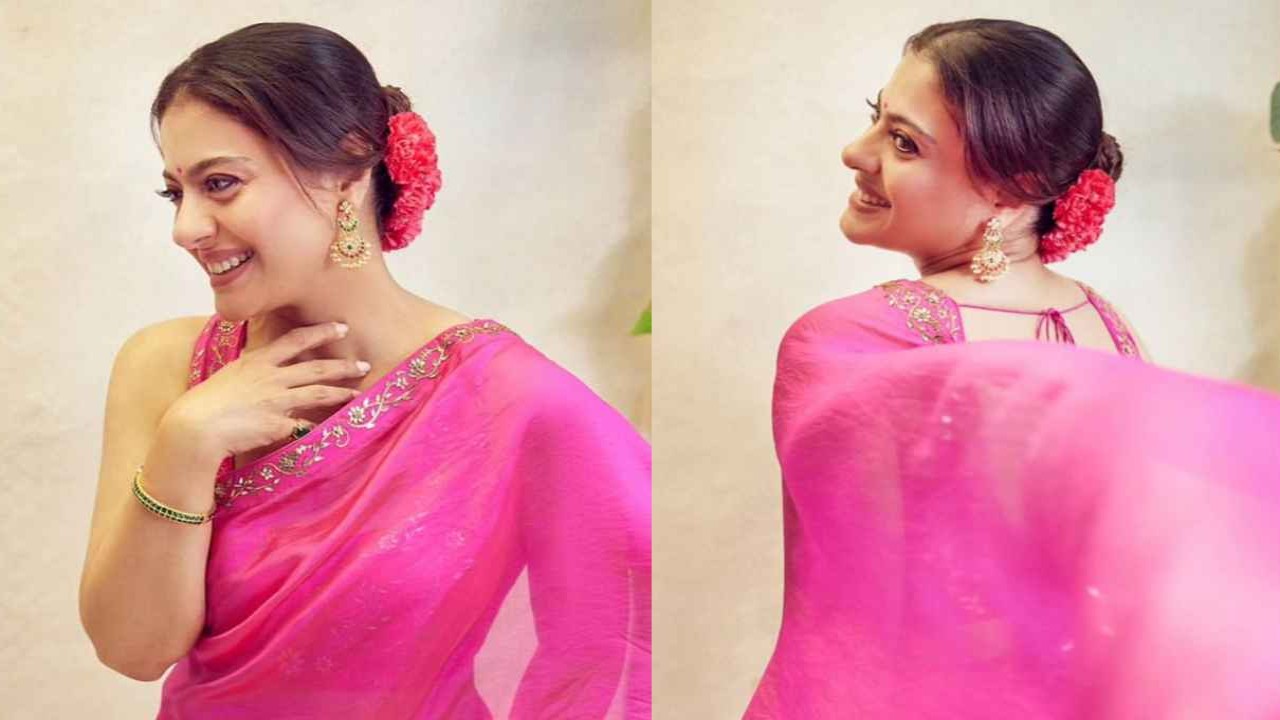 Recently, Kajol graced the auspicious occasion of Durga Pujo 2023, an event that holds immense significance in the cultural calendar of West Bengal. As she stepped into the limelight, it was as though the entire world paused to admire her grace and charm. Her presence added an extra layer of grandeur and significance to this annual celebration, which marks the triumph of good over evil, a theme that resonates with the core of Bollywood's storytelling tradition.
Kajol, who is also known for her role in the anthology film "Lust Stories 2," has a magnetic aura that captivates everyone in her vicinity. Her fashion choices have always been a subject of fascination, and at Durga Pujo 2023, she did not disappoint. She adorned herself in a stunning ensemble that reflected her inherent style and sophistication. With every step, she exuded an air of elegance that effortlessly turned heads and set fashion trends in motion.
Her presence at Durga Pujo 2023 was a reminder of her enduring appeal and the timeless charisma that has made her a beloved figure in the hearts of Bollywood enthusiasts. As she celebrated the festival, she not only honored tradition but also showcased her ability to connect with audiences on multiple levels. Kajol Devgan, the legendary diva of Bollywood, continues to shine brightly in both the realms of fashion and entertainment, leaving a trail of admirers and aspiring fashionistas in her wake.
Kajol Devgan, the evergreen beauty of Bollywood, recently made a striking appearance that left fashion enthusiasts in awe. She was seen wearing a simply gorgeous and timeless pink saree that exuded grace and sophistication. This attire choice perfectly encapsulated Kajol's ability to effortlessly blend tradition with contemporary elegance. The pink hue, known for its timeless appeal, was a testament to her innate sense of style.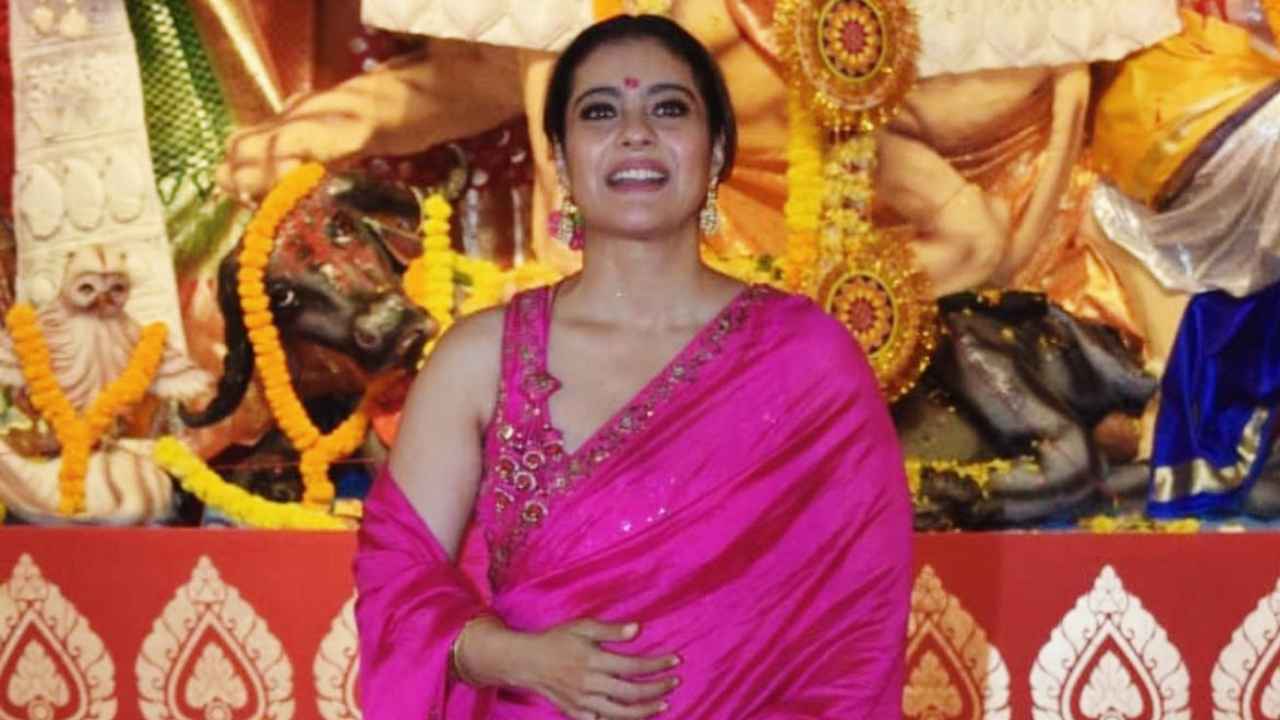 What set her saree apart was the exquisite detailing – sequin-laden edges that added a touch of sparkle and glamour to the ensemble. The sequins shimmered and danced with every movement, catching the light and creating an ethereal effect. These subtle but impactful embellishments added a modern twist to the classic Indian garment, highlighting Kajol's penchant for balancing tradition with a contemporary flair.
The saree also featured heavily embroidered borders adorned with intricate floral patterns, meticulously crafted with sequin and beadwork. This level of craftsmanship showcased not only the richness of Indian textiles but also Kajol's commitment to her fashion choices. The floral embroidery, with its delicate intricacy, added a touch of femininity and softness to her overall look, making it a fashion statement that resonated with fans and fashion enthusiasts alike.
In her pink sequin-laden saree with heavily embroidered borders, Kajol Devgan once again proved that her fashion choices transcend time and trends. She radiated elegance and grace, embodying the very essence of Bollywood glamour, and left an indelible mark on the fashion landscape with her timeless yet contemporary ensemble. Kajol's enduring charm and impeccable fashion sense continue to make her a beloved and admired figure in the world of Indian cinema.
Kajol Devgan's fashion choices at the recent event continued to astound as she paired her extravagant pink saree with a matching sleeveless blouse. The blouse was a testament to her daring and contemporary approach to fashion. It featured wide straps that provided a sense of stability and comfort, ensuring that the blouse remained securely in place.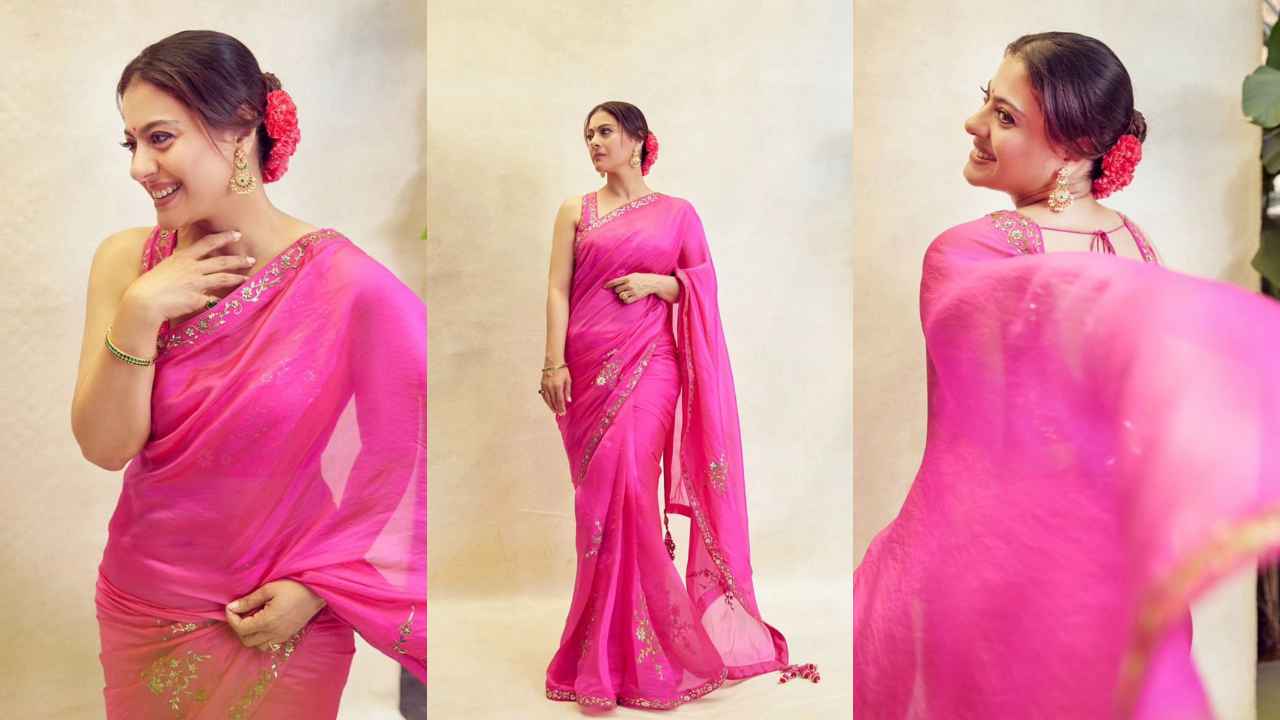 The blouse also boasted a deep and plunging sultry neckline, adding a touch of allure and sensuality to her overall look. This daring design choice highlighted Kajol's confidence and her ability to embrace different styles with ease. It showcased that she's not just a timeless beauty but also a fashion maven who's unafraid to push boundaries.
What made her blouse truly remarkable was the heavy sequin and threadwork gold embroidery. These intricate embellishments, laden with sequins, added a sense of opulence and grandeur to the ensemble. The golden embroidery shone brilliantly against the pink backdrop, making a bold and elegant statement. It was a visual masterpiece that perfectly complemented the grandeur of the occasion.
To add to the allure, Kajol's blouse featured fabulous tie-ups at the back. These tie-ups not only served a functional purpose but also added an element of charm and sophistication. They accentuated her gorgeous back, turning it into a mesmerizing focal point of her ensemble. It was a thoughtful design element that showcased her attention to detail and her understanding of how to make an outfit truly captivating.
In her choice of blouse, Kajol Devgan demonstrated that she's not just a style icon but a trendsetter, unafraid to experiment with different elements of fashion to create a look that's both elegant and alluring. Her fashion choices consistently capture the essence of her magnetic personality, making her an eternal diva in the world of Bollywood.
Kajol Devgan's attention to detail when completing her divine and extravagant ethnic outfit was truly remarkable. To complement her vibrant ensemble, she opted for gold sandals that added a touch of opulence to her overall look. Gold is a classic choice to pair with traditional Indian attire, and it perfectly matched the sequin and threadwork gold embroidery on her saree and blouse. These sandals not only added to the overall aesthetics of her outfit but also ensured that her style was both comfortable and cohesive.
In addition to her choice of footwear, Kajol demonstrated her impeccable fashion sense by accessorizing with a simply superb off-white potli bag. This potli bag was a work of art in itself, featuring intricate gold embroidery that echoed the design elements of her saree and blouse. The combination of off-white and gold created a harmonious contrast that further enhanced her ensemble.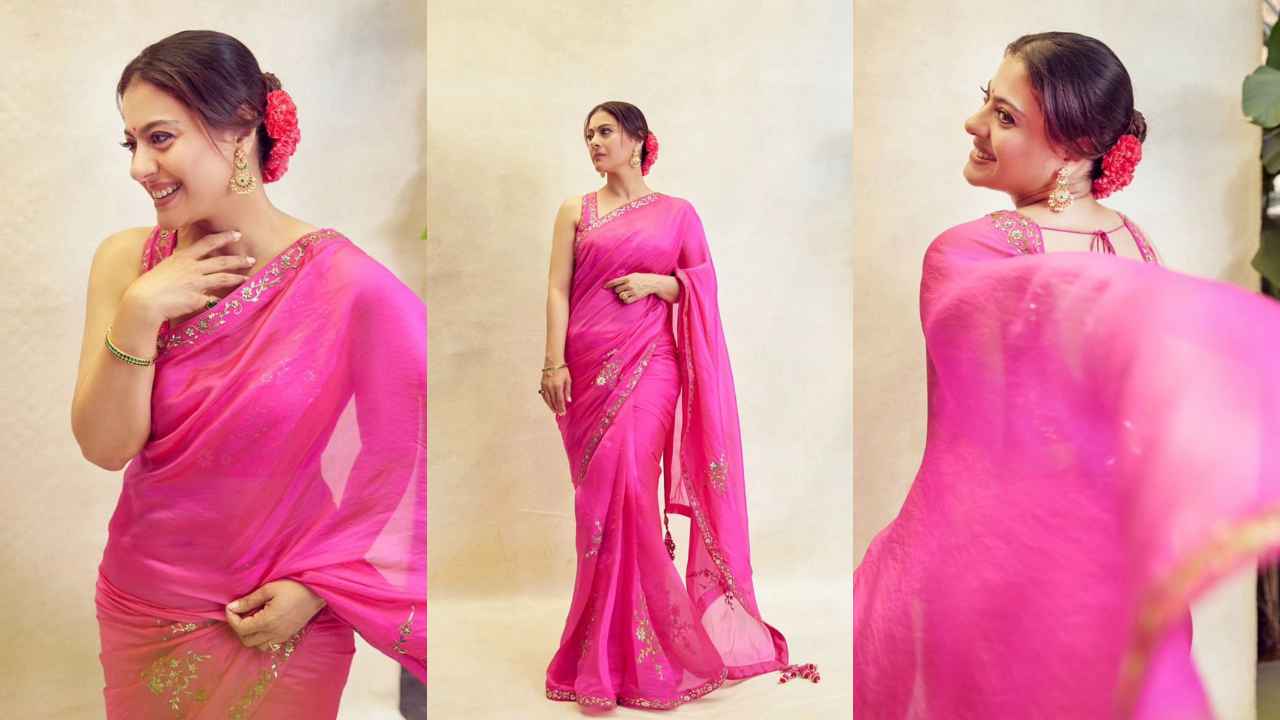 What made the potli bag even more captivating were the hanging beads and tassels adorning its sides. These ornate details added movement and a sense of playfulness to her outfit. They created a delightful visual spectacle, enhancing the elegance and grace that Kajol exuded.
Kajol Devgan's choice to pair her divine saree with gold sandals and an off-white potli bag was not just about accessories; it was a deliberate and well-thought-out selection. Her attention to every detail, from her clothing to her footwear and accessories, reflects her commitment to making a statement with her fashion choices. This complete look was a perfect embodiment of her style – a harmonious blend of tradition, opulence, and contemporary elegance, reaffirming her status as a true fashion icon in the world of Bollywood.