Madhuri Dixit Radiates Positive Summer Vibes in House of Masaba Saree!
Monsoon's arrival indeed brings a shift in our wardrobe choices, transitioning from lightweight and floral summer outfits to more rain-appropriate attire. While bidding farewell to warm and balmy days might feel a tad bittersweet, the prospect of attending indoor weddings can certainly be a source of excitement. These gatherings offer us the opportunity to don elegant and stylish ensembles that can add a touch of glamour to the rainy season.
Madhuri Dixit, a timeless diva, recently showcased a stunning saree look that instantly caught our attention. Her choice of outfit serves as a reminder that sarees are not only a symbol of traditional elegance but also a versatile option that can be worn on various occasions. Whether it's a wedding or a special event, a well-selected saree can make a lasting impression.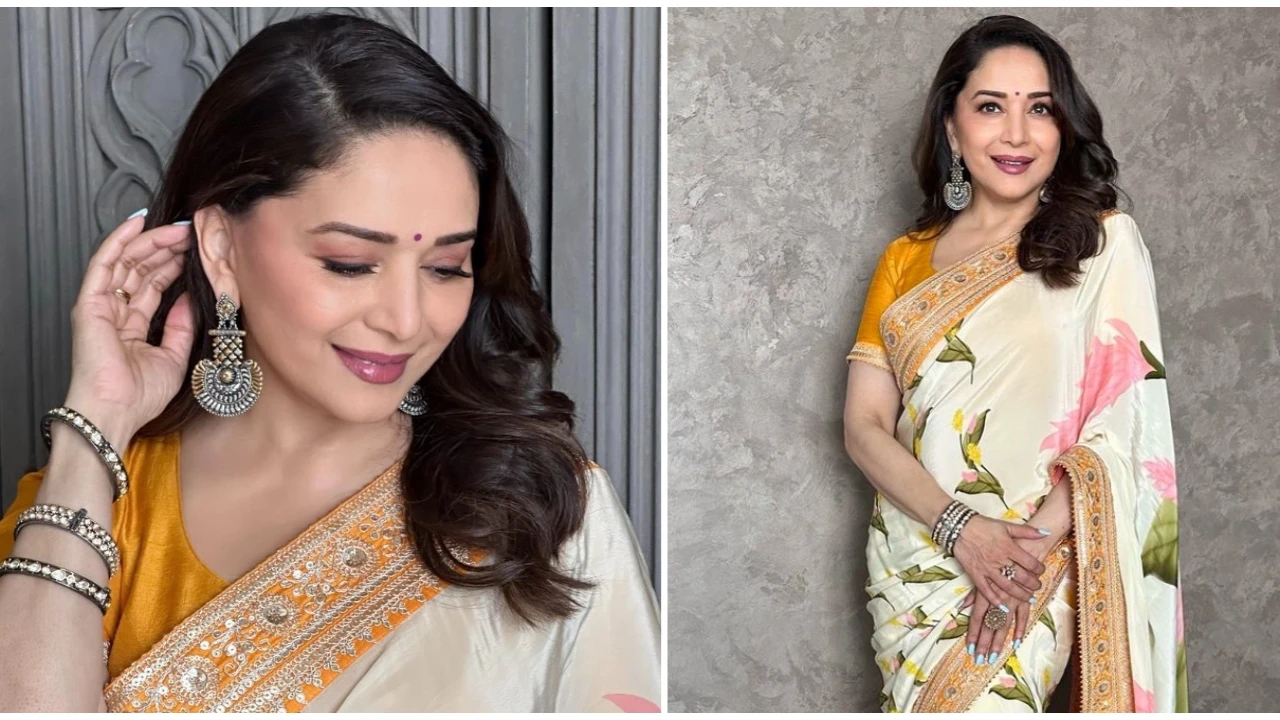 Sarees offer a wide range of options in terms of colors, fabrics, and designs. They allow us to experiment with different styles and patterns to suit our personal preferences. Madhuri Dixit's saree look likely incorporated elements that resonate with her signature style while embracing the charm of the monsoon season.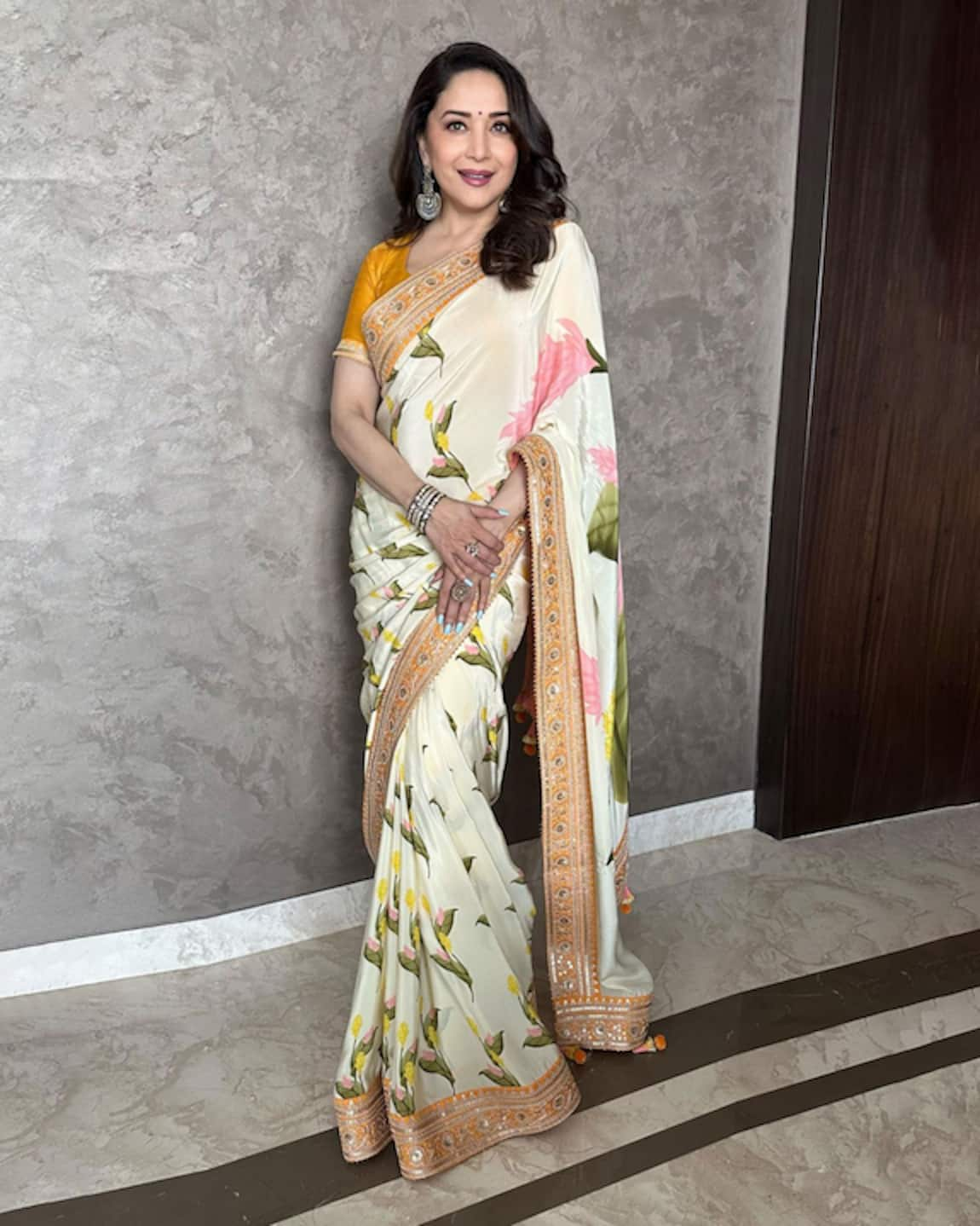 As the raindrops fall outside, indoor weddings become a beacon of excitement, allowing us to dress up and celebrate special moments with loved ones. While the weather may be unpredictable, our fashion choices can remain steadfast in exuding elegance and grace. Whether it's a traditional saree or a contemporary ensemble, weddings offer the perfect platform to showcase our sartorial creativity.
So, as we navigate the transition from summer to monsoon, let's embrace the beauty of rainy days while eagerly anticipating the chance to dress up and shine at indoor weddings. The saree donned by Madhuri Dixit serves as a reminder that fashion knows no season and that we can always find ways to express our style, rain or shine.
Madhuri Dixit's choice of attire, the House of Masaba Floral Fantasy saree, showcases her impeccable taste in fashion. This outfit, designed by Masaba Gupta, perfectly encapsulates the essence of a modern yet traditional look. The floral print saree is a timeless and versatile option that can seamlessly transition from casual to formal occasions, making it a popular choice for events like daytime weddings.
Floral print sarees come in a wide array of designs, ranging from subtle and delicate patterns to bold and vibrant motifs. The choice of print allows individuals to express their personal style while embracing the beauty of nature-inspired aesthetics. Whether it's a small gathering or a grand celebration, a floral print saree can add an element of grace and charm to the overall look.
One of the advantages of floral print sarees is their ability to be paired with various blouse styles, allowing for customization and individualization. Depending on the occasion and personal preference, one can opt for a classic, sleeveless, or trendy off-shoulder blouse to complement the saree's design. This versatility gives wearers the freedom to curate a look that suits their unique style and body type.
Madhuri Dixit's choice to wear a House of Masaba Floral Fantasy saree not only highlights her fashion-forward approach but also showcases how traditional attire can be modernized through contemporary prints and designs. The ensemble is a reminder that the saree, a quintessential Indian garment, remains a canvas for artistic expression and creativity.
As we navigate the world of fashion, Madhuri Dixit's choice of a floral print saree encourages us to embrace the elegance and timelessness of this outfit, whether it's for a casual get-together or a special occasion like a daytime wedding. The combination of classic charm and modern aesthetics in her ensemble serves as an inspiration for those seeking to strike the perfect balance between tradition and trendiness.
Madhuri Dixit's choice of the House of Masaba Floral Fantasy saree showcases her status as a true desi diva with an impeccable sense of style. The saree's design and aesthetic are a testament to the perfect blend of traditional charm and contemporary elegance.
The multi-coloured floral print on the saree adds a touch of vibrancy and freshness to the outfit. The strategic placement of the floral motifs creates a harmonious and balanced look, ensuring that the print is not overpowering while still making a statement. This thoughtful arrangement of flowers reflects the intricacies of the designer's craftsmanship and attention to detail.
The choice of an ivory base for the saree provides a clean canvas for the vibrant floral print to pop, creating a visually appealing contrast. The saree's material, viscose crepe, adds a luxurious drape that enhances the overall flow and movement of the outfit.
One of the standout features of the saree is its mustard yellow sequin embroidered border. This embellished border not only adds a touch of glamour but also serves as a frame that beautifully encapsulates the floral print. The contrast between the sequins and the floral print creates a captivating visual appeal.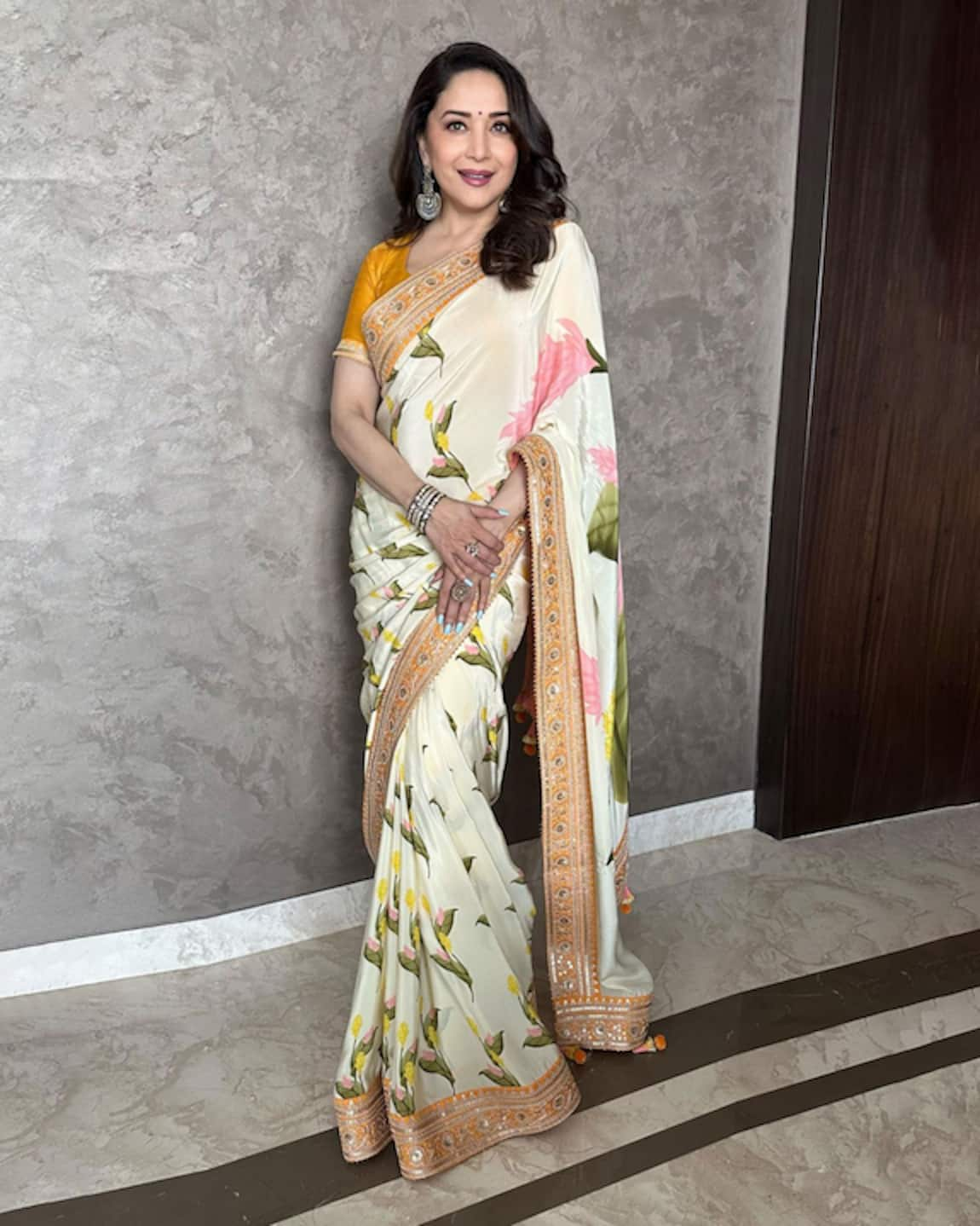 Madhuri Dixit's elegant and graceful presence complements the saree's design, enhancing its overall impact. Her choice to pair the saree with a printed palla and tassel adds a playful and contemporary touch to the traditional attire.
Overall, Madhuri Dixit's appearance in the House of Masaba Floral Fantasy saree demonstrates her ability to effortlessly carry off both traditional and modern elements in her fashion choices. The ensemble is a reflection of her timeless beauty and fashion-forward approach, making her a true desi diva and style icon.
Madhuri Dixit's choice of a raw silk short-sleeved blouse to accompany her floral saree adds a layer of sophistication and elegance to her overall ensemble. The embroidered details on the blouse enhance its visual appeal and create a harmonious connection with the intricate design of the saree. This combination of the saree and blouse exemplifies the art of pairing different elements to create a cohesive and stylish look.
Blouses are indeed a crucial component of a saree outfit, as they play a significant role in defining the overall aesthetic. The diverse range of blouse designs offers options for various occasions, allowing individuals to customize their looks according to their preferences and the event's theme. Madhuri's short-sleeved blouse strikes a balance between comfort and style, making it a suitable choice for daytime events.
Tanya Mehta's styling choices for Madhuri Dixit's look demonstrate a keen eye for detail and a commitment to enhancing the overall appeal of the ensemble. The selection of Amrapali Jewels to accessorize the outfit adds a touch of glamour and traditional charm. The statement gold and silver oxidized drop earrings, rings, and studded bangles contribute to the fusion of contemporary and traditional elements, aligning perfectly with Madhuri's signature style.
Earrings, in particular, hold the power to elevate the entire look, adding a touch of sophistication and completing the overall appearance. Madhuri's choice of statement earrings perfectly encapsulates this sentiment, showcasing the synergy between jewelry and attire. The incorporation of unique earrings like those in Madhuri's look serves as an inspiration for individuals seeking to infuse their own personal touch into their ensembles.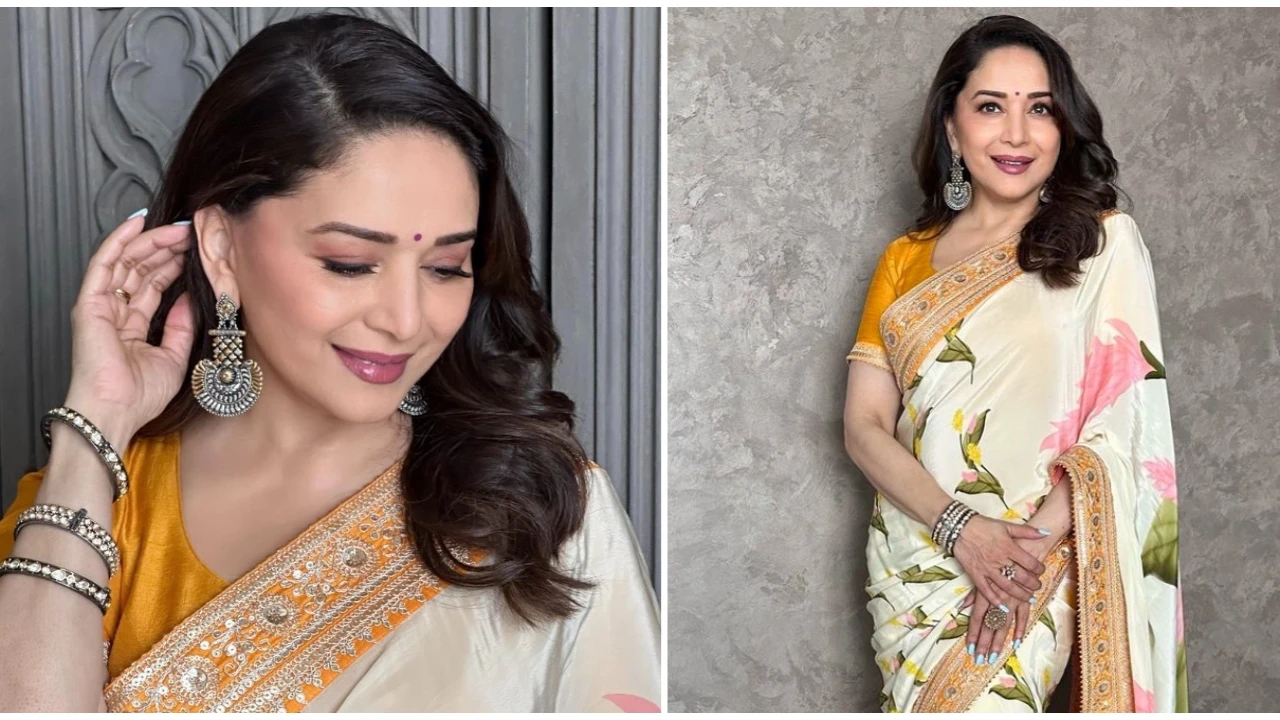 In essence, Madhuri Dixit's appearance in the House of Masaba saree, paired with the exquisite blouse and complemented by carefully selected jewelry, exemplifies the art of creating a balanced and captivating look. The combination of traditional elements with modern influences reflects her iconic fashion sense and timeless appeal.