Kriti Sanon's Rimple and Harpreet Kalidar Set Redefines Royal Chic with a Vibrant Burst of Colours
Kriti Sanon's fashion choices often transcend the ordinary and venture into the realm of eye-catching colors and attention-grabbing patterns. Her ability to effortlessly pull off diverse looks while maintaining her signature charm is what sets her apart as a true style icon.
Whether it's her choice of vibrant hues or her affinity for unique and intricate patterns, Kriti consistently manages to make a bold statement with her outfits. Her fashion sense seems to be a delightful departure from the norm, infusing each appearance with a sense of excitement and flair.
From elegant ethnic ensembles to chic contemporary outfits, Kriti's wardrobe choices reflect a versatile and eclectic taste. She seamlessly navigates through different styles, creating an aura of confidence and charisma that resonates with fashion enthusiasts.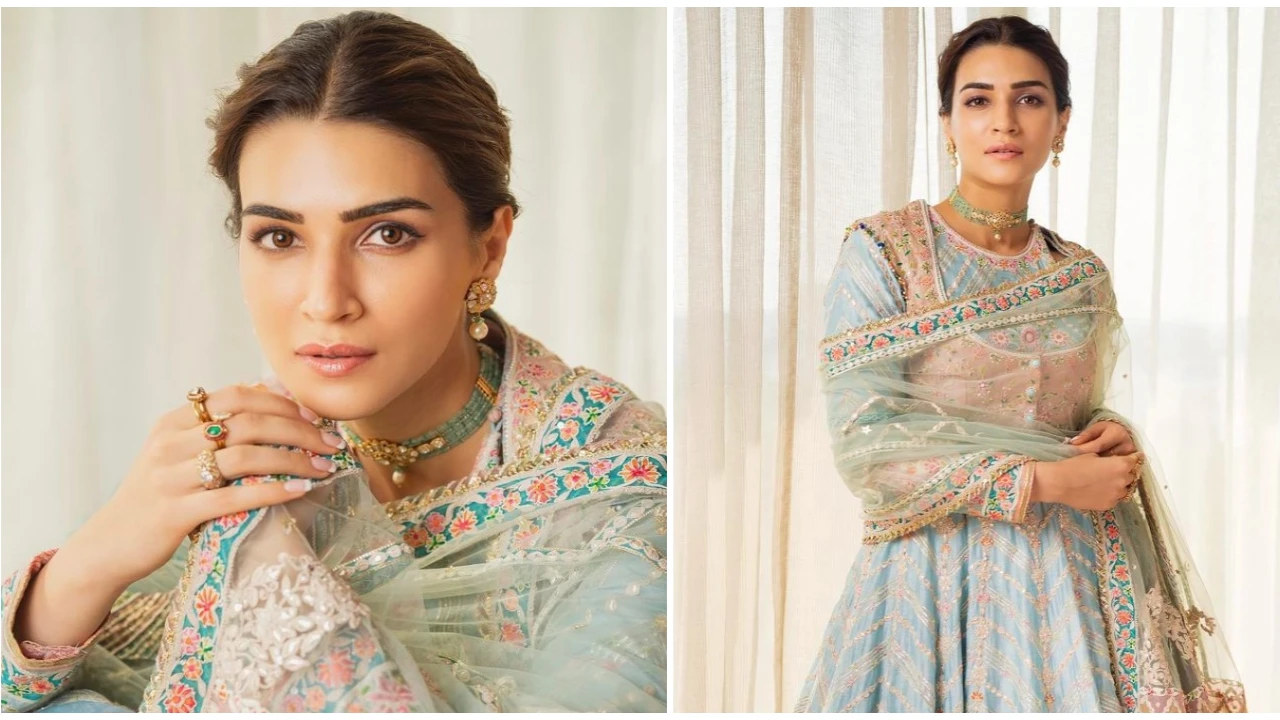 What's particularly striking is Kriti's ability to carry off even the most elaborate and standout pieces with grace. She effortlessly embraces a myriad of colors, patterns, and textures, turning each look into a visual masterpiece that captures attention and leaves a lasting impression.
Kriti Sanon's fashion journey embodies the spirit of experimentation, self-expression, and a fearless approach to style. Her wardrobe is a canvas on which she paints a story of bold choices, confident appearances, and an undeniable charm that makes every outfit truly memorable. As she continues to captivate with her distinctive fashion sense, one thing remains certain – Kriti is not just following trends, she's setting them.
Kriti Sanon's affinity for Anarkali suits is undoubtedly a testament to her elegant and versatile fashion sense. Anarkali suits are a classic Indian ensemble that exudes timeless charm and regal allure. Kriti's choice to don these suits on various occasions showcases her appreciation for traditional Indian attire and her ability to effortlessly carry different styles.
From glamorous red carpet events to promotional appearances and wedding celebrations, Kriti has embraced the Anarkali style with grace and panache. This sartorial preference reflects her appreciation for the rich heritage of Indian fashion and her willingness to explore various designs, colors, and embellishments within the Anarkali silhouette.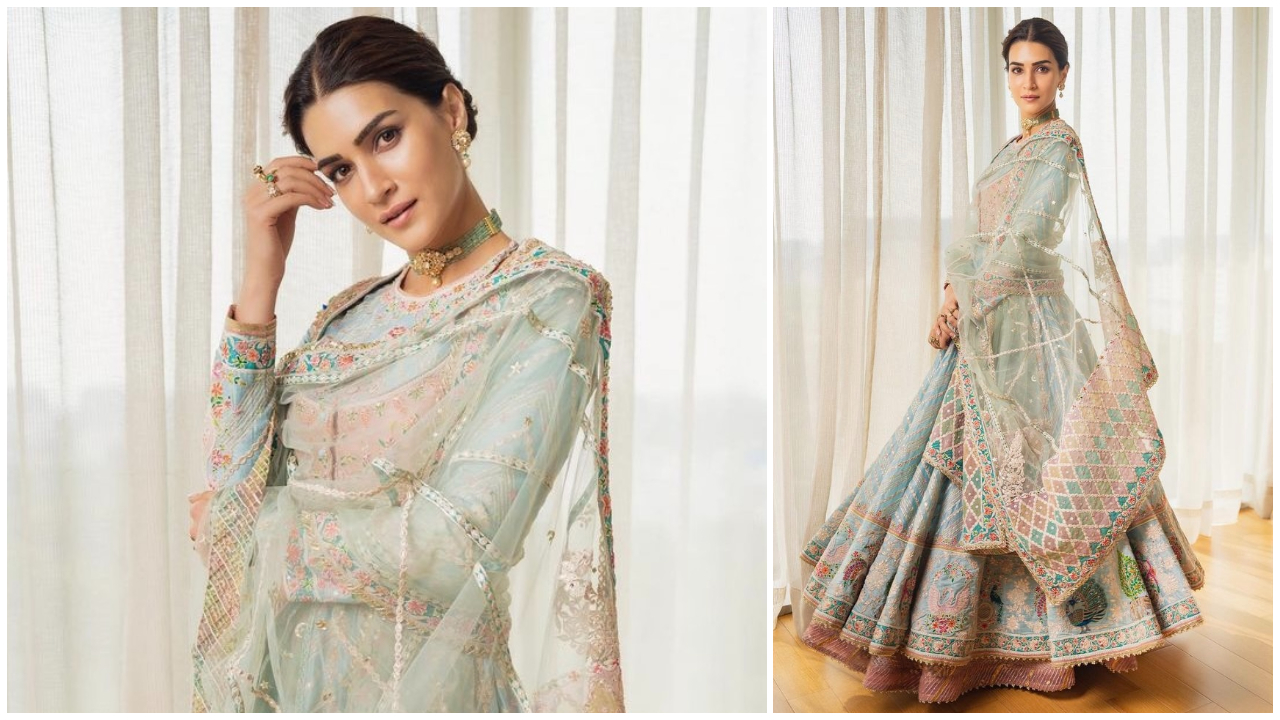 The Anarkali suit itself is characterized by its floor-length, flared kurta paired with fitted leggings or churidar pants. This silhouette has been a part of Indian fashion for centuries and continues to evolve with modern trends. Kriti's choice of both simple and heavily embroidered Anarkali suits showcases her ability to adapt this traditional attire to different occasions and moods.
Whether she opts for understated elegance or intricate detailing, Kriti Sanon's Anarkali ensembles have a unique way of enhancing her natural beauty and grace. Her fashion choices not only pay homage to India's cultural heritage but also reflect her personal style statement. Kriti's Anarkali looks are a blend of tradition and contemporary flair, making her a style icon for those who admire the timeless charm of Indian ethnic wear.
Kriti Sanon's choice of ethnic wear for the movie promotions of Adipurush showcases her impeccable sense of style and her ability to balance comfort and elegance. The ensemble she wore strikes a perfect chord with the changing seasons, featuring pastel hues that are ideal for the warmer months while also incorporating long sleeves that provide some warmth during unpredictable rains.
In the realm of traditional Indian wear, colors like red, green, and gold are often associated with weddings and formal events. However, Kriti's choice to embrace pastel shades, blues, and pinks for her Anarkali suit reflects a modern and refreshing take on traditional attire. Pastels are known for their soothing and light appeal, making them particularly suitable for the humid and sunny months.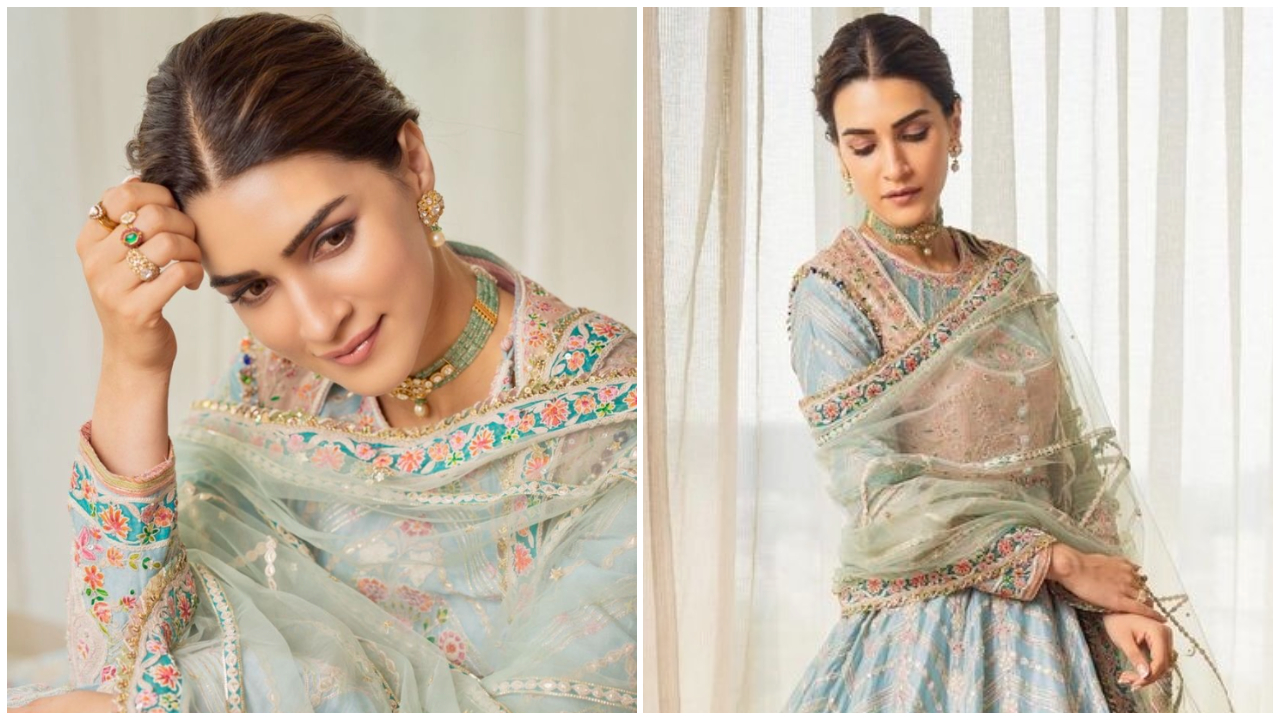 Anarkali suits, with their characteristic flared silhouette, are versatile and come in various fabrics such as silk, cotton, georgette, and chiffon. The choice of fabric can significantly influence the formality and comfort of the outfit. For weddings and special occasions, heavier fabrics like silk are commonly preferred as they lend an opulent and regal look.
Kriti Sanon's appearance in this Kalidar combo not only showcases her style sensibilities but also underscores her ability to adapt traditional Indian wear to contemporary contexts. Her look for the evening event in Hyderabad, where she was joined by actor Prabhas and the team, encapsulates the perfect blend of comfort, style, and cultural charm, making her a true desi diva.
Entrepreneur and fashion stylist Sukriti Grover's insights provided a deeper understanding of Kriti Sanon's stunning look, particularly her Rimple and Harpreet ensemble. The Ice Blue Silk Kalidar Set, with a substantial price tag of Rs 215,000.00, truly captivated attention with its exquisite craftsmanship and design.
The ensemble's charm lay in its intricate details and vibrant appeal. The maxi kalidar with full sleeves was adorned with an array of embellishments including chikankari work, marodi ka kaam, resham embroidery, sequins, and pearls. These elements came together to create a visually stunning piece that exuded elegance and sophistication. The incorporation of floral motifs, broad borders, and colorful accents added to the overall appeal of the outfit.
Kriti Sanon's gilet, a sleeveless jacket-like garment, was another highlight of the ensemble. Its captivating hues, intricate embellishments, well-placed buttons, and impeccable fit made it a statement piece in its own right. The gilet's presence complemented the kalidar perfectly, creating a harmonious and well-coordinated look.
To complete the ensemble, Kriti opted for a tulle dupatta that matched the excellence of her Kalidar. Tulle is a lightweight, sheer fabric that added an ethereal touch to the outfit while allowing the intricate details of the kalidar to shine through.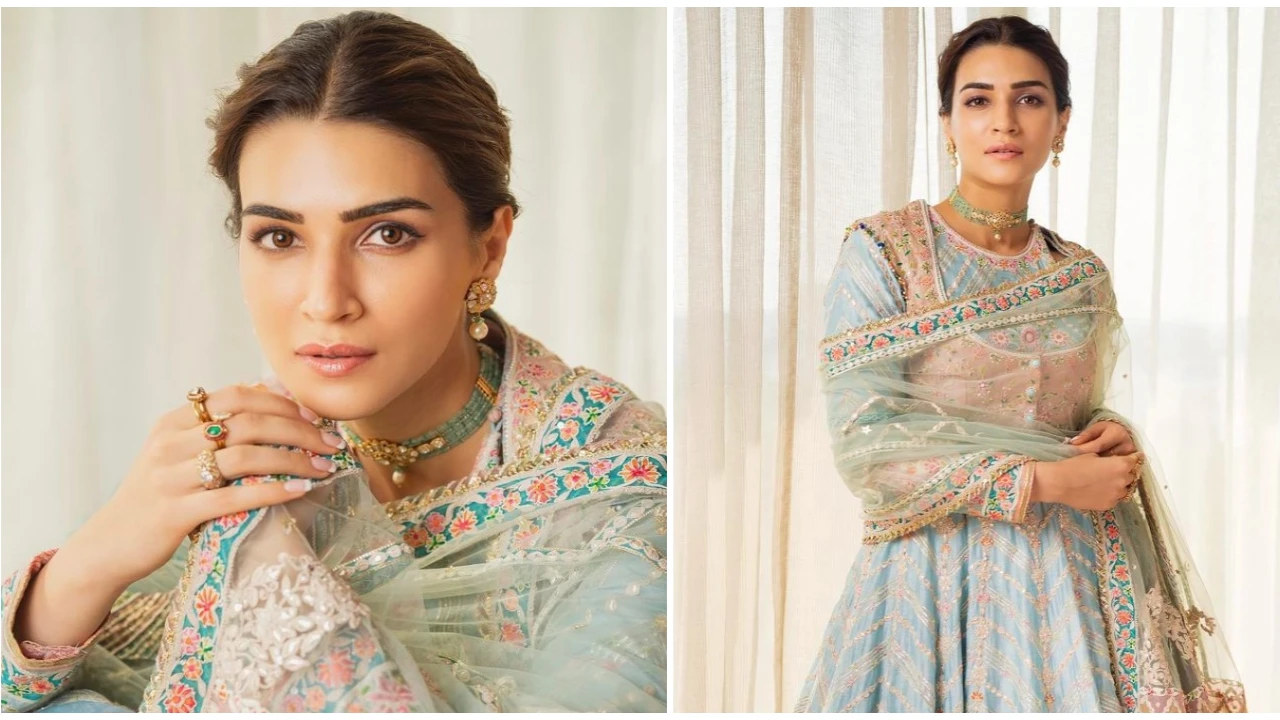 Kriti Sanon's choice of the Ice Blue Silk Kalidar Set from Rimple and Harpreet demonstrated her knack for selecting outfits that seamlessly blend traditional aesthetics with contemporary elegance. The ensemble's meticulous craftsmanship, attention to detail, and vibrant design made it a standout choice for her appearance and further solidified her position as a style icon.
Accessorizing Anarkali suits requires a delicate balance to enhance the overall look without overpowering the outfit. For weddings and special occasions, pairing the right jewelry, clutch bags, and footwear can elevate your ensemble to new heights. Kriti Sanon's choices perfectly exemplify how to achieve a harmonious and stylish finish.
When it comes to jewelry, opt for pieces that complement the intricate details of your Anarkali suit. Avoid excessive bling that might overshadow the outfit's beauty. Instead, choose pieces that add elegance and sophistication. For instance, Kriti's choice of stackable boond rings and a tiered choker necklace with pearl drop earrings from Amrapali Jewels complements the ensemble's traditional charm.
Footwear plays a crucial role in completing the look. Pair your Anarkali suit with matching heels or sandals that align with the outfit's color palette and style. Kriti's choice of footwear likely contributed to the overall cohesiveness of her appearance.
A clutch bag can add a touch of glamour while serving as a functional accessory. Opt for a clutch that complements the color and design of your Anarkali suit. While it's best to choose a bag that doesn't overshadow the outfit, it should still stand out as a stylish addition.
Kriti's hairstyle and makeup choices also contributed to the overall appeal of her look. Tying her hair into a bun not only highlighted the neckline of her ensemble but also added a touch of elegance. For makeup, a flawless base, well-defined black eyeliner, and a glossy pink lip complemented the attire's traditional charm while maintaining a modern edge.
In essence, Kriti Sanon's accessorizing choices offer valuable lessons in striking the perfect balance between enhancing the Anarkali suit's beauty and maintaining a cohesive and stylish appearance. By carefully selecting jewelry, clutch bags, footwear, and makeup, you can create a complete and stunning ensemble for any special occasion.