Palak Tiwari radiates confidence in her stunning and affordable black cutout mini dress!
Palak Tiwari's fashion sense is a delightful blend of youthful charm and sophisticated elegance. As the daughter of renowned actress Shweta Tiwari, she exudes confidence and style in every outfit she dons. Palak showcases a keen eye for fashion, effortlessly embracing both traditional and contemporary ensembles with equal flair.
Her sartorial choices often include chic dresses, trendy jumpsuits, and stylish separates that perfectly complement her vibrant personality. Palak's ability to experiment with colors, patterns, and silhouettes showcases her versatility and confidence in trying new trends.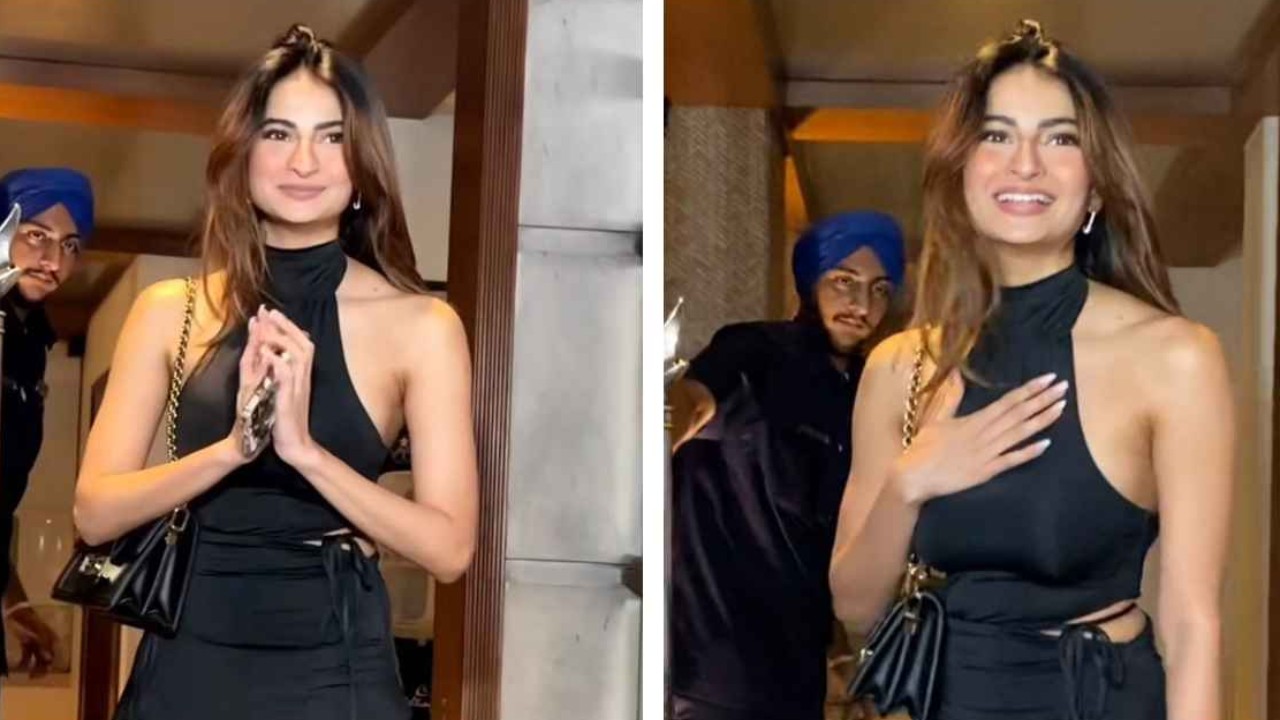 With her minimalistic yet impactful approach to accessories and makeup, she allows her outfits to take center stage while still highlighting her natural beauty. Whether gracing the red carpet or attending casual events, Palak's fashion sense remains consistently sophisticated and on-trend, making her a true fashion inspiration for many young enthusiasts.
Indeed, black is a timeless and classic color known for its ability to exude elegance and sophistication. Palak Tiwari's choice of a black cutout mini dress exemplifies these qualities beautifully, showcasing her keen fashion sense.
The strategic cutouts in the dress add a touch of modern allure, elevating the outfit to be edgy and fashionable. Cutout designs have become increasingly popular in contemporary fashion, allowing for a tasteful display of skin while maintaining an element of sophistication.
Palak's choice of a black mini dress accentuates her youthful and vibrant persona, while the color black adds a sense of mystery and allure to her overall look. Black is a versatile color that can be dressed up or down, making it a popular choice for various occasions.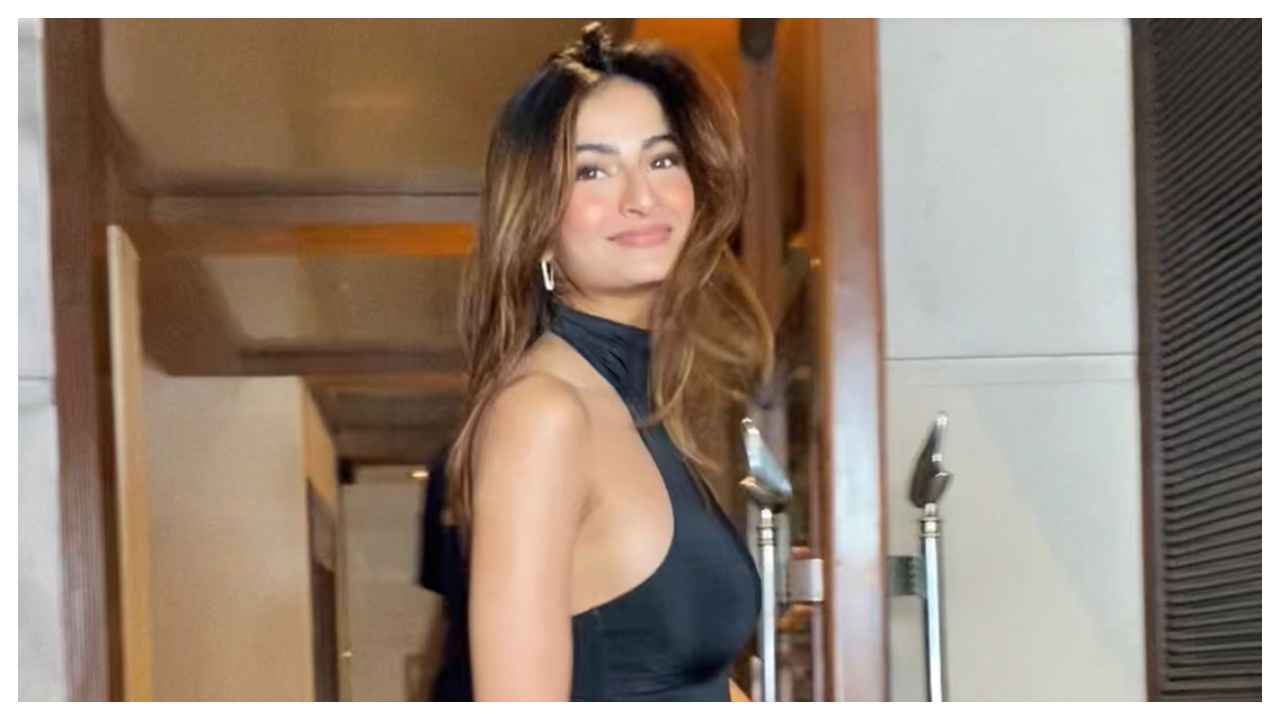 The combination of the classic black color with the contemporary cutout details creates a striking contrast that balances elegance with a hint of daring appeal. Palak's fashion choice demonstrates her ability to embrace both timeless elements and modern trends, showcasing her evolving style and confidence.
Overall, the black cutout mini dress is a statement piece that captures the essence of elegance, sophistication, and edginess, making it a memorable and eye-catching ensemble.
Palak Tiwari's choice of a black cutout mini dress not only exhibits her keen fashion sense but also allows her to effortlessly showcase her well-toned legs, adding to the allure of her overall look. The mini length adds a touch of playfulness and youthfulness to the ensemble, while the strategic cutouts add a contemporary edge.
Pairing the mini dress with black strappy heels not only complements the outfit but also elongates her legs, creating a flattering and chic silhouette. Strappy heels are a perfect choice for mini dresses, as they add a sense of sophistication and elegance to the overall appearance.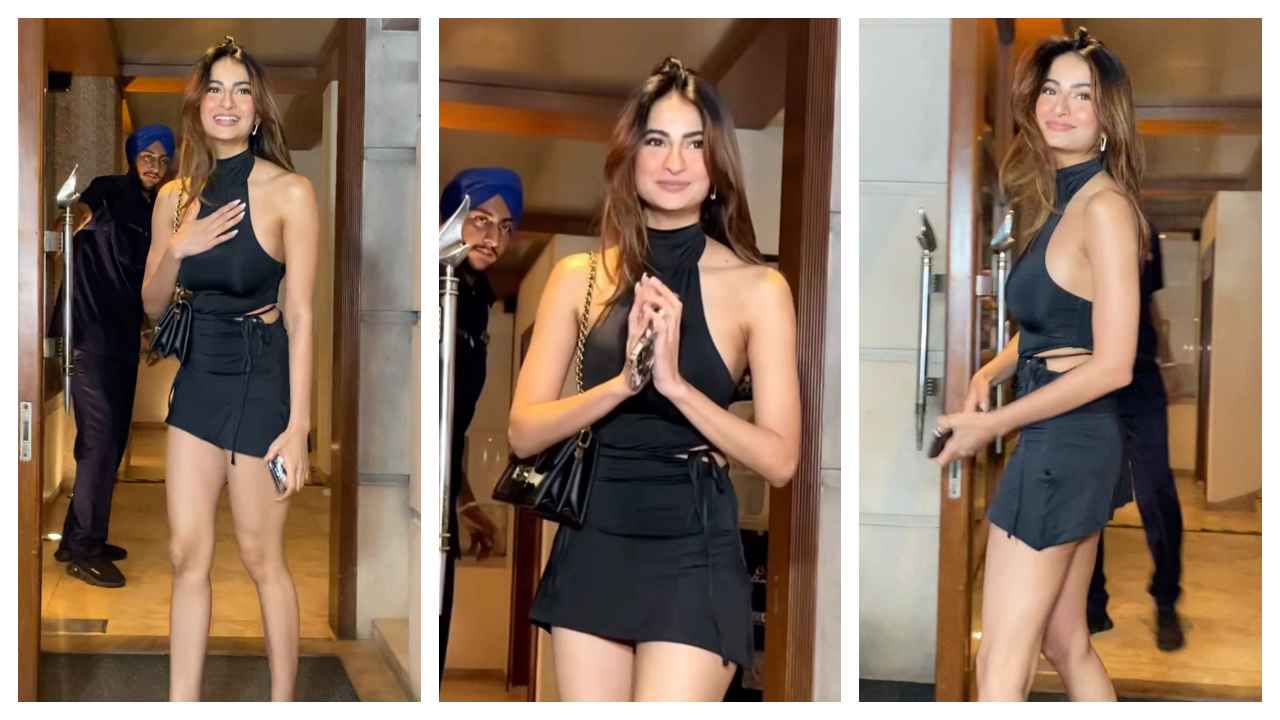 Palak's choice of gold statement earrings adds a pop of glamour to the outfit, enhancing her chic and modern style. Statement earrings can elevate a look and draw attention to the face, creating a well-balanced and eye-catching ensemble.
The black and gold handbag, matching with the earrings, adds a cohesive touch to her accessorizing. It's clear that Palak pays attention to the finer details, creating a harmonious and well-coordinated look.
Palak Tiwari's choice of an affordable ensemble is indeed a refreshing change in an era where high-end fashion often comes with exorbitant price tags. The fact that her High Neck black cutout mini dress from Oh Polly is priced at just Rs. 3,347 approximately showcases that style and affordability can go hand in hand.
The availability of trendy and fashionable pieces at budget-friendly prices allows fashion enthusiasts to express their style without breaking the bank. Palak's choice of an affordable yet chic dress demonstrates that looking stylish and staying within a budget is achievable.
Affordable fashion options like this black cutout mini dress from Oh Polly offer the opportunity for individuals to experiment with their style and keep up with the latest trends without compromising on quality and design. It proves that one doesn't need to spend a fortune to look fashionable and make a statement with their outfit choices.
In a world where fashion trends change rapidly, affordable options allow people to update their wardrobe frequently and stay on-trend without worrying about the financial burden.
The versatility of Palak's black cutout mini dress is yet another remarkable aspect. A versatile piece can be styled in various ways, making it a valuable addition to any wardrobe. This dress can be easily dressed up or down, depending on the occasion and personal preference.
For a casual day look, it can be paired with flat sandals or sneakers, creating a laid-back and comfortable outfit. On the other hand, for a more formal or evening event, it can be accessorized with heels and statement jewelry, instantly transforming it into an elegant and chic ensemble.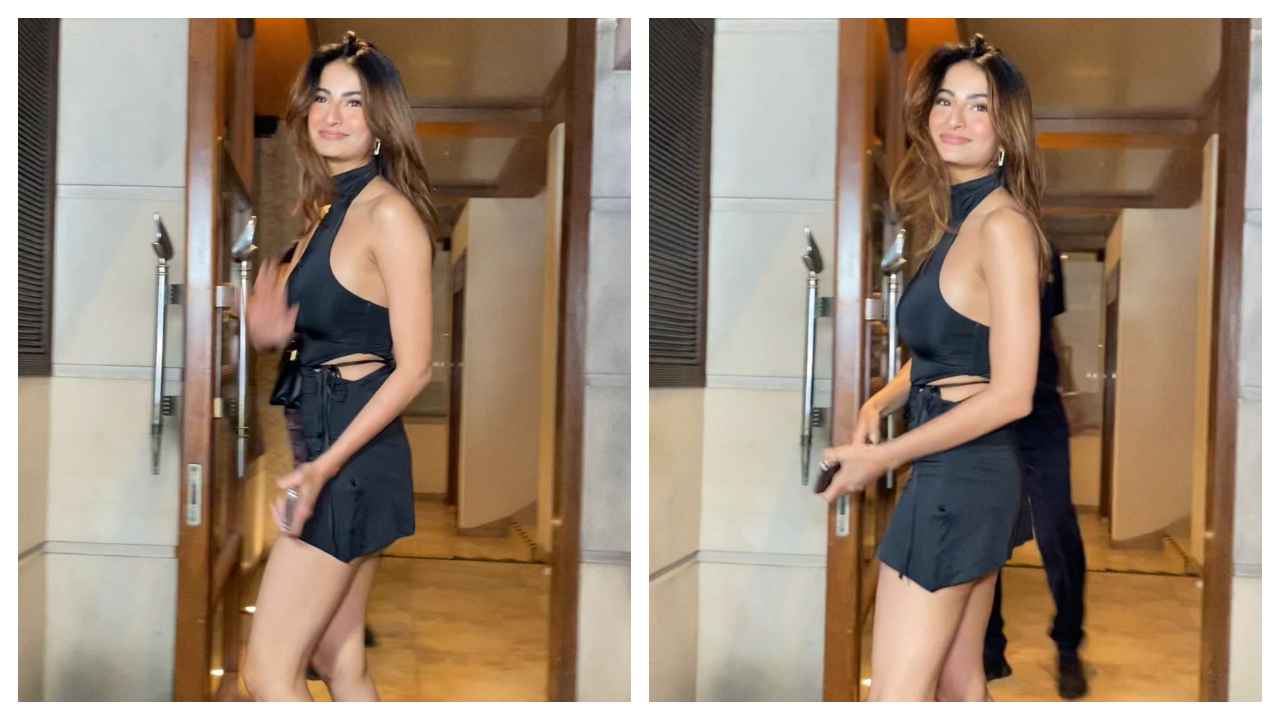 The ability to style the same dress in multiple ways not only adds practicality to one's wardrobe but also allows for creativity in expressing one's personal style. This adaptability makes the black cutout mini dress a versatile and go-to option for various events and occasions.
Moreover, the versatility of the dress ensures that it can be worn throughout different seasons. Layering it with jackets or cardigans in cooler weather or wearing it as is during warmer months makes it a versatile and timeless piece for year-round wear.
Palak Tiwari's choice of a versatile and affordable black cutout mini dress is a testament to the power of accessible fashion that caters to diverse fashion tastes and needs. It encourages people to invest in pieces that offer both style and practicality, making fashion a fun and inclusive experience for everyone.
For a chic daytime look, pairing the black cutout mini dress with a denim jacket and sneakers would create a trendy and casual ensemble. This combination offers a laid-back and comfortable vibe, perfect for brunches, shopping trips, or casual hangouts with friends. The denim jacket adds a touch of coolness and creates a balanced contrast with the dress's elegance.
On the other hand, to transform the dress into a head-turning evening outfit suitable for events or a night out on the town, one can follow Palak Tiwari's lead and accessorize with statement jewelry and high heels. Adding bold and eye-catching accessories elevates the entire look, turning the outfit into a glamorous and sophisticated ensemble. The high heels not only add height but also bring a sense of elegance and confidence to the overall appearance.
By showcasing how this dress can be styled for both daytime and evening events, Palak Tiwari demonstrates the incredible versatility of the outfit. It allows individuals to make the most of their wardrobe and get creative with their styling choices, making fashion an exciting and expressive form of self-expression.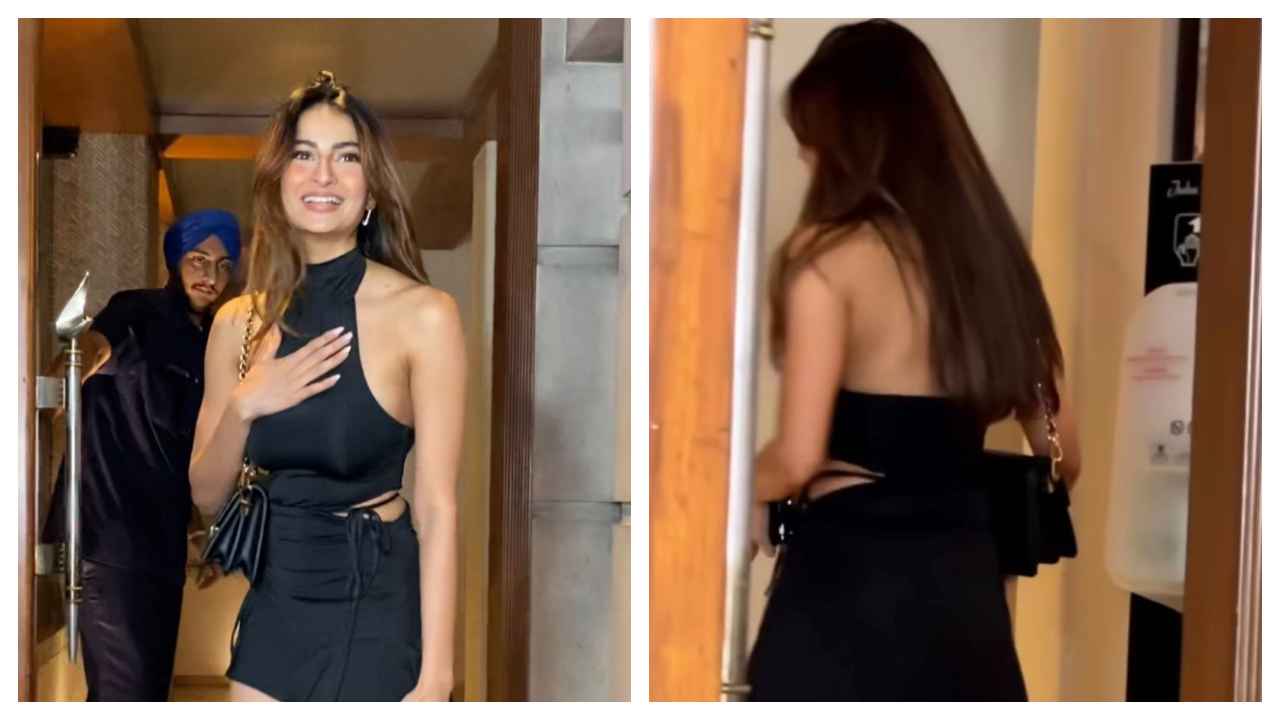 Having such a versatile piece in one's wardrobe ensures that fashion enthusiasts can effortlessly transition from day to night, attending various events and occasions with confidence and style. The black cutout mini dress truly becomes a go-to option, proving that with a bit of creativity, a single piece can serve as the foundation for countless stylish and on-trend looks.