Palak Tiwari vs. Rubina Dilaik – Who Exudes the Flowy Maxi Dress Magic?
The multicolored flowy dress designed by Victor Robinson sounds like a true work of art, blending elegance and modernity seamlessly. It's impressive how both Palak tiwari and Rubina dilaik managed to infuse their distinctive personal styles into the same outfit, showcasing their individuality while wearing the same dress.
Fashion is all about expressing oneself, and even when two people wear the same outfit, they can bring their unique flair and personality to it, making it look different and special on each of them.
Victor Robinson's reputation as a celebrated designer is well-deserved, considering the list of prominent names in the industry he has dressed. From Shweta Tiwari to Divyanka Tripathi Dahiya, Nakuul Mehta, and Shivangi Joshi, it's evident that his designs are favored by some of the biggest stars in the entertainment world.
A dress crafted by such a renowned designer is likely to have impeccable attention to detail, quality craftsmanship, and a design that resonates with both the wearer and those who admire it. It's no wonder that both Palak and Rubina chose to wear this particular outfit, even though they did so at different times, as it reflects their admiration for Victor Robinson's creations and their keen sense of style.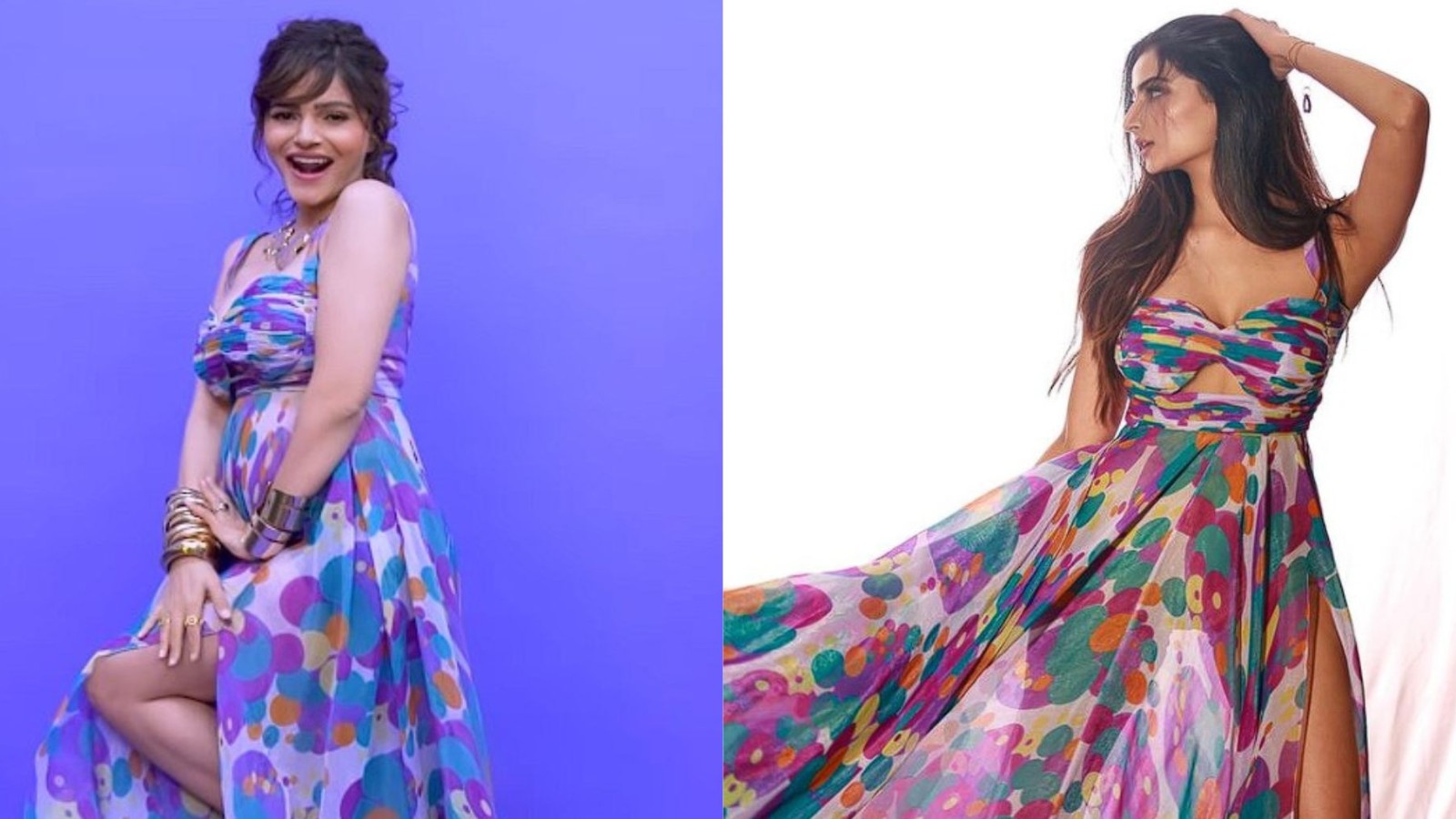 Overall, fashion is an art form that allows individuals to express themselves and feel confident in their skin. The way Palak and Rubina made the dress their own exemplifies the beauty of fashion and how it empowers individuals to embrace their unique identities.
Rubina Dilaik's styling choices for the multicolored flowy dress sound absolutely stunning and well-coordinated. The addition of golden bangles and a golden cuff on one hand, along with the statement necklace, brings a touch of glamour to the ensemble. Accessorizing with gold accents can elevate the look and add a sense of luxury to the outfit.
The elegantly tied hair with light waves framing her radiant face adds to the overall grace and poise of her appearance. The hairstyle seems to complement the flowy nature of the dress, allowing the outfit to take center stage while still highlighting her features.
Rubina's choice of pink lips and subtle makeup completes the doll-like look, enhancing her natural beauty without overpowering the outfit. Subtle makeup can be a great choice when wearing a statement dress, as it keeps the focus on the ensemble and ensures a balanced overall appearance.
The black stilettos are a perfect addition to the floor-length dress, as they provide an elongated silhouette and a touch of sophistication. Stilettos can add height and confidence to a look, enhancing the elegance of the outfit.
Palak Tiwari's choice for a more understated yet enchanting look with the multicolored flowy maxi dress sounds lovely. Sometimes, simplicity can create a powerful and captivating impact, and it seems like Palak achieved just that with her styling.
The simple golden bracelet with a heart charm adds a delicate and sentimental touch to her outfit. Choosing matching earrings keeps the look cohesive while adding a subtle touch of elegance.
By allowing her straight hair to flow freely, Palak embraces an effortless and carefree charm, which complements the flowy nature of the maxi dress. Natural-looking hair can add a touch of ease and relaxed beauty to any outfit.
For makeup, Palak's choice of nude lips and smokey eyes creates a perfect balance between softness and drama. Smokey eyes can enhance and define the eyes, adding a touch of mystery to the overall look. The nude lips allow the focus to remain on the eyes and dress without overpowering the ensemble.
The combination of understated accessories, natural hair, and well-executed makeup creates a mesmerizing and enchanting appearance. Palak's style seems to exude confidence and elegance, showing that sometimes less is more when it comes to making a fashion statement.
Her fashion choices often include chic and well-fitted dresses, trendy jumpsuits, and stylish separates that highlight her youthful and vibrant personality. Palak is not afraid to experiment with various colors and patterns, adding a touch of playfulness to her wardrobe while maintaining a sense of grace.
In terms of accessories, she tends to keep it minimal, opting for delicate jewelry and subtle details that complement her overall look without overpowering it. Palak's hairstyles are often versatile, ranging from natural straight locks to elegant updos, allowing her to adapt her appearance to various occasions.
One standout aspect of Palak Tiwari's fashion sense is her ability to balance modern trends with classic elegance. Whether she's attending red carpet events or enjoying casual outings, she consistently impresses with her fashion choices, showcasing her evolving style and confidence.
Overall, Palak's approach to styling the flowy maxi dress showcases her taste for simplicity, charm, and a thoughtful balance between various elements. Her look exemplifies that understated elegance can be just as captivating as bolder and more elaborate choices.
It's fascinating how fashion allows individuals to express their personalities and preferences, and in the case of Palak Tiwari and Rubina Dilaik, both managed to bring their unique flair to the flowy maxi dress, creating distinctive and captivating looks.
Rubina's regal and sophisticated vibe, achieved through her bold choice of accessories and statement makeup, showcases her confidence and elegance. Her styling exudes a glamorous and refined appeal, making her look like a true fashion icon.
On the other hand, Palak tiwari youthful elegance with minimalistic accessories and a more natural makeup look highlights her understated charm and effortless beauty. Her approach emanates a sense of ease and grace, making her appearance alluring and fresh.
Picking a favorite between the two looks ultimately comes down to personal taste and individual style preferences. Both Rubina and Palak tiwari displayed their fashion sensibilities beautifully, and it's clear that they each embraced the essence of the flowy maxi dress in their own unique way.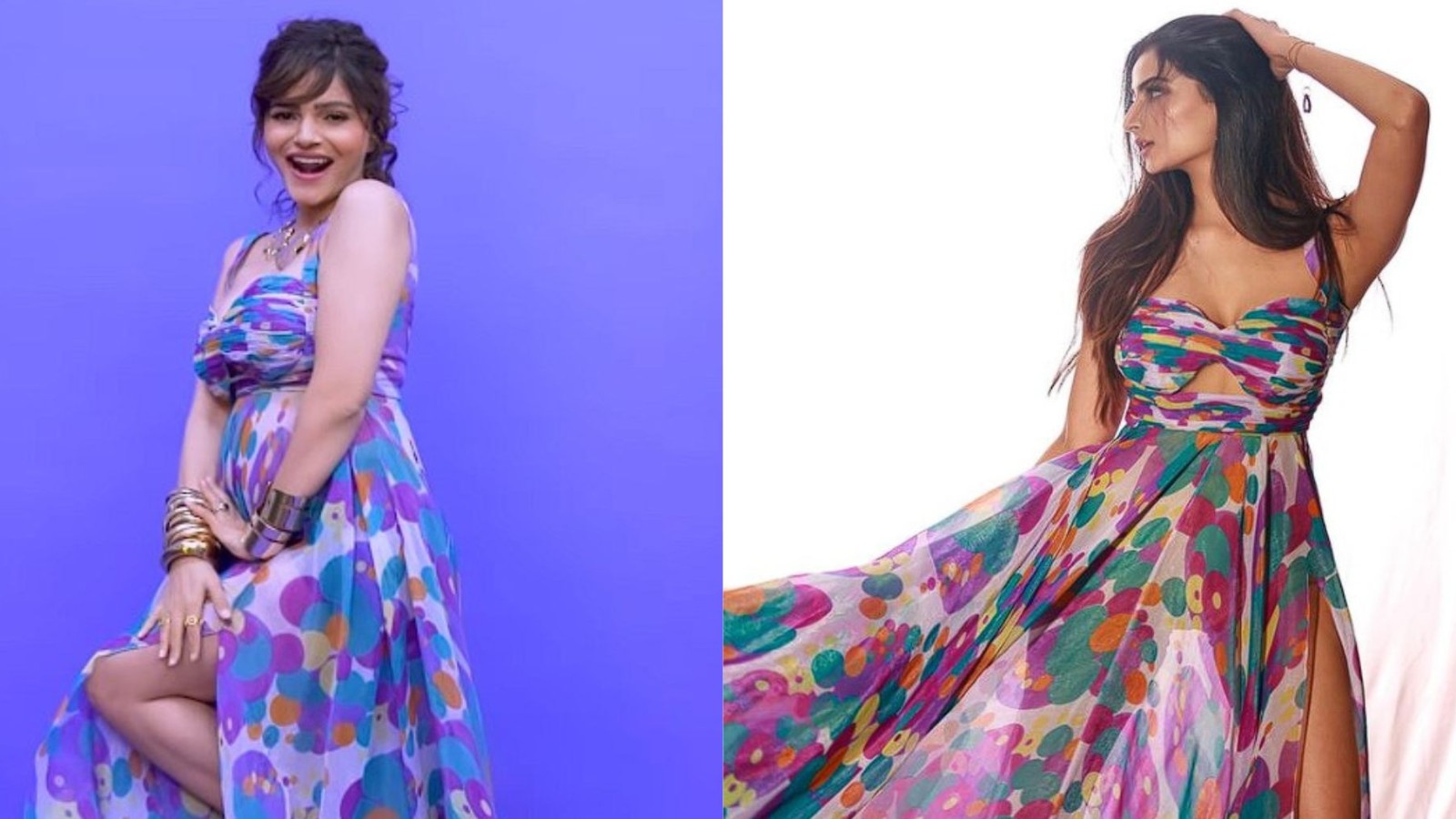 In the end, fashion is subjective, and what matters most is that both individuals felt confident and beautiful in their chosen looks. It's wonderful to see how two people can interpret the same outfit differently and create their own fashion statements, reflecting their personalities and individuality.