Aditi Rao Hydari Radiates Power and Elegance in Her Regal Silk Lehenga by Raw Mango!
Aditi Rao Hydari is indeed a Bollywood diva whose style and fashion sense have been admired and praised by many. From her everyday looks to her appearances on the Cannes red carpet, she has consistently stolen our hearts with her impeccable fashion choices.
Aditi's ability to effortlessly blend traditional and contemporary styles is one of the reasons why she is considered a fashion icon. Whether it's in traditional Indian attire like sarees and lehengas or modern western outfits, she carries each look with grace and elegance.
Her sartorial choices reflect versatility and a deep understanding of fashion, making her a trendsetter in the industry. Aditi's style is a perfect balance of sophistication and playfulness, which adds a refreshing touch to her overall persona.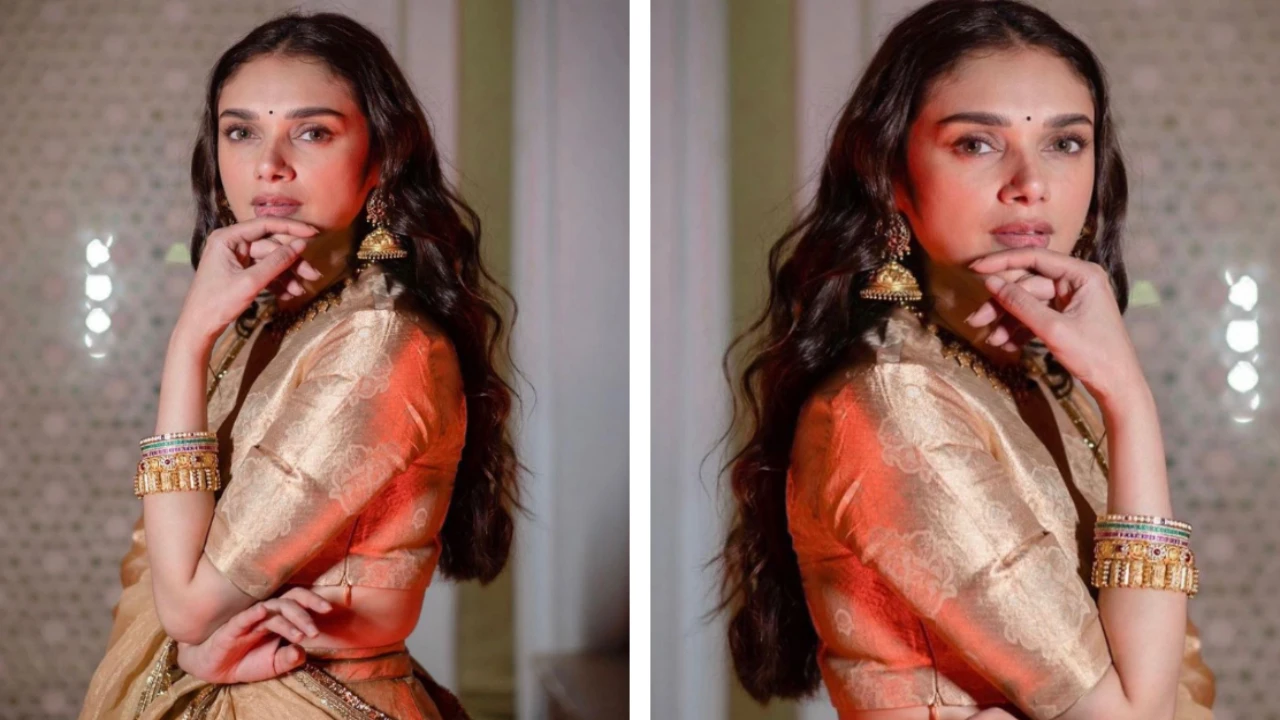 Her appearances on the Cannes red carpet have been nothing short of spectacular, showcasing her ability to stand out and make a statement with her fashion choices. Whether she opts for bold colors, intricate detailing, or classic silhouettes, Aditi knows how to leave a lasting impression.
Beyond her glamorous red carpet looks, Aditi's everyday style is equally noteworthy. She effortlessly embraces casual chic outfits, making her an inspiration for fashion enthusiasts looking to elevate their daily fashion game.
Aditi's fashion choices often include attention to detail, a keen sense of color coordination, and a willingness to experiment with different styles. Her commitment to her unique style sets her apart and makes her a true fashion icon.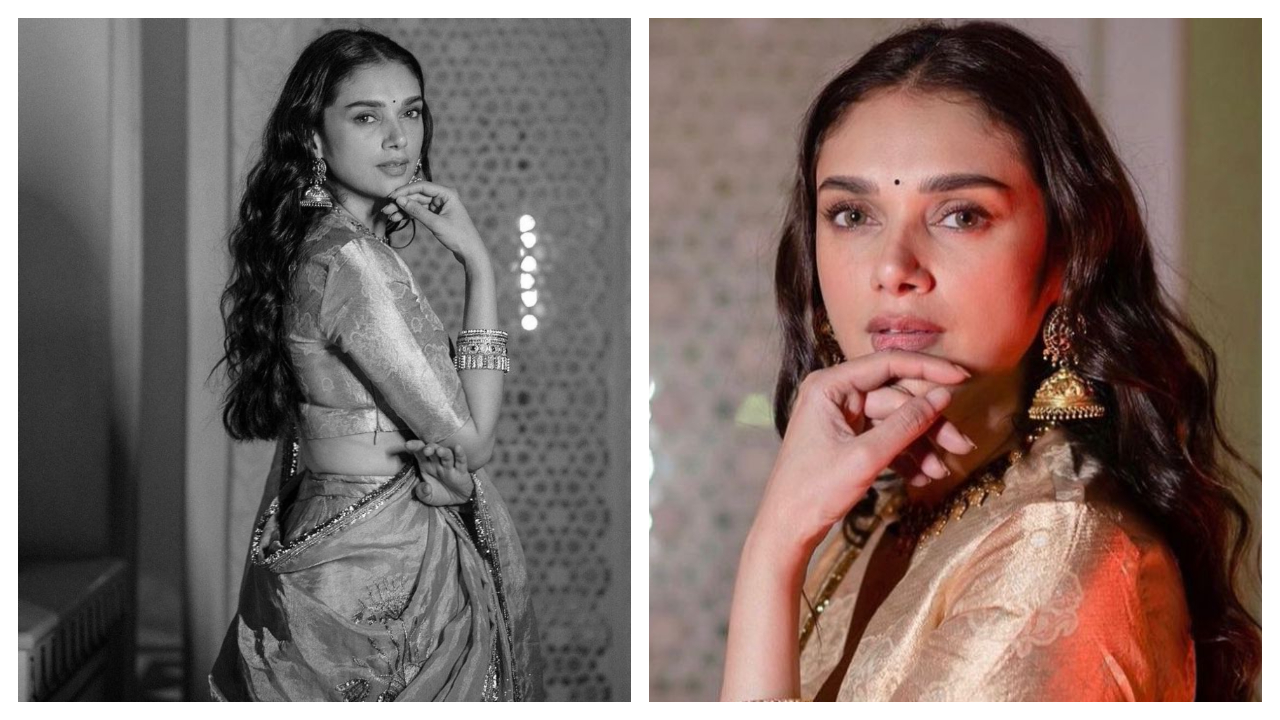 Aditi Rao Hydari's recent ethnic look in a stunning ensemble by Raw Mango undoubtedly left everyone mesmerized. The Hey Sinamika actress is known for her innate grace and elegance, and this look was no exception as she effortlessly donned this exquisite attire.
The choice of Raw Mango, a renowned label known for its exquisite handwoven textiles and traditional Indian aesthetics, is a testament to Aditi's appreciation for Indian craftsmanship and heritage.
The ensemble's resemblance to molten gold indicates the regal and radiant aura that Aditi exuded in this look. The rich and opulent color would have complemented her complexion, adding a touch of luxury to her appearance.
Raw Mango's designs are known for their timeless elegance, and Aditi Rao Hydari's ability to carry such a sophisticated ethnic look with grace further enhances the ensemble's allure.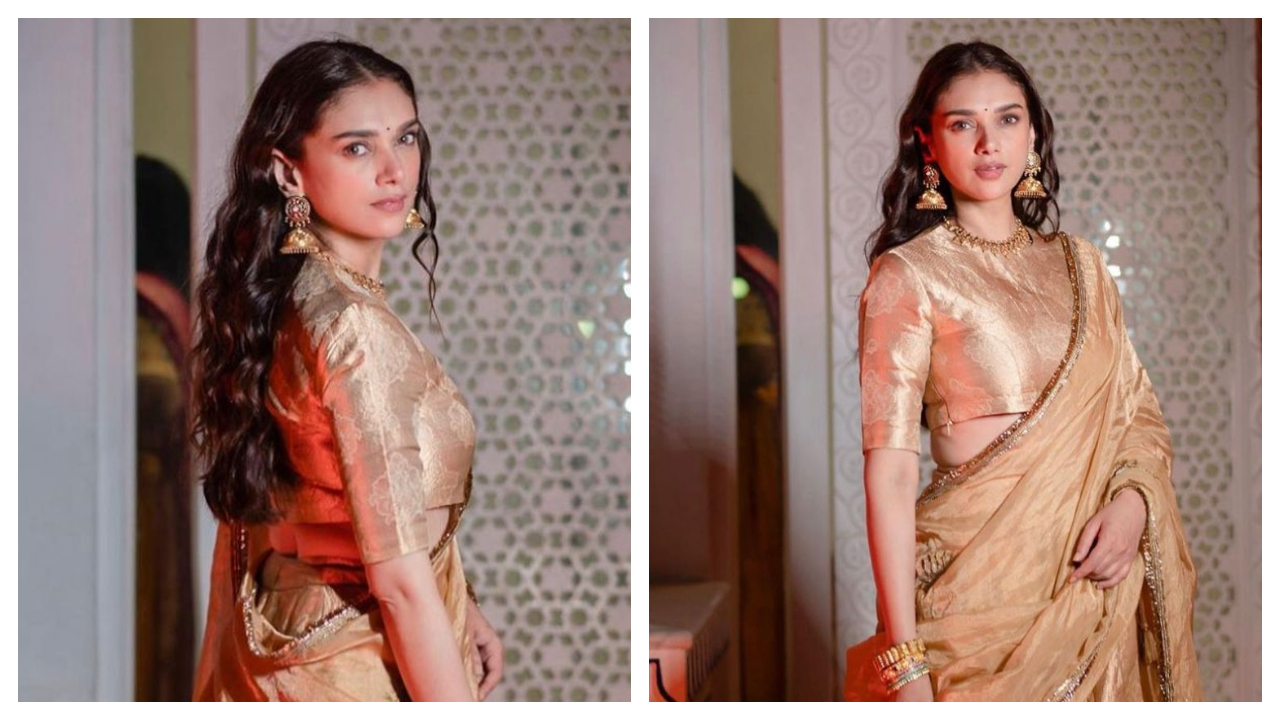 Her styling, likely done with attention to detail, would have played a crucial role in bringing the entire look together. Aditi's choice of accessories, hairstyle, and makeup would have been carefully curated to complement the exquisite attire while highlighting her natural beauty.
Aditi Rao Hydari's ethnic look by Raw Mango serves as an inspiration for those who appreciate the beauty of traditional Indian attire and want to embrace their cultural heritage in a fashion-forward manner.
Raw Mango is indeed renowned for its impeccable craftsmanship and timeless designs. The fashion label has made a significant impact in the industry with its focus on preserving traditional Indian textiles and techniques while infusing contemporary appeal into its creations.
Aditi Rao Hydari's outfit from Raw Mango beautifully showcased the brand's artistry and design philosophy. The blend of tradition and modernity in her ensemble is a signature characteristic of Raw Mango's creations.
The label's dedication to promoting handwoven textiles and reviving traditional weaving techniques has earned them immense recognition and praise from both the fashion industry and customers alike.
Aditi's choice to wear Raw Mango further highlights her appreciation for Indian heritage and the art of weaving. By donning their exquisite attire, she becomes a fitting ambassador of the label's vision and ethos.
The ability to seamlessly blend traditional craftsmanship with contemporary aesthetics makes Raw Mango's designs appealing to a wide range of audiences.
Their creations resonate with both those seeking classic elegance and those looking for fashion-forward, yet rooted ensembles.
The glorious golden hue of Aditi Rao Hydari's ensemble undoubtedly added a touch of opulence and sophistication to her look. The color choice not only complemented her radiant complexion but also enhanced the overall regal and ethereal charm of the outfit.
The use of silk in the lehenga further added to the grandeur and luxurious feel of the ensemble. Silk is known for its lustrous appearance and smooth texture, making it a favorite choice for traditional Indian attire like lehengas.
The careful handwoven technique used in creating the intricate motifs on the lehenga showcases the expertise and artistry of Raw Mango's craftsmanship. Handwoven textiles are highly prized for their uniqueness and attention to detail, and Aditi's outfit is a beautiful example of this artisanal work.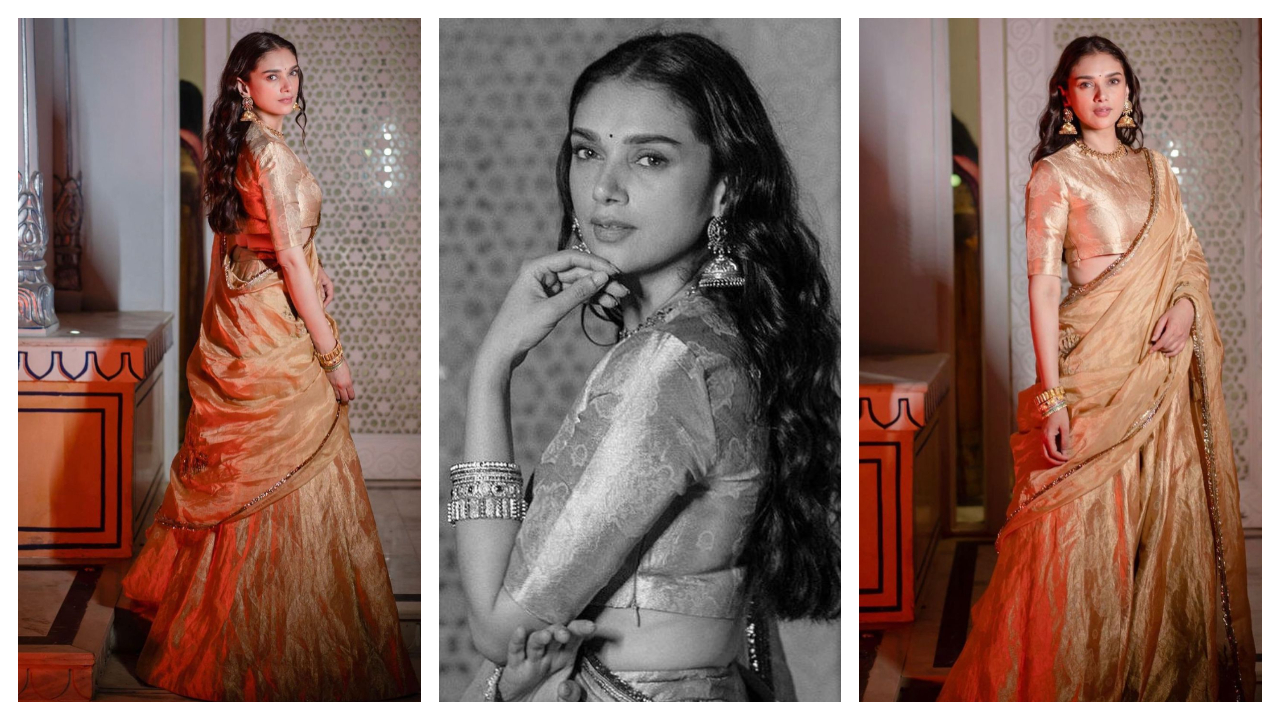 The regal silk lehenga adorned with intricate motifs elevates the ensemble to a piece of wearable art, making it a true show-stopper that can make anyone feel like royalty.
By choosing such an exquisite ensemble, Aditi Rao Hydari celebrates the beauty of traditional Indian textiles and craftsmanship. Her outfit serves as an ode to the heritage of handwoven fabrics and the skill of the artisans who create them.
The shimmering golden threads and lustrous zari work in Aditi Rao Hydari's lehenga undoubtedly added a touch of opulence and grandeur to her overall look. Zari is a traditional form of embellishment using metallic threads, and its inclusion in the ensemble further accentuates its regal charm.
The intricate zari work, combined with the handwoven motifs, showcases the level of artistry and attention to detail put into creating this exquisite piece of attire.
Aditi's choice of draping the lehenga highlights her style versatility and understanding of fashion. The draping of a lehenga can significantly impact the overall look, and Aditi's elegant cascading pleats demonstrate her finesse in styling and her ability to create a visually striking and sophisticated silhouette.
The pleats elegantly flowing down her frame lend a sense of movement and fluidity to the outfit, adding to its ethereal charm and making it a sight to behold.
By draping the lehenga in such a graceful manner, Aditi accentuates the inherent beauty of the garment and allows it to take center stage, all while maintaining an air of understated elegance.
Aditi Rao Hydari's love for a variety of traditional Indian outfits, including silk sarees, Kanjeevarams, cotton suit sets, and designer lehengas, showcases her appreciation for Indian heritage and craftsmanship. This glorious look in a golden silk saree from Raw Mango perfectly exemplifies her style preferences and the label's attention to detail.
The plain gold blouse accompanying the saree serves as a testament to Raw Mango's commitment to exquisite craftsmanship. The modern yet traditional design of the blouse complements the overall ensemble, blending contemporary sensibilities with the essence of Indian heritage seamlessly.
Aditi's choice of statement gold jhumkis, a delicate neckpiece, and beautiful gold bangles from Amrapali Jewels adds a touch of regal elegance to the outfit. The accessories elevate the look and complement the richness of the golden ensemble.
Her flawless makeup enhances her natural beauty, with a soft eyeshadow palette beautifully highlighting her eyes. The understated makeup allows her radiant complexion to shine through, creating a harmonious balance between her makeup and the regal attire.
Overall, this look is a perfect harmony of traditional Indian aesthetics and modern sensibilities. Aditi Rao Hydari effortlessly embodies grace and elegance, bringing out the true essence of the ensemble. Her love for diverse Indian outfits and her ability to carry them with poise make her a true fashion icon in the Bollywood industry.