Alaya F serves sass in chic outfit with figure-hugging corset jumpsuit, silver heels and matching accessories
Bollywood's rising generation of Gen-Z actresses is undeniably making a significant impact on the industry, particularly in the realm of fashion. These young talents have been consistently impressing with their ability to effortlessly embrace and rock the latest trends, often delivering fierce and unforgettable fashion moments. One such standout fashionista is Alaya F, the beautiful daughter of Pooja Bedi, who has been captivating audiences not only with her acting prowess but also her impeccable sense of style.
Alaya F's recent all-black outfit paired with dreamy silver heels and classy accessories is a testament to her fashion acumen. Her choice of an all-black ensemble exudes elegance and sophistication, while the silver heels add a touch of glamour and playfulness to the look. It's evident that she knows how to strike the perfect balance between chic and trendy.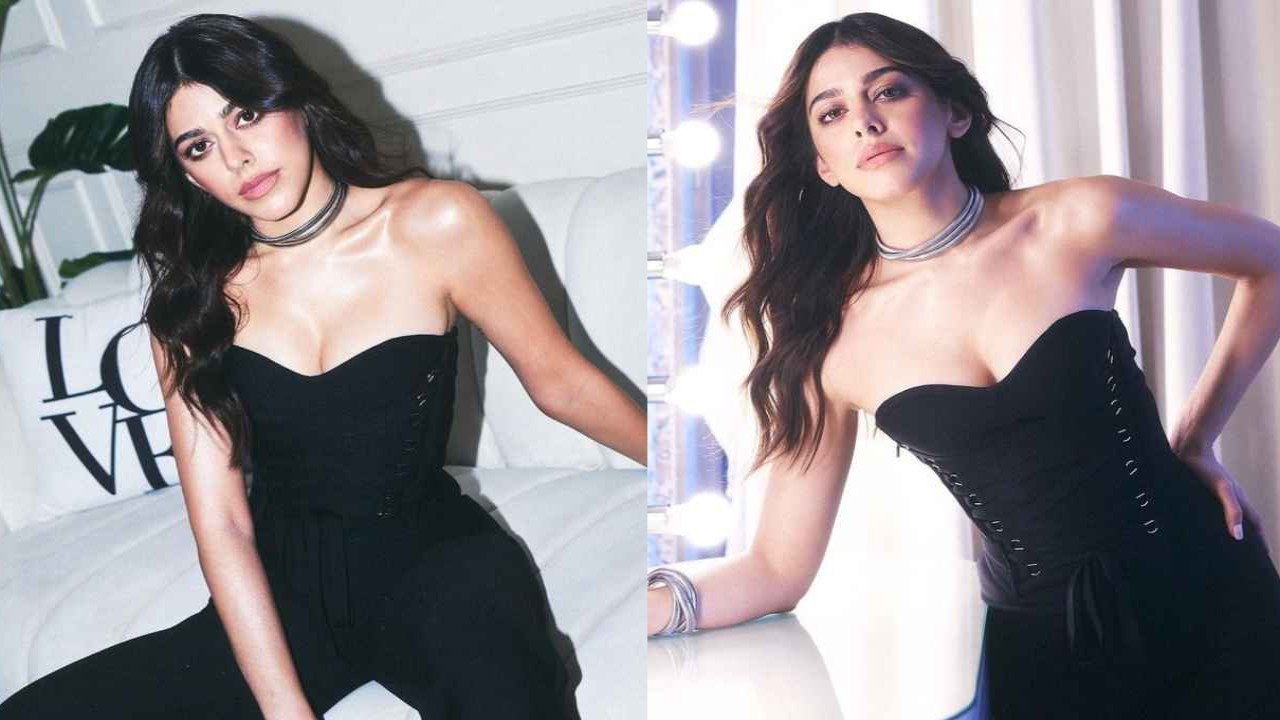 Furthermore, Alaya F's selection of accessories adds a seriously classy dimension to her ensemble, elevating it to a whole new level of sophistication. Her ability to effortlessly carry off this ensemble demonstrates her fashion versatility and her knack for making every outfit she wears look exceptional. It's no wonder that she's gaining recognition not only for her acting talents but also as a fashion icon in her own right.
Alaya F, the talented actress, made a stunning fashion choice by donning an all-black outfit from Self-Cntrd, specifically the Lola 2.0 jumpsuit priced at Rs. 12,500. This jumpsuit is an absolute showstopper, featuring a body-hugging black sleeveless corset with a daring plunging neckline and a stylish tie-up detail at the front. The design of this ensemble draws inspiration from the Victorian era, and it flawlessly accentuated Alaya F's enviable curves, creating a captivating and beyond-classy look.
Adding to the overall sophistication of her outfit, the classy diva opted for black flared floor-length pants with wide legs. This design choice not only added a touch of elegance to her appearance but also ensured that the outfit flowed gracefully as she moved. Alaya F's fashion sense is truly exceptional, as she effortlessly combines elements of boldness and classic style to create a memorable and stylish ensemble.
The Lola 2.0 jumpsuit chosen by Alaya F is not only aesthetically appealing but also crafted from a flattering and stretchable bandage fabric. This material choice not only exudes luxury but also acts as a form of shape-wear, ensuring a flawless and slim-fit appearance. The fabric's properties highlight her figure and add to the overall allure of the outfit, showcasing her keen eye for both fashion and comfort.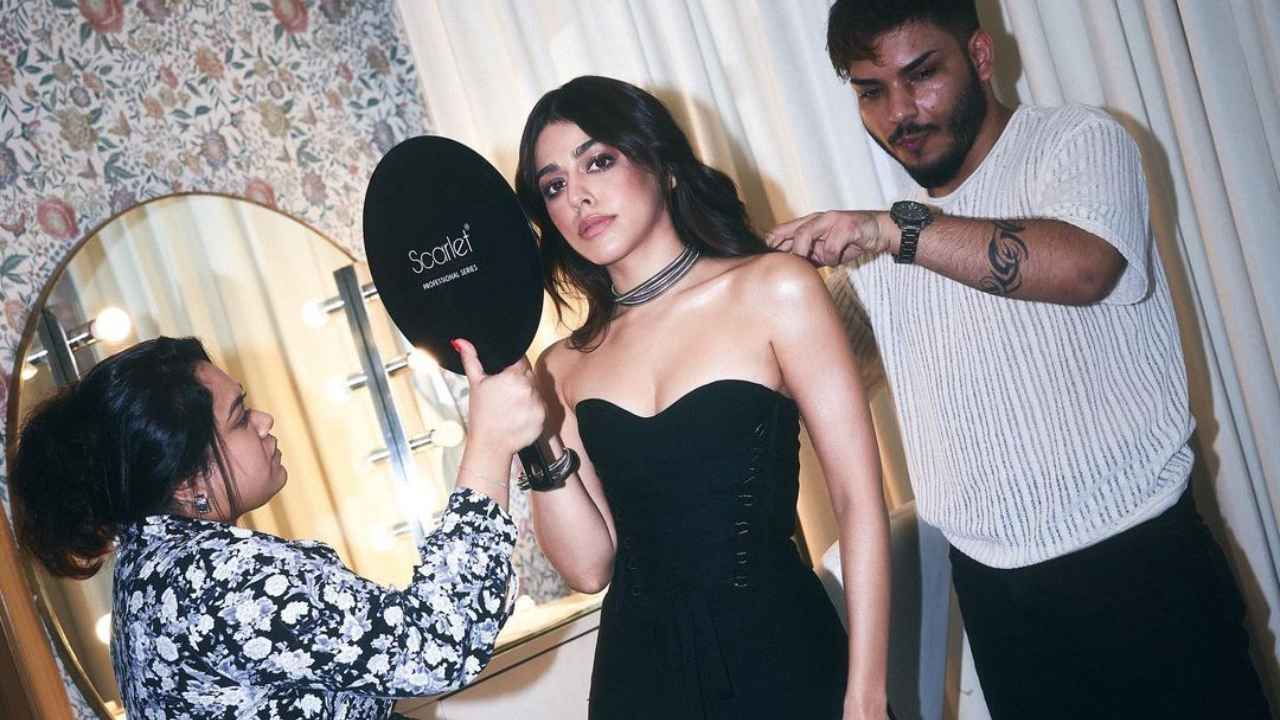 Alaya F's style game is undeniably on point, and her choice of this jumpsuit reflects her understanding of how to marry fashion and functionality. By selecting an ensemble that not only looks stunning but also feels comfortable to wear, she showcases her fashion-forward approach, setting an example for contemporary style that prioritizes both aesthetics and the wearer's comfort.
Alaya F, the talented actress known for her role in "U-Turn," demonstrated her impeccable fashion sense by making thoughtful choices to complete her outfit. She opted for silver metallic platform sandals from Charles and Keith, featuring tall chunky block heels. These classy peep-toed sandals, priced at Rs. 12,999, added both height and style to her look, complementing her ensemble beautifully.
But her fashion-forward choices didn't end there. Alaya F also selected accessories to enhance her outfit, including a layered stylish silver choker-like necklace and a matching bracelet from Mozaati, the luxurious haven of handcrafted elegance. These accessories not only added a touch of glamour to her look but also displayed her attention to detail and her ability to elevate her overall style with carefully chosen pieces.
Alaya F's fashion choices showcase her flair for combining elements of contemporary style and luxury, creating a well-rounded and chic look that effortlessly draws attention.
Alaya F, the stylish actress known for her role in "Almost Pyaar with DJ Mohabbat," paid great attention to her hair and makeup to complete her exquisite ensemble.
For her hairstyle, she made the elegant choice of leaving her hair open, styled in waves that gracefully cascaded down her shoulders. This classic hairstyle added a touch of glamour and femininity to her overall look, enhancing the elegance of her outfit.
Her makeup was equally impressive and played a significant role in elevating her appearance. She opted for a glammed-up makeup look, featuring shimmery eyeshadow that added a hint of sparkle to her eyes. Her lashes were accentuated with mascara, giving her eyes a striking and alluring look. A touch of rouge on her cheeks provided a healthy flush of color, while the perfect contouring emphasized her facial features.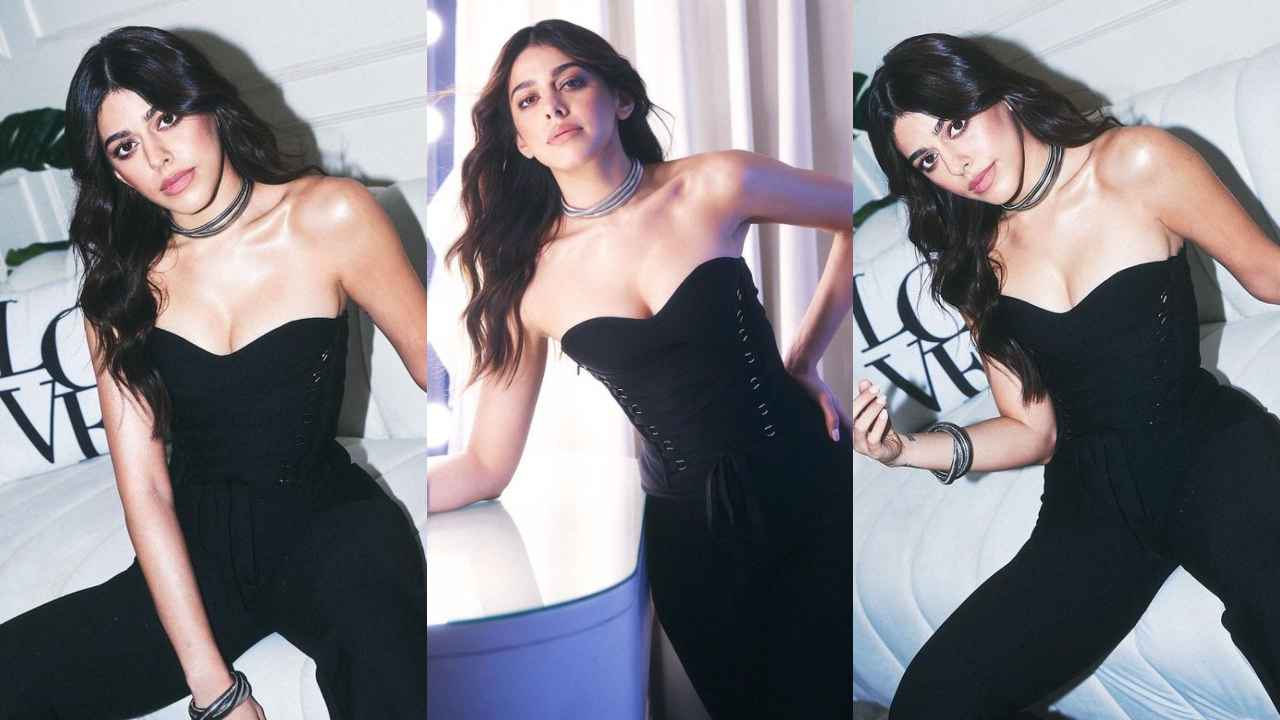 To top it off, she chose a spectacular glossy nude lipstick that not only complemented her overall look but also added a touch of sophistication and completed her makeup with a flourish.
Alaya F's meticulous attention to both her hairstyle and makeup showcased her commitment to creating a polished and stunning appearance that perfectly matched her exquisite ensemble. Her choice of makeup and hairstyle was in harmony with her fashion choices, demonstrating her expertise in crafting a cohesive and stylish look.
Undoubtedly, Alaya F, the talented actress known for her role in "SRI," has showcased a party-ready masterpiece with her outfit that truly highlights her innate fashion sense and impeccable style.
The Victorian-inspired jumpsuit she chose is a unique and bold choice, exuding a blend of vintage elegance and contemporary chic. This fashion-forward decision displays her willingness to experiment and make a statement with her style.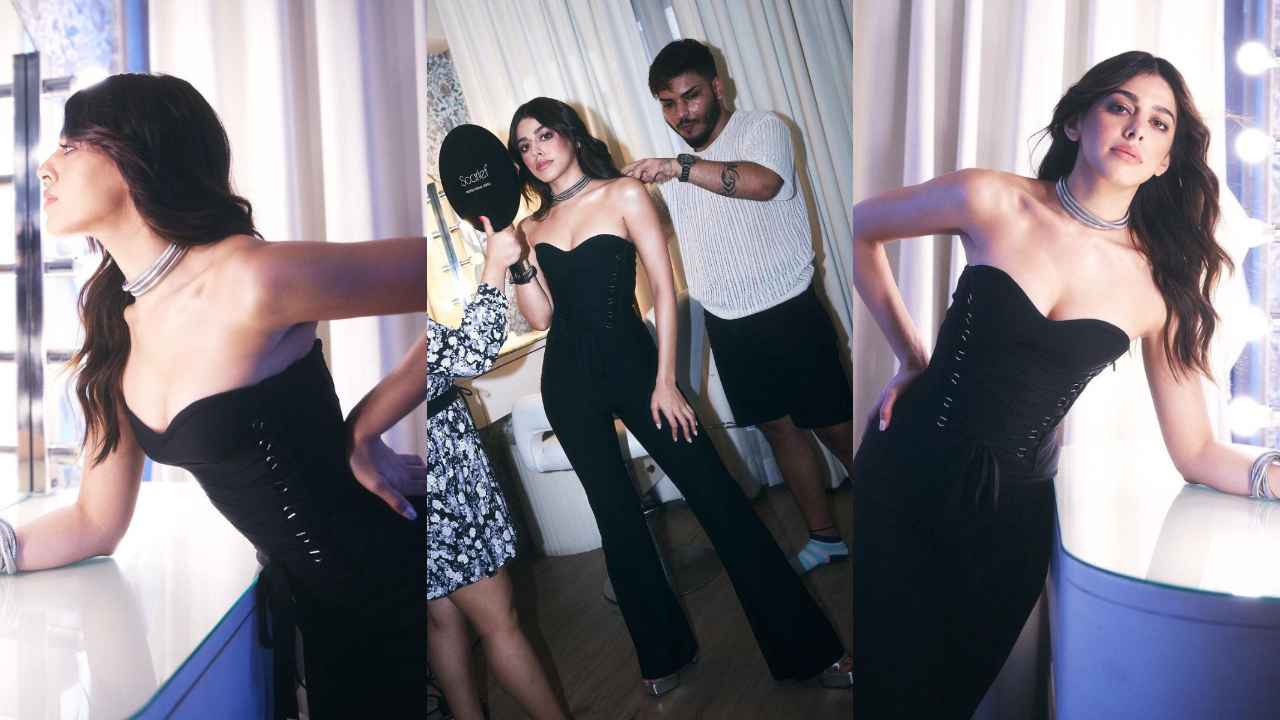 Pairing this jumpsuit with statement accessories, including the silver choker-like necklace and bracelet, reflects her attention to detail and ability to perfectly balance her ensemble. These accessories elevate her look, adding a touch of glam and making it suitable for a night-out adventure.
Her flawless makeup, featuring shimmery eyeshadow, well-defined mascara-laden eyes, rouge-accented cheeks, and a glossy nude lipstick, adds the final touches of sophistication and allure to her overall appearance. It's clear that every aspect of her ensemble has been thoughtfully curated to achieve a cohesive and stunning look.
Alaya F undeniably serves sass and sophistication with this ensemble, making it a must-have for anyone seeking a show-stopping look for their night-out adventures. Her ability to seamlessly integrate different elements of fashion into a cohesive and appealing outfit is truly commendable.