Alaya F Radiates Glamour and Confidence as She Showcases Her Passion for Luxury with an Exquisite Fendi Bag and Stylish All-Blue Ensemble at the Airport
Alaya F, the rising Bollywood sensation from the Gen-Z cohort, has undeniably left an indelible mark not just with her acting prowess, but also with her bold and distinctive style sense. Alaya has garnered attention for her penchant for plunging necklines, a daring element she seamlessly blends with classic bodycon silhouettes and conventional trends, resulting in a truly unique and captivating fashion statement. Her ability to create an impact with her fashion choices is undeniable.
Alaya consistently manages to command attention and turn heads with her fearless selections, whether it's during her airport appearances or while on vacation. Her audacious attitude and fearless approach to fashion are evident in the way she carries herself, unafraid to take risks and embrace unconventional styles.
With every outfit, Alaya exudes an aura of confidence and grace, whether she's donning floral designs or elegant ensembles. Her fashion journey has positioned her as a genuine Gen-Z fashion icon, inspiring young individuals to confidently embrace their individuality and express themselves through their clothing choices. Alaya's innate ability to push the boundaries of fashion encourages the youth to step out of their comfort zones and explore uncharted style territories.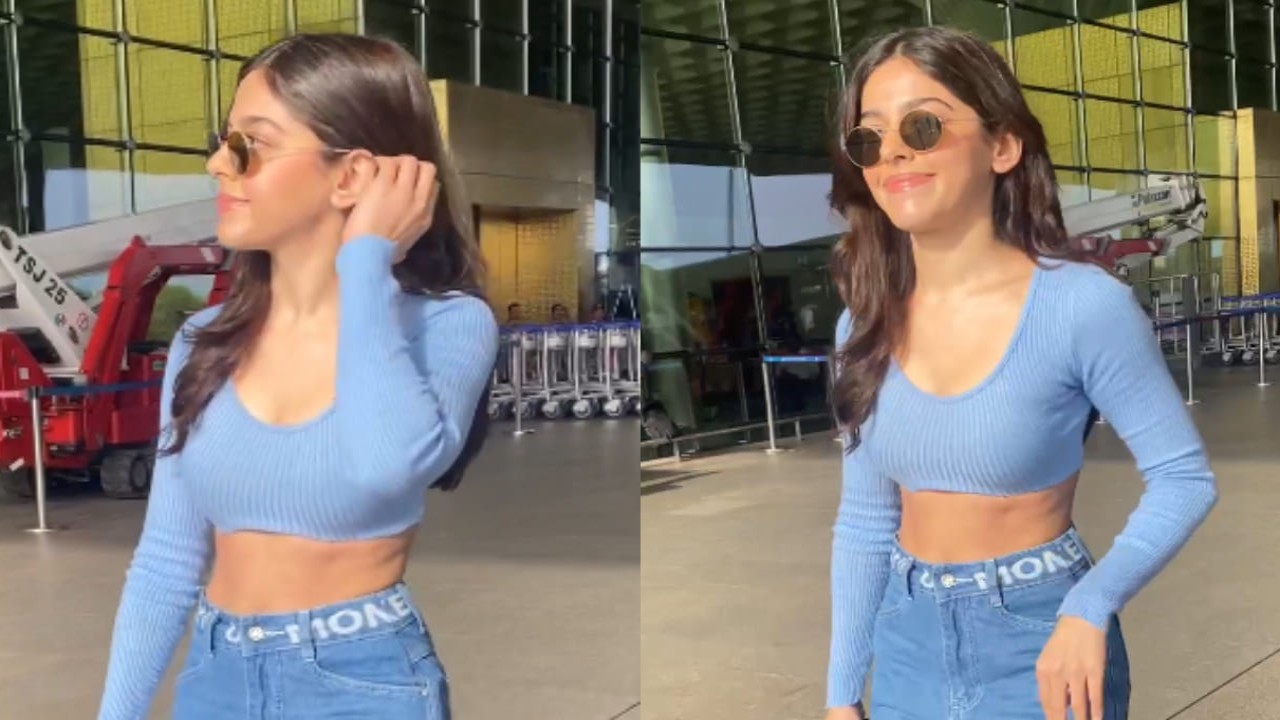 Alaya F has undoubtedly emerged as a true fashion hero for the Gen-Z generation. Her influence extends beyond the silver screen, as she empowers young people to break free from conventional norms and explore the world of fashion with their own unique flair. Her fashion choices reflect her boldness, creativity, and a desire to inspire others to be authentically themselves in all aspects of life.
In her airport look, Alaya F's choice of a crop top epitomizes both elegance and trendiness. Crafted from a delightful baby blue ribbed pointelle fabric, the top exudes a charming feminine allure. The cropped length adds a modern twist to the neckline, contributing an element of sophistication. Alaya F masterfully balances these elements to create an ensemble that's both stylish and refined.
Complementing the crop top, Alaya F pairs it with Urban Monkey's Y2K hip-hop jeans. These blue pants, priced at Rs 2,850, feature the distinctive letters "Monkey You" showcased through the belt loops, adding a playful and urban touch to the outfit. This fusion of elements highlights her ability to effortlessly combine stylish elegance with urban flair, showcasing her fashion versatility.
Alaya F's airport look is a testament to her sartorial prowess. By merging the elegance of the crop top with the urban chic of the jeans, she achieves a seamless harmony that resonates with both comfort and style. Her choice of ensemble not only demonstrates her innate fashion sense but also showcases her capacity to create a look that's both visually captivating and true to her personal style.
In sum, Alaya F's airport outfit exemplifies her ability to curate ensembles that blend sophistication with an urban edge. Her skill in effortlessly combining different elements speaks to her status as a fashion icon who consistently pushes the boundaries of style and embraces unique and daring combinations.
Alaya F possesses a keen understanding of how to elevate her outfits through well-chosen accessories. Among her standout elements, her choice of eyeglasses consistently captures attention. Whether she's donning a pair of chic sunglasses or stylish frames, her eyewear consistently brings a touch of elegance to her ensembles.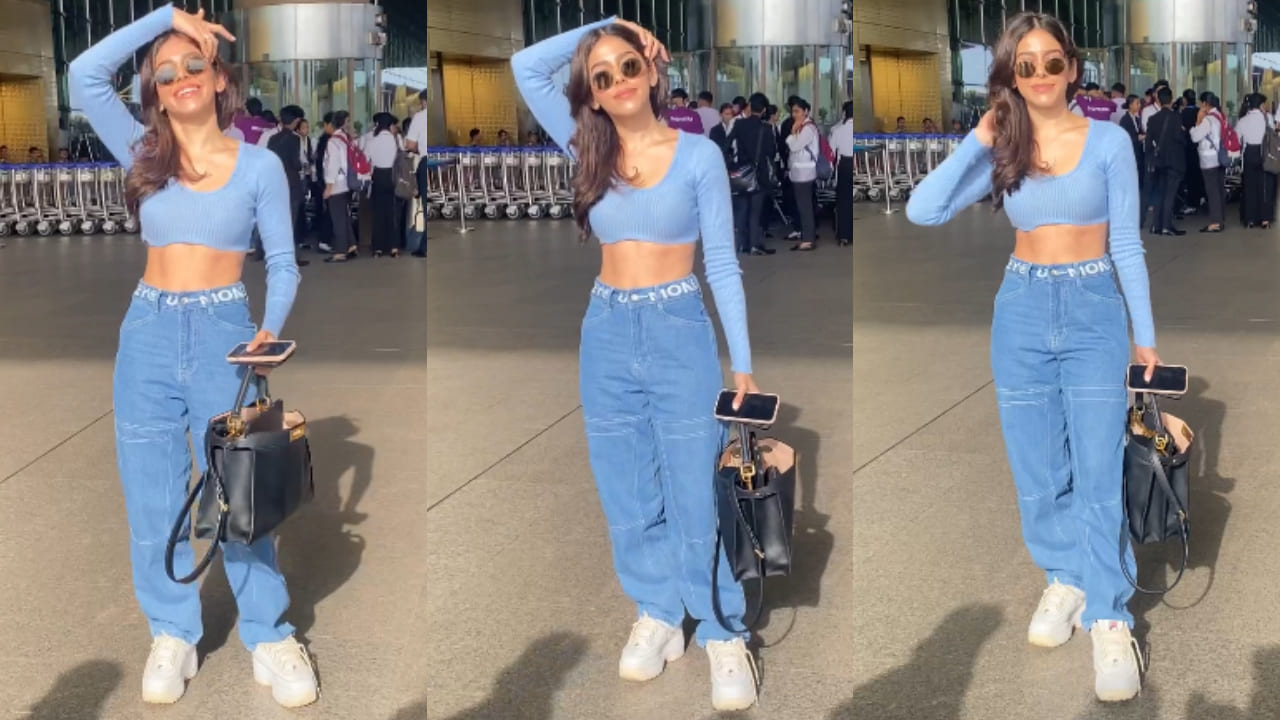 Her eyeglasses are undoubtedly a noteworthy aspect of her overall look. They have the ability to transform an outfit, adding an element of sophistication and flair. Alaya F's selection of eyewear complements her fashion choices, accentuating her style while also serving as a statement piece that draws the eye.
Whether it's a pair of fashionable sunglasses that exude confidence or trendy frames that reflect her personality, Alaya F's eyewear choices exemplify her attention to detail and her ability to curate accessories that seamlessly align with her overall aesthetic.
In essence, Alaya F's eyewear serves as a testament to her mastery of accessorizing. With every choice, she demonstrates how the right accessories can elevate an outfit, showcase one's individuality, and make a lasting impression. Her eyeglasses not only add to her ensembles but also contribute to her status as a true fashion influencer who knows how to make a statement through her impeccable choices.
Alaya F's attention to detail when it comes to accessories extends beyond eyewear; her choice of bag is equally remarkable. She was spotted carrying a stunning Fendi purse in rose black leather. This exquisite bag comes with a price tag of $5,800, approximately Rs 4,78,729 INR. Her discerning eye for accessories continues to set trends and inspire fashion enthusiasts.
The Fendi purse she chose is a testament to her ability to select accessories that perfectly complement her overall look. The rose black leather exudes luxury, while the brand's signature design elements add a touch of iconic elegance. The bag not only serves as a functional piece but also contributes to the ensemble's overall aesthetic, showcasing her attention to detail.
Alaya F's knack for selecting accessories that make a statement is consistent with her role as a fashion influencer. Her choices resonate with fashion lovers and set the tone for upcoming trends. Her selection of the Fendi purse not only adds a touch of opulence to her outfit but also reinforces her status as a true style icon.
Alaya F's ability to impress with her fashion choices was once again evident in her most recent look. She graced the scene in a delightful light blue gown that was elegantly accompanied by a pair of magnificent white-heeled trainers. This unexpected fusion added a touch of casual yet stylish edge to her appearance, reflecting her confidence and distinct flair.
The amalgamation of the light blue gown and white-heeled trainers is a testament to Alaya's knack for effortlessly combining different elements to create a look that's both captivating and unique. This blend of contrasting styles showcases her fashion-forward approach and her willingness to experiment with unconventional pairings.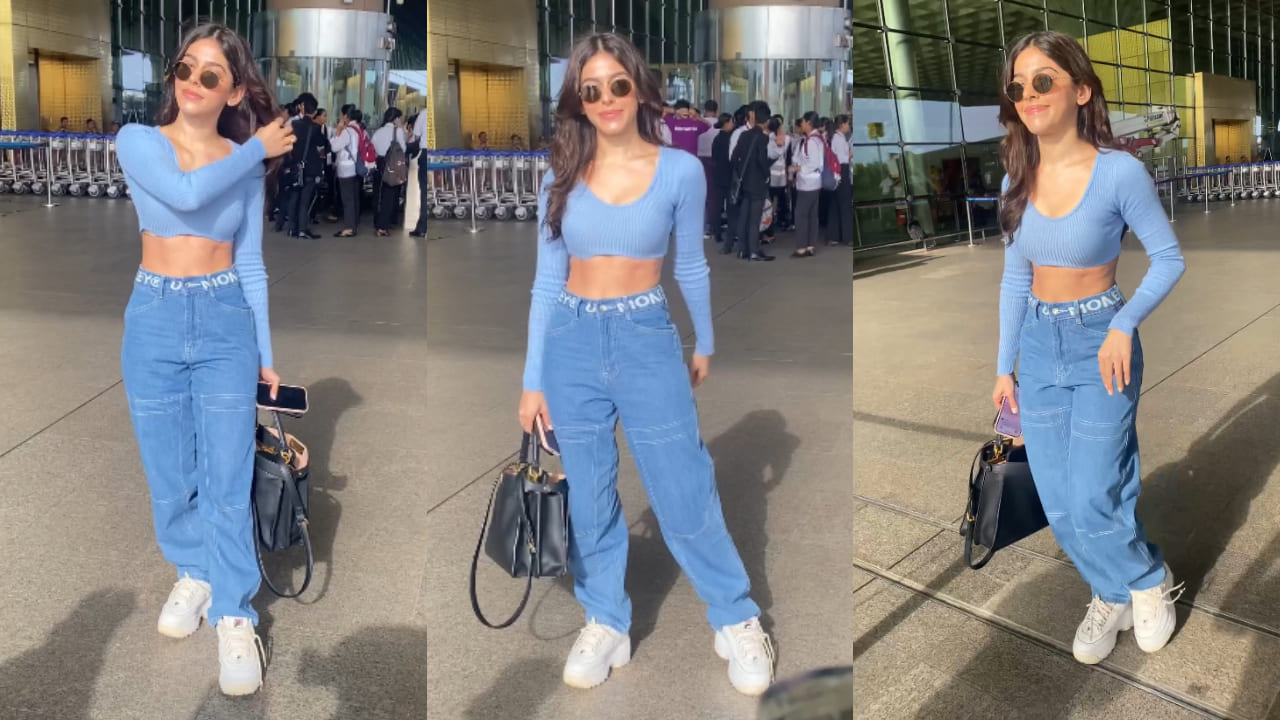 Alaya's choice to keep her hair in a modest open haircut further accentuated her natural beauty. By allowing her dress and accessories to take center stage, she masterfully created a balanced and harmonious ensemble that resonates with her innate fashion sense.
In her airport look, Alaya F presented herself in a manner that can only be described as spectacular. Her outfit and overall presentation are a testament to her exceptional understanding of fashion and her skill in curating ensembles that not only reflect her personal style but also leave a lasting impact on anyone who lays eyes on her.
Absolutely, Alaya F's impeccable style serves as an inspiration and a reminder that achieving a truly great appearance doesn't always require elaborate elements. Her fashion sensibility highlights the power of a strong fashion eye in creating impactful looks even with seemingly simple choices.
Alaya's ability to curate outfits that stand out, while maintaining a sense of effortlessness, showcases her understanding of how to let the right pieces shine. This simple yet striking approach demonstrates that it's not just about the clothing itself, but how it's styled and carried that makes all the difference.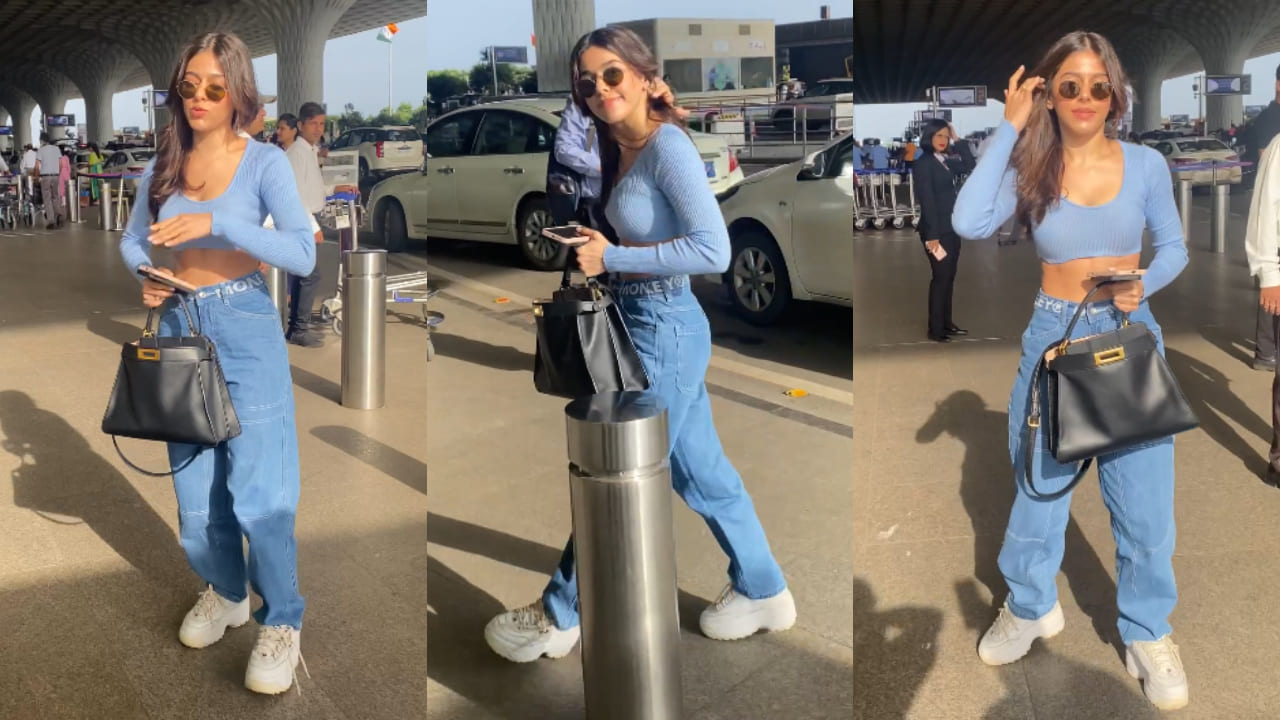 Her fashion journey encourages individuals to pay attention to the details, experiment with different combinations, and embrace their unique preferences. Alaya F's style philosophy reminds us that a confident and thoughtful approach to fashion can lead to exceptionally stylish outcomes, proving that sometimes the most effective looks are born from a genuine fashion eye and a well-defined sense of personal style.